8 Simple Steps To Create A Raccoon Drawing – How To Draw A Raccoon
Creating A Raccoon Drawing In Eight Simple Steps
Below you will find a step-by-step guide for the raccoon drawing with us not tricky.
The raccoon is a medium-sized animal that usually lives in North America.
They are omnivores because they can eat all kinds of food they can touch, such as fruits, seeds, insects, fish, lizards, and even mice and squirrels.
Raccoon mainly lives in the jungle and is a brilliant animal.
Learning to draw a raccoon is an exciting activity; by participating in drawing a raccoon, you will get more information about this animal.
We have given drawing a raccoon in eight steps, equivalent to eight tasks you must finish to create a complete raccoon drawing.
We also provide easy-to-difficult raccoon drawing tutorials so suitable for everyone. You can easily accomplish these tasks whether you are a beginner or a drawing expert.
Through many studies, it is proven that drawing or coloring will help us relax better because you will have to focus during the learning process and temporarily forget the fatigue of life.
Before starting to draw a raccoon, you must also prepare all the necessary supplies such as a pen, pencil, paper, colors, and eraser.
You will proceed to draw the raccoon with the first lines with pencil and paper because you will easily erase your mistakes using a pencil.
You will continue to redraw until you are satisfied with your drawing.
Once you get a complete raccoon, you will choose the suitable colors for your products and admire your final result.
Interesting, isn't it? You can also enjoy raccoon coloring pages for free to practice your drawing and coloring missions.
Let's go to the eight steps of our guide on how to draw a raccoon.
How To Draw A Raccoon – Let's Get Started!
Step 1 – Draw The Raccoon Face Details

You will draw the raccoon in the center of the paper, and in this first step of our guide on how to draw a raccoon, you will detail the face of this mammal with the eyes being two big circles, and you will continue to draw the pupils for eyes with two smaller circles.
Continue your quest by drawing a snout and nose for your raccoon with some curved lines, as you see in our reference image.
Once you're happy with your image, you can move to the second step to continue your drawing task.
Step 2 – Draw The Raccoon Head

For this step of your raccoon drawing, you must draw the head of the raccoon character.
You will use symmetrical curves to create a cute face for your raccoon.
When you feel satisfied with your drawing, you can move on to the next step.
Step 3 – Draw The Final Details For The Raccoon Head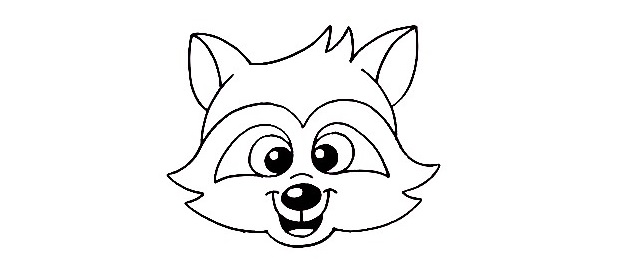 You will have to draw all the remaining details for the raccoon head.
First, you will use small curved lines to draw a pinch of hair on the top of the head.
You will then draw the character's ears with curved lines to represent this mammal's ears erect.
Finally, you will review all the head details and are satisfied with them; you can move on to step 4.
Step 4 – Draw The Raccoon Arms
Since we are drawing a cartoon raccoon, it has two arms and two legs, and for this step for your raccoon drawing, you must draw two components with some simple curved lines, don't forget to draw cute fingers for your character. You can draw three fingers for each hand.
That's all you need to do in this step; you will continue drawing in the next step.
Step 5 – Draw The Raccoon Belly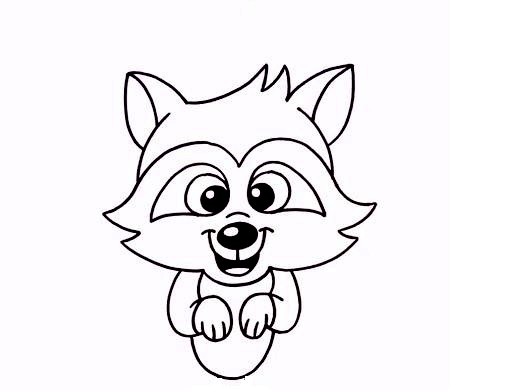 Your task in this step of our guide on how to draw a raccoon is to draw the belly for it.
You use a simple curved line from its neck and two simple curves from the neck and meet at a point below the hands, as you see in our reference image.
You can go to the sixth step and continue your drawing of a raccoon.
Step 6 – Draw Two Legs For Your Raccoon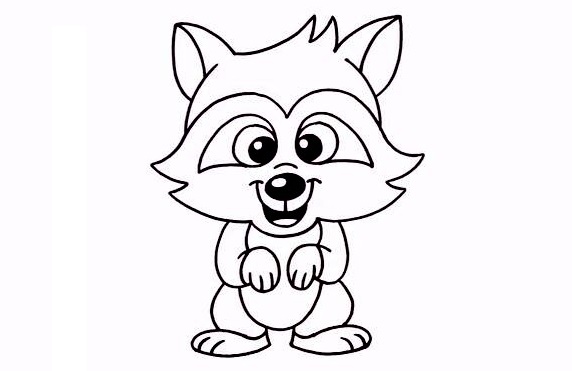 It's time to draw two legs for your mammal, the raccoon. You draw two cute big thighs, then draw the feet and toes for the character.
Please look at our drawing to ensure you're on the right track and your excellent picture.
Step 7 – Draw The Raccoon's Tail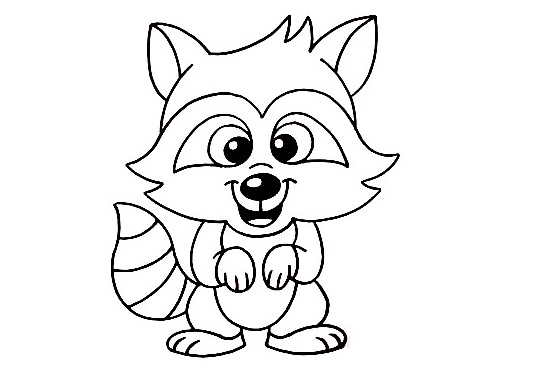 This is the last detail before you move on to choosing colors for the character.
As you see in our illustration, you will use two almost parallel curves that meet at the tail's end. Don't forget to draw more horizontal lines to create stripes for the tail to make your raccoon drawing more realistic.
Step 8 – Color Your Raccoon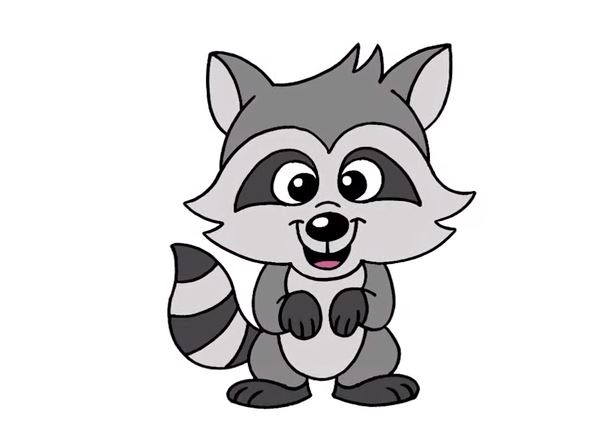 You are now in the final step of choosing a color for your character. It can be said that this is the most straightforward step, and you are free to be creative with your preferences.
Usually, the raccoon is gray, but depending on its origin, sometimes its fur is silver, brown, or slightly black. In our raccoon drawing, we use light gray and dark gray for our mammal; what colors do you use for your product? Don't hesitate to show it on your Facebook or Pinterest page so we can admire it.
Your Raccoon Drawing Is Complete
You finish off your drawing and coloring missions on how to draw a raccoon in eight simple steps with us.
I hope you have a great time and understand everything in this drawing guide with our complete guide.
Interestingly, you can now practice drawing a raccoon by yourself and have a complete raccoon drawing with your signature.
If you are interested, you check our regular website Coloringcool.com and don't miss out on any product from our catalog.
You can refer to our drawing guide similar to raccoon drawing such as squirrel drawing, charmander drawing, luna drawing or scooby-doo drawing. You can enjoy coloring pages or reviewing more information about our website at blogs.