8 Simple Steps To Get Cinderella Drawing
Creating a beatiful Cinderella drawing in just 8 easy steps
Simply follow this easy how-to draw Cinderella step-by-step tutorial, and you will have your Cinderella drawing finished in no time. You get the experience of drawing a Prince in this article with Cinderella. You can learn how to draw Cindrella with your kids because it is a good activity for them. More they can avoid using some technical devices like smartphones, tablets, computers,…they are not good for their eyes and evolution. If you have the girls, please don't hesitate to give this instruction to them; they are big fans of Cinderella. Why not, it is free on our site. Along with the tutorial, we have also included a couple of free Cinderella coloring pages that you can print off and give to your kids to color! You can enjoy this activity after the hard-working hours and relax. This is a cheap entertainment channel and suitable for everyone.
How To Draw Cinderella – Let's Get Started!
All of the free art lessons on our website are good drawing tutorials for beginners and experienced artists alike. The online tutorials are easy to follow; they teach you how to draw basics while showing you how to draw fun cartoon characters step by step. Each cartoon character has a video drawing tutorial option, as well as step-by-step photos and written text to follow. Drawing Cinderella step by step, you will follow along with the video tutorial at the end of instructions and pause the video after each step to go at your own pace. You may find it easier to follow the step-by-step drawings below. We will give the details of the instructions, and each step is explained in the text below the photo, so you'll know exactly what to draw in each step. You may want to open the video in a new tab and use both drawing methods! Take your time and draw at your own pace. Our advice is to use a pencil to draw. In the beginning, stages, don't press down too hard. Use light, smooth strokes for sketching. Now, let's get started by drawing Cinderella with us!
Step 1 – Draw Cinderella's Face Details

You will draw Cinderella's face details. Drawing Cinderella, start to dots for two eyes. She gets the big round eyes, and then you use black to color the pupil. After that, you use two short lines on her eyes for eyebrows. You continue drawing his mouth and his nose with the curved lines as well. That's all there is to it for this step, so when you're happy with the look of it we shall continue adding to Cinderella in the second step.
Step 2 – Draw Face, Hair And Ears For Cinderella

Since we are drawing Cinderella on the side, one of his ears is hidden, just draw her right ear. You use lines to draw around the eyes, mouth, nose for a face outline. Then you draw curved lines for the ear. You continue your drawing with some lines for Cinderella's hair.
Step 3 – Draw Cinderella's Hairs Details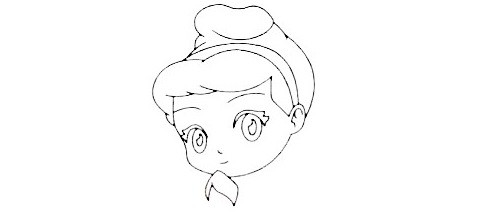 Your task in this step is to continue your task in step 2, and you must draw Cinderella's hair details. As she mostly has a French braid, you can draw it, as seen in our illustration.
Step 4 – Draw Cinderella's Body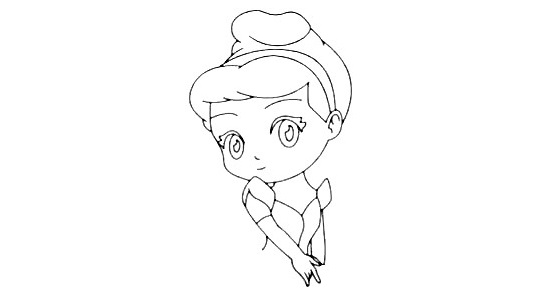 You continue drawing Cinderella with her body, from her face, you use lines to draw a dress for Cinderella and her body. You will continue to show her hands with the fingers. Another hand is already covered by her body so you just need to use 2 parallel lines to draw her other arm. You use some straight and curved lines for dress details.
Step 5 – Add More Detail For Cinderella's Dress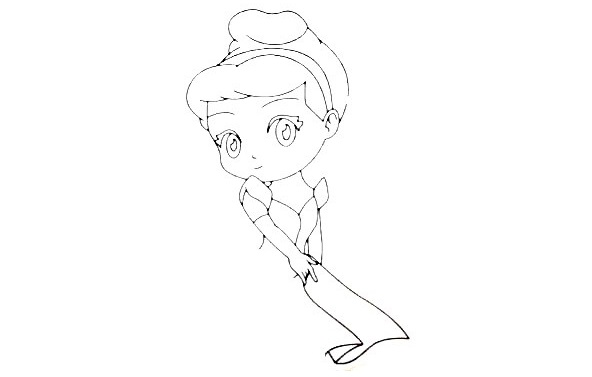 You continue the wavy curves to draw the beautiful dress for Cinderella. You continue to use the curved lines for Cinderella's dress. Very interesting, your girls love this activity because Princess always owns beautiful dresses. You can stop your work and continue your mission in the sixth step.
Step 6 – Continue Drawing Cinderella's Dress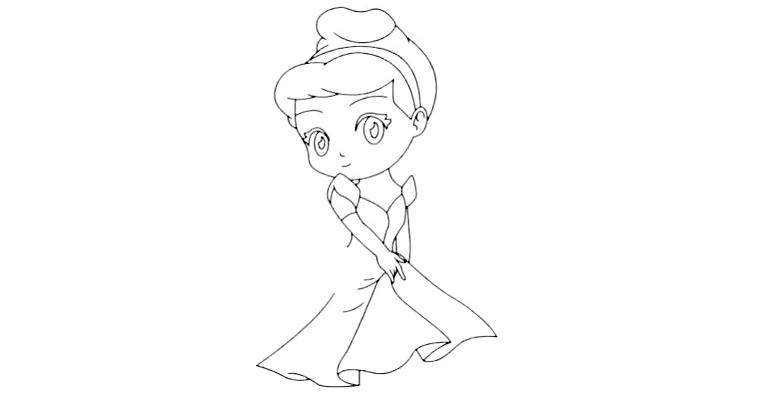 Your mission in this step is to continue your work in step 5. You continue to use the curved lines for Cinderella's dress. The last time you were going to draw her dress spread out wide, it looked voluminous and very pretty. The task in this step is not difficult, and you need some minutes to finish and next to step 7 now.
Step 7 – Finish Your Drawing Mission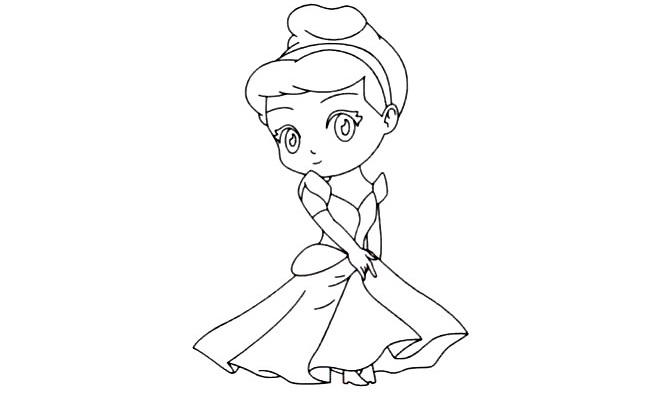 Your drawing mission is finished now. For this step, the inked look of Princess Cinderella, carefully goes over the final sketch lines with a pen or marker. Wait for the ink to dry, and then get rid of every pencil mark with an eraser. You now have a finished inked drawing of Cinderella! You can stop here or go to the final step to complete your Cinderella drawing. You have the last step for coloring Cinderella.
Step 8 – Color Cinderella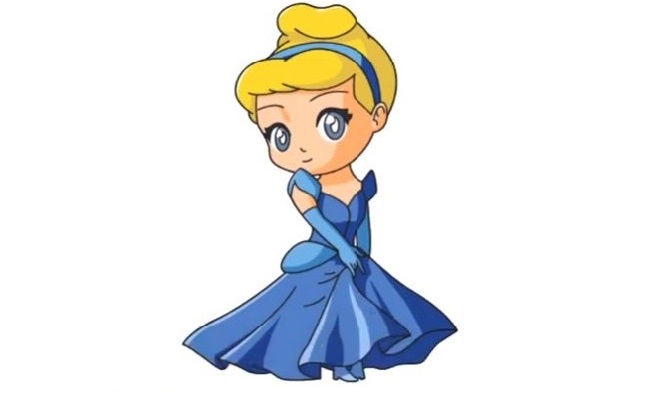 For a finished Cinderella drawing, you have to color it. You can use any color pen you have to make coloring for Cinderella. Color her hair yellow, her eyebrows light brown, her hair band, dress, and eyes blue, her lips pink, and her necklace black. Cinderella's skin is a peach color. So, you get complete Cinderella with our instructions. And you can move to Cinderella coloring pages to enjoy images related to Cinderella. We update the hundreds of Cinderella images for free. Be sure to keep checking our site to make sure you never miss out!
You can use the video and step-by-step drawing instructions below to learn how to draw Cinderella. A new drawing tutorial is uploaded every day, so come here! Thanks for visiting! Please subscribe to the How To Draw YouTube Channel for a new tutorial!