How To Draw A Fairy – The Details Instructions
Fairy (also fay, fae, fey, fair folk, or faerie) is a mythical being of folklore and romance usually having magic powers and dwelling on earth in close relationship with human. Fairy is very pretty and possesses extraordinary strength. She wears often green clothes and hair, living underground or in stone heaps, in the forest, and helps everyone every time they are in danger or harmed by bad guys. She lives in fairyland and makes usually well-intentioned interventions in personal human affairs; or as a tiny, mischievous, and protective creature generally associated with a household hearth. Now, you can know more about fairies in learning how to draw a fairy with us. We will give the instructions and you follow us and our image. Once you get a complete fairy you can choose the colors and make coloring for your product or other Fairy coloring pages on our coloring pages part on our site. We collect hundreds of pictures related to fairy to help you and your girls get an opportunity to understand this character.
How To Draw A Fairy – Let's Get Started!
In fact, myths and stories about fairies do not have a single origin but are rather a collection of folk beliefs from disparate sources. In the theory of fairies, the fairy god was demoted by the evil fund, as deities in Pagan belief systems, as spirits of the dead, as prehistoric precursors to humans, or as spirits of nature. fairy is seen as a mysterious character in the fairy tale world. Children love very much, especially girls. Fairy is the idol of girls, they get Fairy images throughout their world as bedrooms, books, bag school,…To explore new markets, they create a new place for kids with coloring pages. On our site, you can find many coloring pages with different categories,. You can choose suitable coloring pages and make coloring for them.
Fairy coloring pages
is one of our coloring pages here, there are many different fairies. You will draw a complete Fairy and make coloring for your product as well. With six simple steps that we give, you can follow us and finish your task with an easy way. In each step, we provide the illustration image to help you learn to draw easier. Now, let's get started with us to draw a Fairy.
Step 1 – Draw Fairy's Face Outline.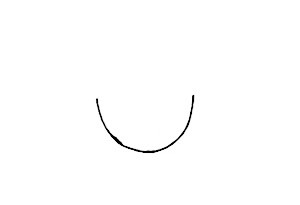 To start drawing a Fairy, you will draw a u-shaped curve representing the Fairy 's face. Very simple in this step, it takes some minutes and you will move to step 2 and continue to draw your Fairy .
Step 2 – Draw Eyes, Eyebrow, Ears, Mouth, And Hair For Fairy.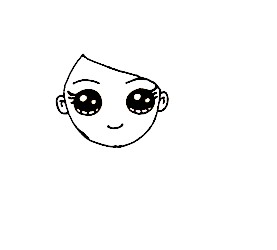 You have quite a bit of work in this step. You will start to draw her eyes with two dots. you will draw two big dots and use black to color for pupils. You subtract the white spaces that are not colored. From the eyes, you will draw short curved lines that are eyelashes for the eyes. On top of your eyes, you will also draw 2 short curved lines to make eyebrows. The left eyebrow is shorter than the right eyebrow because it is partially covered by the hair. Then, you draw two small curves for two ears. You will draw also a short curve under the eyes of her mouth. You will finish your task here with her hair. Draw a hairline just above the forehead then part her bangs on both sides of her hair. Once you have these elements looking as they do in the reference image, you're ready for step 3!
Step 3 – Add Hairs For Fairy.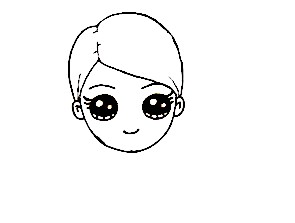 If in step 2 you have a lot of work to do, your work in this step is very simple. You will add 2 curves on both sides of the hair to make the top of the Fairy 's head and create both her head and her hair. You will finish this task here and move to step 4.
Step 4 – Draw Chest, Dress, And Arms For Fairy.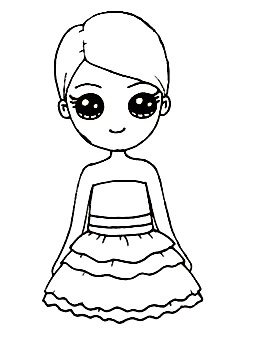 Now, right underneath the face, draw two curved lines for the neck. Extend the lines to create the outline of the shoulder all the way to the arms and hands. The arms should be aligned and drawn evenly. Then, you will create her chest and a nice dress layered in the skirt and simple. You will add more curves to make the dress look nicer. That's all there is to it for this step, so when you're happy with the look of it we shall continue adding to your Fairy in the fifth step.
Step 5 – Finish Your Drawing Mission.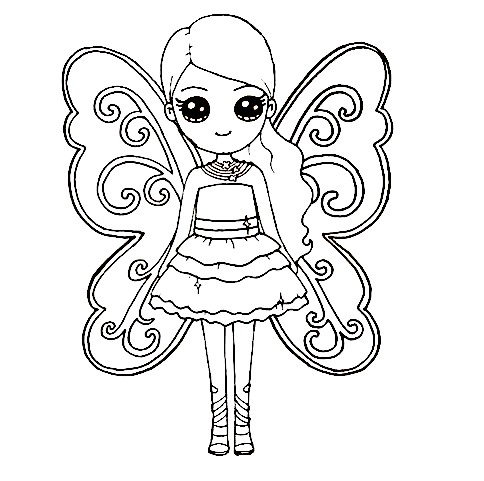 Right now, you finish your drawing task here. You will add legs for her. You will draw a pair of legs below the skirt with two lines that are parallel and meet at the shoe are Fairy 's feet. You will also draw the other leg in the same way for the Fairy . You will add a pair of wings for Fairy as well. A Fairy 's wings are usually enormous, so make sure that the wings you draw extend from the head all the way down to the legs. You can create a pair of wings like a butterfly's wings as our image. After that, you will draw her hair longer on the left side.
Step 6 – Color Fairy.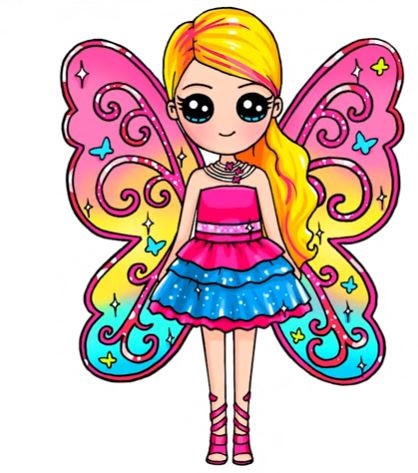 You will choose the suitable colors and make coloring for Fairy in this last step. We take red, yellow, green, blue for our Fairy and you can choose your favorite colors for your product. You can refer our colors and choose colors for your Fairy. So, you finish your task of drawing Fairy here. Besides instruction for drawing dairy we have many instructions drawing there such as fish, elephant, horse,… Be sure to keep checking our site to make sure you never miss out because we update daily. Besides how to draw, we provide also blogs, colorings pages, you can refer to Fairy with
Fairy coloring pages
on our site for free. You can recommend your children, relatives come here. It composes coloring, drawing activities that are good for everyone after the hard-working hours. Have a great time!