Dragon Drawing Is Gotten In 6 Easy Steps
Dragon Drawing Is Complete In 6 Simple Steps
You will get a dragon drawing with us. Until now the latest documents show that dragons are a snake-like legendary creature that appears in the folklore of many cultures worldwide. They are not real. Like magic characters, they have been depicted as winged, horned, four-legged, and capable of breathing fire in western cultures but in eastern cultures, dragons are usually depicted as wingless, four-legged, serpentine creatures with above-average intelligence. Now, you will get more information about dragons with us in this action called how to draw a Dragon. We provide the instruction and illustrate images, you will follow us to create a complete dragon and then make coloring it. We instruct six-step, and you will go to step by step with your patience. Whether you are a beginner or an expert in drawing, you can make a complete dragon easily with our instructions. You can enjoy Dragon coloring pages on our site to learn more images related to dragons for free.
How To Draw A Dragon, Let's Get Started!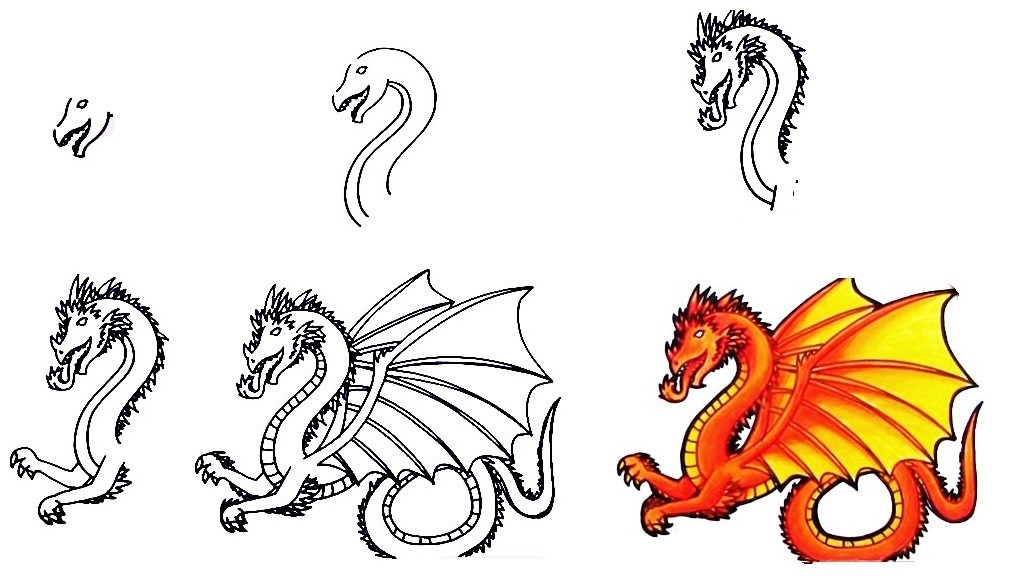 You must prepare some things such as paper, pencil, and colors before drawing. A dragon is not easy to realize to create, but it is not too difficult;t, you need to concentrate your mind and finish the task in each step. Because the dragon is not real, no one can be sure about its shape of the dragon. The popular western image of a dragon is likely based on a conflation of earlier dragons from different traditions and inaccurate scribal drawings of snakes. We also guide you through drawing dragons based on their popular images, and you also have the right to create dragon images in your way so that your product will have its mark for you. You will follow our instructions details and our illustration image in each step. You can refer to Dragon coloring pages on our site. We update many images related to dragons, and you can enjoy them for free. Now, let's get started drawing a dragon.
Step 1 – Draw Mouth And Eye For Dragon

You start to draw a dragon with a mouth and eye. Because we're drawing a side-view dragon, so only one eye is needed. Like a snake, we draw a long dragon's mouth along with its head, then draw a dot showing the dragon's eyes. Please don't forget to add the triangles to make the teeth for the dragon. Once you have these elements looking as they do in the reference image, you're ready for step 2!
Step 2 – Draw Dragon's Body Outline

Now, you will draw the dragon's body outline. From the head of the Dragon, you draw three parallel lines to make the neck and body of the Dragon. So, you can finish your simple task in This step and move to step 3.
Step 3 – Draw Tongue And Thorns Around The Dragon's Body

From Dragon's mouth, you draw a short line to make his tongue, and then you will use the small triangles around the body to make the thorns for Dragon. You will draw the different triangles to show the real thorns. Now, you can finish your task and continue your drawing at step 4.
Step 4 – Draw Dragon's Legs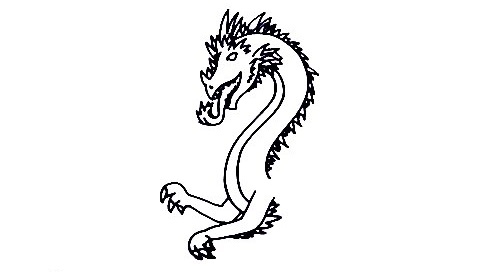 From the body, you will draw two parallel lines, and then you turn to make the knee for Dragon. You will finish your drawing in this step at three toes. Then, you draw the rest of the leg, similar to the leg you just drew. Once you finish two legs, you will add the triangles for thorns around two legs. That's all there is to it for this step, so when you're happy with the dragon of it, we shall continue adding to this duck in the fifth step.
Step 5 – Finish Your Drawing Task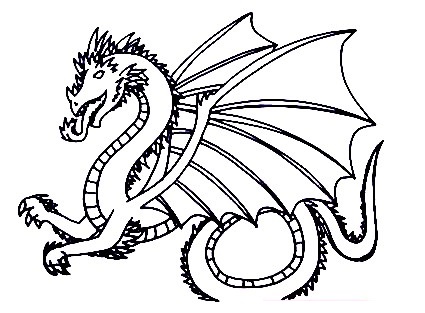 Now, you finish your task in the drawing. You will add a body for Dragon. You will draw the dragon's body, lengthen it, then curl as our image. There are some difficulties in this step for you, so you must concentrate your mind, passion, and time to finish the task in the perfect way. You will draw the lines from his body to make the Dragon's wings. In our image, the wings of the Dragon are similar to the wings of a bird. So, you can draw the line to show the dragon's wings with protruding bones showing the majesty of the dragon. Please don't forget to draw a long tail for the dragon, this is his characteristic. At this step, you almost finish drawing the mission and have more of the last coloring step.
Step 6 – Color Your Dragon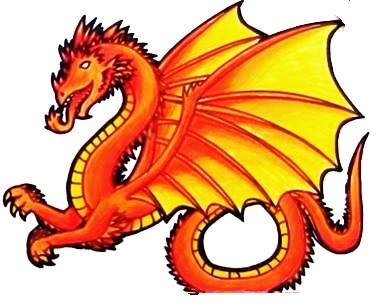 This is the simplest step for you because you need to choose suitable colors to make coloring for a dragon. Here, we choose orange and yellow to color Dragon. Some details need white; you can look at our image and follow it. Or you will take your favorite color to make coloring. There are no rules for choosing colors. Here, we above explain in six steps how to draw a Dragon. If you like our instructions, don't forget to give us a thumb up and recommend them to your friends!
Your Dragon Drawing Is Complete!
We update the articles daily, and keep checking our site to ensure you never miss out! You can move to Dragon coloring pages on our site to enjoy our images related to Dragon. We have many images with many categories; you can enjoy them anywhere and anytime with your devices connecting to the internet. I hope you get a great time here!