6 Simple Steps To Create A Reindeer Drawing – How To Draw A Reindeer
Making A Cute Reindeer Drawing In The Easy Six Steps
Below you will have a chance to learn how to create a complete reindeer drawing with us in six simple steps.
We'll guide you through drawing a reindeer in six steps, equivalent to six tasks you need to complete.
Our reindeer drawing tutorial is arranged from simple to complex; whether you are a beginner or a drawing expert, you can quickly complete it.
Reindeer are animals that live in cold lands; they have a beautiful appearance with unique fur and antlers.
You can see reindeer at Christmas because they have a snowmobile service for Santa to share gifts for kids.
You will go to step by step until to finish your reindeer in 30 minutes.
This is an exciting task, and you can use it as a good entertainment channel in your free time after the hard-working hours.
More it can be suitable for everyone from children to adults. We provide many drawing guides, from easy things to complex. You can choose some things to learn to draw, and it depends on your drawing skills.
Besides the reindeer drawing, you can enjoy reindeer coloring pages for free on our website to practice your drawing and coloring skill.
Let's go to six detailed steps on how to draw a reindeer with us!
How To Draw A Reindeer – Let's Get Started!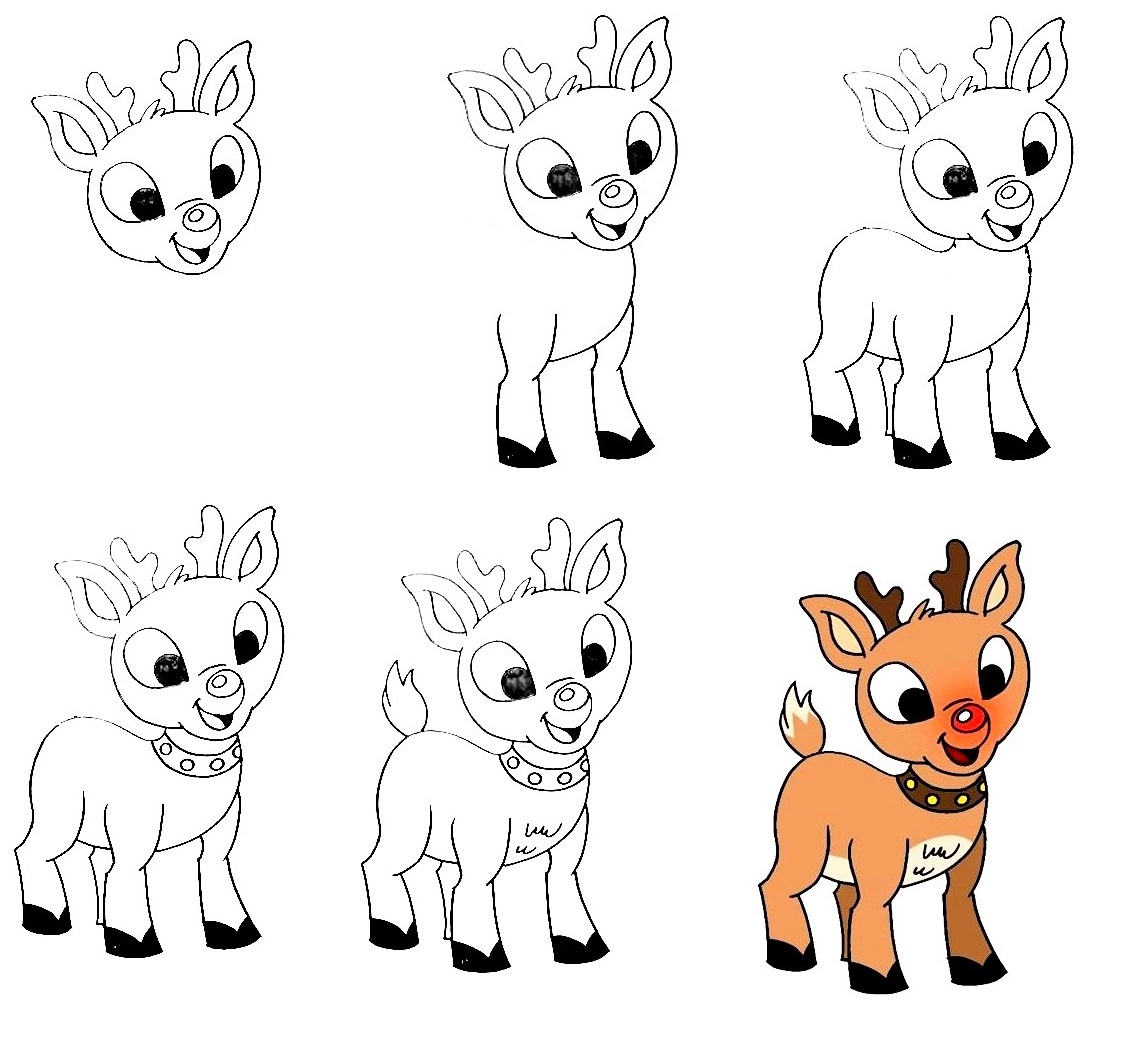 Step 1 – Draw Face And Head For Your Reindeer
Start your task on how to draw a reindeer; you draw details for its face.
Draw an imperfect circle because there is a recess for the reindeer's chin, which is your animal's head.
You will create two ovals for two eyes, and please don't forget to draw two small circles inside and make the pupils.
You continue to draw the nose and mouth of your reindeer with the curved lines, as you see in our reference image.
On the top of the head, you draw two ears with some simple lines. Please don't forget to draw the antlers for the reindeer between its ears.
Your task in this step of your reindeer drawing is done, and you're ready for the second step.
Step 2 – Draw The Chest And Two Front Legs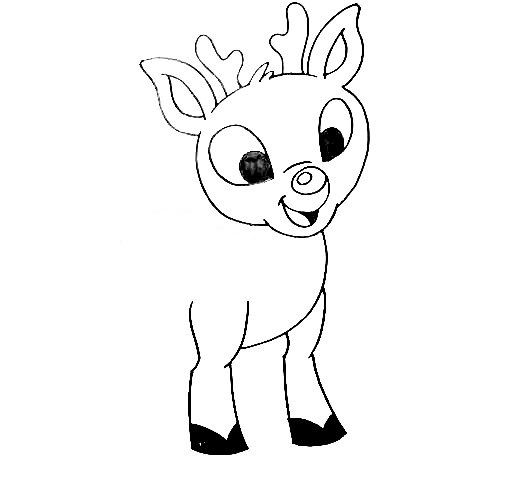 For this second step, you draw a curved line from the reindeer's head to create the neck and chest for your animal.
You continue to realize your task with two front legs. The reindeer's legs are drawn quite simply, you need to draw two parallel lines, and the end of your legs can be partially colored black to create the reindeer's toenails.
Once you're happy with your image, you can move to the third step and continue your work.
Step 3 – Finish Off Body And Two Back Legs
For your task in this step for your reindeer drawing, you will
use a curved line for its back and then draw two hint legs for it.
Similar to drawing two front legs, you use parallel curved lines.
You continue to use another curve almost parallel to the angle of the back to form the reindeer's belly.
So, your task in this step is done; you will go to the fourth step.
Step 4 – Draw The Necklace For The Reindeer
It's time to draw a necklace to make decorating for your reindeer.
You draw two parallel curves at the reindeer's neck and add small circular dots to this necklace as our illustration.
Step 5 – Finish Off Your Drawing Task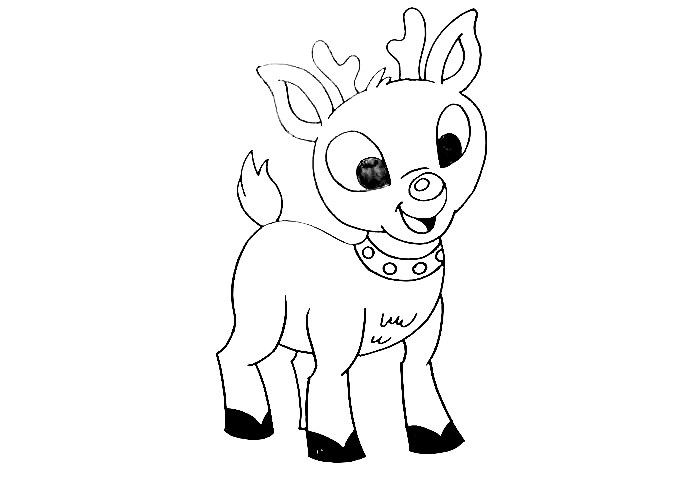 You must draw a tail for your animal in this step of our guide on how to draw a reindeer.
Draw the reindeer's curved tail with curved lines and straight lines.
So, you complete your drawing mission and have the last step for coloring.
Step 6 – Color Your Reindeer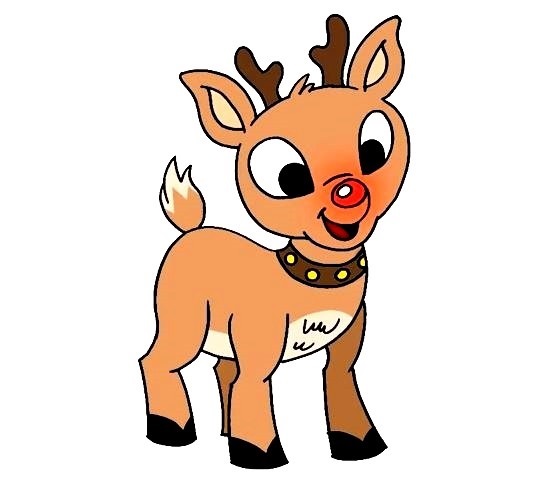 You will choose the suitable colors for your animal. This is a free part for you; choose any color you like to make your picture more beautiful; there is no limit to color creativity, so you can use any color you like as long as it suits the character, the reindeer.
We use light brown for our reindeer, some places with black as eyes, snail, tongue,…And dark brown for the reindeer's antlers. I hope you choose a nice color for your animal, and I would like to admire how it shows.
Your Reindeer Drawing Is Complete
You finish off your drawing and coloring works on how to draw a reindeer in six steps with us. Interesting, isn't it? Have you had a great time?
This reindeer drawing guide also is suitable for kids because they love Christmas and the gifts from Santa Claus.
Good entertainment will make children more excited about learning and better complete assignments. Therefore, choosing a healthy entertainment channel for children and learning to draw is a creative entertainment channel that should be given to children daily.
On our website Coloringcool.com, you can enjoy some other drawing guides such as chrismas pikachu drawing, santas sleigh drawning,…Here are the instructions related to reindeer, and Christmas that you can refer to.
Hopefully, you get a great time and come back here to enjoy more of our products on the drawing guide, blogs, or coloring pages on our website.