8 Simple Steps To Create A Dangerous Scorpion Drawing – How To Draw A Scorpion
Creating A Scary Scorpion Drawing In Eight Easy Steps
In today's tutorial, we will introduce the way to create a Scorpion drawing in the eight easy steps. You will follow our guide and our illustration to know how to draw a scorpion.
This task is not easy, but it is not too difficult; you will concentrate on the course of drawing and finish the task in each step.
Very interesting with this drawing guide; you can get more information about this insect.
It takes you about 30 minutes to complete this drawing, if you have a talent for drawing then you can finish it earlier.
Why not? Learn to draw to help you increase your memory, reduce fatigue and balance your life. Please consider this a good entertainment channel and you can enjoy it every day.
How To Draw A Scorpion – Let's Get Started!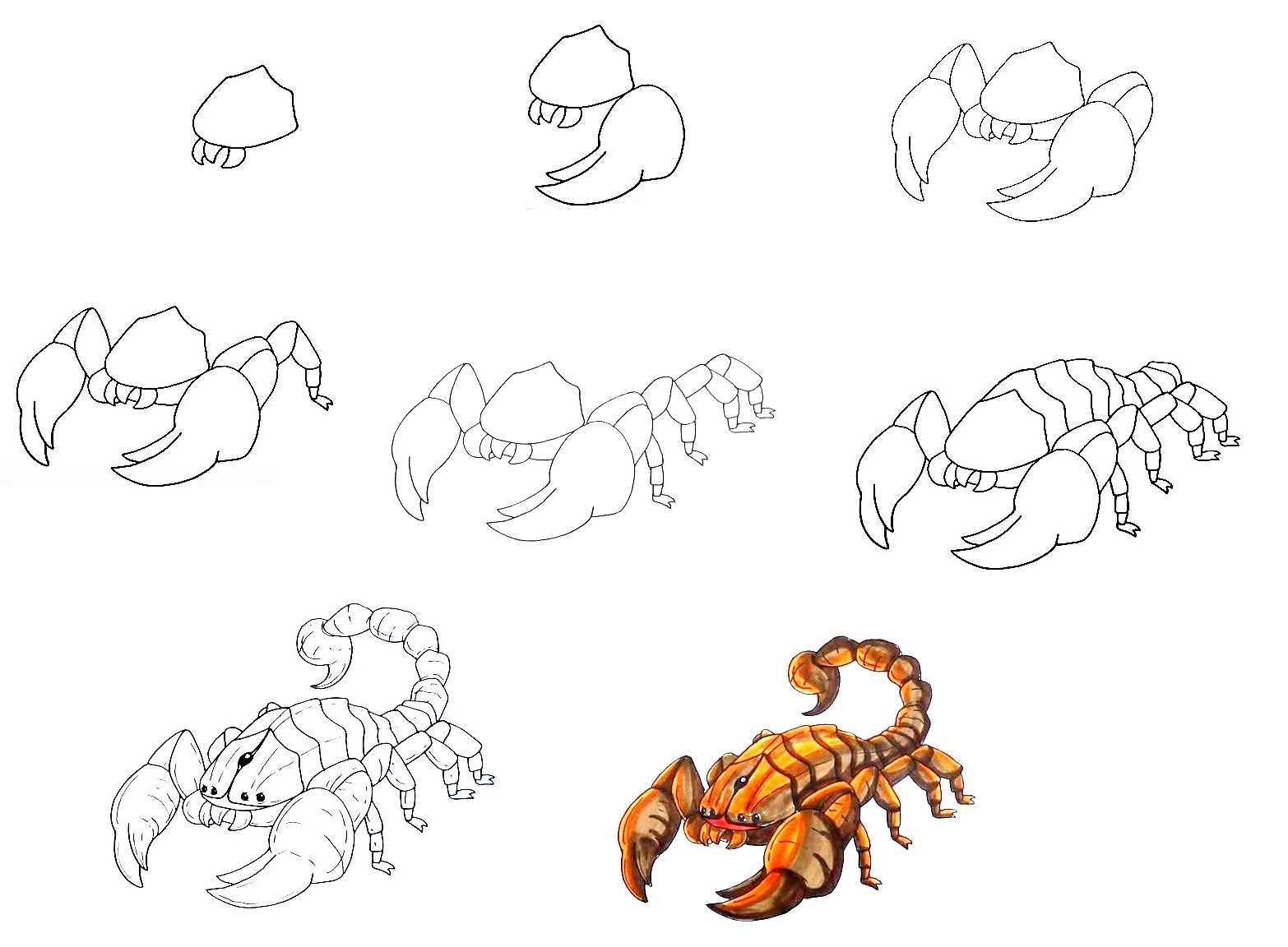 You can come across scorpions when walking in the garden, in the forest, or even in your house. This is a scary creature and can be dangerous to us.
There are many people who are afraid of scorpions, but there are also many people who love this creature and keep them as pets.
The scorpion's fear is undeniable, but in some ways, this creature is also interesting and not a bad idea if we learn to draw a scorpion.
Before starting to draw, you must have some supplies such as a pen, pencil, colors, and marker,…Then you will draw a scorpion with your patience.
You start your drawing task with paper and pencil, and you can erase your mistakes, so please don't worry; you can draw in your comfortable mood.
Once you get a scorpion drawing, you will choose the suitable colors for your product.
Drawing and coloring are good activities for entertainment; everyone can enjoy them from children to adults; you can admire this mission in your free time after the hard-working hours.
Along with the drawing, you can enjoy scorpion coloring pages for free on our website to practice your drawing and coloring skill.
Right now, let's get going into eight steps on how to draw a scorpion.
Step 1 – Draw The Scorpion's Head

Begin to realize your task of our guide on how to draw a scorpion with its head.
You start to draw the head with some curved lines, and it is almost hexagonal. Then you can draw some teeth for your scorpion with some lines like our images.
When everything is done, you are ready for step 2.
Step 2 – Start To Draw Pincer For Scorpion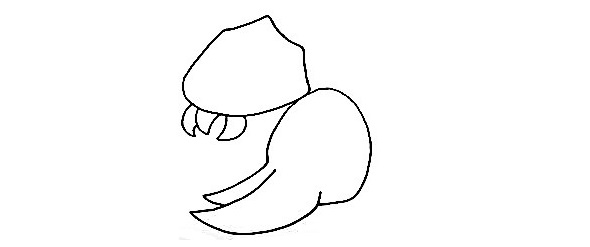 Its pincer is very scary, and you need sơm curved lines for this work.
If humans have two hands, then scorpions have two pincers. You use a larger curve for the top and a small curve for the bottom, as you see in our reference image.
Once you're happy with your image; you can move to the third step.
Step 3 – Finish Off Two Pincers For Scorpion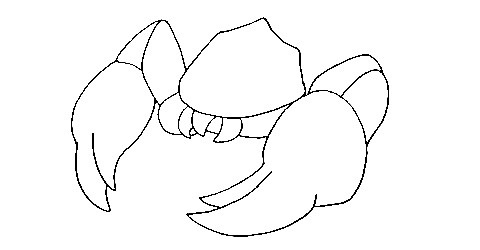 You have to finish off two pincers for your creature, the scorpion in this step of our guide on how to draw a scorpion.
Now your scorpion drawing is full of 2 pincers looking very brave.
If you like, you can add some small details for its pincers before moving to the fourth step.
Step 4 – Draw The First Leg For Scorpion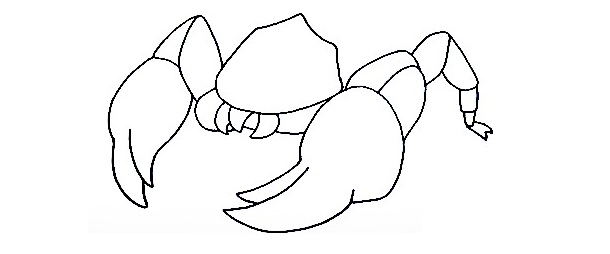 Similar to a spider, our scorpion has eight legs, and you must show them around its body.
You will use short, curved lines to draw the small legs of the scorpion. However, in this step 4, you only need to draw the first leg.
You can go to the fifth step to continue your drawing.
Step 5 – Add The Legs And For Your Scorpion

Your task in this part is quite a lot; you will have to draw the remaining legs for it.
You can look at our reference pictures and follow along, you will find it not too complicated, and you complete them easily.
You need to draw only four legs of a side because we can't see the other four legs for the other side of the scorpion.
Step 6 – Draw Body For Your Scorpion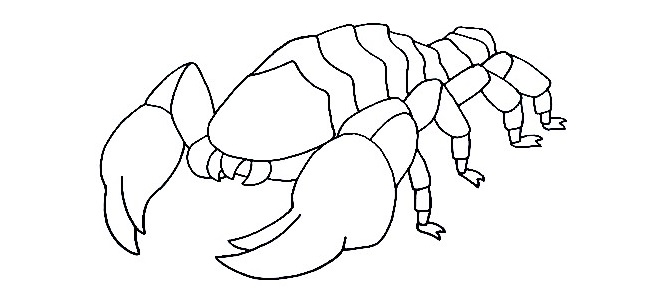 You start to draw the body for your scorpion drawing. It's created by many curved lines, as you see in our reference picture.
You will use successive curved lines to draw the body and back of the scorpion.
There's also a bit of complexity here and our model will show you how.
Step 7 – Finish Off Your Mission Drawing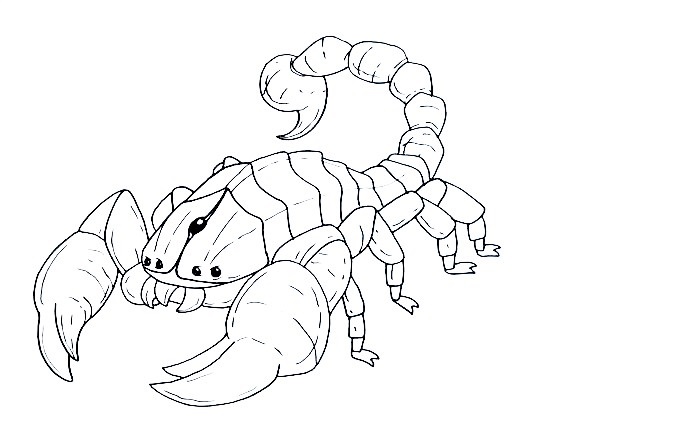 This step will help you to complete detail for your drawing work. You will draw detail for the scorpion's face.
You will draw the eyes and nostrils for your creature; then, you have to finish the task with its tail.
The tail of a scorpion is made up of 2 almost complete curves and meets at a point to form a pointed tail. So your character has full body parts. You can come to the final step for coloring.
Step 8 – Color Your Scorpion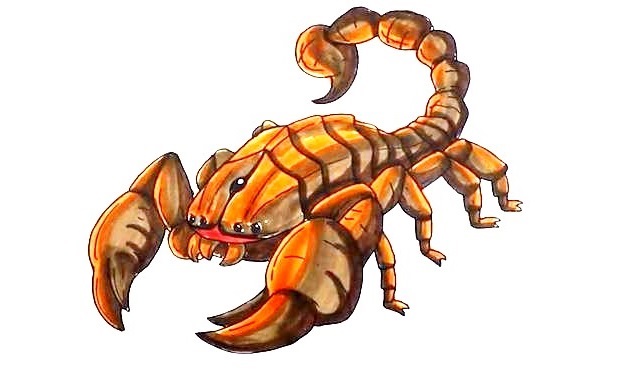 It's time to choose the suitable colors for your drawing of our guide on how to draw a scorpion.
This is your free part, you can choose any color you want to make the picture perfect.
We used brown color for our scorpion drawing; what color do you use? Please show your product to the media site for us to see.
Your Scorpion Drawing Is Complete!
You finish all tasks of drawing and coloring on how to draw a scorpion. You create a complete scorpion drawing. This time is perfect and you can hone your drawing skills with sharp lines in this scorpion drawing tutorial.
On our website Coloringcool.com, you can enjoy other insect drawing such as grasshopper drawing, moth drawing, or spider drawing to enrich your drawing collection.
We update many educational products, you can check our often site to don't miss out. I hope you like this drawing guide and come back here to enjoy more with us.