6 Simple Steps To Create A Nice Vase Drawing – How To Draw A Vase
Creating A Perfect Vase Drawing In Six Easy Steps
You get an opportunity to know how to create a full vase drawing with us in this simple drawing guide.
You will have six steps equivalent to six missions that you must finish to complete your vase.
This is not an easy task but not too difficult; you need to concentrate your mind and passion during drawing time.
A vase is a familiar item for every family, you can use it to arrange flowers, but you can also use it to decorate. You can also see many beautiful and precious vases in museums or places where people keep their works of art.
It's exciting for you to test your drawing ability with a vase, and now you have this opportunity to test your drawing and coloring skills.
Why not? It's free here, we give detailed instructions, and you will go to step by step.
Please be calm and patient and follow our instructions step by step; I believe you will be satisfied with the final result.
Along with this six-step vase drawing tutorial, you can enjoy vase coloring pages to practice your drawing and coloring skill.
Let's go to six steps on how to draw a vase with us!
How To Draw A Vase – Let's Get Started!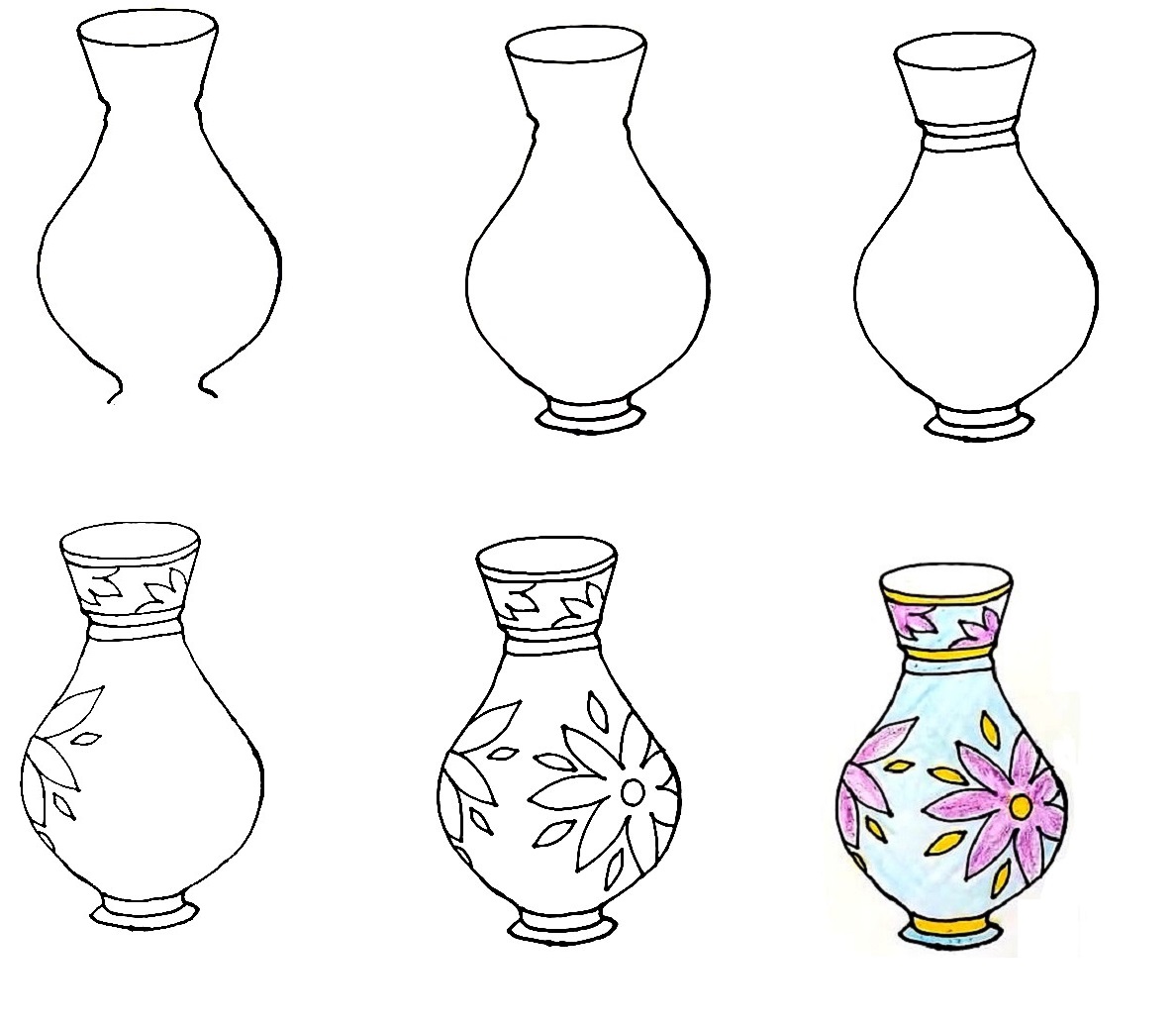 Step 1 – Draw The Vase's Body Outline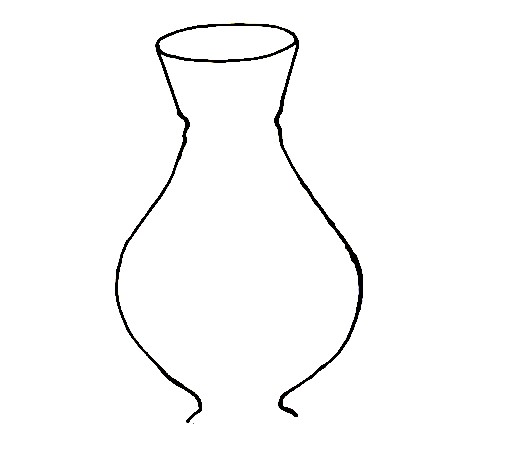 You start to draw this vase with its body outline.
Use an oval to show its rim; then, you use two parallel curved lines to draw the vase body outline, and the bottom of the vase will be drawn in the next step, as you see in our reference image.
That's all the tasks you must finish in this step of our guide on how to draw a vase.
Step 2 – Draw The Base For The Vase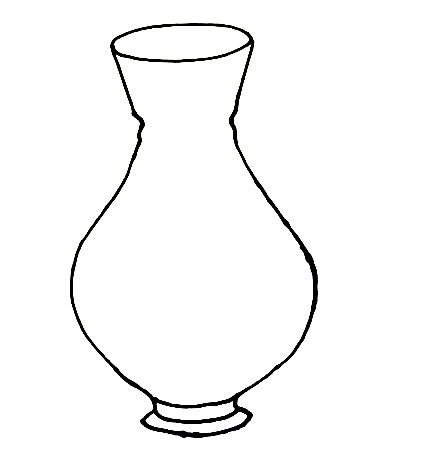 Now, you must draw the vase's base with parallel curved lines.
The vase's body is done, and you will draw the details of the decorations in the third step.
Once you're happy with your mission, you can go to step 3.
Step 3 – Start To Decorate Your Vase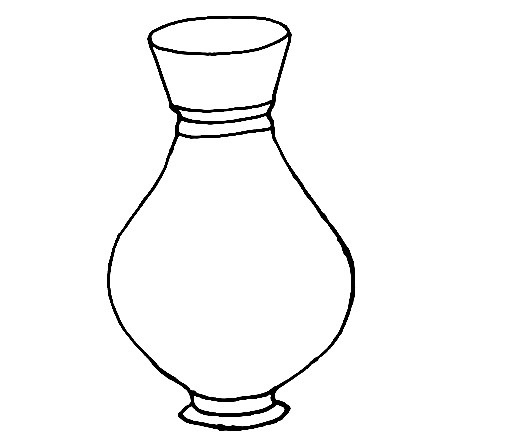 Your task in this step of your vase drawing is to decorate it.
Whether your vase is beautiful or not depends on its decoration. That's why the details of decorating the vase are essential; you need to be very careful in every little fact so that your product will be beautiful and more realistic.
You add three parallel lines at the vase's neck as our illustration before moving to the fourth step.
Step 4 – Draw Some More Decorative Elements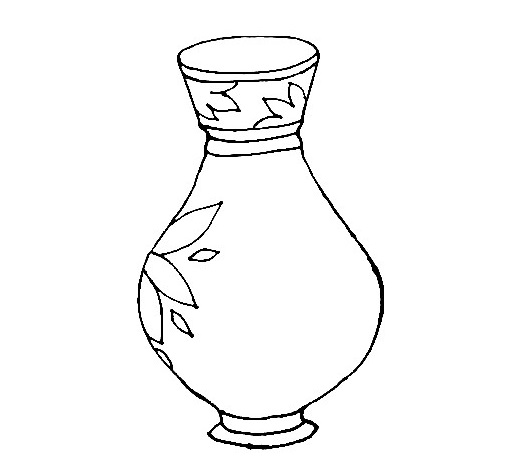 Your mission for the vase decoration in this step of your vase drawing, you draw the flower on the right side of the vase.
You can draw a flower, a leaf or something you like.
You also can draw the exact details as our reference picture.
Step 5 – Keep Draw The Decoration Details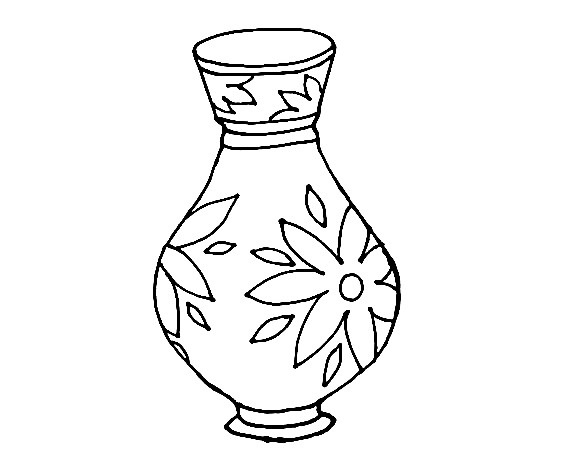 If in step 4, you draw the detail of the decoration on the right side of the vase, for this step of our guide on how to draw a vase, you must draw some things to decorate the left side of the vase.
In addition to the details we drew, you can add more decorative elements for the vase if you like before moving to the last step for coloring.
Step 6 – Color Your Vase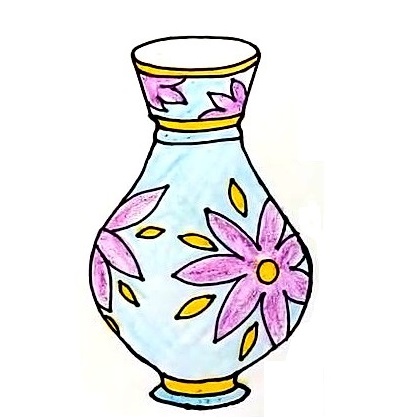 You finish your drawing mission, and now, you start choosing suitable colors for your vase.
There are no rules for choosing colors for the vase, and there are no limits to creativity. So in this step, you can select the color according to your hobby.
As our illustration, we use light green for the vase and violet for the flower, and in some places of the vase, we use yellow to make various colors.
What color do you choose for your vase? We don't want to wait for your vase; share your product on Facebook and Pinterest pages for us to see.
Your Vase Drawing Is Complete!
For now, our guide on how to draw a vase, your mission is done, and your vase drawing is perfect. Although the rope is a simple product, it has many lively and exciting decorative details. I hope you like this drawing tutorial like it. You can recommend our activities to your relatives, for example, for your kids. They will surely like it because they are always curious about our world and the drawing activity is very interesting. Moreover, drawing and coloring can help your kids discover the coloring world and avoid technical devices such as smartphones, tablets, or television. They are not good for their eyes and evolution.
On our website Coloringcool.com, you can find more similar vase drawing guides such as flower drawing or sunflower drawing. Moreover, you can also enjoy many educational products on blogs or coloring pages that we update daily. Come to our website and enjoy them!