Princess Peach Drawing Is Complete In 12 Steps
Princess Peach Drawing in just 12 Easy Steps!
Creating Princess Peach drawing will give you a great time to help you relieve stress and return to work more efficiently.
Princess Peach is a fictional character appearing in Super Mario Bros. As the ruler of the mushroom kingdom, where she lives in a castle with Toads. She is the main character in the series, whose role is to help Mario fight his nemesis, Bowser.
Today with our simple tutorial, you will have a chance to learn to draw about Princes Peach in 12 steps. We also arrange drawing tutorials from easy to complex so that you can easily do any task, whether you are a beginner or a drawing expert.
It will take about 30 minutes to finish drawing Princes Peach, and if you are good at drawing, you will probably complete your task sooner.
As others learnings to draw, please don't forget to take some supplies before drawing. Things like pencil and paper are indispensable in learning to draw.
After completing the drawing task, you will choose the right color for your product, Princess Peach, to complete your work. I hope you will enjoy our drawing tutorial activity.
Along with the drawing guide, you can enjoy Princes Peach coloring pages for free on our website to practice your drawing and coloring skill.
Right now, you go to 12 steps of our guide on how to draw Princess Peach with us.
How To Draw Princess Peach – Let's Get Started!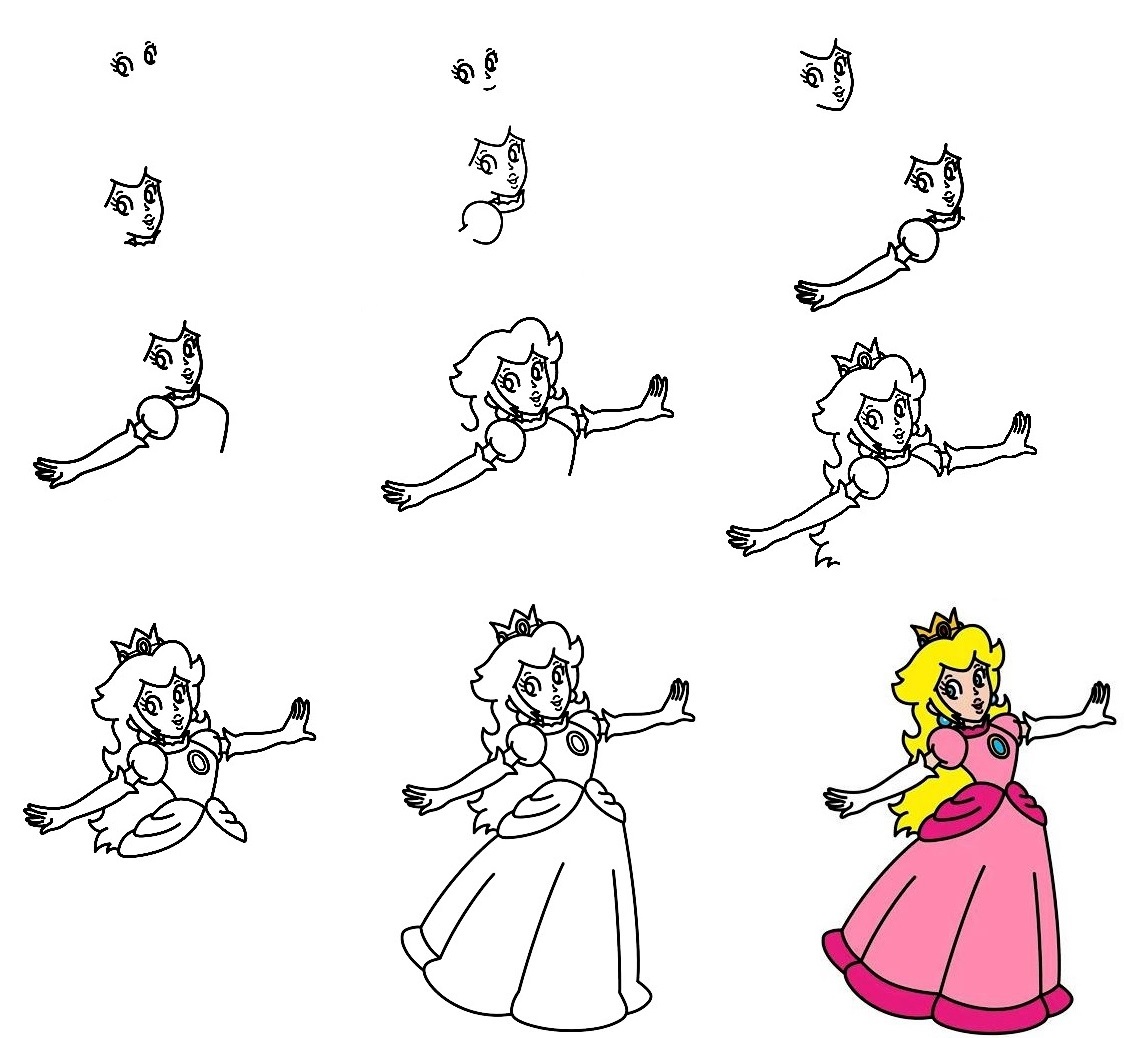 Step 1 – Draw Eyes And Eyebrows For Princess Peach

To start drawing Princes Peach, you will draw her eyes and eyebrows in this first step of our guide on how to draw Princes Peach. You can observe our reference and follow along using curved lines for this task. That's all there is to do, and you can move to the second step.
Step 2 – Draw Mouth And Nose For Princess Peach

In this second step, you continue to draw details for Princes Peach's face. Now you will use some curved lines to draw her mouth and nose. If you feel satisfied with your image, you can go to the next step.
Step 3 – Complete Princess Peach's Face

Right now, you will draw the final details for princess Peach's face, ready to move on to other information about this Princess. Let's add some slight strokes to her mouth and lines around the details of her face. You can come to the fourth step.
Step 4 – Draw Princes Peach's Neck

Your task in this step of our guide on how to draw you will create the neck for Princess Peach; you will use some lines to draw a small neck for her and stop the quest in this step here.
Step 5 – Start Draw Princes Peach's Arms

Princes Peach always wears a pretty dress, so in this step, you will draw part of the sleeve showing part of her arm, as you see in our reference image.
Step 6 – Complete The First Arm For Princess Peach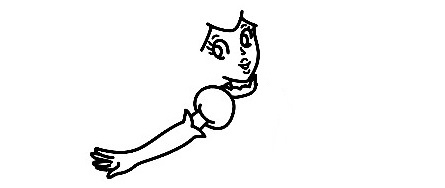 You will add detail to her arms with a long glove. Let's draw more fingers for For Princes Peach. You have completed the mission in this step and are ready to move on to the next task.
Step 7 – Start Drawing Body For Princess Peach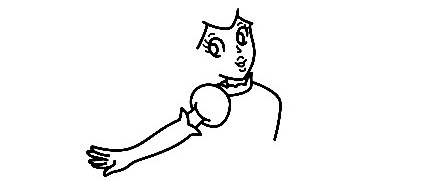 You will start drawing the body for your Princess with a curved line, which will be the princess' chest that will be drawn in the following steps.
Step 8 – Draw The Arm For Princess Peach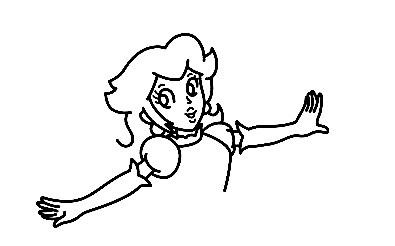 If in step 5 you drew an arm for Princess Peach, then in this step, you will draw the other arm for her. You can look at our drawing and follow along to ensure you're on the right track.
Step 9 – Complete Princess Peach's Hair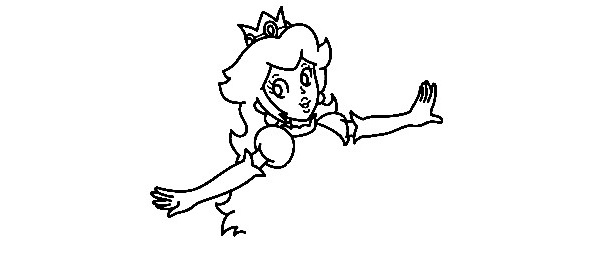 Princess Peach has beautiful long hair and in this step of our guide on how to draw Princes Peach. You can use a brush to draw and draw lines in our reference picture.
Step 10 – Draw Detail For Princess Peach's Dress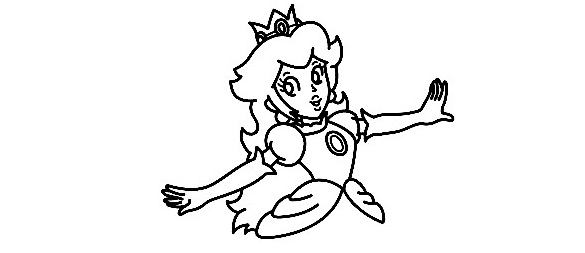 Like many other princesses, Princess Peach wears a long, flowing gown. So you will draw a beautiful dress for her. But you will finish her dress in the next part, and in this step, you draw only a part of her dress as our illustration.
Step 11 – Complete Princess Peach's Dress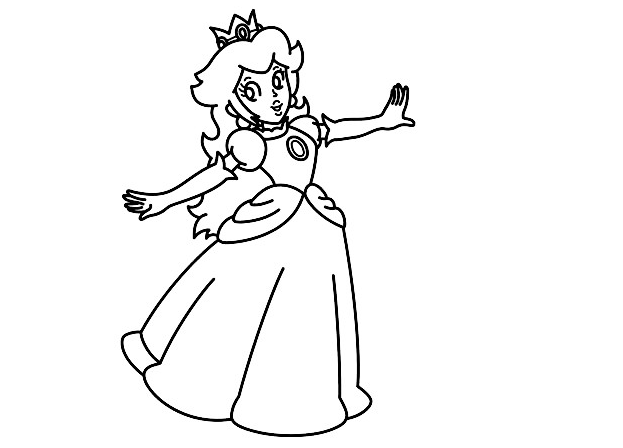 You will crave the details to complete the Princess Peach dress, which is the bottom of the dress. So, you have finished drawing the dress for Princes Peach of our guide on how to draw Princess Peach.
Step 12 – Color Your Princess Peach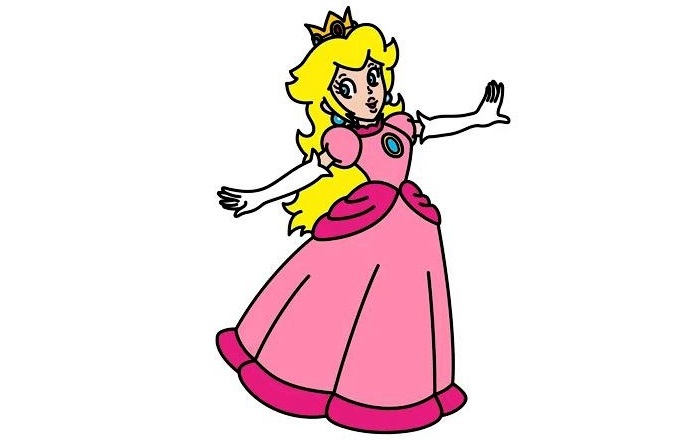 You will choose the suitable colors for your Princess. As our reference image, we used pink for her dress, yellow for her hair, white for her arms, and other colors. You can use your favorite colors or choose the same color as our picture as long as you feel and like it.
Your Princess Peach Drawing Complete!
You have now completed Princess Peach in 12 steps. You will get the desired result, and I hope you will be satisfied with our tutorial. On our website Coloringcool.com, you will get many similar drawing guides, such as princess Sofia drawing, or princess Elsa drawing, to make the reference and create a collection of drawing lessons for you. ColoringCool also hopes you will have a good time with us. Once you get complete your product, you can shear it on your Facebook and Pinterest for us to see.