6 Simple Steps to Creating A Sunflower Drawing
A Sunflower Drawing Is Complete In 6 Simple steps
You will create a sunflower drawing with us. By following the Wikipedia.org site, the sunflower (Helianthus annuus) is an annual living plant in the family Asteraceae with a large flower head (capitulum). The stem of the flower can grow up to 3 meters tall, with a flower head that can be 30 cm wide. Other sunflowers include the California Royal Sunflower, which has a burgundy (red + purple) flower head.
The sunflower is the state flower of Kansas. That is why Kansas is sometimes called the Sunflower State. To grow well, sunflowers need full sun. They grow best in fertile, wet, well-drained soil with a lot of mulch. In commercial planting, seeds are planted 45 cm (1.5 ft) apart and 2.5 cm (1 in) deep. It is a flower that always faces the sun, a symbol of life, of the light of the future. That's why everyone loves it. Today, you can learn more about this flower category with sunflower coloring pages on our site. We collect many sunflower images, and you can choose the suitable ones and color them. With this activity, you can forget some worries and stress in life.
How To Draw A Sunflower – Let's Get Started!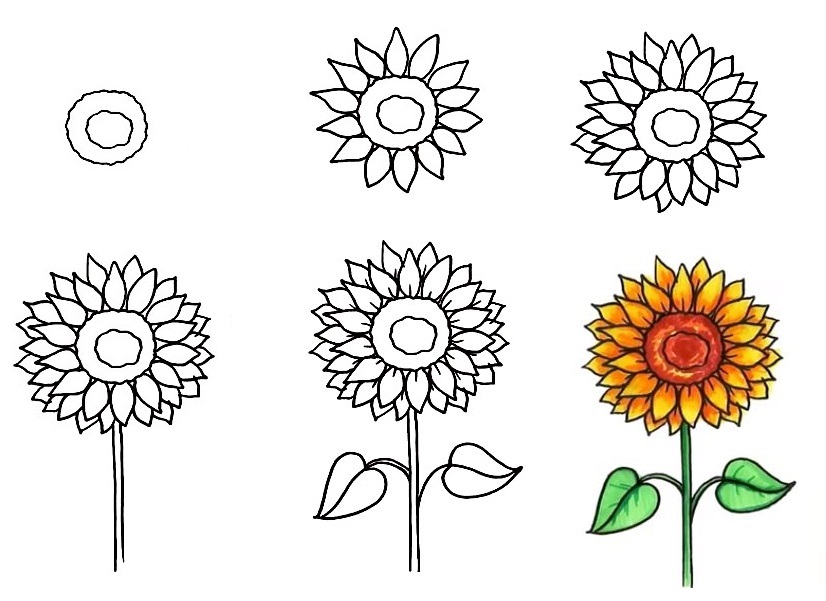 A flower that always faces the sun, a sunflower is yellow, it has form and sheet that are the same sun. Moreover, this flower also has very nutritious seeds. After the flower fades, the seeds are harvested. Sunflower "whole seed" (fruit) is sold as a snack food after roasting in ovens, with or without salt added. Sunflowers can be processed into a peanut butter alternative, Sunbutter. Now, you use a pencil, paper and some colors, then start learning to draw. Not too difficult so that everyone can learn this drawing. In each step, we also have an illustration image and you will follow our picture to finish your task. You can go to the sunflower coloring pages part and enjoy them to learn more about this flower. Because sunflower faces the sun, you can use it to teach your children. No matter what life is like, let's always look toward the light.
Step 1 – Draw Two Circles

For the first step in learning how to draw a sunflower, we will be starting with a very simple step. To begin with, draw a small circle. You will use a pencil to draw the first circle. Then you will draw the second circle. The second circle surrounds the first circle. These two circles are created by small curved lines to make it look like the center of a sunflower
Step 2 – Draw In The Start Of The Petals

In this step, you draw the petals of a sunflower. You will draw triangle shapes along the outer edge of the sunflower center. Make sure you draw as many equal triangles around the center of the flower to make beautiful sunflower petals. You finish off your mission and go to the next step 3.
Step 3 – Draw In Some More Of The Petals

You continue to draw some more of the petals for sunflowers. In this step, you will see that your sunflower drawing is starting to take shape now! Right now, the petals have more volume and make the sunflower look much fuller.
Step 4 – Add In The Stem Of Your Flower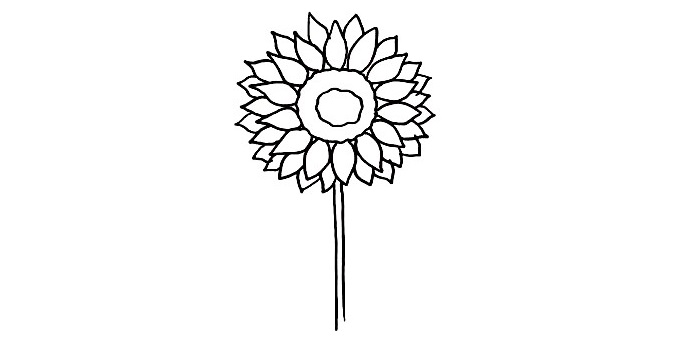 Very simple in this step because you draw a stem of your flower. You know that every sunflower needs a stem, so we will start to add that in this fourth step of this guide on how to draw a sunflower. Now, you will start to draw two slightly curved lines down from the sunflower bottom and make sure that they're close together.
Step 5 – Draw In The Leaves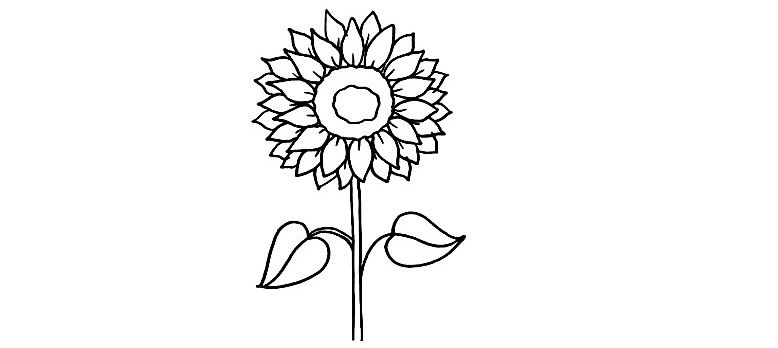 Right now, you add leaves to the stem of the sunflower. As with other leaves, you draw two leaves connecting with the stem. You must remember that each leaf will have its thin stem coming out from the main stem of your sunflower drawing.
Step 6 – Color Sunflower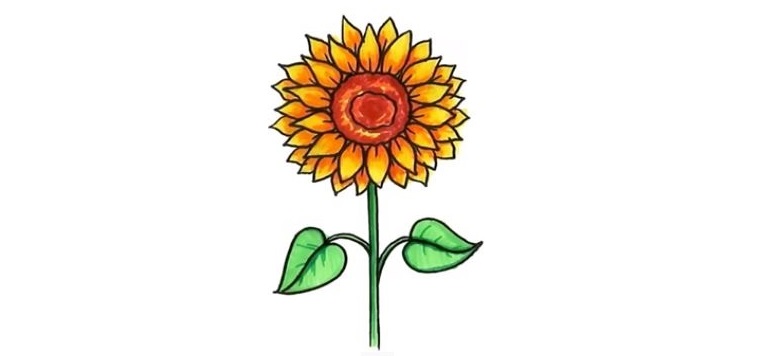 This is the easiest step for you in six steps to draw a sunflower. With this work, you can show your skill in drawing and coloring for sunflowers. You will go to step by step until finishing your task. Sunflowers are known for their bright and striking colors, so this should be a beautiful picture to behold once you've added in your colors, it is yellow, so you choose yellow for it. You will choose green for the leaves and stems. You could use various mediums to color in your sunflower drawing.
Your sunflower drawing Is Complete!
Once learning to draw, you can move sunflower coloring pages to practice color. You can recommend activities like drawing and coloring for your children and your relatives as well. You come here after the hard-working hours to reduce stress and worry about making your life better. I hope that you get a great time here with us.