How To Draw Marie From The Aristocats – 8 Simple Steps For Nice Marie Drawing
Create Marie Drawing in Eight Simple Steps
In this today's tutorial, you will learn how to make Marie drawing from the Aristocats. This drawing is simple enough for beginner artists, and you can complete it just by following the steps. You will follow our step-by-step tutorial to make 1 Marie, the main character in The Aristocats, an animated film released by Disney in 1970. This is a lovely white cat with blue eyes, living in a beautiful mansion in Paris with her owner, Madame Bonfamille. Later when her owner died, the heirs chased Marie and several other cats away, however they were rescued by a street-wise tomcat named O'Malley, In the film there are some other notable characters such as Toulouse, a red-haired kitten who is Marie's brother; Berlioz, a black-furred kitten who is also Marie's brother, and Duchess, a beautiful tortoiseshell cat who is Marie's mother.
How To Draw Marie From The Aristocats ​– Let's Get Started!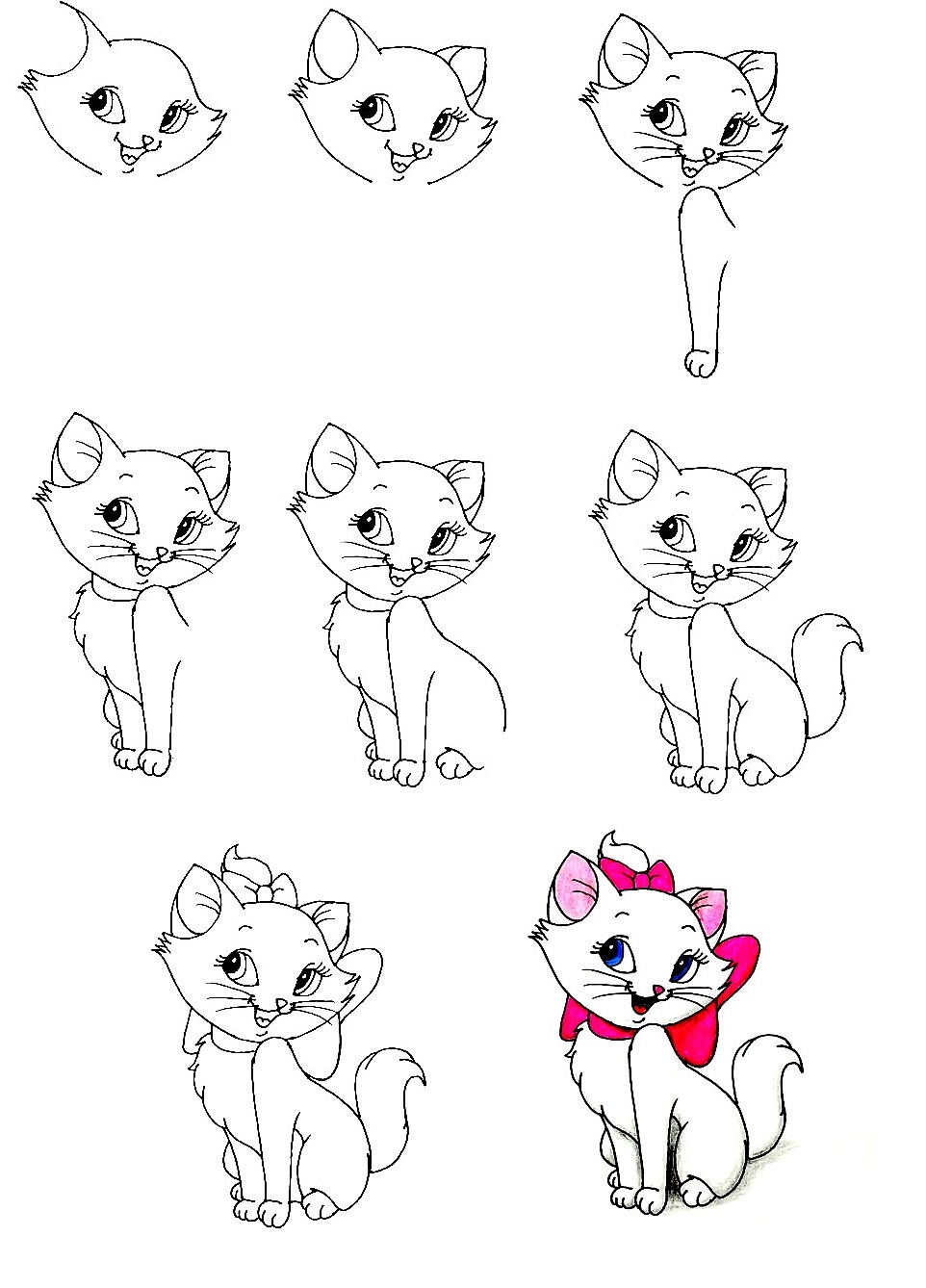 Learning to draw Marie from the Aristocats is not easy; you must concentrate your mind, passion, and time on this mission. You will follow our drawing instructions and create a complete Marie drawing with your skill. This is also an extremely interesting quest suitable for everyone. You can enjoy this mission after the hard-working hours in your free time. Learning to draw is a good entertainment channel, you study while relaxing at the beginning of the study, and the concentration in the lesson helps you temporarily forget the fatigue and worries of life.
It would help if you prepared a pencil, eraser, colored pencils, and drawing paper before starting to draw. you will proceed to draw Marie by drawing basic strokes then you proceed to draw more complex lines and finally after you finish Marie's drawing you will be busy choosing colors and coloring it. It is not easy but it is not too difficult and you can realize your task whether you are new to drawing or you are an expert in the field of drawing. Along with this tutorial, we have a lot of Marie coloring pictures on
Aristocats Coloring Pages
, and now let's go into 8 steps to make Marie drawing.
Step 1 – Draw Marie's Face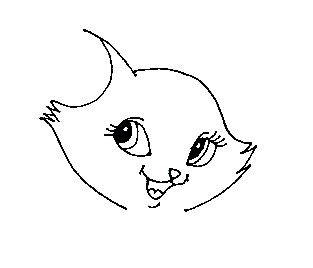 You start to work with Marie drawing her face. You must draw eyes, nose, and mouth for Marie in this step. There's also a bit of complexity here, you need to use a pencil to sketch the first lines then you erase the smudges and erase if you make a mistake, after you are satisfied with your line then you can highlight them and move on to the next step after drawing Marie's hair.
Step 2 – Draw Marie's Ears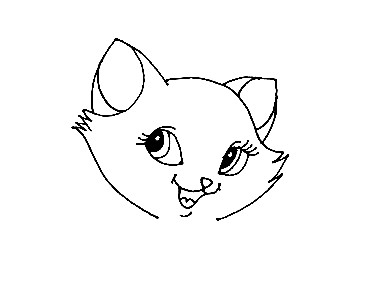 Your task in this step on how to draw Marie, you must draw the ears for her. Draw a curved line similar to a backward letter C on the right side of the head as a guide for Marie's ear. Similar to the right ear you also draw, you finish the ears drawing and continue to realize Marie's drawing wins the third step.
Step 3 – Draw A Front Leg for Marie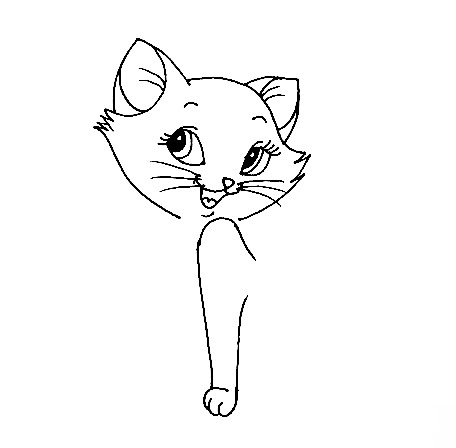 You continue your task of Marie drawing to draw a front leg for her. Those are 2 almost parallel curves that pull down from her face, at the bottom, you will use short curves to show her toes. So you have completed the task in this step on how to draw Marie before moving to step 4.
Step 4 – Add More A Front Leg For Marie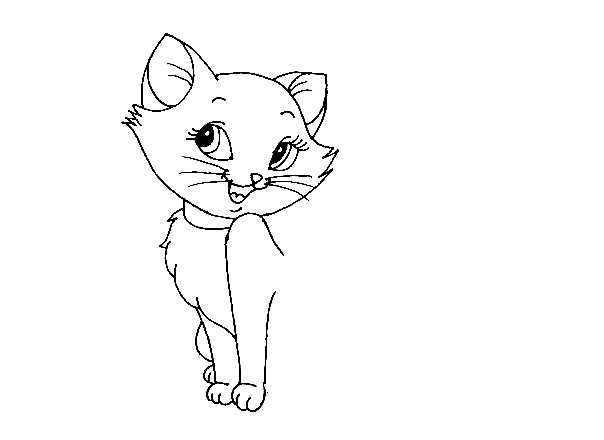 Similar to step 3, in step 4 you will add more of a front leg for Marie's cat. it will be shorter than the front leg you drew in step 3, but before drawing this leg you have to draw Marie's neck and shoulders. You can finish off the task in this step and continue your task in the fifth step.
Step 5 – Draw The Hind Legs for Marie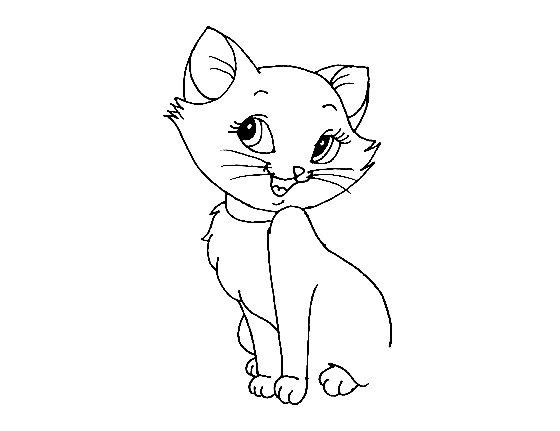 You will continue drawing Marie by drawing her hind legs. as you can see in our reference you will draw Marie's cat's body before drawing her hind legs you will use curved lines to realize your task in this step of Marie's drawing. You can go to the next step right now.
Step 6 – Draw Marie's Tail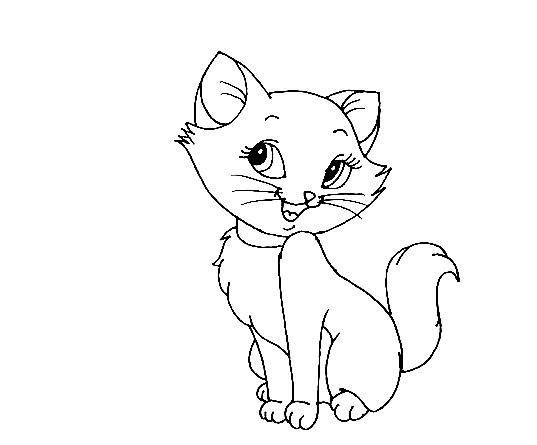 You are going to draw Marie's cat's tail in this sixth step of Marie's drawing. It is constructed then two parallel curves from her body. You can observe our reference image and follow it. Once you are happy with your task, you will continue your drawing in the seventh step.
Step 7 – Finish Off Your Drawing Task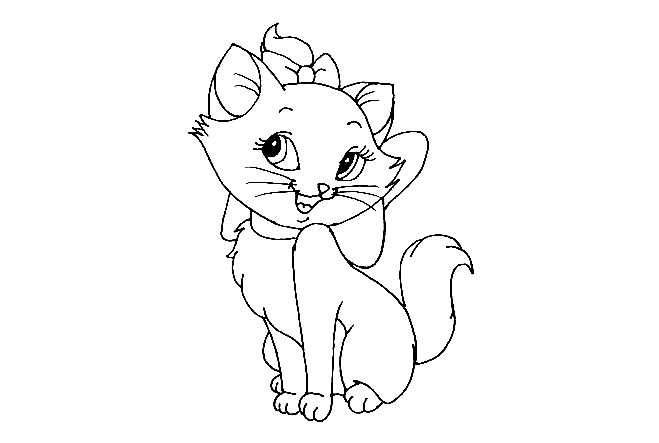 You will complete all details for your cat now. You will add a few details to decorate Marie more beautiful. It's accessories like a necklace, a crown or a pretty one as you see in our illustration. You can review it once again before going to the last step for coloring Marie.
Step 8 – Color Your Cat, Marie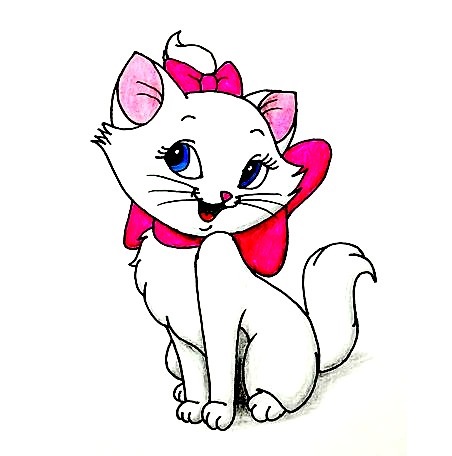 You finish your task of Marie drawing with the colors. You will choose the suitable colors for your drawing. You can take any color you like for this image but normally, Marie is pink in some places as our example, and white for the whole body.
Your Marie Drawing Is Complete
You finish your drawing and coloring for your character, Marrie, from Aristocats. Right now, you can admire your result. Isn't it amazing that it only takes a short amount of time to create a perfect character, Marie? Drawing helps you relieve stress and have a better life. If you are a parent, you can join in this activity with your kids, they will like surely it. Similar to drawing Marie, on our website Coloringcool.com we have a lot of tutorials related to cats such as Pete the cat drawing, chococat drawing, cute cat drawing, or cat drawing. Now, you finish your drawing and coloring mission for nice Marie, from The Aristocats. I hope you get a great time here and come back here to enjoy our drawing and coloring pages products more.