How To Draw A Queen – The Details Instructions
In Disney Productions', Queen is a compelling character after the king because she is the king's wife. Depending on the story of the movie, the Queen appears as a protagonist or a villain. But in general, Queen is described as a lovely lady, has power, less than one person but over many people. So, this is a place that every girl dreams of sitting. So, today, you will get an opportunity to learn drawing queens. It can be said that the princess and the Queen are the idols of little girls. And if you have the girls, you can learn to draw Queen with them. They will indeed like this activity. You can refer to other Queen at Queen coloring pages on our site. We collect many coloring pages, and you enjoy them for free.
How To Draw A Queen– Let's Get Started!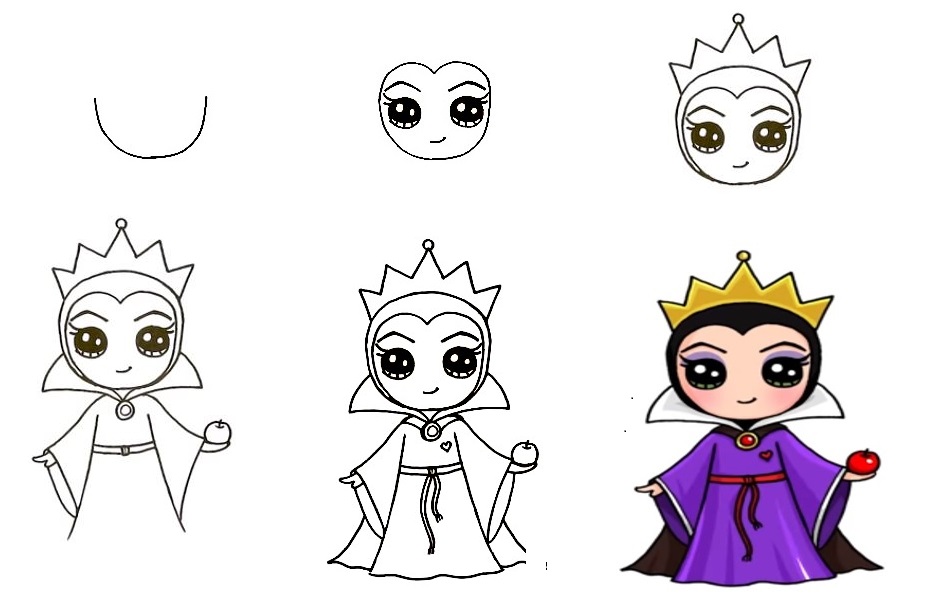 In this intermediate drawing lesson, you will learn to draw a cartoon queen wearing a purple dress and a yellow crown. This character is a little bit tricky to draw. A queen is not just an old lady with a ceremonial dress. You need to depict the wisdom and the intelligence of your character using only a few lines! Here, a queen needs to be calm, polite, and follow all the rules that this role demands. To accomplish this task properly, you need to draw a character with a neutral facial expression and create an outfit that looks prestigious without looking too grotesque. It would help if you found the right balance between prestige and elegance. You will prepare paper, pencil, colors for your drawing before learning to draw a Queen. You will follow our instructions step in step and our image because, in each step, we provide the illusion images for you. Once you finish your drawing mission, you can enjoy
Queen coloring pages
on our coloring pages part. You can enjoy them for free with your girls and teach them about drawing coloring as well.
Step 1 – Draw Queen's Face Outline.
You draw a curve to illustrate the face of the Queen. It is elementary in this step. You can observe our image and follow it. Please erase the mistakes along with the guides and guidelines.
Step 2 – Draw Eyes, Eyebrows, And Mouth For Queen.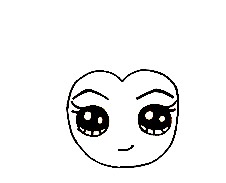 In this step, you start to draw eyes for Queen. You draw two dots and use black for the coloring of the pupil. You also leave the white space unpainted to make the eyes very realistic. After that, above the looks, you will draw two curves equivalent to 2 eyebrows of the Queen. Once you have these elements looking as they do in the reference image, you're ready for step 3! Please don't forget to draw short curved lines where the eyes are eyelashes. You continue to attract a short curve for her mouth.
Step 3 – Draw Queen's Crown.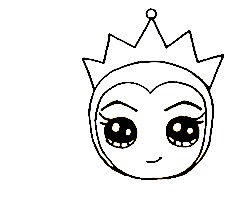 This is a simple step for you. You draw a curved line around the forehead. You will then draw zigzag lines parallel to that curve to form the crown for the Queen. In the middle of the height, you will draw one dot as the center for the crown.
Step 4 – Draw Queen's Dress And Hands For Queen.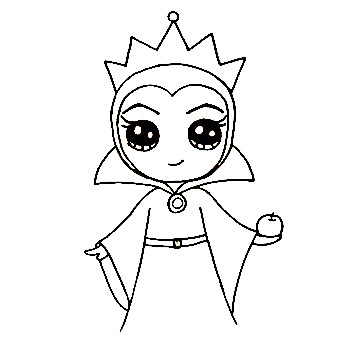 Now, you get an opportunity to show your fashion skill. You will design a lovely dress for your Queen. This is not an easy task, but you need to concentrate on finishing your task as soon as possible. From the Queen's chin, you will draw ample curves showing that the Queen's collar is enormous. From there, you will draw the body of the skirt and the sleeves. From the sleeve, you will draw a hand for the Queen. Do the same for the other sleeve and hand. You add an apple on her left-hand ass well.
Step 5 – Finish Your Drawing Mission.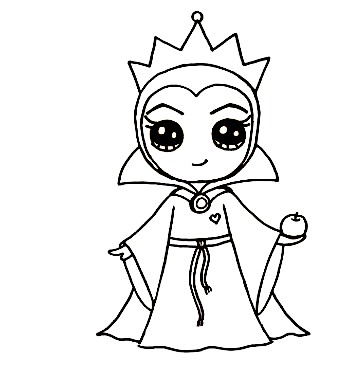 Now, you must finish your drawing task. You will add the rest of her dress and a belt for the dress. You can add some details for decoration off the dress. Verry simple task in this step, and you will continue to color your product in step 6.
Step 6 – Color Queen.
Now, you must choose the suitable colors for Queen. We choose yellow for her crow, purple for her dress, black for eyes, eyebrows, hair…and you can choose any colors you like. With drawing and coloring, you can enjoy them in your free time. They can help you relieve your stress and worries and make your life better. Here, you can enjoy
Queen coloring pages
as well. We update daily for coloring pages, articles for instructions, blogs,..I hope you will enjoy this simple step-by-step tutorial and don't hesitate to change the dress design of this character to add a little bit of your personality to your artwork. More cute female characters can also be drawn below. Enjoy and remember to practice as often as possible.