Peppa Pig Drawing Is Complete In 9 Easy Steps
Creating cute Peppa Pig drawing in just 9 easy steps
Learn how to draw Peppa Pig with our super easy to follow step-by-step Peppa Pig drawing tutorial. You will follow our instructions and we will create the complete Peppa Pig for you in 9 steps, equivalent to 9 missions you have to finish. This is an interesting activity suitable for everyone, from children to adults. It is especially helpful for kids because they avoid to using technical devices such as smartphones, tablets, and television. The use of devices is not good for children's eyes and development. So if you are a parent, direct your children to useful activities such as painting, gymnastics, and swimming. Today, you get an opportunity to learn to draw Peppa Pig, and you can join this activity with your kids and understand more about them. You will have a better method of educating them. In today's modern life, parents do not have time to spend with their children; activities like these help parents and children understand each other closer. Along with the tutorial, we have also included a couple of free Peppa Pig coloring pages that you can print off and give to your kids to color!
How To Draw Peppa Pig – Let's Get Started!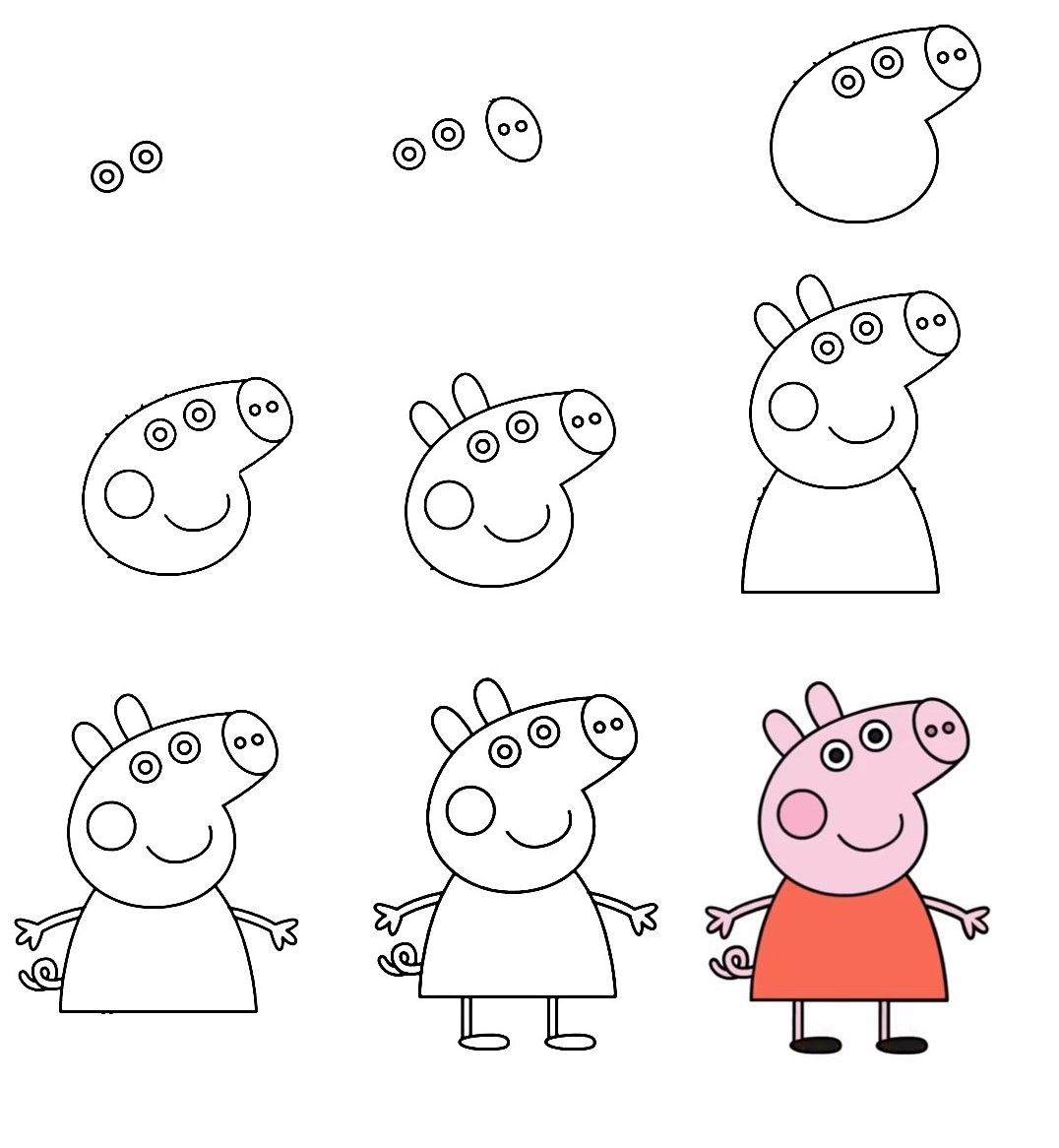 Peppa Pig has been around for years, but her popularity has been surging lately, especially in the book market. And as an art teacher who knows the success of connecting art lessons with storybooks, Peppa is the perfect candidate for lots of kinder and first-grade classes. Peppa appeared in 2004, and her popularity only grew stronger as time went on! He is a character that has been interested for many years, from old to young, and has experienced many interesting adventures. Many people love this cartoon character and want to draw her, but not everyone can draw Peppa as they want. Our step-by-step guide on how to draw Peppa Pig will show you how you can draw this adorable character yourself! You will use a pencil to draw on paper; once you finish your drawing mission, you will choose colors for your drawing. Drawing and coloring are excellent activities for everyone. You will relax and feel comfortable working better, and your life is also more enjoyable. Now, let's get started drawing Peppa Pig!
Step 1 – Draw Peppa Pig's Eyes

We will be starting with Peppa's eyes in our guide on drawing Peppa Pig. Her eyes are then made of two small circles with a dot inside each one. The straightforward task in this step. You finish it in some minutes before going to step 2.
Step 2 – Draw Peppa Pig's Nose

You start drawing Peppa Pig's nose. You will draw a circle, and within it, you will draw two dots for two nostrils. Once you have her nose outline looking like the one in our example image, then we're ready for step 3!
Step 3 – Draw Peppa Pig's Head

We will start with Peppa's head in our guide on drawing Peppa Pig. Her head is made of two rounded shapes that form one singular shape. The top of her head could be an oval, whereas the bottom is more circular.
Step 4 – Draw Peppa Pig's Mouth

You draw a curved line for Peppa's mouth. Next to your mouth, draw a big circle. Now she's already starting to look more like Peppa should! That's all there is to it for this step, so when you're happy with the look of it, we shall continue adding to Pig in the fifth step.
Step 5 – Draw Peppa Pig's Ears

This step of our guide on how to draw Peppa Pig will be quite a simple one! All you need to do in this step is draw two ears for Peppa. Her ears are small and made of simple curved shapes on her head. You finish this task and next to the sixth step.
Step 6 – Draw Peppa Pig's Body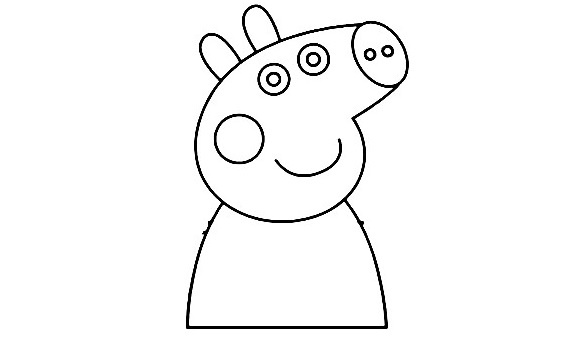 Now, you draw Peppa Pig's body in this step. Her body is also made of a relatively simple shape, so this shouldn't be too much of a challenge for you. You will draw two curved lines coming down from her head and then connect them at the bottom with a flat line.
Step 7 – Draw the Tail And Arms Of Peppa Pig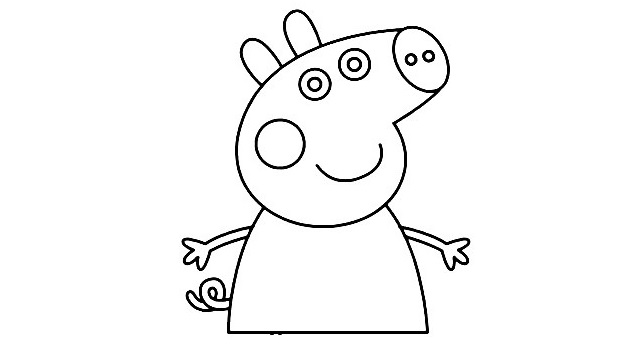 As the Pig, Peppa Pig has a cute tail. Now, we will give the guide to draw her tail. Peppa Pig's tail can be drawn using a single line that loops on itself like the one in our reference image. We had better start adding the arms to finish her off! The component is also pretty simple and can be drawn with one thick line that ends in two other forked lines for her fingers. That's all you need to do before going to step 8.
Step 8 – Finish Your Drawing Mission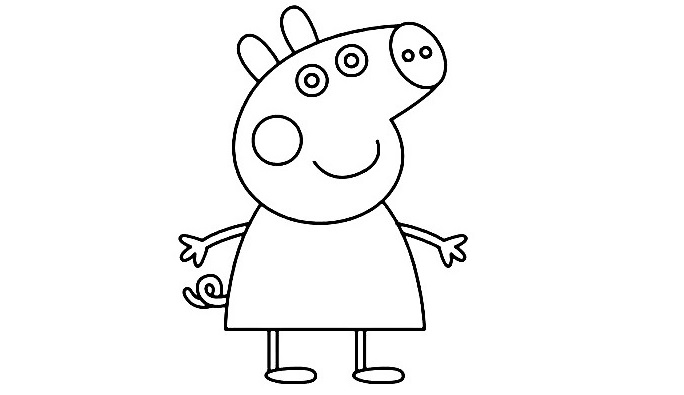 At this step, you finish your drawing mission for your drawing, Peppa Pig. You will draw legs for your character. Like her arms, the legs are simple, and you draw two parallel straight lines coming down from her body and finish with two ovals for her feet. So, you create a complete Peppa Pig and have a last step for coloring.
Step 9 – Color Peppa Pig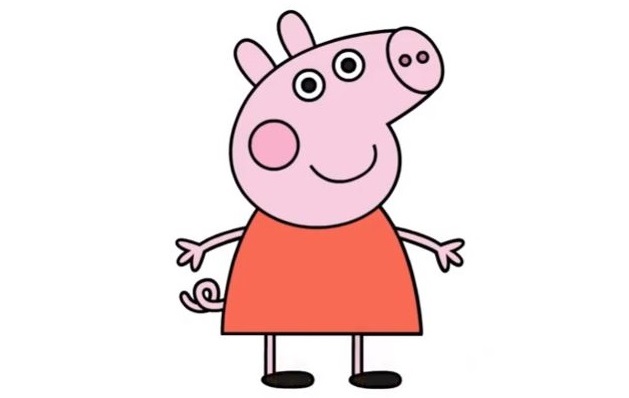 The final step of our guide on drawing Peppa Pig is all about bringing your amazing drawing to life with some beautiful colors! You can take any color you like for your picture, Peppa Pig. You can refer to our colors as images. We bring light pink for Peppa Pig's skin, light orange for their clothes, and black for her feet and eyes.
Your Peppa Pig Drawing Is Complete!
So, you finish your drawing and coloring to create the complete Peppa Pig. It is exciting, and you can enjoy this entertainment activity after the hard-working hours. Once you finish your work, you can move to Peppa Pig coloring pages to enjoy coloring pages related to Peppa Pig. If you like our products, don't forget to give us a thumb up and recommend them to your friends! Have a great time!
Use the video and step-by-step drawing instructions below to learn how to draw Peppa Pig. Thanks for visiting! Subscribe to the How To Draw YouTube Channel for our new tutorial.