8 Simple Steps To Create Strong Darkrai Drawing – How To Draw Darkrai
Darkrai Drawing Through just 8 Simple Steps!
Today, you have the opportunity to know a Pokemon, which is to create the complete Darkrai Drawing.
Darkrai is a shadow Pokemon; it belongs to the shadow type and has a small head with a bunch of ghostly white feathers resembling fog. Thorns are growing around his neck; blue eyes are features that add to Darkrai's intimidating appearance.
Darkrai has a body like a clock, black hands with long claws, and always seems to wear an old tattered cloak.
Darkrai is a legless Pokemon, but it can extend stilt-like appendages.
Darkrai is a character known to dwell in dreams and have unending nightmares. And it works on new moon nights, being the only known Pokemon character to have the ability to learn moves from Dark Void.
And today, you get a chance to learn how to draw Darkrai with us in just eight steps. We give the Darkrai drawing guide, and you will go to step by step.
There are eight steps equivalent to eight missions that you must finish.
Drawing Darkrai is not a simple task, but it is not too difficult, but you need to focus while learning to draw.
It would be best if you prepared all supplies such as a pen, pencil, paper, colors, and eraser.
You proceed to draw Darkrai with pencil and paper; if you make a mistake, you can erase and redraw until you feel satisfied.
Once you get the complete Darkrai, you will choose the suitable colors for your product.
Along with drawing Darkrai, you also have the opportunity to enjoy Darkrai coloring pages for free to practice your drawing and coloring skill. With regular practice, your drawing and coloring skills will improve, and maybe you will indulge in them and become a real artist.
Right now, we go to eight steps of our guide on how to Darkrai with us!
How To Draw Darkrai – Let's get started!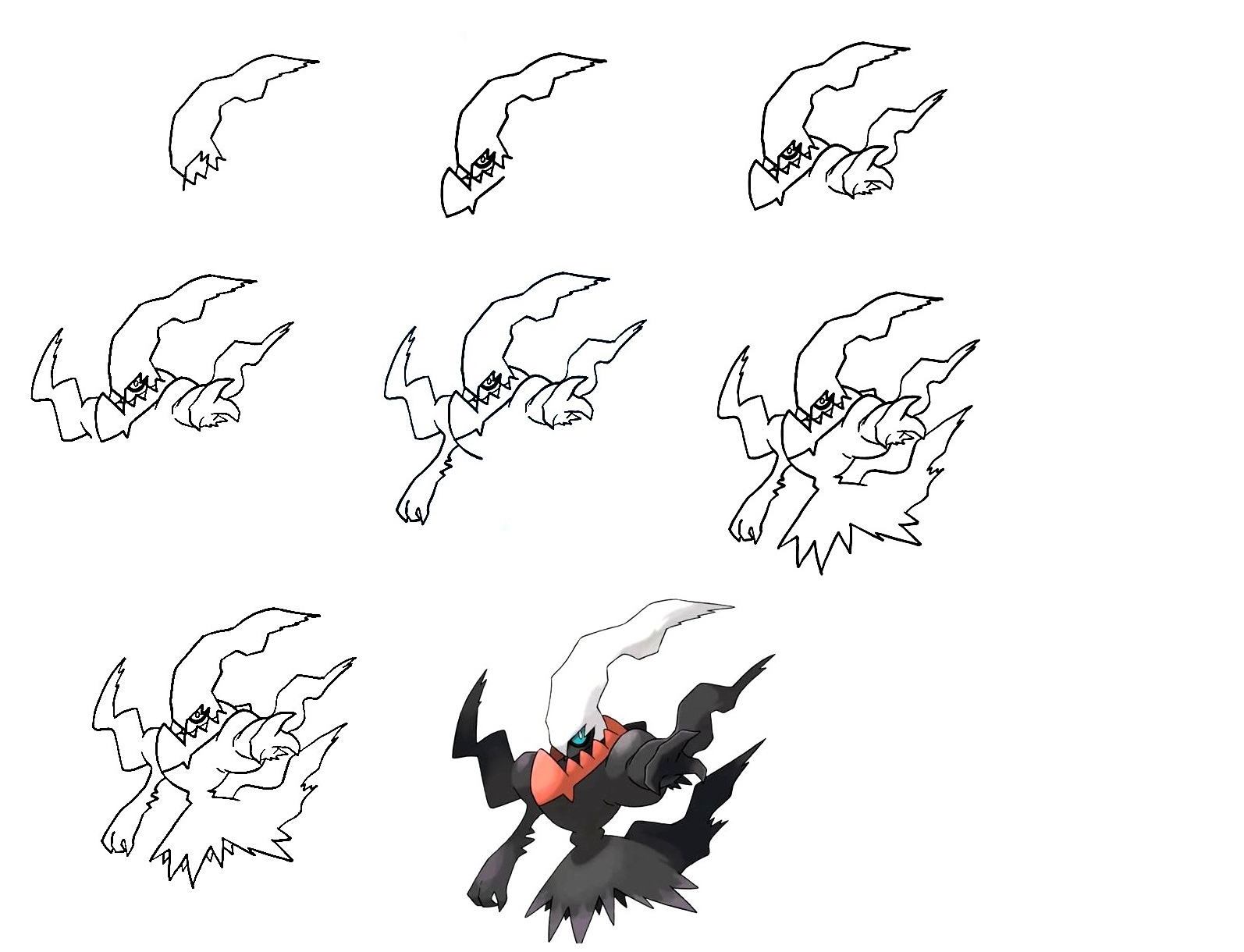 Step 1 – Draw Ghostly Plume Billowing For Darkrai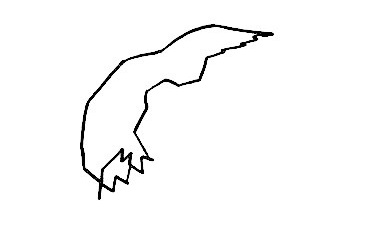 To start drawing your Darkrai, you use successive curved lines to draw its ghostly plumage, as you see in our reference image.
Very simple for you; it only takes a few minutes to complete this task before moving on to the second step.
Step 2 – Draw Darkrai's Face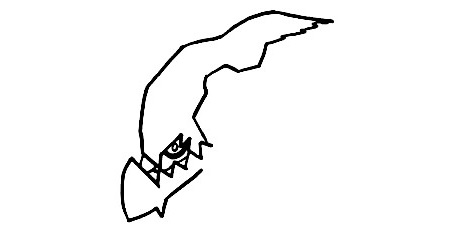 For this step of our guide on how to draw Darkrai, you must draw its face with many details like eyes, nose, mouth, and spikes around its neck.
Once you're happy with your drawing, you can continue to the next step.
Step 3 – Draw An Arm For Darkrai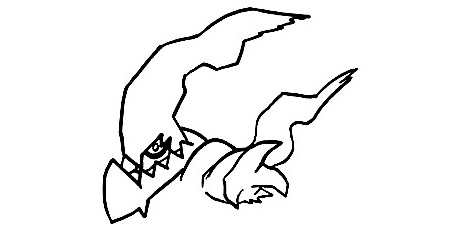 Your task in this step of your Darkrai drawing is to draw its arm. Use curved lines and straight lines for this task.
From the spikes around its neck, you start drawing its arm. It's a bit complicated here, and you can look at our drawing and work to ensure you're on the right track.
Don't forget part of its wing behind the arm; once you've finished these details, you're ready to move on to the next step.
Step 4 – Complete Darkrai's Wings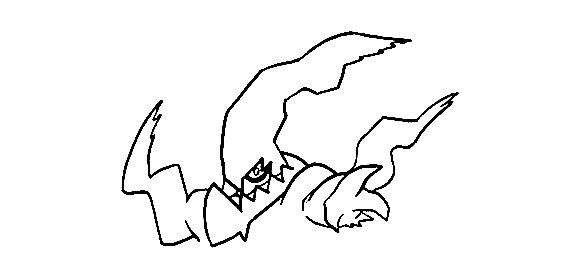 In this step of our guide on how to draw the Darkrai's wings. They are composed of many successive curves, as our reference image shows.
This is also a straightforward task; finish it quickly and move to the fifth step.
Step 5 – Add An Arm For Darkrai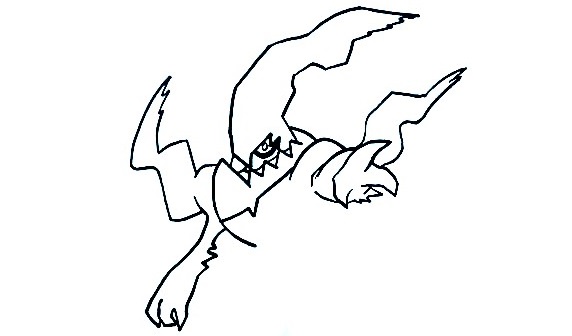 Similar to your task in step 3, you must draw more of an arm for your character, Darkrai. You continue to use curved lines for this task.
Don't forget to draw long fingers at the end of the hand, as you see in our reference image.
Step 6 – Draw The Darkrai's Body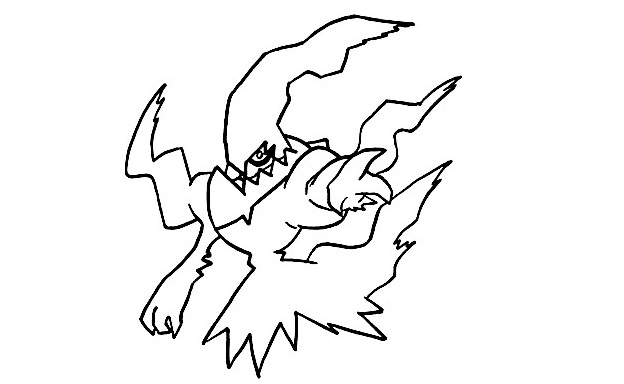 You continue your drawing mission by showing its body in this step of our guide on how to draw Darkrai.
As mentioned above, it seems that Darkrai always wears an old cloak, so in this part, you need to draw a cover for Darkrai's body.
You need some minutes here and move to the seventh step.
Step 7 – Finish Off Your Drawing Task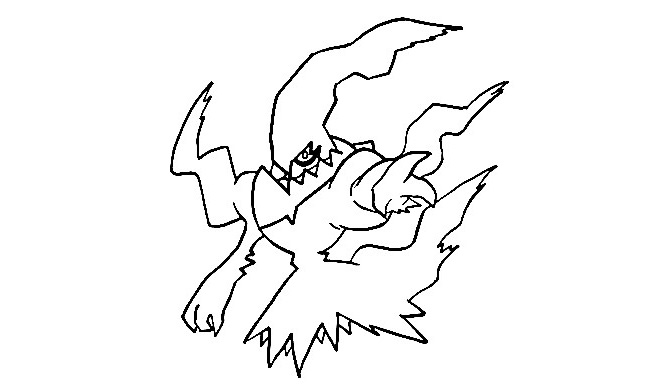 Before going to the last step for coloring your Darkrai drawing, you must add all details for the character.
In addition to the details we have drawn, you can add a few other points to decorate your drawing more beautifully.
When you do the last details, you can move to the coloring step right now.
Step 8 – Color Your Darkrai
You choose the suitable colors for your product, Darkrai. We use white for ghostly plumage, grey for Darkrai's body, and red for spikes around its neck.
In addition to the colors we have selected for our Darkrai drawing, you can choose other colors or try different color schemes to create your own Darkrai style.
Your Darkrai Drawing Is Complete
You finish all your drawing and coloring tasks with our guide on drawing Darkrai in just eight steps. With the simple instructions and the illustrations, I hope you can understand it all in this Darkrai drawing.
On our website Coloringcool.com, you can enjoy many drawing guides updated daily related to Pokemon such as charizard drawing, Charmander drawing, wooper drawing, or Eevee drawing. You can often come here to enjoy them for free. If you love our educational products, you can recommend us to your friends or relatives. I hope you will make many friends by participating in these activities.