8 Steps Creating Nice Eevee Drawing – How To Draw Eevee
Creating nice Eevee drawing in just 8 easy steps
Learn how to draw an Eevee with our super easy to follow step by step Eevee drawing tutorial. If you know pokemon then you can't ignore Eevee. Eevee is a favorite among Pokemon fans. Maybe because he's so cute, or maybe because he has so many different evolutions. You will use our instructions and our video tutorial to realize your task. Your work here is not simple but not too difficult you can go to step by step to create Eevee. A lot of people love this character and want to draw it, if you are a parent give this tutorial to your kids, they will surely enjoy it, you can join in this instruction with them and get a great time. Here, you can become a real artist What you need to do is stay calm and handle your task step by step until your mission is complete. Along with the tutorial, we have also included a couple of free Eevee coloring pages that you can print off and give to your kids to color! Come here and enjoy this activity by following.
How To Draw Eevee – Let's Get Started!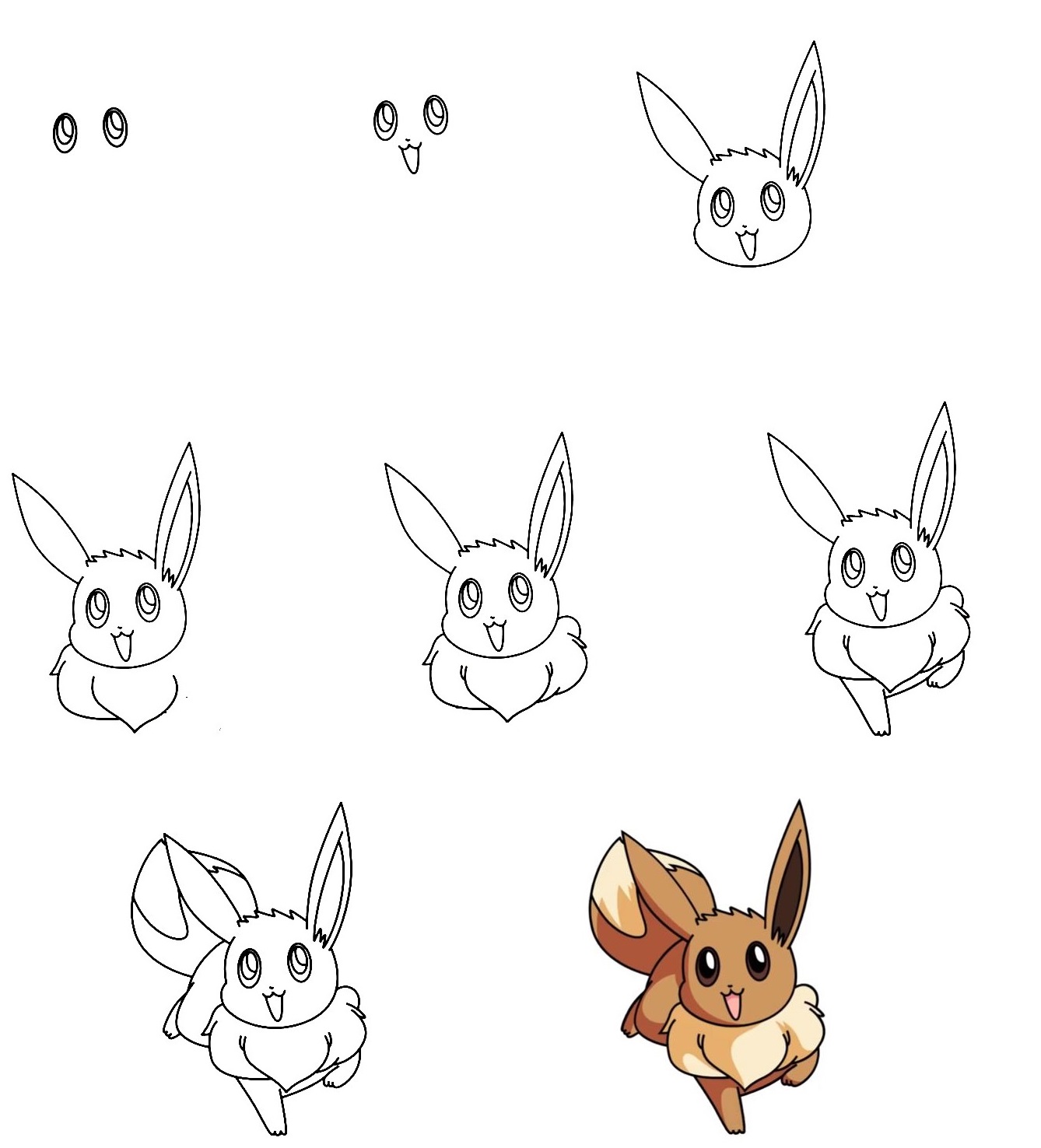 Eevee is known as Pokemon, this is a favorite character that is known by many people, especially children. Fortunately, today we give detailed instructions to help you know how to draw Eevee. Whether you are a beginner or you are an expert in drawing you can finish your task easily. It would help if you prepared a pencil, eraser, colored pencils, and drawing paper before drawing, you will use a pencil to draw on paper, you can erase your mistake easily, so don't be afraid to draw, you will draw in your comfortable mood. Some steps will require you to erase lines drawn in previous steps. We are sure that you enjoy this step-by-step guide on how to draw Eevee in just 8 steps! Let's get started to draw Eevee with us!
Step 1 – Draw Eevee's Eyes

The first step in our guide on how to draw Eevee is to draw eyes. It is not too complex for you, her eyes are made of two small ovals with some dots inside each one. You can observe our illustration and follow it.
Step 2 – Draw Eevee's Mouth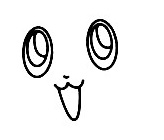 Eevee's nose is a small black dot beneath the eyes, as seen in our reference picture. With the nose drawn, you can then add a mouth for Eevee. The mouth is formed on a small triangle. You finish the task in this step here and move to step 3.
Step 3 – Draw Eevee's Head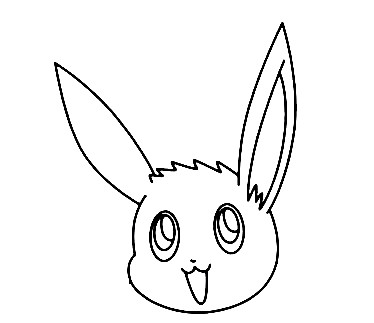 You use a curved line around face details to make a head for Eevee. Then you draw her ears, she is known for a pair of big pointy ears, so we shall be focusing on that aspect for this first step in our guide on how to draw Eevee. On the head, you draw two rounded lines that don't quite meet at the bottom. Please add more sharp jagged lines for fur on the head. You can add curved lines that have a sharp tip as our reference picture to help you finish your work easily.
Step 4 – Draw A Part Of Body For Eevee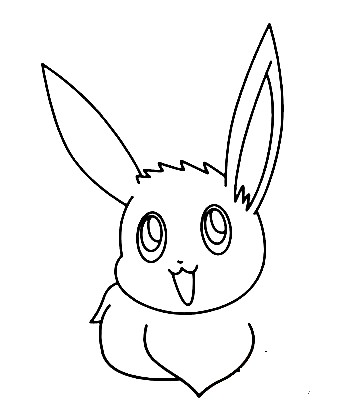 we will draw fur under the head and this is also part of the body for Eevee. You will draw with some sharp jagged lines similar to the ones that went on the top of the head. This furry collar will be especially sharp at the center where it dips down into a sharp point. If you don't like many furs you can add some fur on the curved line for the body of Eevee. That's all there is to it for this step and we're ready to move on!
Step 5 – Add Details For Eevee's Body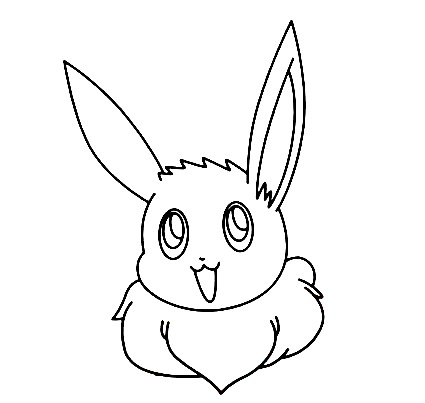 In this step, you must add more details about Eevee's body. Your task in this step is to complete the unfinished work in step 4. You continue to use some curved lines for the body of Eevee. Not complex in this step, you can observe our illustration and follow it. When you finish the task here, you next to the sixth step for your drawing.
Step 6 – Draw Eevee's Two Front Legs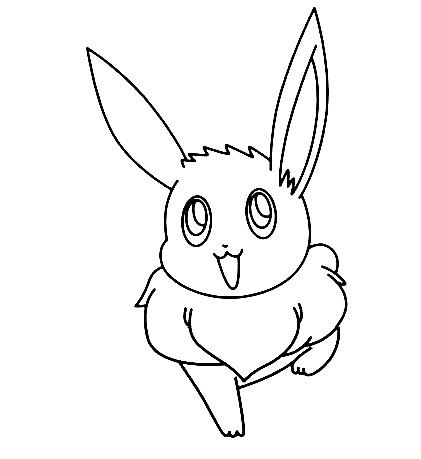 Since we are drawing Eevee lying down so we will only see part of the legs so we only need to draw the visible part of the front legs, as you can see in the illustration, we will draw 2 front legs 1 bent and 1 extended. You can move to step 7 and continue to draw your Eevee.
Step 7 – Finish Your Drawing Mission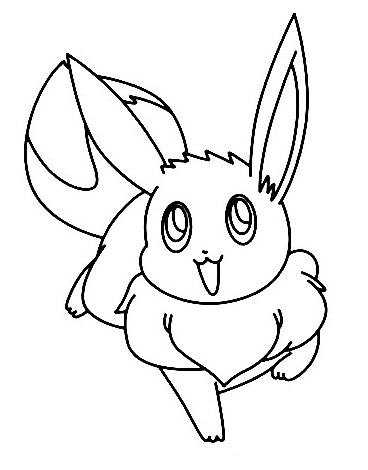 To finish off your Eevee drawing, you'll draw Eevee's tail and hind legs. You will draw the belly, back, and two hind legs for Eevee. Then next to the tail, as you know, the tail is very thick as it starts, but it gets a bit thinner the more it goes on. It then ends with a sharp tip to create a fox-like tail. You use curved lines and straight lines to show the tail and some detail for the body of Eevee.
Step 8 – Color Eevee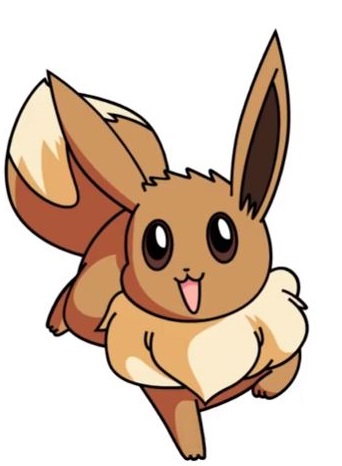 For this final step of our guide on how to draw Eevee, we will choose colors for the character. This is the easiest step for you, you can choose any color you like for this character because there is no rule in the choosing of drawing. You also can take your favorite color for your drawing. Here we choose light and dark brows for most of Eevee's fur. So, you finish your drawing and coloring mission for Eevee. Very interesting for free time. You can enjoy how to draw after the hard-working hours. Once you get a complete Eevee, you can move to Eevee coloring pages to enjoy images related to Eevee.
Your Eevee Drawing Is Complete!
We update the hundred of Eevee coloring. Here, we update coloring pages, how to draw, and blogs daily for free. If you like our products, don't forget to give us a thumb up and recommend them to your friends! Have a great time!
Use the video and step-by-step drawing instructions below to learn how to draw Eevee. Thanks for visiting! Subscribe to the How To Draw YouTube Channel for our new tutorial.