Stingray Drawing Is Created In 8 Easy Steps
We are creating a stingray drawing in just 8 easy steps
Would you like to draw a stingray? Today, you have an opportunity to learn about creating a complete stingray drawing with us. You will follow our instructions to draw this stingray step by step. Our instructions are very detailed, so you can easily observe them step by step until you're done. There are eight steps equivalent to eight missions that you must come over in this stingray drawing. It is very interesting how to draw a stingray, and you can enjoy this activity after the hard-working hours. This guide takes about 30 minutes, and you use this time to relax. Whether you are a novice or an expert in drawing, we're sure you can follow these steps effortlessly with our detailed tutorial. Along with this guide, we practice the stingray coloring pages for free to practice some skills like drawing and coloring. You will learn more about stingray drawing with us in this guide. Take your time and draw at your own pace.
How To Draw A Stingray – Let's Get Started!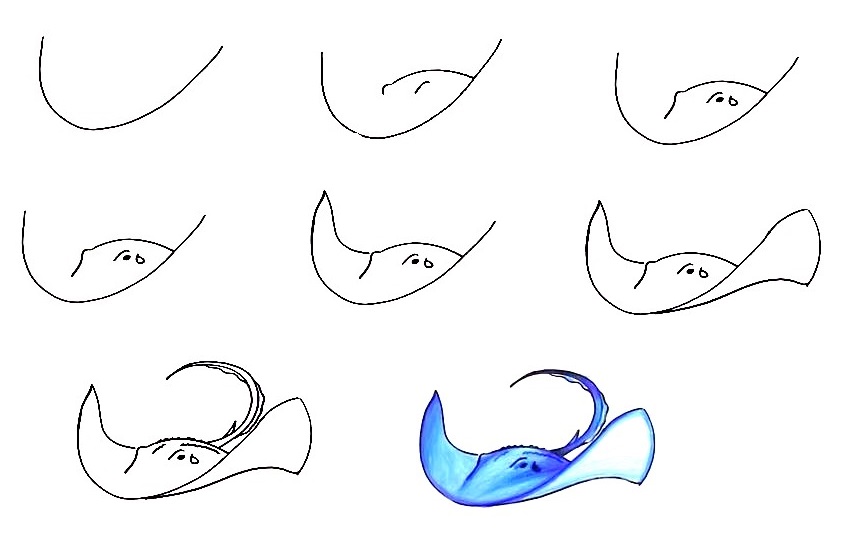 The stingrays, also called whip-tailed rays and stingarees, inhabit all oceans and certain South American rivers. They have slim, often very long, whiplike tails. They are disk-shaped and floppy, with a long tail with many spikes that can be used as a weapon to attack enemies. Stingrays often live very deep, at the bottom of the sea, they wag their tails if stepped on, and the thorns attack are hazardous if they hit the abdomen, there is a risk of life. To realize how to draw a stingray, you need to concentrate on the course of the drawing. It is not a simple task, but it is not too difficult. It is perfectly suitable for everyone and those who love to learn to draw. It would be best to prepare some things before drawings, such as paper, pencil, pen, and colors. You can take advantage of available materials to learn to draw and save on fees. You use the pencil to draw on paper, and you can erase your mistake quickly. Our advice is that you first use a pencil to outline the basics of the drawing, then you will draw darker lines until you're done with your stingray drawing. Lastly, you choose the suitable colors to make coloring for your drawing on how to draw a stingray. You will learn more about this tutorial through our eight steps tutorials.
Step 1 – Draw Stingray Body Outline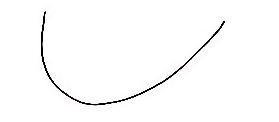 Start stingray drawing, and you create a curved line – you can rotate the paper and draw the letter U to make things easier. It's easy for you, isn't it? You should align the drawing in the paper's center to improve your drawing. This is the first step and the most straightforward step on how to draw a stingray guide. You can move to the second step now.
Step 2 – Draw Stingray Head And Face Outline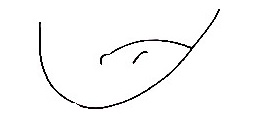 In the second step on how to draw a stingray, starting at the bottom of the circle, draw a line that slopes to the right for the first part of the head. Draw a curved line from the top of the ring to the end of the first line to complete the guide for the stingray's head. Then, you use a short curved line for eyebrows for stingrays before going to the next step. If you think complex here, you can refer to our illustration.
Step 3 – Draw Eye And Nose For Stingray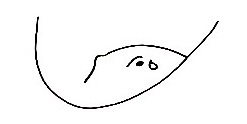 Use a dot and color it black to make an eye for a stingray. Under the eye, you add a dot for the nose. Stingray's face is shown simply here, and you can finish this task in minutes and continue your drawing in the fourth step.
Step 4 – Add More Details For Stingray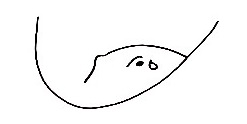 You continue your stingray drawing with some details for the body. You add a curved line to make a complete part of the stingray's body. At a glance to the left of the stingray, you will see it resembles the bow of a boat. When you are pleased with your task, you can move to step 5.
Step 5 – Finish Stingray's Body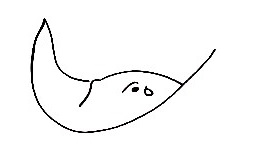 In this fifth step to creating a stingray drawing, you will have to draw the final strokes for the stingray's body. From the available strokes, you add a curved line around it to form the rest of the body. So, you finish the task for the stingray's body right now. Before moving on to the next step, you can check where you don't like it, erase it and redraw it.
Step 6 – Draw Stingray's Tail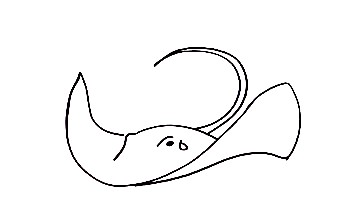 In this guide on how to draw a sting ray, you must add a long curved line for the tail of your character. Stingray's tail is made up of 2 parallel curves that meet at a point. Now complex for you in this step, as seen in our reference image, and create a new stingray drawing with a long tail. In the next step, we will finish off with some final details!
Step 7 – Finish Your Drawing Task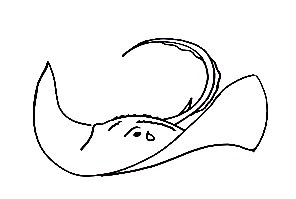 You will end up drawing your Stingray with poisonous spikes on its tail. Use some short lines on the tail to make some spikes. This tail with sharp spikes will be the stingray's sharp weapon whenever they attack the enemy. When you finish the task in this seventh step, you will get a nice stingray drawing with the entire parts.
Step 8 – Color Your Stingray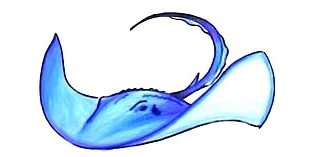 If the above steps feel complicated for you, this step is straightforward, with you choosing the right colors to color your drawing. You can use your favorite colors for your picture, or you take the same color with us. We choose green for our reference image, as you see. So, you finish your complete stingray here.
Your Stingray Drawing Is Complete!
With our eight steps, you can realize your complete stingray drawing with your fun time. Now you can comfortably look back on your product with pride. With our simple guide, you can draw anything on our site, and if you like, you can recommend your friends to come here and get fun. If you are a parent, you can join this activity with your kids. This activity will be good for your children's evolution. They will practice their drawing skill with some abilities such as pen skills, painting skills, and concentration skills. More, they can avoid using technical devices like television, smartphones, and tablets, which will be harmful to children's eyes and development. Once you finish the task on how to draw a stingray, you can move to stingray coloring pages to draw some stingrays or choose colors for page coloring. I hope you are happy with our stingray drawing guide