7 Easy Steps To Create Elmo Drawing – How To Draw Elmo
Elmo Drawing Is Complete In 7 Easy Steps
You will know how to create Elmo drawing in today's challenge with us.
We will give step-by-step instructions, and you will follow step by step to complete the task in each step.
Elmo is a red Muppet monster living on Sesame Street, who always identifies as three and a half years old.
He lives with his parents, sister, and grandparents. He also has a goldfish named Dorothy and a pet dog named Tango.
Despite being a monster, with its striking bright red appearance and yellow nose, the audience's interest and affection did not decrease over time.
If you are a fan of Elmo, then this drawing tutorial is for you. Moreover, you will also have a great time for yourself after the hard-working hours.
There are seven steps equivalent to seven tasks you must finish to complete Elmo, and in each step, we also illustrate for you to complete the task quickly.
It would help if you prepared all supplies such as pencil, pen, paper, color, and eraser before drawing; then, you will proceed to draw Elmo with pencil and paper. Drawing with a pencil will help you erase your mistakes easily.
Once you finish your drawing mission, you can choose suitable colors for your product.
Along with the tutorial, we have included a couple of free Elmo coloring pages you can print off and give your kids color!
You can use our coloring pages to practice your drawing and coloring skills to improve your aptitude in these areas.
Let's go to the seven steps of our guide on how to draw Elmo.
How To Draw Elmo – Let's get Started!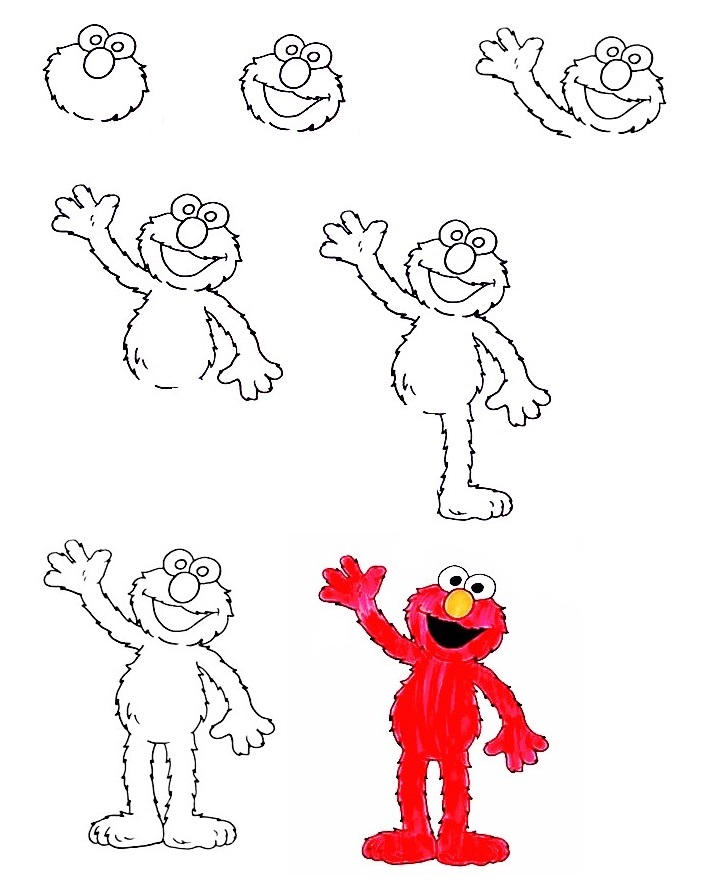 Step 1 – Draw Elmo's Head
Your task in this first step of our guide on how to draw Elmo will begin with his head.
You use a circle with lots of jagged lines joining each other; form his head outline with many furs as you see in our reference image, then you draw two circles for two eyes and two dots for his pupils.
That's all you need to do in this step, and you can move to the second step.
Step 2 – Draw A Big Smile For Elmo

For your task in this step of the Elmo drawing, you will use some curved lines for his big smile, as you see in our reference picture.
Your task in this step is also simple; you only take a few minutes to complete it and move on to the next step.
Step 3 – Draw The First Arm For Elmo
To draw his arms, you also need to use jagged lines to show his hands are hairy and make the Elmo image better. As you can see in the reference, we are drawing his arm raised and waving; you will draw his hand with a thick thumb and three fingers. And you can go to the next step.
Step 4 – Draw Other Arm And A Part Of The Body
In this fourth step of our guide on how to draw Elmo, you must draw the other arm and a part of his body. You must show his chest and belly before going to the next step and continue your Elmo drawing mission.
Step 5 – Draw The First Leg For Elmo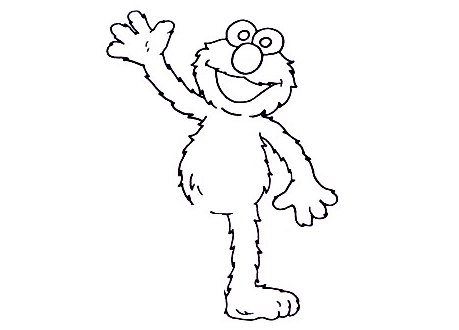 If in step 3 and step 4, you have to draw his arms, in this fifth step, you must draw his leg with the jagged lines. That's how you draw feathers for Elmo in the most natural way.
Once you feel satisfied with your image, you can continue your drawing task in the sixth step.
Step 6 – Draw The Final Details For Your Elmo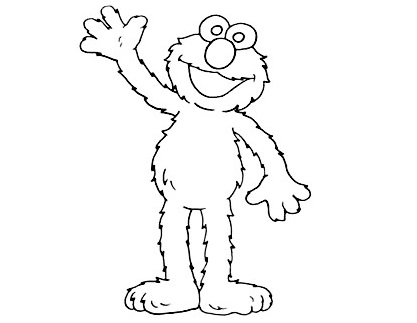 In this step of our guide on how to draw Elmo, your task is to draw the second leg and some details to decorate your product, Elmo.
Similar to the task of step 5, use the jagged to draw his second leg. Don't forget to draw Elmo's feet with three toes to finish the task and move to the seventh step for coloring your Elmo drawing.
Step 7 – Color Your Elmo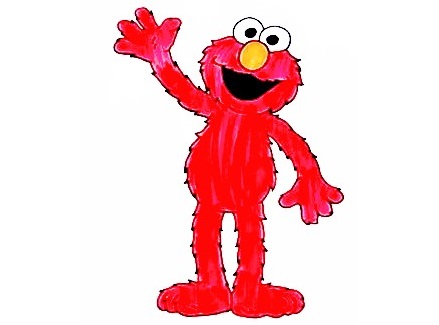 You will finish your Elmo drawing with some more excellent colors. You already know the character Elmo has a magenta body and a yellow nose; we chose to use the correct color for the surface; however, you can use different colors and coloring to create a product have your creativity.
Once you get your Elmo drawing, please shear your product for us to see; we are curious about your final result.
Your Elmo Drawing Is Complete!
So, you finish off your drawing and coloring mission with our guide on how to draw Elmo in seven steps with us. Drawing Elmo may initially seem complicated, but with our tutorials, you can also complete this task over time. I hope you are satisfied with the final result and get fun.
On our website Coloringcool.com, you can enjoy many educational products about coloring pages and drawing guides. We update them daily, and for free, you can regularly come here and enjoy them to relax in your free time.
You also can find more drawing guides similar to the Elmo drawing guides, such as Troll drawing or Yoshi drawing that you can refer them to make your collection drawing more various. If you like our education products, don't forget to give us a thumbs up and recommend them to your friends! Thank you for that, and have a great time!