8 Easy Steps To Create Yoshi Drawing – How To Draw Yoshi
Yoshi Drawing Is Created in just 8 Easy Steps
You will get an opportunity to know how to make Yoshi drawing with us in eight simple steps.
Yoshi is an important figure in the Mushroom Kingdom. He always accompanies Mario and helps Mario on his journey.
Today there are many video games starring Yoshi. And more and more people know and love this little dinosaur.
If you also love Yoshi, here's your chance to learn how to draw him with our simple drawing guide.
We have created the Yoshi drawing tutorial in eight steps which means you have to complete eight tasks to get the complete Yoshi drawing.
And we also arrange the Yoshi drawing tutorial from easy to difficult to make it easy for you to follow whether you are a beginner or an expert in drawing.
Drawing Yoshi is fun; through learning to draw this character, you also have the opportunity to learn more information about him.
It would help if you had complete supplies such as a pen, pencil, paper, colors, and eraser before drawing; then, you will proceed to draw Yoshi with pencil and paper; you can easily erase your mistakes and draw again until you feel satisfied.
Once you finish your drawing task, you can choose nice colors for your product.
With this dawing guide, you can enjoy Yoshi coloring pages for free on our website to practice your drawing and coloring skills.
Let's go to the eight steps of our guide on how to draw Yoshi!
How To Draw Yoshi – Let's Get Started!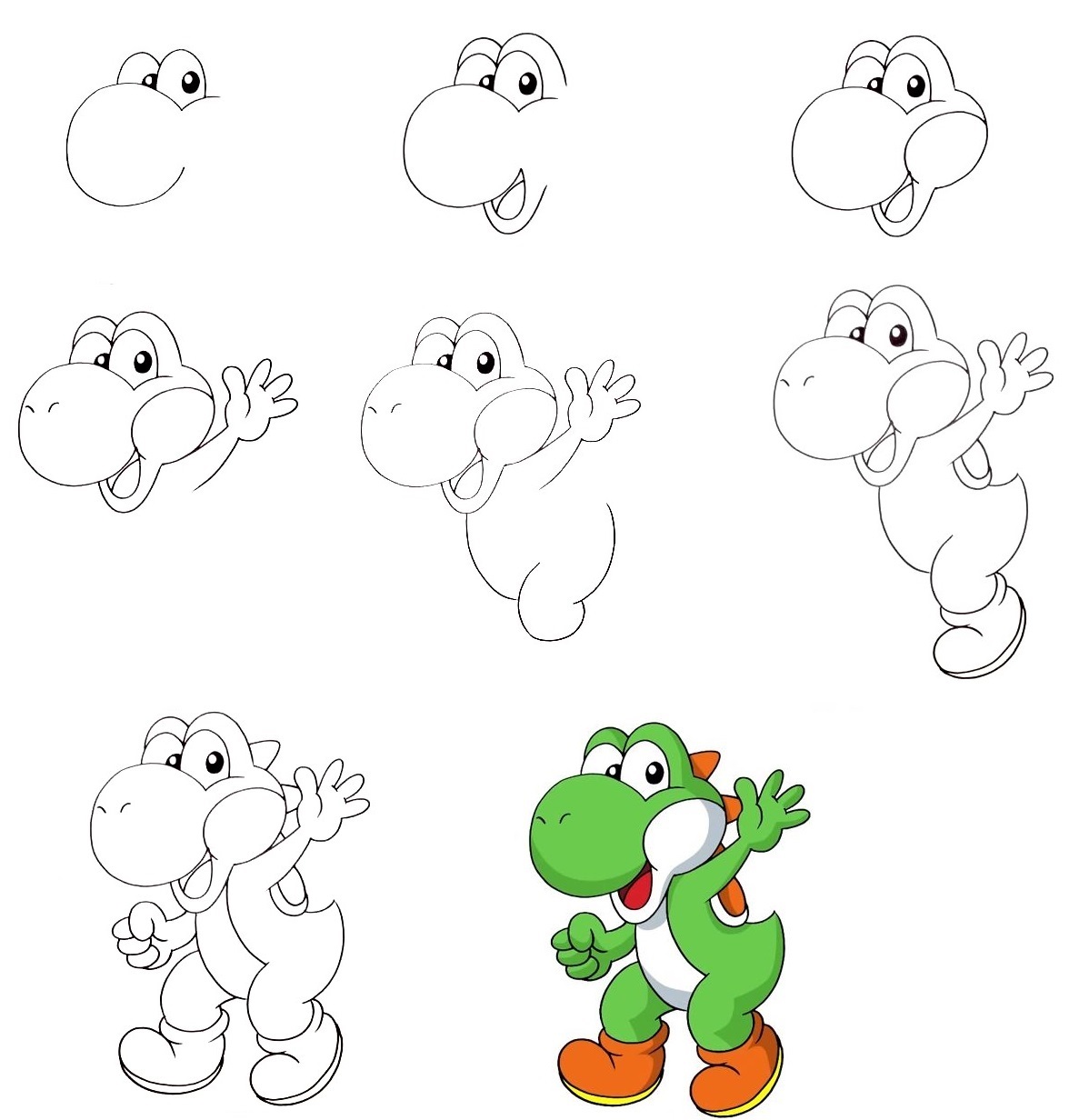 Step 1 – Draw The Yoshi's Eyes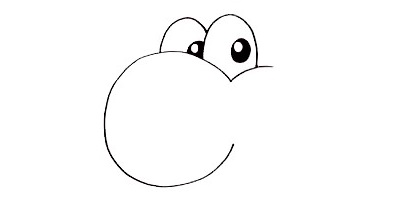 To start drawing Yoshi, you must begin in the middle and top of the paper. You will draw two ovals for two eyes of Yoshi. You will draw two small circles inside to show his pupils.
Your mission in this part is just that, and you can move on to the second step to continue your drawing mission.
Step 2 – Draw The Yoshi's Snout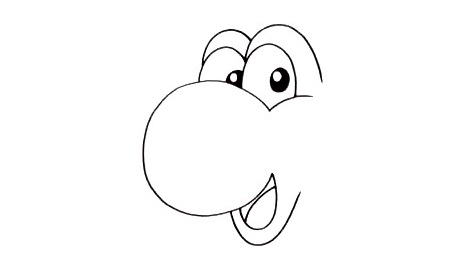 For your task in this step of our guide on how to draw Yoshi, you must draw his big round snout.
Use some curved lines under his eyes to show his snout, as seen in our illustration.
Once you're happy with your drawing; you can go to step 3.
Step 3 – Draw The Yoshi's Ears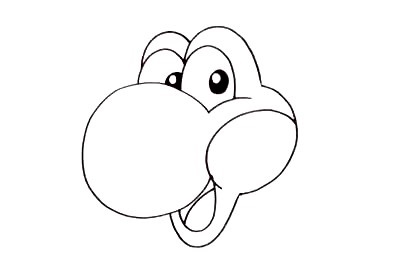 Our character Yoshi has two ears, but we are drawing them on the side, so you only need to draw one ear that you can see.
Use a curved line for the ear from his snout and finish your task here.
Step 4 – Draw An Arm For Your Yoshi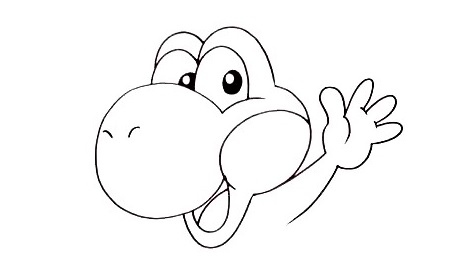 Your task in this step of our guide on how to draw Yoshi is to create an arm for your dinosaur.
You use two roughly parallel curves to form an arm for him.
Next, you will draw the hand for your Yoshi, and lastly, don't forget to draw the finger for the hand. Draw four fingers for each hand as our reference picture.
Once you're happy with how they look, you will be ready to draw the legs in the next step.
Step 5 – Draw Belly And Butt For Your Yoshi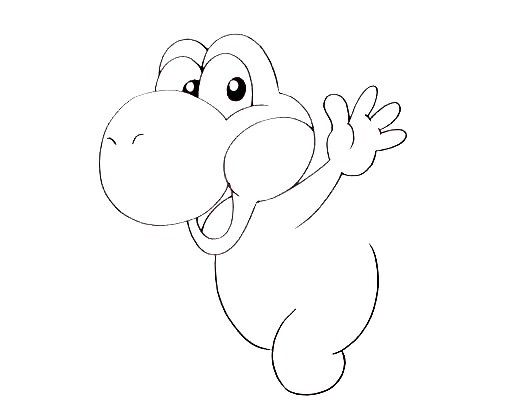 Continue to use the curved lines for the belly and butt for your character, Yoshi.
You will also draw part of his leg, which will be fully drawn in the next step.
Step 6 – Complete A Leg For Your Yoshi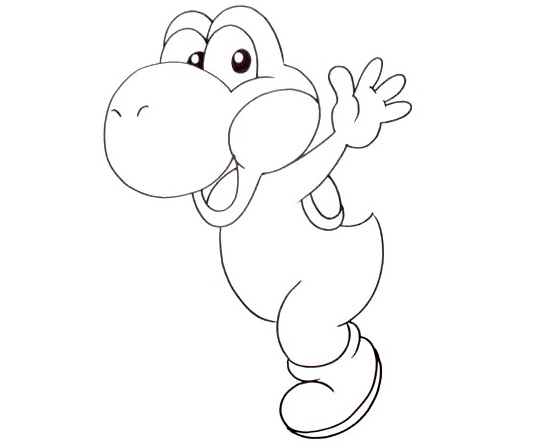 You use straight and curved lines for this task to make a complete leg for your character. You draw the foot with a shoe, as shown in the reference image.
Once these aspects are drawn, you continue your drawing mission in the seventh step.
Step 7 – Finish Off Your Drawing Mission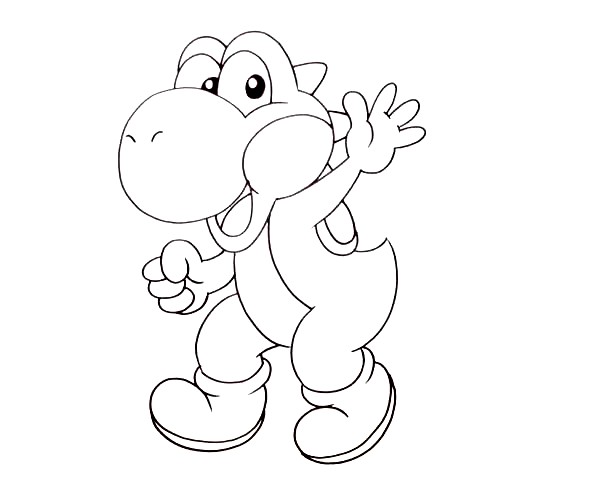 In this step, you must draw the rest of the arm and leg for your Yoshi drawing.
Like the steps above, you use curved lines and straight lines for the arm and legs, but you will draw a holding hand for your Yoshi.
Draw the other leg the same as the one you drew earlier, quickly end your task in this step and move on to the last step for coloring our guide on how to draw Yoshi.
Step 8 – Color Your Yoshi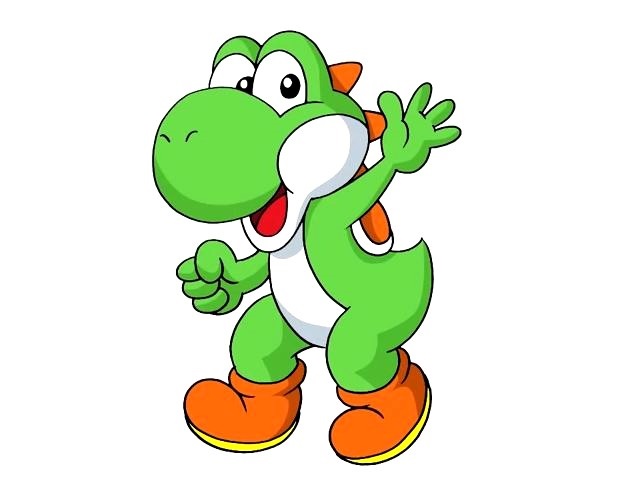 It's finally time for the part we've all been waiting for: choosing the color and coloring the dinosaur.
You know that Yoshi is most commonly green, but there have been red, yellow, blue, pink, purple, brown, black, white, and orange. So, you can use your favorite colors. As you see in the reference image, we chose green; we also added white and orange for our Yoshi drawing.
Your Yoshi Drawing Is Complete
You create a complete character, Yoshi, with us. Not too tricky, is it? I hope you are satisfied with the final result. We always want drawing learners to have a great time with our drawing guide.
On our website Coloringcool.com, you can enjoy many of our drawing guides and coloring pages for free. You can find more drawing guides such as Raptor drawing, Velociraptor drawing or Seahorse drawing similar to Yoshi drawing. I hope you also like them and come back here to enjoy them more. We upload them daily and regularly visit our website to be sure you don't miss out on any product. You can recommend your friends or relatives to come here and get the human counterparts.