8 Simple Steps To Create A Cute Velociraptor Drawing – How To Draw A Velociraptor
Get A Complete Velociraptor Drawing through eight Steps
Here's your chance to know how to create a cute velociraptor drawing with us.
With our eight steps of drawing guide, you will have a chance to experience for free with us about velociraptor.
Through drawing velociraptor, you also have the opportunity to understand more about this dinosaur.
Most dinosaurs are fascinating worlds for us to explore and learn about, and the velociraptor is one of the most famous dinosaurs in this animal world.
Velociraptors are furry animals; they are large, around 100 pounds, about the size of a wolf.
You can find information about dinosaurs in the media or in the famous dinosaur film Jurassic Park.
It's great if you love dinosaurs in general and velociraptor in particular; you can't ignore this velociraptor drawing tutorial.
We give this drawing instruction in eight steps, equivalent to eight missions you must complete. We also provide illustration in each step to help you perform your task efficiently.
You will go to step by step with our drawing guide until you get the result.
Velociraptor drawing, in general, is not easy, but please calm down and follow our instructions step by step. I believe you will be satisfied with the result.
Along with this drawing guide, you can enjoy velociraptor coloring pages for free on our website to review your drawing about this dinosaur.
I also believe that if you practice a lot of learning to draw, your drawing and coloring skills will become more and more perfect.
Let's go through eight steps to make a velociraptor drawing with us.
How To Draw A Velociraptor – Let's Get Started!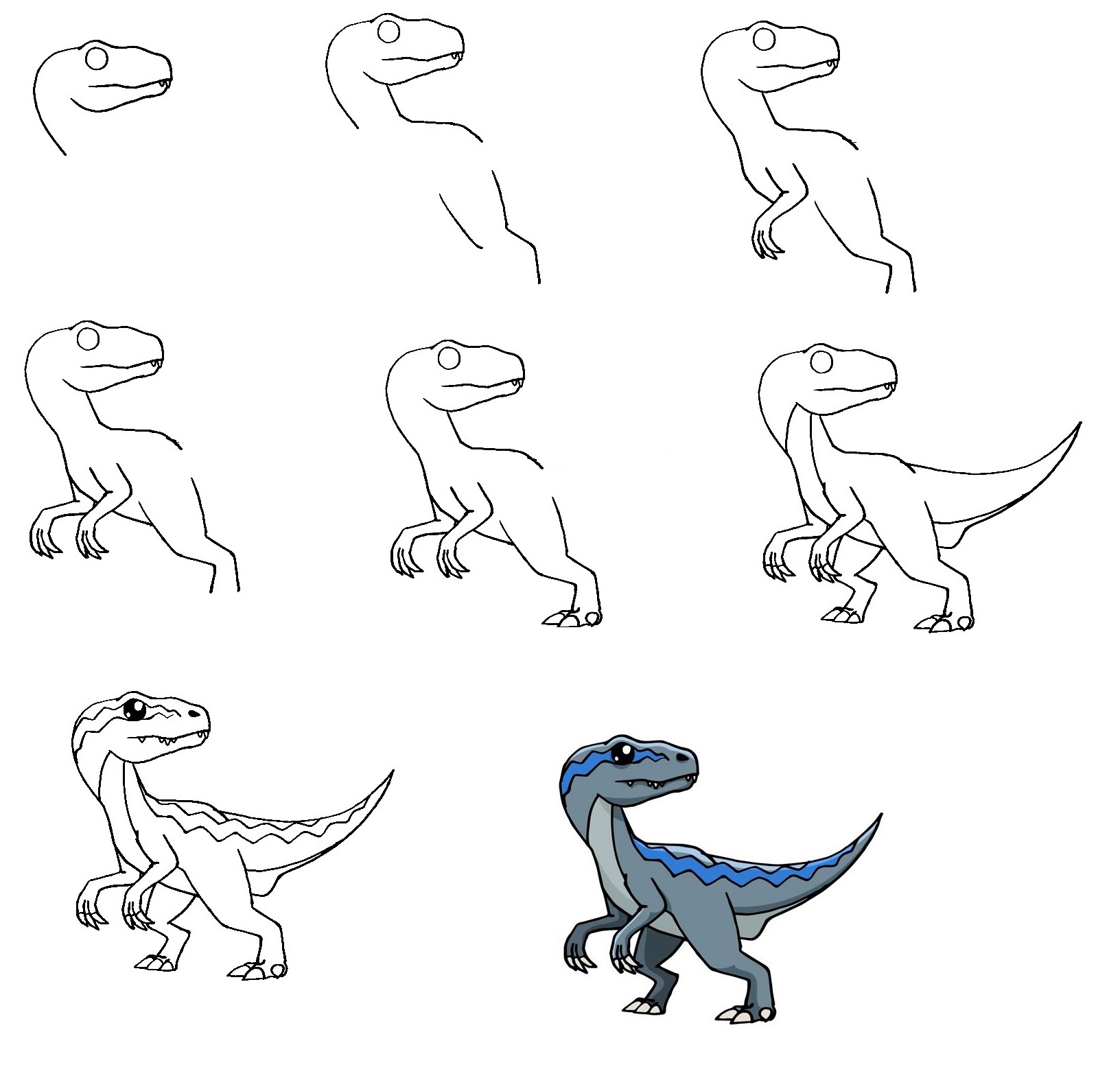 Step 1 – Draw Face And Head For Velociraptor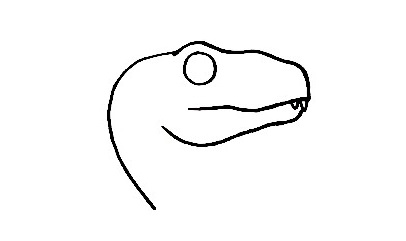 Our advice for the first step in drawing a velociraptor is to start with its face and head.
Like drawing the snake, we use long curved lines that meet to form the long head of the velociraptor. Between those two curves, you use a bar with some small line to show its mouth with some teeth.
Then, you draw a velociraptor's eye outline with a circle; please don't forget to use a zigzag curved line above the head as you see in our reference image.
That's all your tasks in this step, and you are ready for step 2.
Step 2 – Draw A Part Of Velociraptor's Body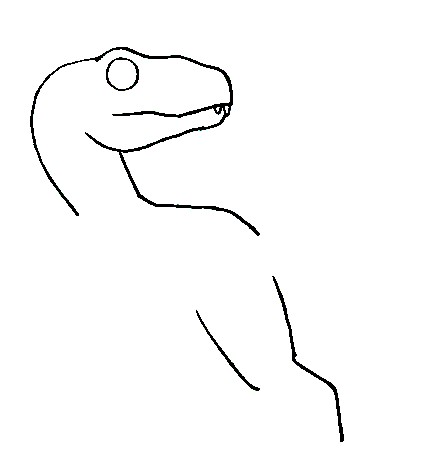 Your task in this second step on how to draw a velociraptor is to draw a part of the velociraptor's body.
You continue to use the curved lines to draw a necklace and a part of the body, as you see in our reference image.
You use two parallel lines to show its neck from the head.
This is part of the body, and the back legs of the velociraptor will be fully drawn in the following steps.
Once you're happy with your work, you can move to the third step.
Step 3 – Complete An Arm For Velociraptor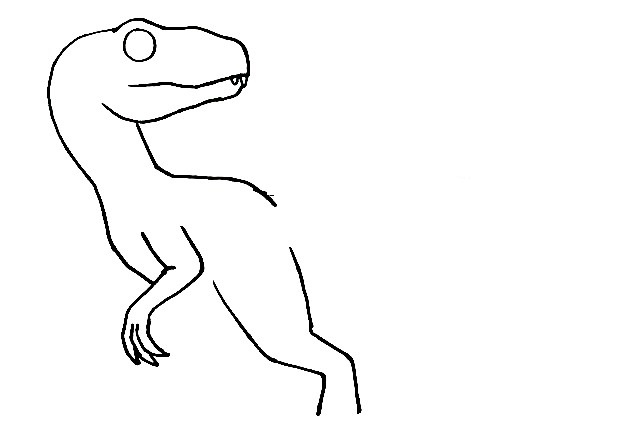 It's time to complete an arm of your velociraptor drawing. You use two almost parallel curves to draw the velociraptor's arm ending with long fingers as our illustration.
You can draw a slightly longer curve at the end of those fingers to show off its claws.
You did this arm and are ready for the second arm in the next step.
Step 4 – Draw The Second Arm For Velociraptor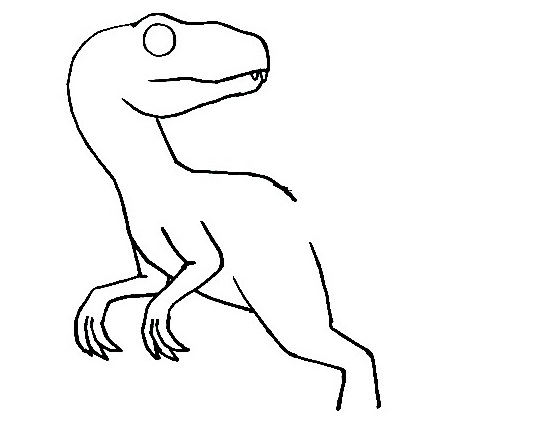 If you drew the first arm in step 3, you must show its second arm in this step of our guide on how to draw a velociraptor.
Similar to the front leg you drew in step 3, you will use two roughly parallel curves to draw the second arm. You will also have a bend at its knee. Let's finish the velociraptor's arm with foot, toes, and paws.
Step 5 – Draw The First Leg Of Your Velociraptor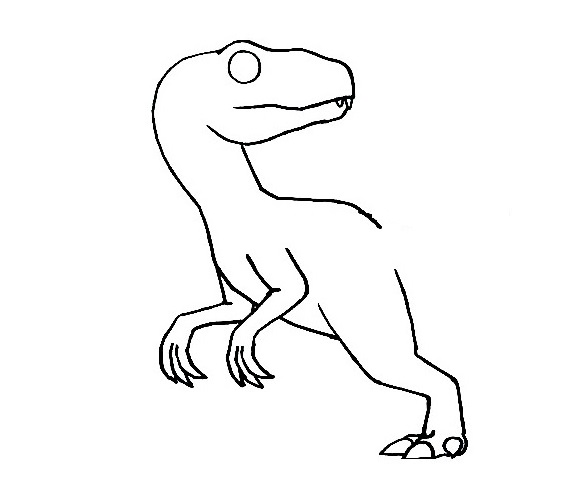 You start to draw the legs for your dinosaur with some curved lines. They are made from large to small and end with dinosaur paws and claws.
As you see in our illustration, you can draw three toes for this creature to finish off this leg. You can continue your drawing in the sixth step.
Step 6 – Draw The Second Leg And The Tail For Your Velociraptor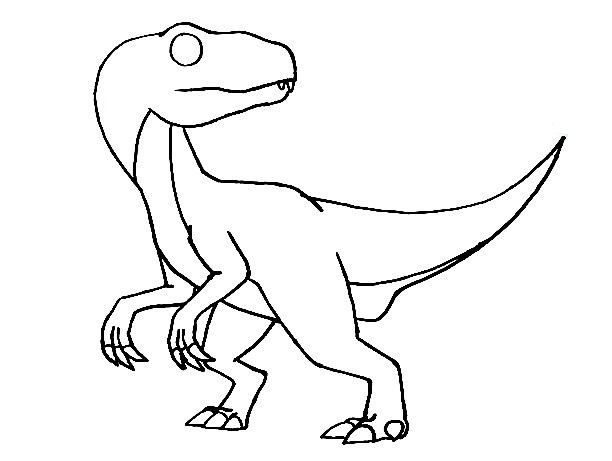 For this step of your velociraptor drawing, you will add more legs. As your task of step 5, you draw the second leg from large to small and finish with paws and claws.
You will show its tail in two curved lines that meet a point.
Your task of this step is done, and you can go to the next step.
Step 7 – Finish Off Your Drawing Mission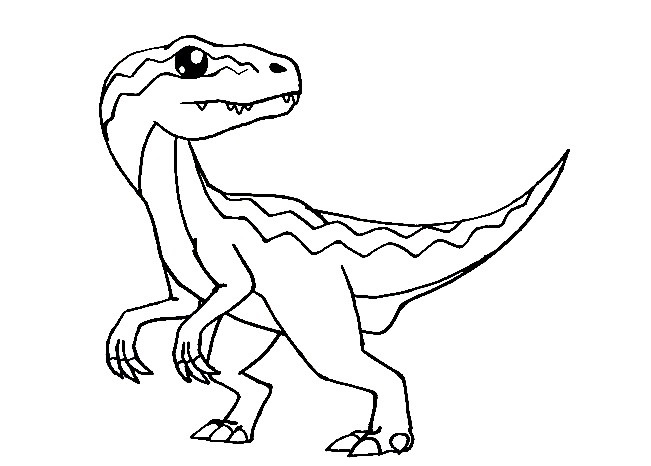 You must finish off your drawing task on how to draw a velociraptor. You will draw the decoration details for your velociraptor in this step.
As you see in our reference picture, you add some curved lines for the body of your creature to make it complete before moving to the last step
Step 8 – Color Your Velociraptor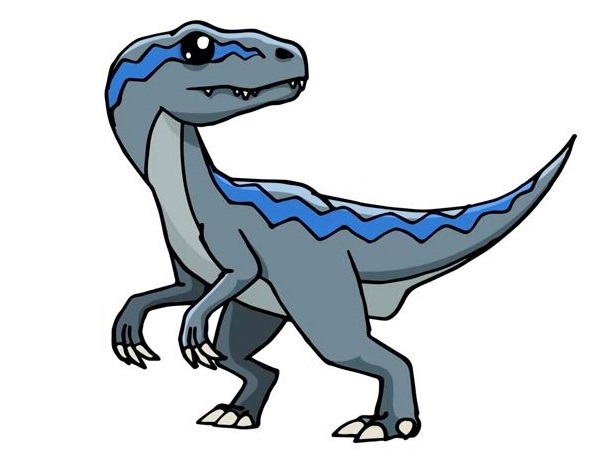 It's time for you to be free to do what you want; that is, you can choose your favorite color to color for your velociraptor drawing.
We use light blue and grey for our velociraptor, white and black for its eyes, and light grey for the claws.
And right now, your drawing is done with all the necessary details.
Your Velociraptor Drawing Is Complete
You finish off your drawing and coloring mission on how to draw a velociraptor. Interesting, isn't it? Learning to draw is always a helpful entertainment channel for everyone. If you are a parent, you can give this activity to your kids. Your child will experience this fun activity and develop many skills such as pen skills, color recognition skills, painting skills, etc.
On our website Coloringcool.com, you can enjoy many drawing guides related to creatures such as cobra drawing, hyena drawing, cassowary drawing, and other drawing guides for 100% free. Make sure to visit our website often to avoid missing any of our educational product. We update them on the catalog of blogs, coloring pages, or drawings. I hope you like this drawing instruction and come back here to enjoy more products. Have a great time with velociraptor drawing!