How To Draw A Cassowary – 8 Simple Steps For Creating A Nice Cassowary Drawing
Create A Nice Cassowary Drawing in Eight Simple Steps
In this quick tutorial, you'll learn how to create the Cassowary drawing in eight easy steps – great for you and your kíds, novice artists. You get an opportunity to get more information about this bird. It is excellent, and you will also get to show your artistic talent when drawing Cassowary. There will be eight steps and equivalent to eight quests that you need to pass and have a complete Cassowary. You know that Cassowary, this is a big bird but can't fly. There are three species, Southern Casuarius, dwarf Cassowary, and dwarf Cassowary. Each type has a different feature and habitat, and today we will learn to draw Southern Casuarius; they live in New Guinea, nearby islands, and Australia, are the largest—almost 1.5 meters (5 feet) tall—and has two long red watts on the throat. Although this is an unpretentious bird with black feathers on its body and a red-green crest on its head, it is also an attractive bird well worth the time to learn how to draw it. It will take about 30 minutes to complete drawing a Cassowary, and you will follow step by step to complete this task and get a fun time.
How To Draw A Cassowary – Let's Get Started!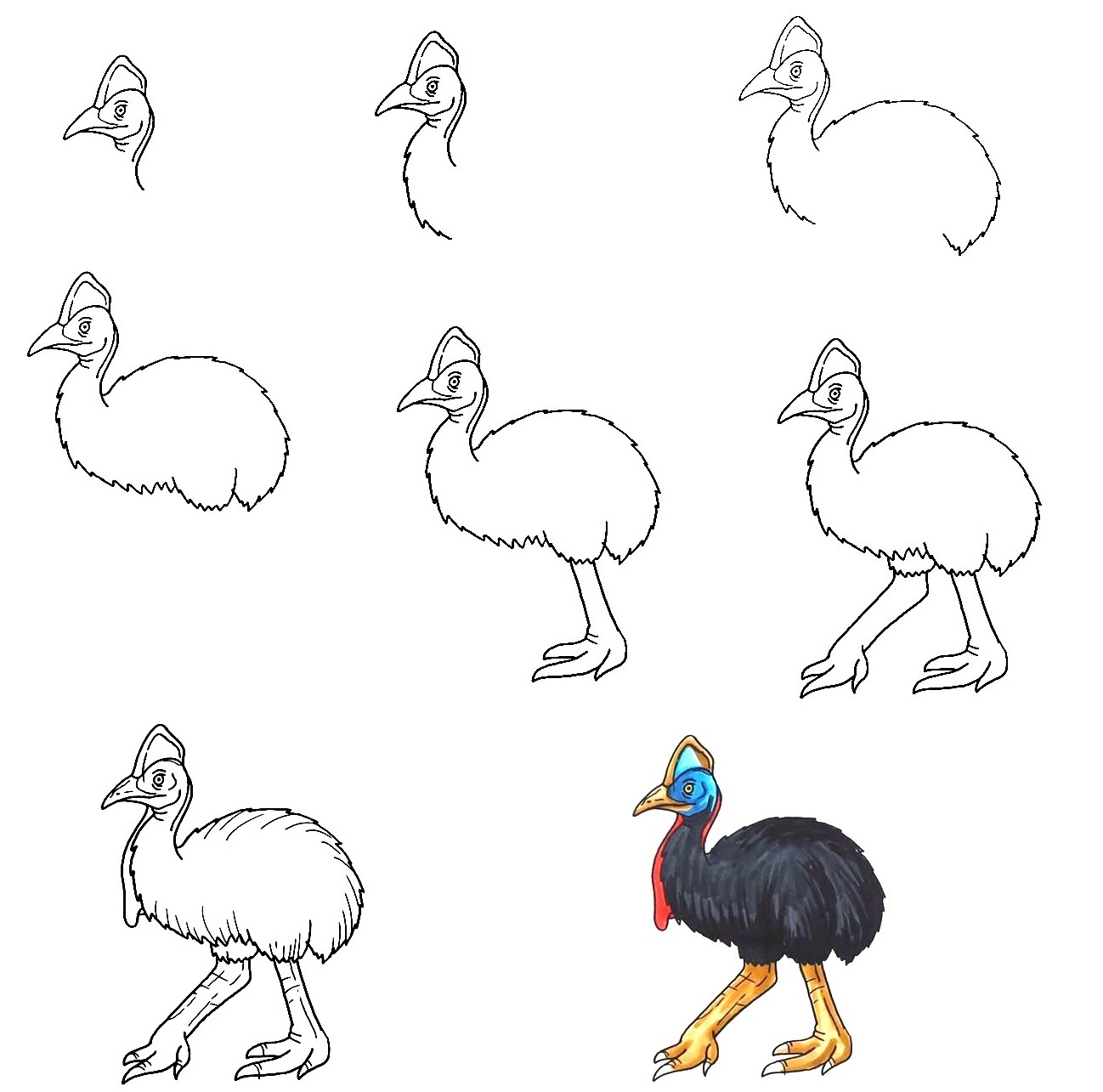 With the bit of information we have shared, we will help you have a better overview of this bird, Cassowary, before starting to draw. To draw a Cassowary step by step, follow the images tutorial below. You may find it easier to follow the step-by-step drawings below the illustration in each step. It would help if you prepared a pencil, eraser, colored pencils, and drawing paper. Now you will proceed to draw Cassowary with pencil and paper first. You will use a pencil to draw Cassoway sketches on paper; then, you will check the details you just drew. If correct, you will continue to highlight those strokes, and if you draw wrong, you will erase them and redraw them properly. You can completely erase the strokes if you make a mistake in the drawing process. So please don't worry too much you can draw in the most comfortable mood. Lastly, you will choose the suitable colors for your Cassowary drawing in your coloring hobby. With eight easy steps, you will make a perfect Cassowary drawing. Along with a Cassowary drawing tutorial, you can refer to the Cassowary coloring pages; you will have the opportunity to practice your drawing and coloring skills right after the drawing lesson here is over. And now, let's dive into eight concrete steps to make a Cassowary.
Step 1 – Draw Cassowary Head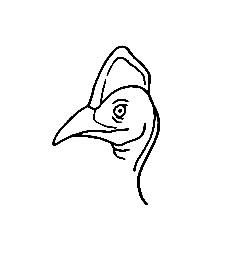 You start the task for Cassowary drawing with its head. You proceed to draw a curved line representing the head of Cassowary; then, you will draw the beak, crest, eyes, and neck. There are quite a few details for the face and head of the Cassowary here, so you need to look closely at our drawing and follow along to get it right. You can stop your work here and move to the second step to continue your drawing work.
Step 2 – Draw A Part of Cassowary's Body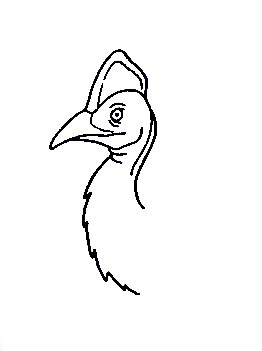 Your task in this second step on how to draw a Cassowary is very simple; you will lengthen the crow's neck a bit then below, you will use that curve to represent a body for the Cassowary, as you see in our reference image. Since this is a simple task, it only takes a few minutes to complete it and go to the next step.
Step 3 – Draw The Back For Cassowary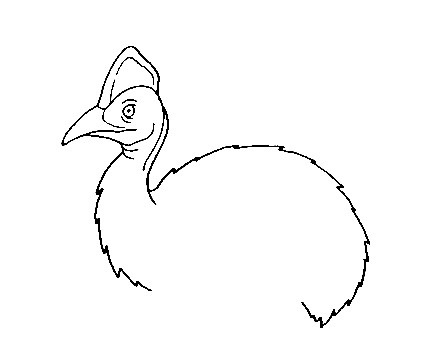 With the drawing line in step 2, you just need to stretch it to show its back. It's also simple, isn't it? Let's quickly finish it and finish it before moving on to the next part of Cassowary's drawing. You continue to use the curved lines from the neck as guides to draw the Cassowary's back. You go to the fourth step to finish its body.
Step 4 – Finish Off Cassowary's Body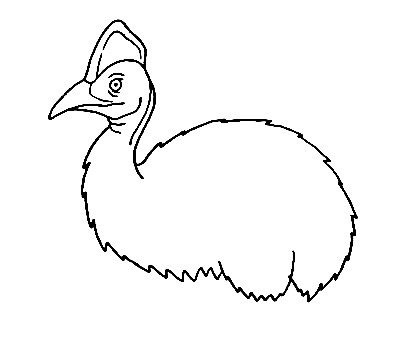 You will have to complete the task of drawing the body for Cassowary. Its body will be created with a cute chubby body. It's very interesting that we get to draw Cassowary in a relaxed and comfortable mood; you will find it interesting here with a body of Cassowary. And now, you can finish your task and go to the fifth step.
Step 5 – Draw The First Leg For Cassowary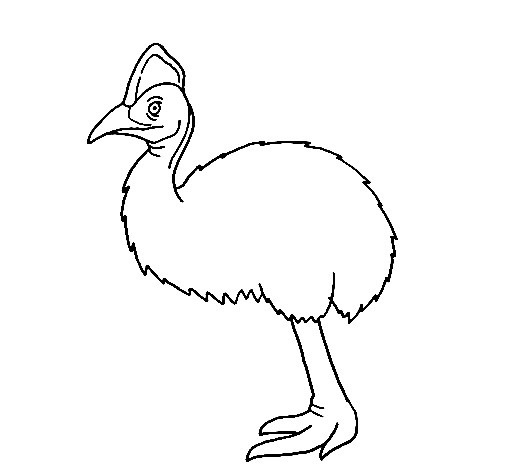 Your task in this step of your Cassowary drawing is to draw the first leg for this bird. Right now, use the long, angled line on the right as a guide to drawing the Cassowary's first leg. From its body, you use two parallel lines to show the first leg. Next, you will draw Cassowary's feet with three toes, as you see in our illustration.
Step 6 – Add A Leg For Cassowary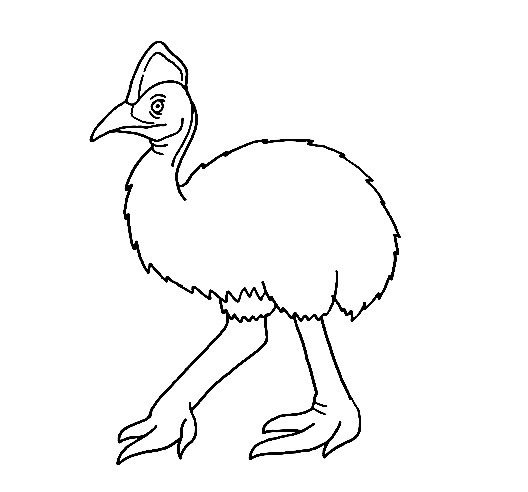 We drew a leg for Cassowary in step 5, and in these six steps, you continue to draw more of a leg for your character. Like the above step, under the body, on the right side, draw a long line that slopes to the right as a guide for this leg. You also use two parallel lines to show the leg and some curved lines for the foot.
Step 7 – Finish Off Your Drawing Mission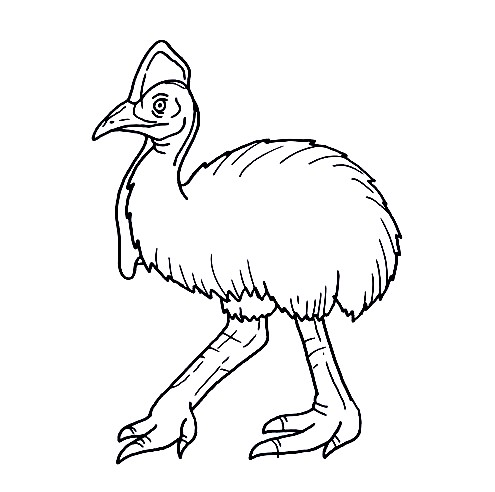 You will have to complete the drawing task before moving on to the next step, which is choosing a color for your Cassowary. Your add some decoration details for your Cassowary, you also can add a few details to your creation to show your drawing style.
Step 8 – Color Your Cassowary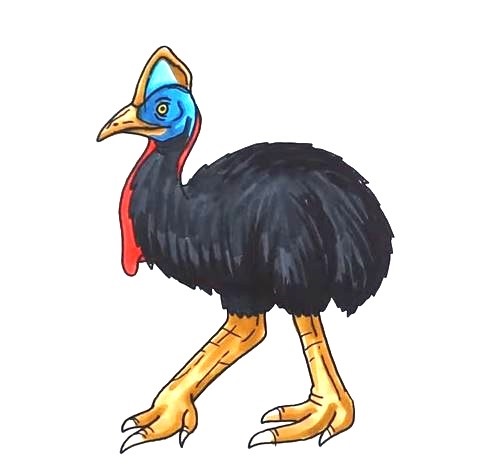 In this step, you must choose the suitable colors for your drawing to finish your creation of the Cassowary bird. As you know, Cassowary has a body with black fur, a little blue hair on the head and color, and a red neck, so you can follow our guide to choosing the color for your drawing.
Your Cassowary Drawing Is Complete
You finish off your drawing and coloring mission on how to draw a Cassowary. With just eight steps of our instructions and illustrations, you will easily create a complete Cassowary. This is an interesting task and you can enjoy it in your free time after the hard-working hours. This drawing activity is good for the children. If you are a parent, you can enjoy it with your kids. Children will focus on learning to draw so they can stay away from electronic devices that are not good for their eyes such as televisions, phones, computers, etc. Moreover, proper entertainment will make children develop many necessary skills such as pen-holding skills, concentration skills, and painting skills,…It is easy for children to become a person with many good qualities that are useful for life. On our website Coloringcool.com, you can enjoy many drawing guides related to bird such as Blue Jay drawing, Crane bird drawing,….All are education products are free here and I hope you like them. Have fun with Cassowary Drawing!