Boat Drawing Is Gotten In 6 Easy Steps
Boat Drawing Is Created in 6 Simple Steps
Here, you get an opportunity to create a boat drawing with our tutorial. A boat is a means of transportation that moves along waterways. There are many boat types and different sizes; it depends on the purpose of use, and people choose different types of boats. Small boats are designed to travel short distances to transport people or small quantities of goods. They are typically found in inland waterways such as rivers and lakes or in protected coastal areas. Boats of large size and modern machinery were used for military or civilian service but served long distances. If you have a passion for boats, today is your chance to learn how to draw boats with us in 6 easy steps. We will guide you to drawing Sven with simple geometric shapes, letters, and numbers. Find out how below. After you finish your drawing mission, you can move to a color boat with your painting skill with your favorite colors. It is not simple but not tô difficult for beginners and drawing experts. You can refer to boat coloring pages on our coloring pages part. We update many coloring pages, and you enjoy them for free. You can learn to draw boats with your kids, and they will surely like this activity.
How To Draw A Boat – Let's Get Started!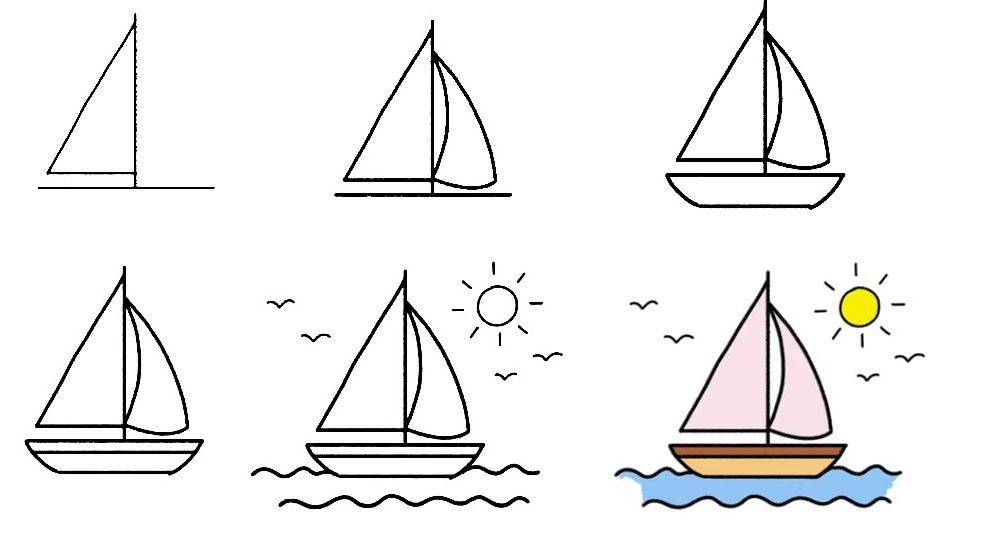 Here, we explain in six steps how to draw a lovely boat sailing on the water! With this fun and straightforward method of learning to draw, children will become real artists! Boats are not a strange means of transport for us adults but for children; it is different. They want to go sailing but don't have a boat. Don't sweat over it. Chill out and follow this tutorial to learn how to draw a kayak, a yacht, a rowboat, and a sailing ship. If you want to teach your kids about boats, drawing is the best way for you. In the course learning to draw the boat, you can talk about this means of transportation. You have six steps and go to step by step of instructions. In each step, we provide illustrating images to help you draw easier. You can enjoy boat coloring pages on our site. We update daily and many coloring pages. Now, let's get started drawing a boat with us!
Step 1 – Draw Boat's Sails

You will start to draw a boat with sails. You draw a triangle, and the bottom triangular base represents the boat's sails. You can observe our image and follow it; not difficult in this step; you finish it in minutes and move to step 2.
Step 2 – Draw The Rest Of Boat's Sails

Now we can draw in the rest of the boat's sails. The boat's sail in step 1 is a barge sail; now, you will draw the boat's sail in this step. From the boat's sail in the fourth step, you will draw 1 more sail for the boat in this step. It's not too difficult for you; you can look at our drawing and follow it.
Step 3 – Draw Boat's Body

Here, you must add detail to the hull. From the dike of the pre-existing sail, you will draw additional lines representing a parallelogram. It is very simple. Whether a beginner or an expert, you can easily pass this step.
Step 4 – Draw More Details For Boat's Hull

In this step, you must finish the hull. From the parallelogram in step 3, you will add a long straight line in the center of the figure, which shows the details of the hull. Very simple to realize your task here; you will finish the task here and continue to draw the boat in step 5.
Step 5 – Finish Your Drawing Mission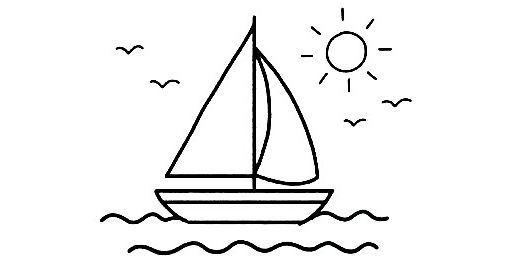 You must finish your drawing task in this step. You add some detail for decoration or create an excellent background for the boat. You will add details of flying storks, clouds, and water to make the sailboat look more attractive. The scenery is more beautiful. That's all there is to it for this step, so when you're happy with the look of it, we shall continue adding to this boat in the sixth step to color.
Step 6 – Color Your Boat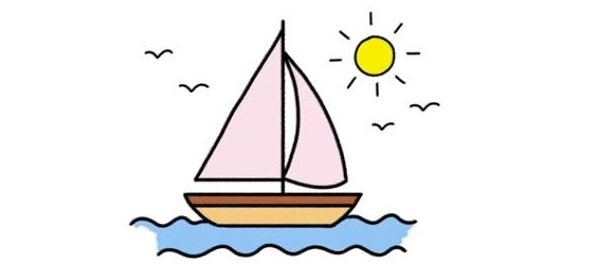 You will choose colors and make coloring for a boat in this step. Very simple in this step; you take your favorite colors for your product. We use brown, light pink, yellow, blue, and golden brown for boats. And you can make any color for your product as long as you feel the color matches the boat and shows the beauty of the boat as well as of nature. Once you get a complete boat, you can go boat coloring pages to color for them.
Your Boat Drawing Is Complete!
We update hundreds of images related to boats. With this instruction, you can draw a boat quickly, and we have many other instructions for you, be sure to keep checking our site to ensure you never miss out! Drawing and coloring are suitable activities for everyone, and you can enjoy them in your free time with your kids and help them to avoid technology equipment like smartphones, tablets, television, etc they are not suitable for the eyes and the evolution of children.