How To Draw A Bulldozer – 8 Easy Steps Creating A Bulldozer Drawing
Create a strong Bulldozer in 8 easy steps
Today, you get an opportunity to create a complete Bulldozer drawing with us to find a fun time and relax. It is a specialized vehicle in the construction industry; it can be considered specialized in different large and small construction projects. With this article, you will find simple instructions to draw the Bulldozer in 8 steps. We offer easy to complex tutorials and are suitable for everyone. Whether you are a beginner at drawing or you are an expert in drawing, you can complete the Bulldozer drawing task according to your needs in the easiest way. Follow our instructions and our illustrations, and you will get the complete excavator with your drawing skill. Because in each step, we also update the reference image to help you draw a bulldozer in your comfortable mood.
How To Draw A Bulldozer – Let's Get Started!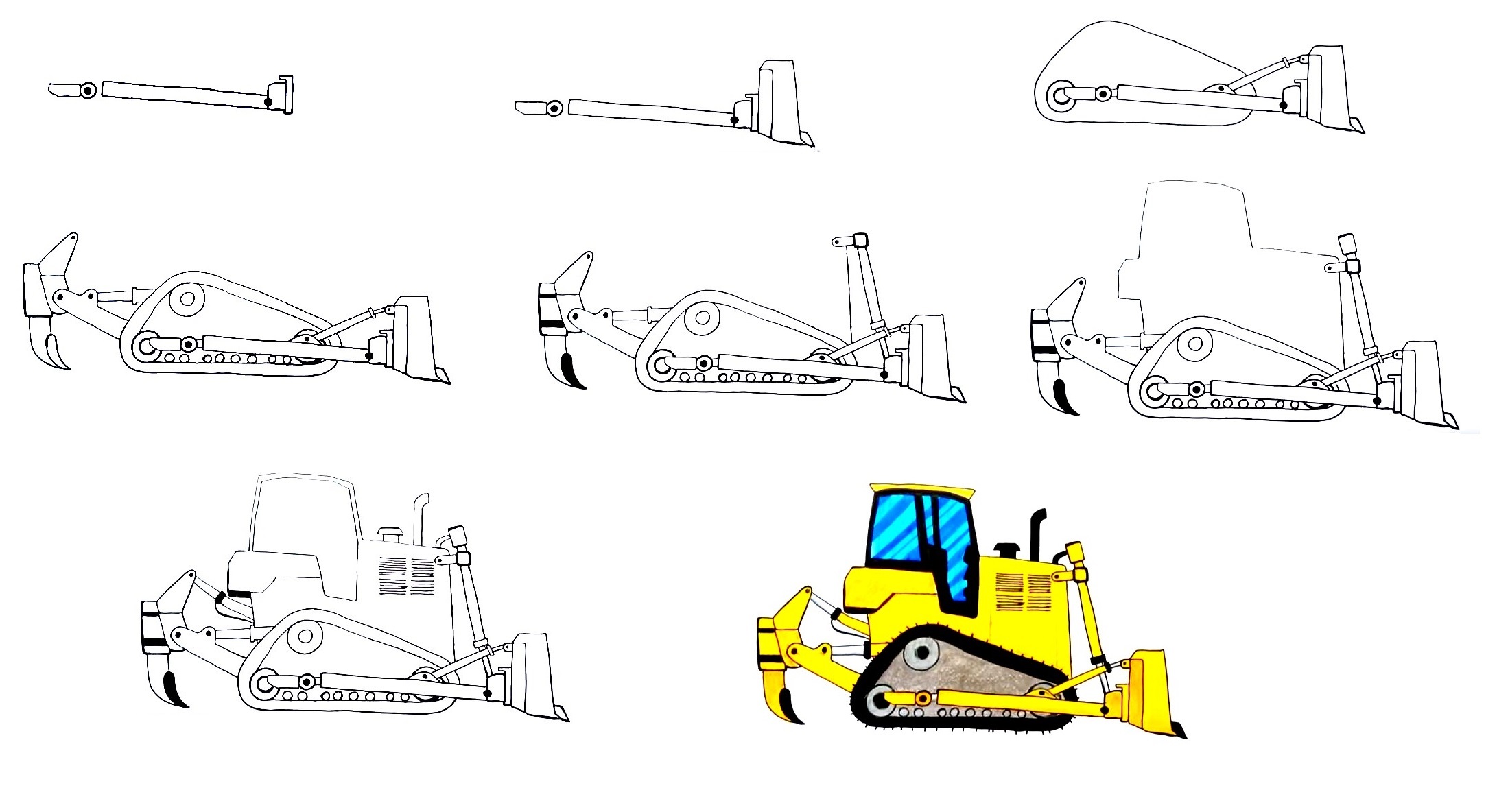 For kids, the Bulldozer is a big world for them, and many children will have the dream of drawing their Bulldozers. And today, we come up with this article to help those who love it to draw and express a perfect bulldozer in his way. If you are a parent, join this activity with your children, they will surely love it and can use this as a helpful and completely free entertainment channel. Drawing activities will help you to balance your life. More Proper entertainment will make you feel better and work better; painting is a good choice in finding suitable joy for everyone. You can enjoy it with any device connecting to the internet. It would help if you prepared a pencil, eraser, colored pencils, and drawing paper before starting to draw.
You will use the blurred pencil strokes to make the strokes; next, you will erase the blurry strokes if you draw wrong and bold the correct lines; finally, you choose the right color to color your bulldozer drawing. Along with this tutorial, you also can enjoy bulldozer coloring pages to practice your drawing and coloring skill. And now, we will go into detail of step by step guide on how to draw a bulldozer.
Step 1 – Draw The First Details For Bulldozer

Staring to realize your task of this guide of the bulldozer drawing, you will draw details for the wheels. This is the detail for the wheels of a bulldozer.
Not complicated in this step; you can observe our illustration and follow it. It takes about some minutes to finish your task and move to the second step.
Step 2 – Draw The Wheel Axles

In this second of your Bulldozer drawing, you will draw the wheel Axles for the Bulldozer.
You will draw a rectangle as the long axis; then you draw a cube; if you look at your image now, it's almost like a fallen flagpole, as you see in our illustration.
That's all you need to do in this step and next to the next step.
Step 3 – Draw The Track For Bulldozer

You continue your task of the bulldozer drawing by adding the track for it. Draw a line around all the details; make another line just outside the first. Draw the outside line to make the side edge and face of the track. Also, notice the small lines you need to make on the inside of the track.
You can use our reference image to refer to and follow along.
Step 4 – Draw Bulldozer Blade

Your task in this step on how to draw a bulldozer is to draw a blade for your Bulldozer.
You will start drawing a curved rectangular shape and add a tab to the top middle of the rectangle.
Here, you can draw a fender for your bulldozer drawing. You use some curved lines and straight lines to finish the task and move to the fourth step.
Step 5- Add Detail For Your Bulldozer Drawing

You continue your task of this tutorial on how to draw a bulldozer by adding some details for it.
This is the part connecting the wheel and the bulldozer control device; you will use curved lines and straight lines to complete the task in this step. It's not too difficult for you in this step, and you can refer to our reference image and follow. It takes some minutes for this work.
Step 6 -Start Drawing Bulldozer Cab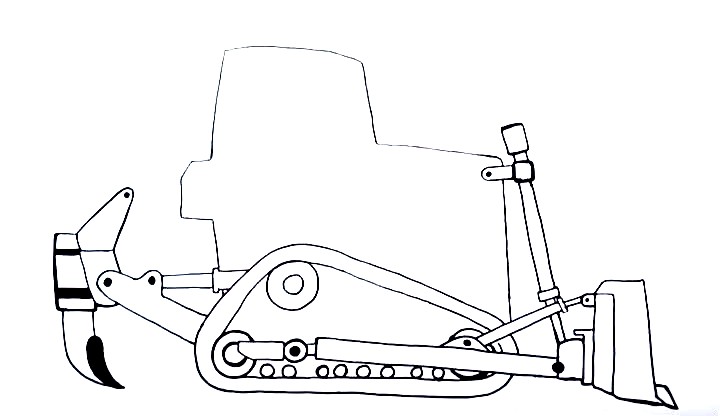 To make the cab, draw four thin, slightly curved bars. You will draw one by one to make a cab for the Bulldozer to look more realistic, as you see in our reference image.
Before moving to the next step of your bulldozer drawing, you will add lights and an exhaust pipe.
Step 7 – Finish Your Bulldozer Drawing Mission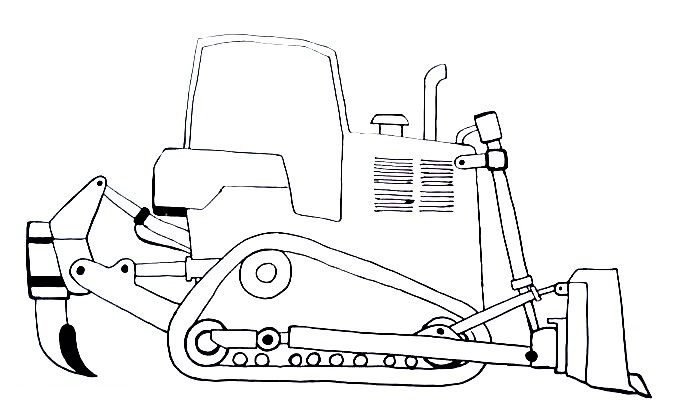 In this seventh step, you have to complete all the details for Bulldozer. Please take a look at our drawings and do the best job.
You must finish the bulldozer cab then, you use some detail to decorate your bulldozer drawing. You finish your drawing work now and have the last step for coloring your Bulldozer.
Step 8 – Color Your Bulldozer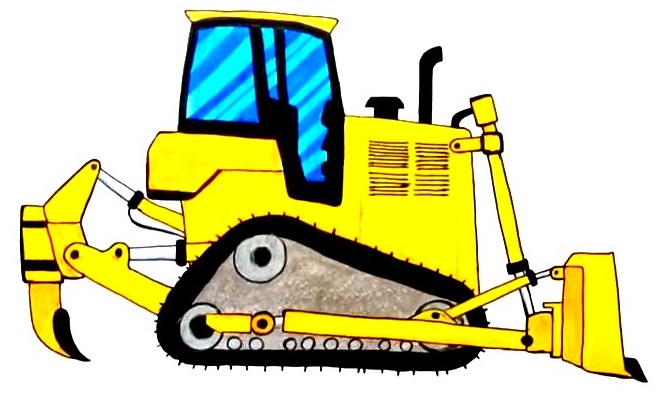 Choosing the color for the drawing is the easiest step in our drawing tutorial. Bulldozers are usually yellow or blue; depending on your preference, you can choose the color in this case.
We use yellow for Bulldozer, blue for the cab, and black for the track,….you can add more color to make your image more beautiful and lively.
Your Bulldozer Drawing Is Complete
You have completed the task for Bulldozer drawing in 8 steps excellently. If you have difficulty performing these tasks, you must concentrate on the drawing course. Drawing activities will help you relieve stress and anxiety and make your life better.
In this bulldozer drawing tutorial, we have two goals that are to help you to be able to draw and color an excavator, and the second goal is that you can have fun through this tutorial so you can forget the stress help you balance your life. You can find more drawing tutorials on our site Coloringcool.com. We update them daily, so you can come here each day to enjoy and relax. You also can enjoy coloring pages or blogs to practice your drawing and coloring. Besides bulldozer drawing, you can refer to Tank Coloring Pages, Transformers Coloring Pages to make your collection drawing more various,…those drawing guides about the car to help you understand well more transport devices. Have fun with bulldozer drawing!