Clownfish Drawing Is Complete In 6 Easy Steps
Creating a cute Clownfish drawing in just 6 easy steps
Follow this easy how-to draw a Clownfish step-by-step tutorial, and you will have your Clownfish drawing finished in no time. You will follow our instructions to create a complete Clownfish with your skill. This is not a simple task, but it is not difficult, you must concentrate your mind, passion, and time until finishing your task here. You will go to step by step in our guide from easy to difficult. Whether you are a beginner or an expert in drawing you can finish your task with a guide. Joining the drawing activity will help you to relax and have a great time. After the hard-working hours, you need to relax to help your mind at ease, you will work better. This activity will also help your kids to avoid using technical devices as television, smartphones, tablets. They are not good for their eyes and their evolution. Along with the tutorial, we have also included a couple of free Clownfish coloring pages that you can print off and give to your kids to color! You can use coloring to refer to and make drawing easier.
How To Draw A Clownfish – Let's Get Started!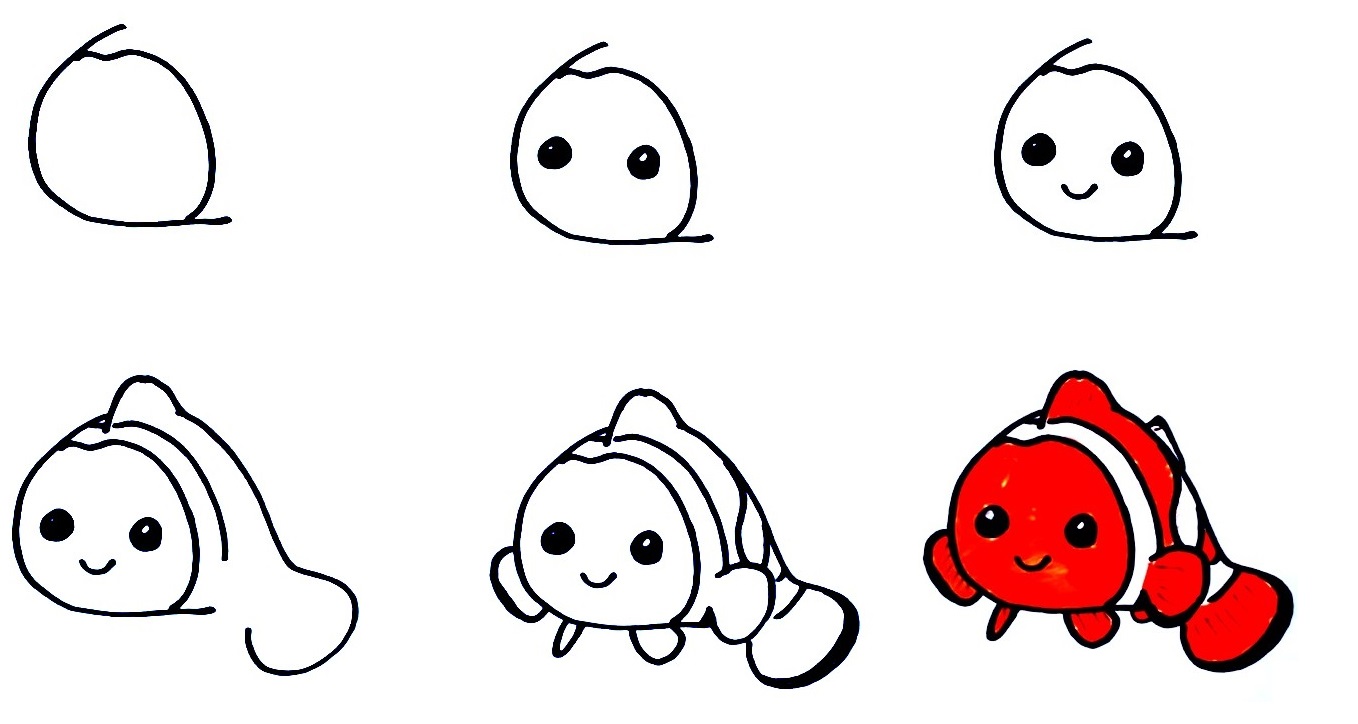 To your knowledge Clownfish are perhaps best known for being featured in the movies "Finding Nemo" and "Finding Dory." It has since become a very popular aquarium pet for kids of all ages. It is a favorite fish, and do you want to draw it? We will give the guide detail to help you realize the dream of drawing a Clownfish. Prepare a few things before you start drawing, like a pencil, pen, and paper. Then you use your pencil to draw on paper, and you can erase your mistake easily. So, don't be afraid to draw; draw in the most comfortable mood. Why not? It is free, and you can come here anywhere and anytime with your devices connected to the internet. If you are a parent, you can participate in this activity with your kids. They will surely like it. You have a chance to understand them and educate them better.
Step 1 – Draw Clownfish's Head Outline

To begin drawing a Draw Clownfish, you draw the head outline with two curves put together as you see our illustration. This step doesn't seem to be difficult at all, look closely at our illustration and follow it. You can go next to step 2 now.
Step 2 – Draw Clownfish's Eyes

You continue drawing your Clownfish with eyes. You draw dots for the eyes, and then you use black to color for eyes. So, you finish the drawing task for the eyes. You continue your work in step 3.
Step 3 – Draw Clownfish's Mouth

Under Clownfish's Eyes, you draw a short curved line for the mouth. It is effortless here, and you spend some seconds to finish your task in this step and move to step 3, and continue drawing your Clownfish.
Step 4 – Draw Clownfish's Body

You draw a curved line from the head to the Clownfish's tail to make the body. Draw two more arcs under the clownfish's body as guides for the pelvic and anal fins. The arc on the left should be thinner and longer. You continue drawing Clownfish with a curved line on the back. You will continue drawing the Clownfish in the fifth step.
Step 5 – Finish Your Drawing Mission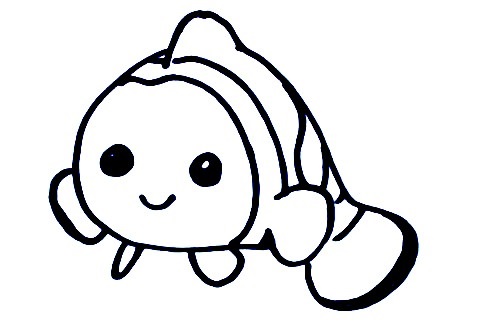 You will finish your task for drawing Clownfish now. You use curved lines to make decorations for this fish. This also is not a complex task. It depends on your hobby that you can make your fish as you like with some decorations of body, fins, heat,…You will add some fins on two sides and under the belly. So, you finish your drawing and coloring mission. So Clownfish is done, and you have the last step for coloring Clownfish.
Step 6 – Color Your Clownfish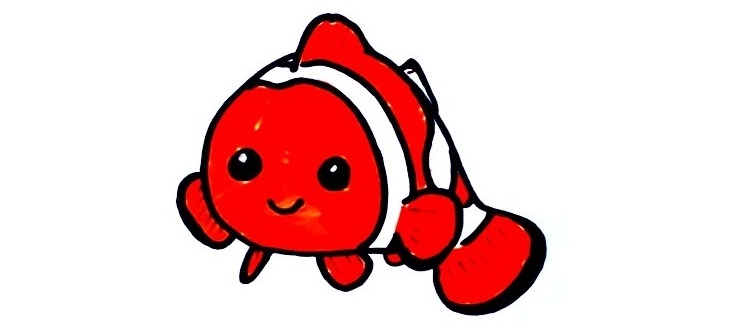 Finally, the most exciting part is filling in the colors for your awesome drawing! This is the part where you can show off your artistic skills and your ability to mix and match various colors. Use black for the eyes and mouth. You choose the suitable colors for your product now. Here, we take color as Clownfish's color. We chose orange as the main color and added white borders. You create a complete Clownfish with our how to draw a Clownfish your skill. Your drawing may not be as good the first time, but if you practice regularly, your drawing will definitely be more complete. You can draw everything on our site with the details tutorials here. It is free, and you can come here anytime and anywhere with your devices connected to the internet. You can refer to Clownfish coloring pages on our site and practice your drawing skill. We update coloring pages, drawing guides, etc, daily. Be sure to keep checking our site to make sure you never miss out! Have a great time!