Heart Drawing Is Created In 6 Easy Steps
Creating a cute heart drawing in just 6 easy steps
You will create a wonderful heart drawing with easy, step-by-step instructions and illustrations. Great for you and your kids. You can become a real artist! You will follow our instructions of six steps and finish your task in each step to create a complete heart with your skill. This is not a simple task, but it is not too difficult; you go from easy to difficult and make a complete heart with a fun time. Why not? Come here will help you to get a relaxing time and balance your life. After the hard-working hours, you need time to relax and to make your mind at ease; here is the best solution, go to our site and enjoy all products for free anytime and anywhere with your devices connecting to the internet. With our instructions of heart, you can finish your product, a heart, easily whether you are a beginner or an expert in drawing. Besides the drawing tutorial, we also provide Heart coloring pages for free on our site, and you can use them to practice your drawing and coloring skill.
How To Draw A Heart – Let's Get Started!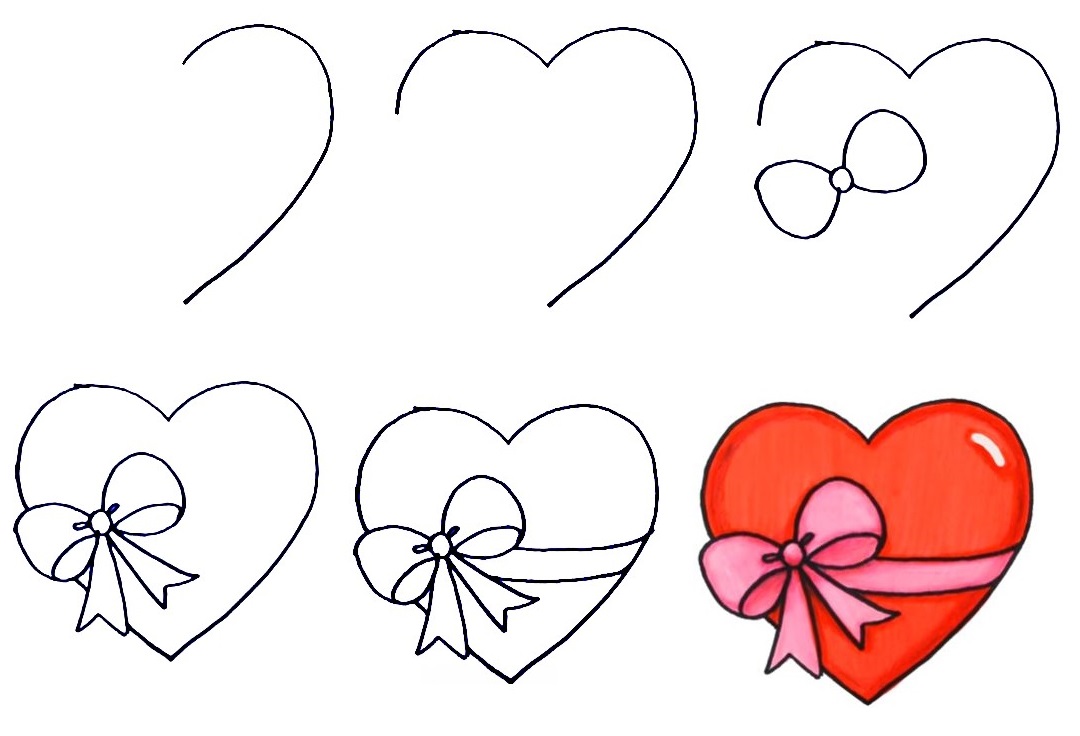 As you see, on the surface, a heart is not a difficult shape to draw. But learning to draw a perfect heart with perfect symmetry is a little tricky. As with all of our drawing tutorials, we use a range of simple construction shapes to lay down the foundations of the drawing before we create the final outline. It would help if you prepared a pencil, eraser, colored pencils, and drawing paper before drawing; you use your pencil to draw on paper and erase your mistakes easily. So, don't be afraid to draw; draw your way in the most comfortable mood. Drawing is a good activity for everyone, from children to adults; if you are a parent, you can learn how to draw a heart with your kids, they will surely like it, and it can help them to work better with this good drawing. More, your kids can avoid using technical devices such as television, smartphone, and tablets, as they are not good for their eyes and evolution. Now, let's get started drawing a heart!
Step 1 – Draw Half A Heart Outline

For the first step in our guide on drawing a heart, you will be drawing a half a heart outline. You use a long curved line around the right side. It is not complex; you can observe our illustration and follow it before moving to step 2 to continue creating a heart.
Step 2 – Draw A Quarter Of A Heart On The Left Side

You use a short curved line to the left to draw a quarter of a heart. It's quite simple for your work in this step for your heart drawing, you can look at our drawing and follow it. You can move to the third step and continue drawing.
Step 3 – Draw Heart's Bow

In this third step for the heart drawing, you draw the bow of the ribbon and the heart. It's a bit complicated in this step; you will draw two ovals on both sides, then add a knot in the middle of those two ovals. You can follow our illustration and make it.
Step 4 –  Finish Heart's Bow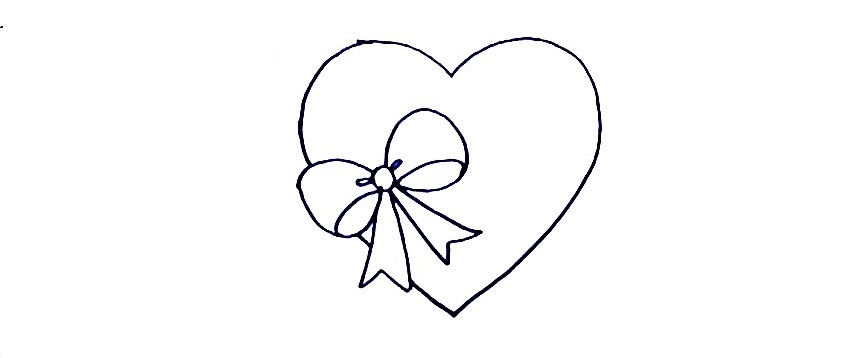 Add a curve at the bottom of each to create a three-dimensional effect. Add two little curves extending from the middle circle. Finally, add a little cut to the bottom of each flap. That's all there is to it for this step, so when you're happy with the look of it, we shall continue adding to this heart drawing in the fifth step.
Step 5 – Finish Your Drawing Mission

You must complete your drawing task now by adding some lines for the bow ribbon. You complete the bow ribbon for the heart. You are almost done with drawing a heart with a bow ribbon and have the last step for coloring.
Step 6 –  Color Your Heart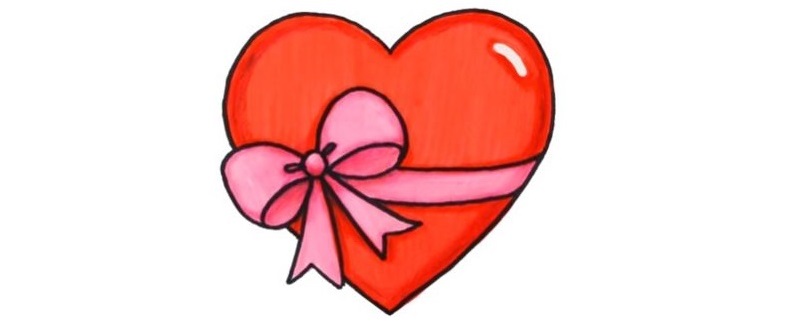 This is your last step; you choose the suitable colors for your product. You can take any color you like. We have shown one way you can color it in with our image, but this is a step where you should really wow us with your creativity! There are many ways to choose the color of your work, and we think you can choose your favorite color. You can use different coloring tools to have a great experience here. Like the color it has, we use that color for the heart and pink for the bow.
Your Heart Drawing Is Complete
So, you finish your task to create a complete heart. We also added a small white color on one side of the heart to make the work more vivid. You can move to Heart coloring pages to enjoy coloring pages related to hearts, we update the hundred of hearts, and you can color or practice drawing. You know how to draw a heart on our website for free, and you can recommend your friends here and get a fun time.