8 Simple Steps To Create A Lovely Dachshund Drawing – How To Draw A Dachshund
Creating A Cute Dachshund Drawing In Eight Easy Steps
You will know how to create a complete dachshund drawing with us. There are eight steps equivalent to eight missions that you must finish.
The drawing tutorial is suitable for everyone from adults to children; you will have a chance to show your drawing and coloring with our drawing guides on our site. And one of those interesting tutorials is about a dachshund drawing. I also hope you enjoyed this tutorial and didn't take your eyes off our guide and our reference images.
You spend about 25 minutes on this drawing task. And if you have a talent for drawing and coloring you will probably finish drawing a dachshund dog sooner.
How To Draw A Dachshund – Let's Get Started!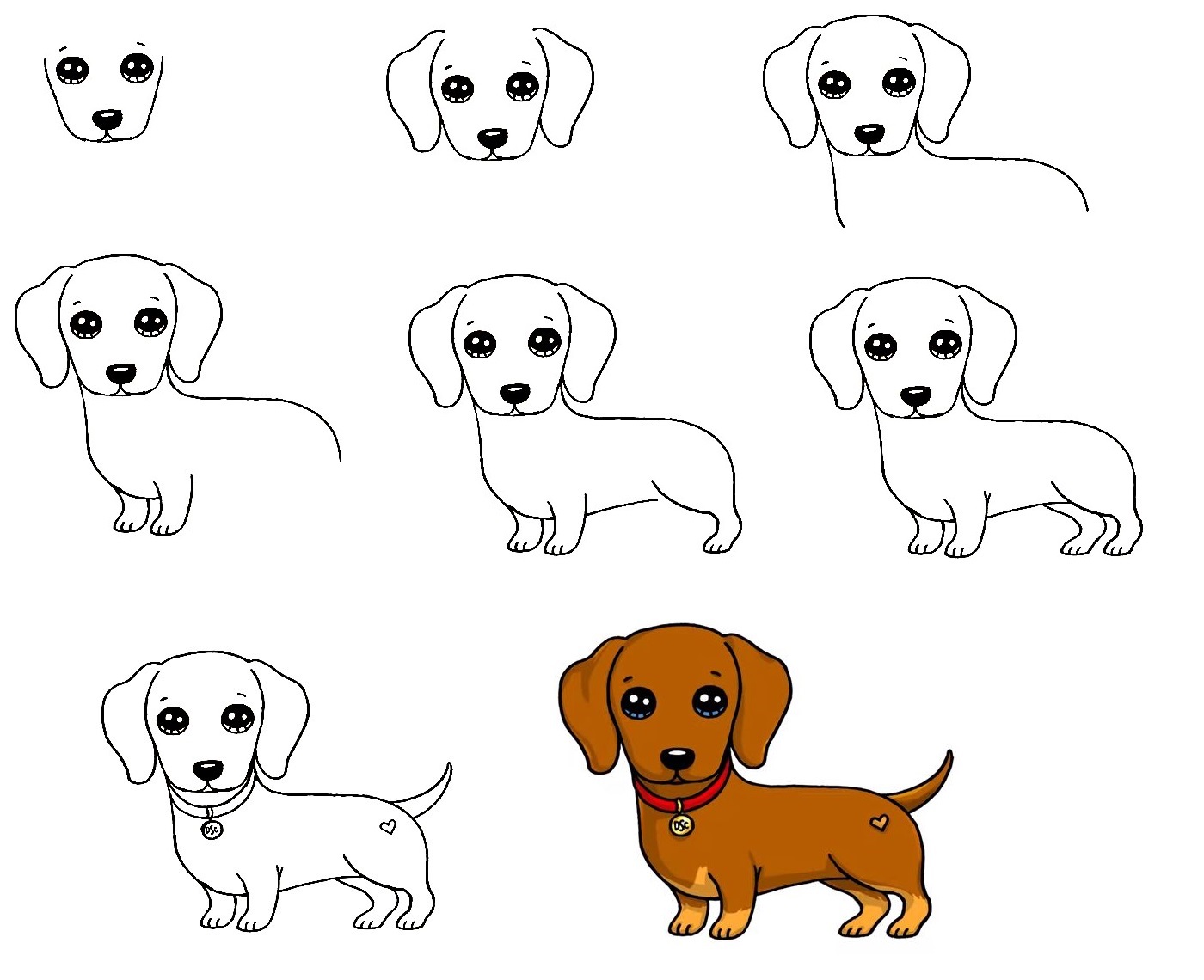 The dachshund is known to be a cute type of dog and is often raised and cared for in the family as a pet.
If you love dogs, then you have many choices of this affectionate animal, one of which is the dachshund. These cute dogs are known for their long bodies, small limbs, and tenacious personalities.
It would help if you prepared a pencil, eraser, colored pencils, and drawing paper before starting to draw.
You will proceed to draw a dachshund with a pencil and paper. You will erase the strokes if you draw wrong and redraw until you are satisfied with your drawing. Once you finish off your drawing mission, you will choose the suitable colors for your dachshund.
Along with this dachshund drawing guide, you can go to the dachshund coloring pages on our website to practice your drawing and coloring skills and get a fun time. Because drawing is a good activity for everyone, it can help you to forget stressful times and make your life better.
Right now, let's get started to go to eight steps on how to draw a dachshund.
Step 1 – Draw Detail Face For Dachshund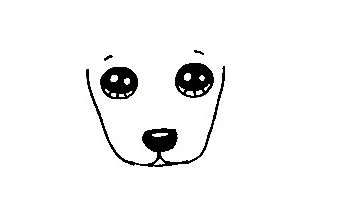 To begin realizing your task on how to draw a dachshund, you must draw the details for your animal.
Use two circles for two eyes; you use black for the coloring of the eyes as well. Please don't forget to draw the eyebrow for your dachshund.
Under the eyes, you must draw the nose with two nostrils for your character.
So, you finish the task in this step with all detail for the dachshund's face and move to the second step.
Step 2 – Draw Two Ears For Dachshund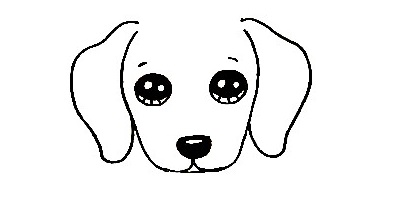 Your task in this step is to draw two ears. You draw two curved lines for each ear.
It's simple in this step, and you need some minutes to finish it and continue your drawing task in the third step.
Step 3 – Draw Neck And Back For Dachshund
It's time to draw the neck and back of your animal. You use a curved line to draw the back and a curved line to draw the neck of a dachshund.
It's so simple; you don't have any difficulty in this part, right? Let's quickly finish the quest here and move on to the next part.
Step 4 – Draw Two Font Legs For Dachshund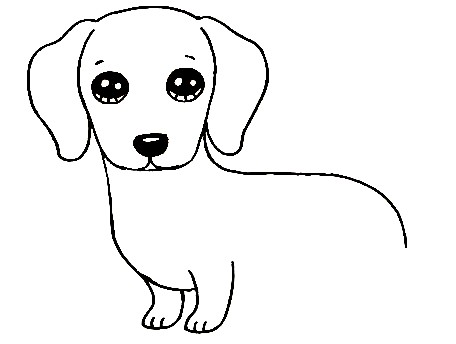 Now you will have to draw two front legs for this animal. You use two parallel lines to draw a paw and finish the task with two dog paws and toes, as you see in our reference image.
You finish off your task here and move to the fifth step.
Step 5 – Draw A Hint Leg For Dachshund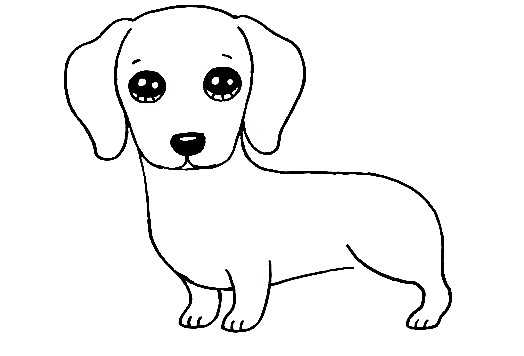 If step 4 draws a front leg for the dachshund, in this fifth step, you will draw a hind leg for it. It's simple; you use a curved line to draw big thighs for the dachshund, then you draw the legs for it. Once you think good about your image, you can continue your drawing mission in the sixth step.
Step 6 – Add More A Hint Leg For Dachshund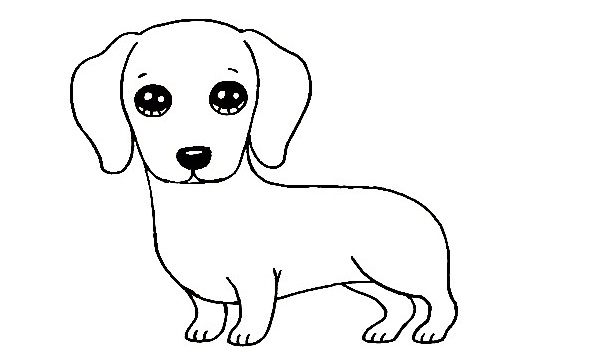 If in step 5 you draw one hind leg for a dachshund, in this step, you will attract the other back leg for your animal.
It's simple, and you need to use a few curves and straight lines to complete the task in the shortest time.
Step 7 – Draw A Necklace And A Tail For Dachshund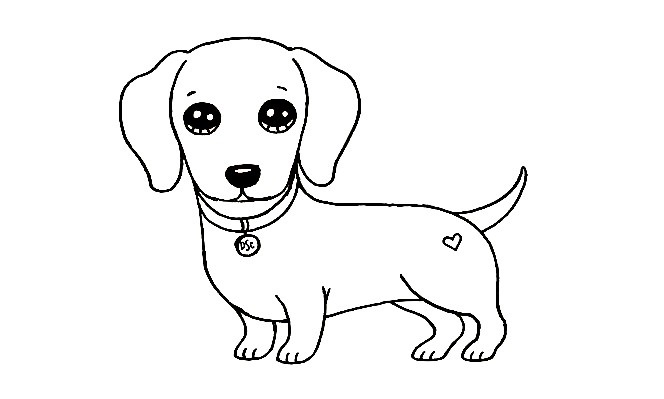 It's time to finish off your drawing mission. You will add a necklace for your animal to make your picture nicer. Please don't forget to draw its tails. Similar to the tails of other types, the dachshund's tail is quite long and pointed, as you see in our reference image.
If you find it difficult, then you can observe our image will show you what it should look like, and once you're happy with it we can move on to step 8 for coloring.
Step 8 – Color Your Dachshund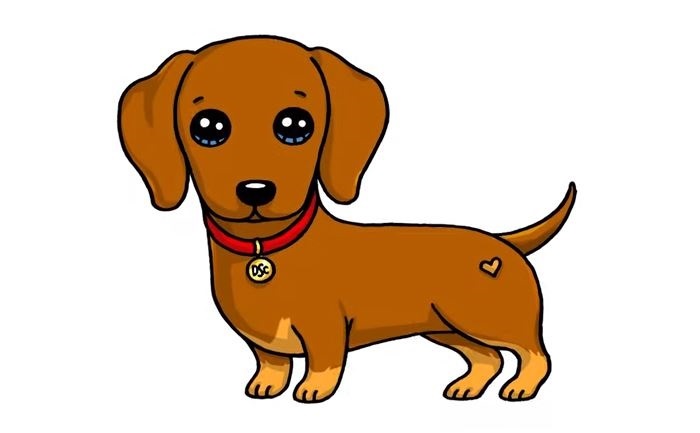 That brings you to the final step of this guide on how to draw a dachshund. You will choose the suitable colors for your animal. Here, we use light brown for our image, and you can take any color you like because there is no limit to the creativity of colors.
Your Dachshund Drawing Is Complete!
We hope that you enjoyed our tutorial on dachshund art and that you will join us again for more easy and exciting drawing guides! You have a great time with us through eight simple steps to drawing a dachshund.
On our website Coloringcool.com, you can find many drawing guides related to dogs such as dog drawing, dog pug drawing, wolf drawing,…You can come here each day because we update the educational products for free.