8 Easy Steps Creating Witch Drawing
Creating a complete witch drawing in just 8 easy steps
Now, you learn how to draw a witch. Our super is easy to follow step by step witch drawing tutorials. You get an opportunity to create a complete switch and get an opportunity to understand this character. The witch is a villain character in children's fairy tales. The witch is a villain in children's fairy tales. With children, witch characters are extremely evil and scary. In the perception of each child, they always want to stay away from this character to ensure their own safety and that of others. In learning to draw a witch, you and your kids get more information about witches. Along with the tutorial, we have also included a couple of free Witch coloring pages that you can print off and give to your kids to color!
How To Draw A Witch – Let's Get Started!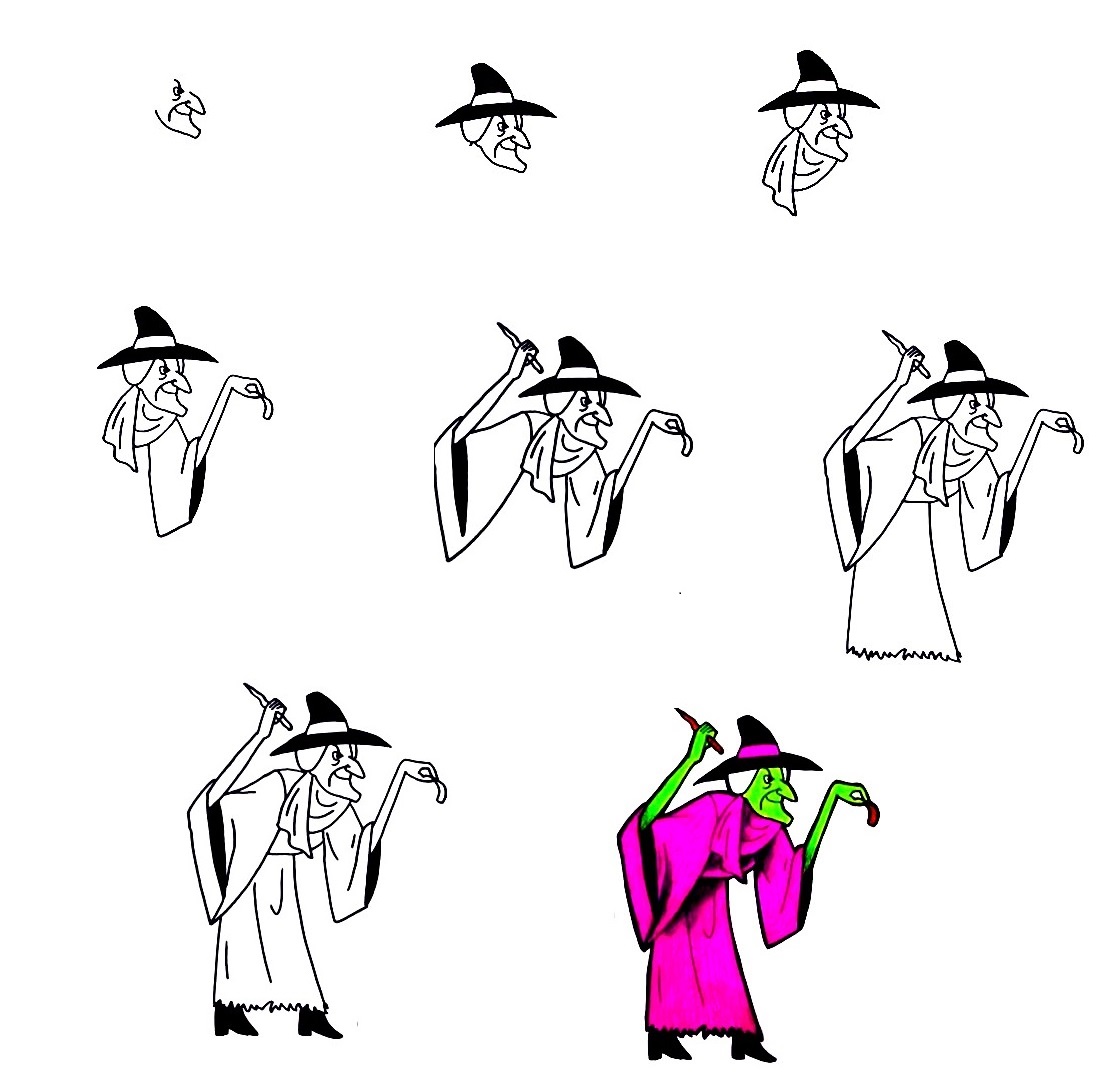 You've known the witch character for a long time, but it's not easy to draw this character. Do you want to learn how to draw a witch? There's no set way to draw anything so grab a pen, pencil, or even some chalk and draw a wonderful witch of your own. Or, this tutorial will teach you how to draw and copy someone else's idea of what a witch looks like. Copy either of the two different types of witches shown here if you want to know how to follow instructions or how to copy. It would help if you prepared a pencil, eraser, colored pencils, and drawing paper. The best way to do it is you draw with a pencil, and then you can erase your mistakes easily. So, please don't be afraid to draw, drawing in your comfortable way. Drawing or coloring will help you to reduce the stress and worry about making your life better. If you are a parent, you can give this instruction to them, and they can enjoy this activity in their free time after the hard-working hours. They will relax and come back to study better. Now, you've asked for it, so we delivered. We have curated a step-by-step process on how to draw a witch, summed up in 8 easy and simple steps. Let's get started by drawing a witch with us!
Step 1 – Draw Face Details For Witch

You will start to draw a Witch with details for the face. You must draw an eye, nose, and mouth for Witch. You know, the witch has a face with a pointed chin that is very scary. You have to show this in the drawing. Look at our illustration and follow it. Once you finish this task, you can move on to step.
Step 2 – Draw Witch's Hat

Witches typically wear tall, pointed hats, drawing a narrow oval shape forming the brim of the witch's hat. After that, you continue drawing a triangular shape bent at the top. This creates the folded crown, making the hat look more natural. You add some hairs on the face for which. You can use black to color the hat right now and move to step 3.
Step 3 – Draw Witch's Collar

You start to draw clothes for your witch with a collar. There's a little bit of complexity here, and pay close attention; you use curved lines to draw where the collar is to make it look more realistic. You can stop this task and continue your drawing in the fourth step.
Step 4 – Draw An Arm For Witch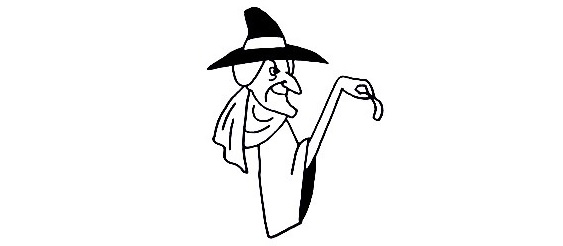 Please start at the collar where her hair is and make a squiggle line around her arm to help form the body of the witch. The witch's arms are very thin, and the shirt is loose, so you draw a wide sleeve and a thin arm for the character. You finish the task in this step with the fingers of a witch and move to step 5.
Step 5 – Add More An Arm For Witch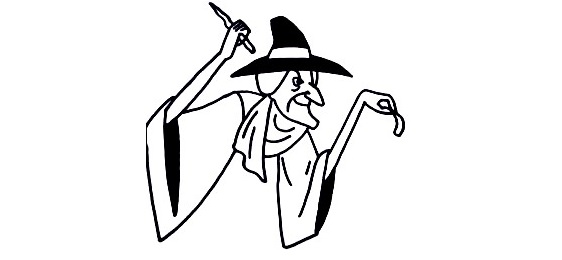 Like the task in step 4, you add more of an arm for a witch. At the end of your mission of this task, you will draw the Witch's fingers holding a knife. So, you get a witch character having two arms with sleeves. You can stop your task in this step at the sixth step.
Step 6 – Finish Witch's Costumes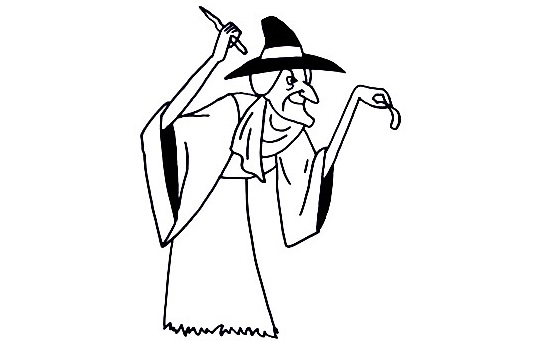 You finished drawing the dress for the witch in this step. From the sleeves, you draw the parallel to create a part of the dress for Witch. You will finish the dress in a straight line to make a complete dress for her.
Step 7 – Draw Witch's Shoes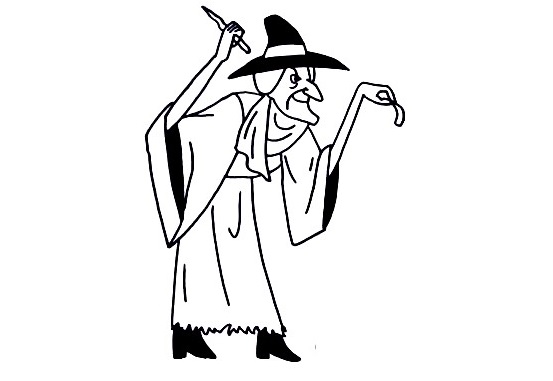 You finish your Witch drawing task with a pair of her shoes. You can use black as a color for her shoes. You create a complete witch with our tutorial. And you have more steps for coloring now.
Step 8 – Color  Your Witch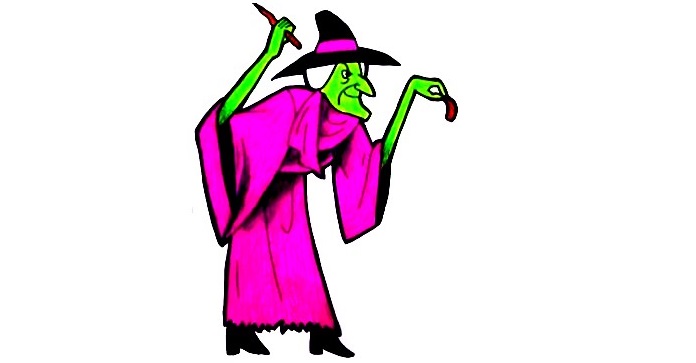 Here comes the most straightforward step of your Witch drawing for you. You will choose the suitable colors for your product, Witch. You can take any color you like or choose a similar color to our coloring. We take Violet for her costumes and brim, back for a hat, eye, shoes for Witch, and green for her skin.
Your Witch Drawing Is Complete
You finish your drawing and coloring activities to finish your Witch character. We update many instructions for drawing many things and many characters for free here. All activities on our site are free and updated every day. Please keep checking our site to make sure you never miss out! Once you get a complete witch, you can move to witch coloring pages to enjoy many images related to witch. You can come here anytime and anywhere with your devices connected to the internet. Come here each day to relax!