8 Easy Steps To Create A Walrus Drawing – How To Draw A Walrus
Walrus Drawing Is Complete In 8 Steps
Walrus Drawing is today's challenge for you, we create this guide through eight steps, and you will follow us to finish your mission.
In the ocean, there are many different animals, from seaweed to giant whales, and today you have the opportunity to know the Walrus.
This is a strange creature, with a rather stout body like a sea dog and long, sharp tusks extending from the mouth down.
The special, so Walrus has always been a source of creativity for many artists, and if you also love this creature and want to draw it, this is the opportunity for you.
You will complete eight parts in eight steps to get a complete walrus drawing and get a fun time.
You will get an excellent final result by going step by step and slowly following our instructions.
Once you get a walrus, you can choose the suitable colors for your product.
Along with this drawing, you can enjoy Walrus coloring pages to practice your drawing and coloring skill. Regular practice will improve your drawing and coloring skills.
These activities are suitable for everyone from children to adults so you can enjoy them in your free time after hard work hours.
Right now, go to 8 steps of our guide on how to draw a walrus with us!
How To Draw A Walrus – Let's Get Started!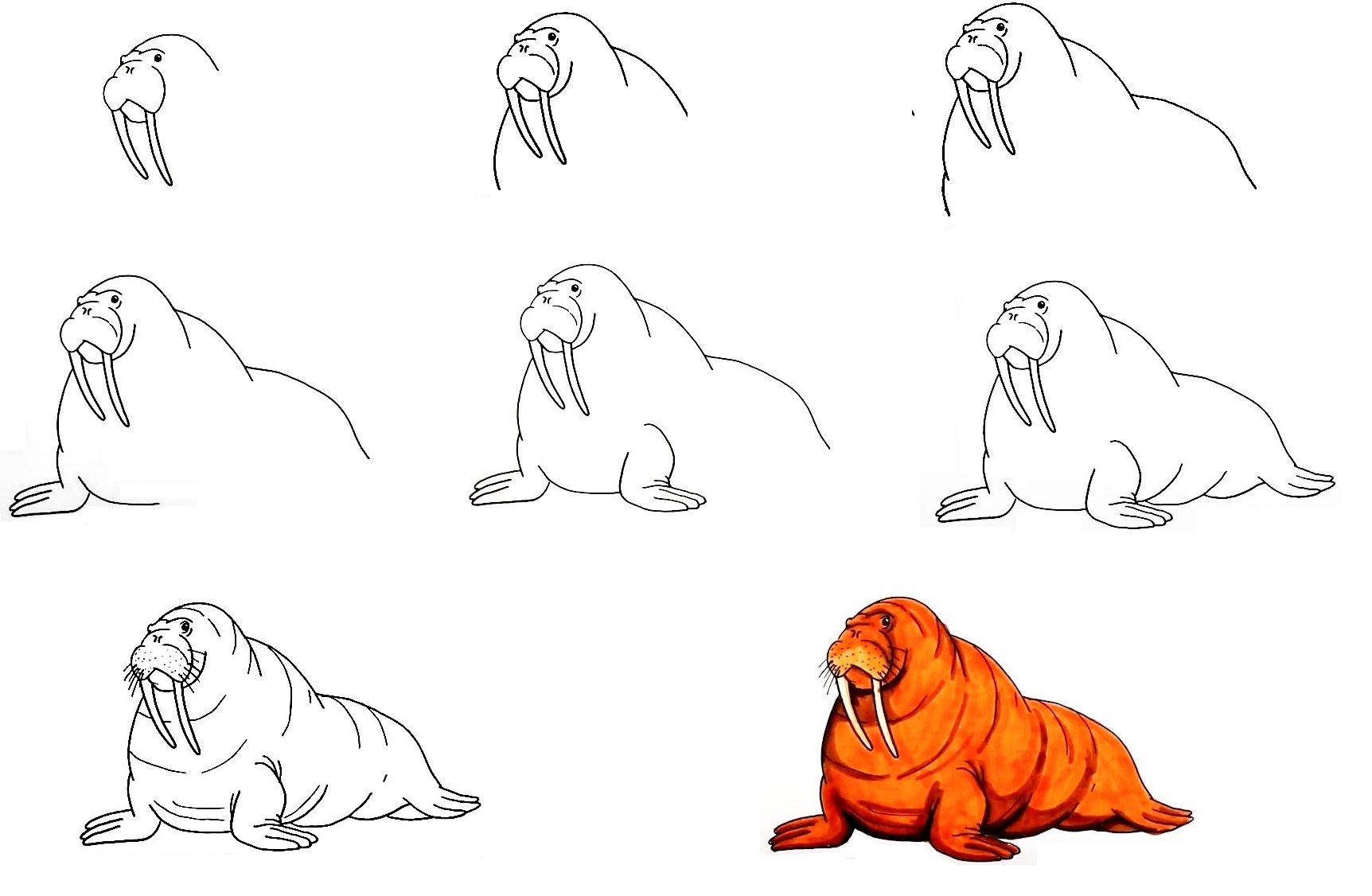 Step 1 – Draw Face And Head For Walrus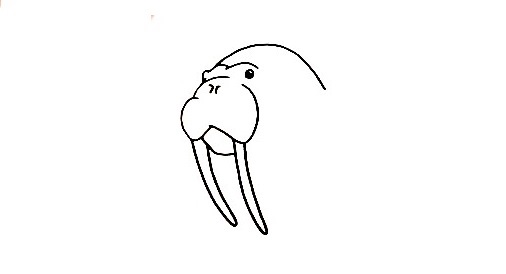 You will start drawing the Walrus by detailing its face and head. Don't forget to draw two pointed tusks for this creature. Use curves to finish this task, as seen in our reference image.
Your task in this first step is also quite complicated, so you can observe our reference picture to follow.
Once you're happy with your drawing, you can move to the second step.
Step 2 – Start Drawing Walrus Body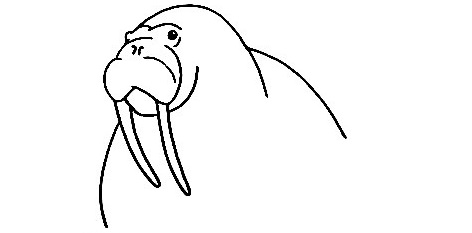 Your task in this second step of our guide on how to draw a walrus is to start drawing its body.
Continue to use the curved lines from the head for this task. You draw simple curves as you see in our illustration and move on to the next step if you are done.
Step 3 – Keep Drawing In Walrus Body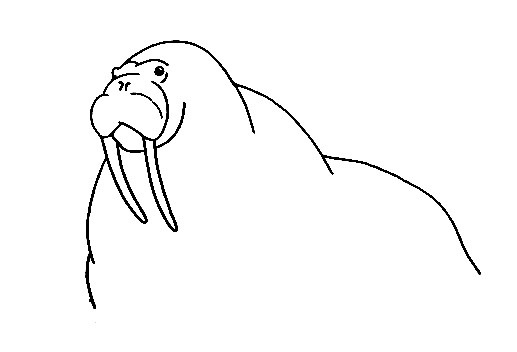 For this step of our guide on how to draw a walrus, you will continue to draw its body with curved lines.
Once you're happy with how they look, you will be ready to draw the first flippers in the fourth step.
Step 4 – Draw The First Flippers For Walrus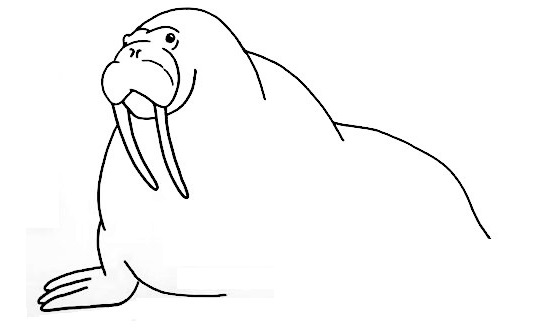 You will draw Walrus Flippers with curved lines. It's a bit complicated here, and you also need to look at our drawing to ensure the lines you drew are correct.
You can come to the next step when everything is done and continue your drawing work.
Step 5 – Draw The Second Flippers For Walrus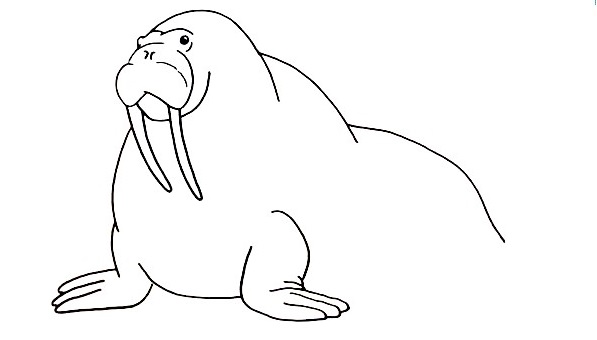 Similar to step 4, your task in this step of the walrus drawing is to draw the second flippers with curved curves. Your mission in this section is also simple, finish it in a few minutes and move on to the next step when you are happy with your drawing.
Step 6 – Draw The Rest Of Flippers For Walrus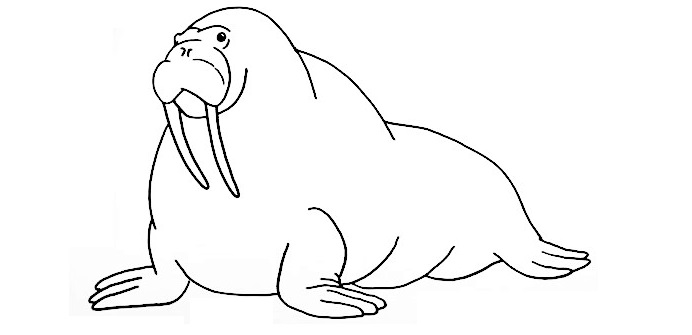 In this step, you will have to draw the other two flippers of Walrus, but a flippers of Walrus has been covered by part of the body, so you only need to draw the flippers of Walrus, and you will complete this part.
Step 7 – Draw The Final Details For Your Walrus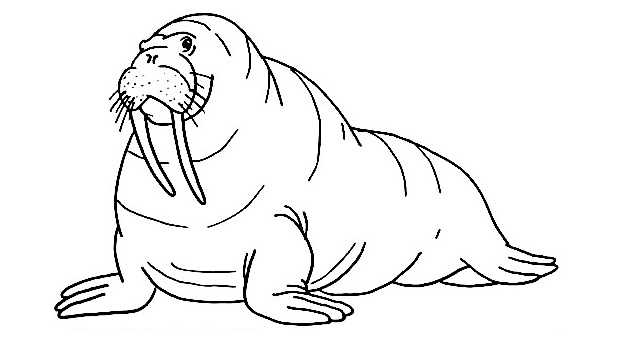 Your task in this step of the walrus drawing is to draw the final details before moving to the last step for coloring.
You can highlight drawn lines to make your drawing clearer and more realistic.
In addition to the details we draw, you can add other information to decorate if you feel it is suitable for your walrus drawing.
Step 8 – Color Your Walrus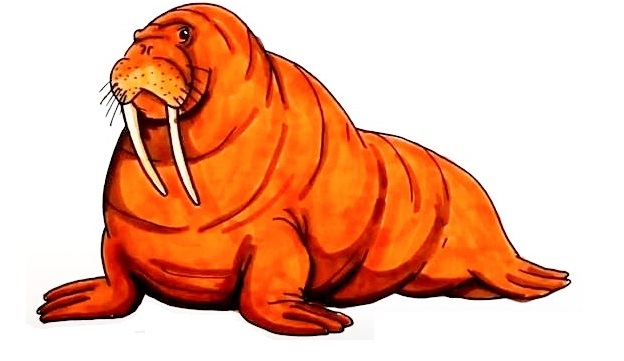 That brings you to the final step of coloring for your creature, Walrus.
You can choose any color you like to color for your walrus drawing.
We chose brown for our creature walrus, as seen in our reference image.
As for you, what color and art style did you choose for your Walrus? Please shear it on Facebook or Pinterest pages for us to see.
Your Walrus Drawing Is Complete!
You finish off your drawing and coloring mission with our guide on how to draw a walrus through 8 steps with us. How do you feel, excellent? I hope you enjoyed our drawing tutorial. On our website Coloringcool.com, you can enjoy our education products for free about coloring pages and drawing guides. We update them daily, and you can come here each day in your free time to make you comfortable.
You also can find more drawin guides similar to walrus drawing guide such as Seal drawing or Koala drawing.
I hope you will recommend this walrus drawing guide for your friends and your kids. Leisure activities help you balance your life and help you work more efficiently; life will be better.
Outside of working time, you need to choose a suitable entertainment channel. Learning to draw is not a bad channel; you can participate in drawing lessons with our tutorials anytime, anywhere. So, please visit our website often to avoid missing out on any products and have fun!