How to draw Jack and Sally – 10 Easy Steps Creating Jack and Sally Drawing
How to draw Jack and Sally – 10 Easy Steps for Creating Jack and Sally Drawing
Surely none of us do know the famous Disney animation studio. Disney animated movies always have a strong attraction because of their bright content and beautiful graphics and bring many valuable lessons for all ages. Each Walt Disney movie will immerse you in the world of the characters and forget the chaos of life. If you need to be "recharged" one day, try to choose a movie in the top Disney animated films and Disney movie adaptations that are all-time favorite audiences to enjoy. A Nightmare Before Christmas has become one of the most beloved animated movies, although it has a unique and provocative premise! That is a movie that both Christmas and Halloween fans can enjoy together. Two characters, Jack Skellington and Sally, are one of the characters that are often interested before Christmas. The following article will guide you on how to draw Jack and Sally from the Nightmare before Christmas.
Who are Jack and Sally?
The Nightmare Before Christmas is a 1993 American stop-motion musical fantasy film directed by Herry Selick and produced by Tim Burton. The character Jack is a person living in the town of Halloween; he accidentally opened the door to Christmas town and decided to bring the festival there to celebrate in his village. That action led to many unexpected but also hilarious consequences.
Sally is a shaggy-haired girl created by the town's resident scientist who develops a romantic interest in Jack. In the end, Jack must save both Santa and Sally from the evil Oogie Boogie.
Do you want to draw Jack and Sally in The Nightmare Before Christmas cartoon? We have a special gift for fans who wish it. Easily draw Jack and Sally from the Nightmare before Christmas in this tutorial. Along with the tutorial, we have also included a couple of free Jack and Sally coloring pages that you can print off and give to your kids to color. Let's just get started.
How to draw Jack and Sally
To be able to draw Jack and Sally characters, you need to prepare some things like paper, pencils, crayons, water pens, erasers, rulers, etc. You can also prepare easels and lights for your child. Then you use a pencil to draw on the paper and erase your mistakes easily because some steps require you to erase the line drawn in the previous actions. The following article will guide you through ten simple steps on how to draw Jack and Sally characters. At first, you may think it will be challenging to draw, but after watching our tutorial, it will be speedy. It only takes you 30 minutes to teach your child to draw and color completely. Along with this tutorial, we've also included some free Jack and Sally pages that you can print out and have your kids color in.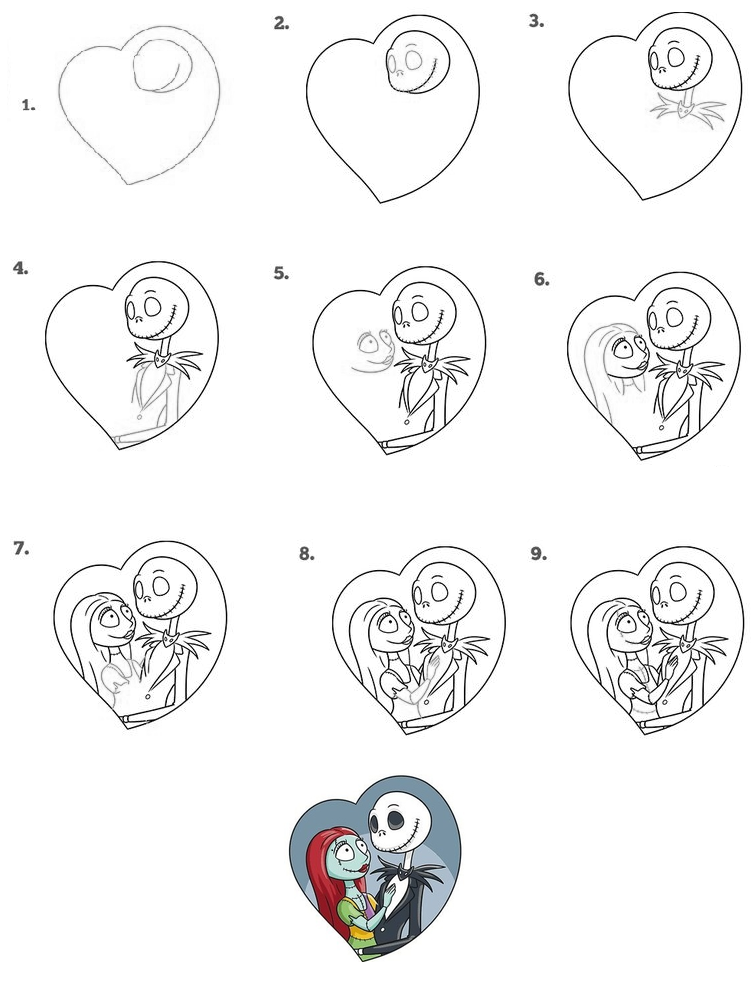 Jack and Sally draw step to step
Step 1: Draw a heart shape and Jack's head
Start drawing Jack and Sally; You will start by drawing a big heart. It's not too difficult to draw a heart shape. It is like the frame of a drawing. Then outline the round shape of Jack's head using overlapping curves. Note the bulge of Jack's eyebrows and mouth.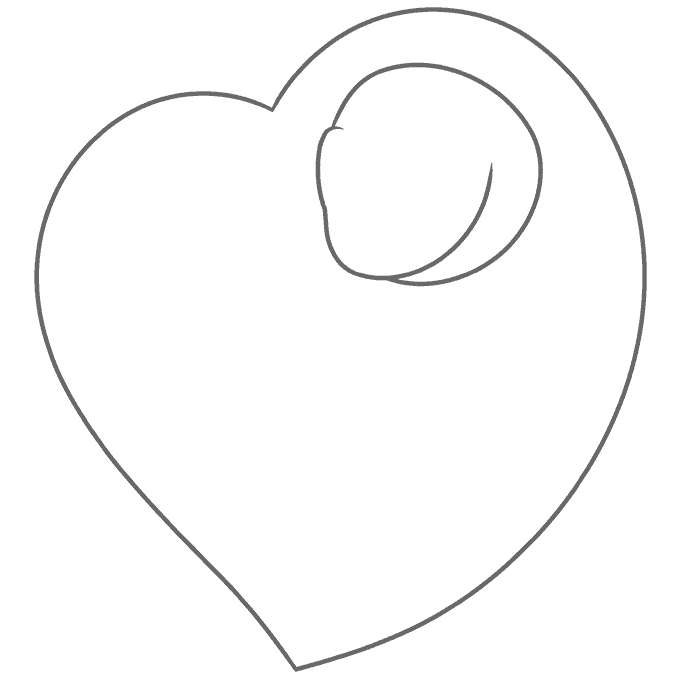 Step 2: Draw details of Jack's face
Draw his eyes using two irregular round shapes. Then use a short curved line to draw Jack's eyebrows and nose. Cover two small ovals under the nose to indicate the nostrils. Next, you use short straight lines to draw on Jack's mouth like stitches when suturing, as you see in our reference image.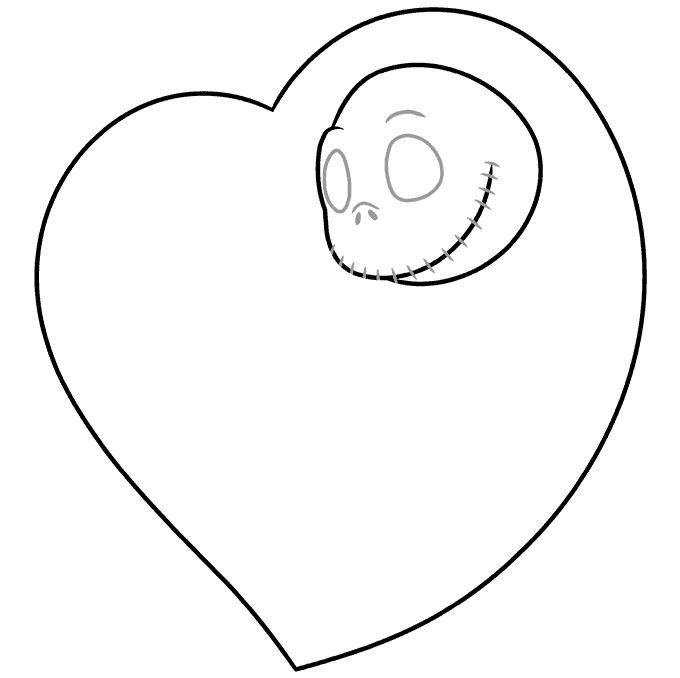 Step 3: Draw Jack's neck
Draw two extended lines to form Jack's neck. Use two curved lines to draw an arrow-like shape at the bottom of Jack's neck and draw two small ovals inside it. Then stretch the curved lines outward and let them meet at the sharp points like you pulled a chicken's tail. So you have finished drawing Jack's neck, and now you can continue drawing in step 4.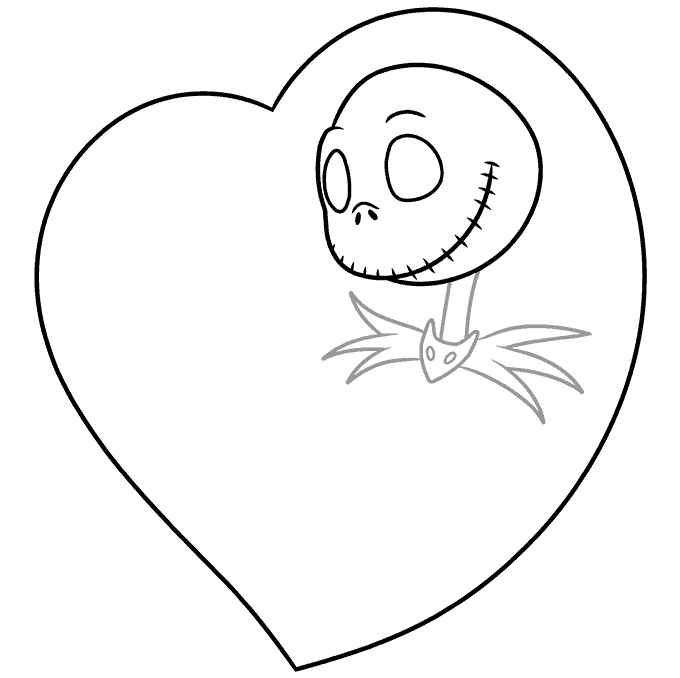 Step 4: Draw Jack's Body
You need to use curved lines to outline Jack's collar, then draw triangles of the lapel. You continue to use parallel curves to draw Jack's arms and body. You need to pay attention to the curved part of the elbow. Draw Jack's collar by drawing closed loops and add one curved line to draw the hands. Draw a small circle in the center of the suit to form the buttons. So you have finished drawing, Jack. Now see step five instructions below to draw Sally.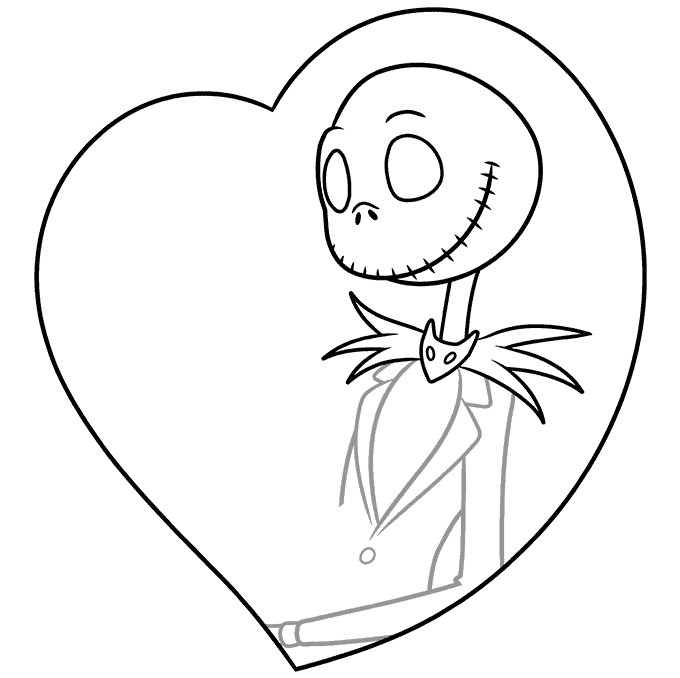 Step 5: Draw Sally's face details
At first, you may find it difficult to draw. You may find it difficult, but keep calm and use your stylus. To draw Sally's cute face, you need to use curves to draw Sally's chin, eyes, mouth, and eyebrows. It's so simple you can draw Sally's eyelashes with short curves like our image. You should use the pencil gently and slowly, and you can erase your mistakes, don't be afraid to erase them. You use the curve to draw the lower and upper lips like our image to draw Sally's lips. Don't forget to draw Sally's pupils. You only need to use two small dots to form the pupils of each eye. Now go to step six and continue drawing Sally.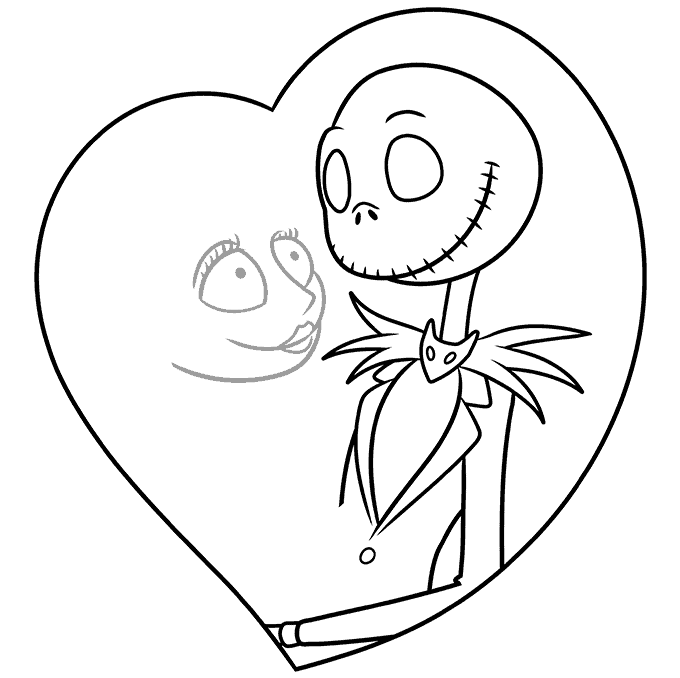 Step 6: Draw Sally's hair and neck
This step is quite simple; to draw Sally's shiny hair, you need to use long, curved lines that hug Sally's face. Then extend a pair of curved lines to form the neck, and on the channel, draw one more stitch on Sally. You can take a few minutes to get your work done here. If you make a mistake, no problem; erase the ugly line and sketch again. It is as simple as that. Once these elements look like they are in the reference image, you're ready for step 7.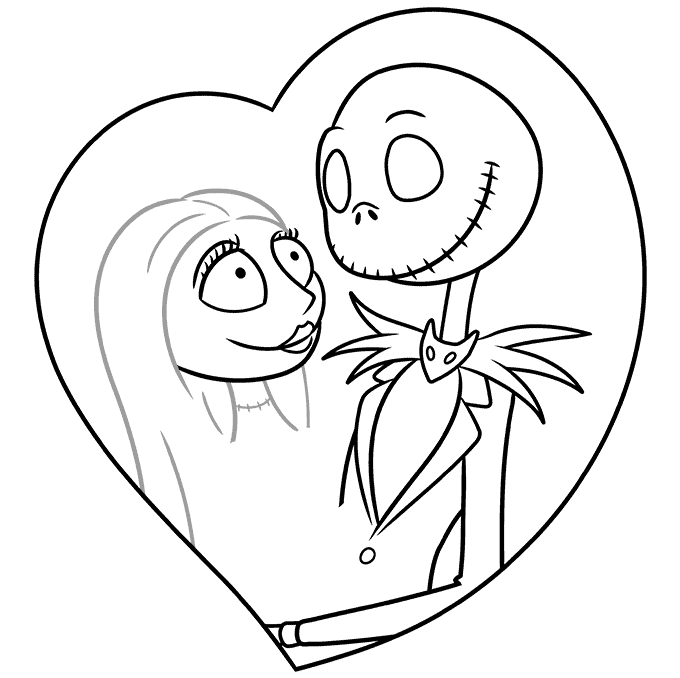 Step 7: Draw Sally's Body
This step is a bit complicated and requires your dexterity; from Sally's neck, you use the curve to outline Sally's skirt, sleeves, and ribs. Note that the wavy line shows the torn edge of the sleeve and the overlapping stitches at the shoulder.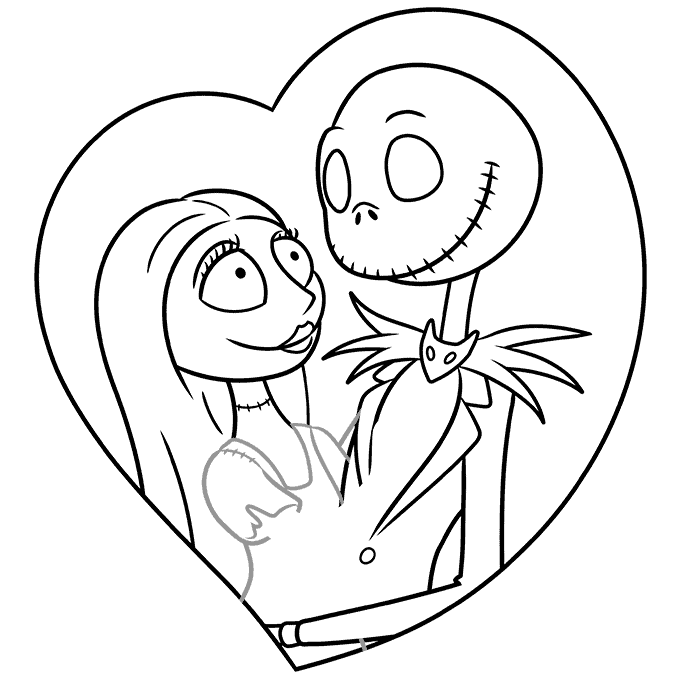 Step 8: Draw Sally's arm
This step is also quite simple; you need to use pairs of curves to outline Sally's arms, hands, and fingers. As shown in our illustration, you need to draw straight and short stitches on her elbow. Use one more curve to complete the front of her dress. To complete the picture of Sally, you should continue to step nine.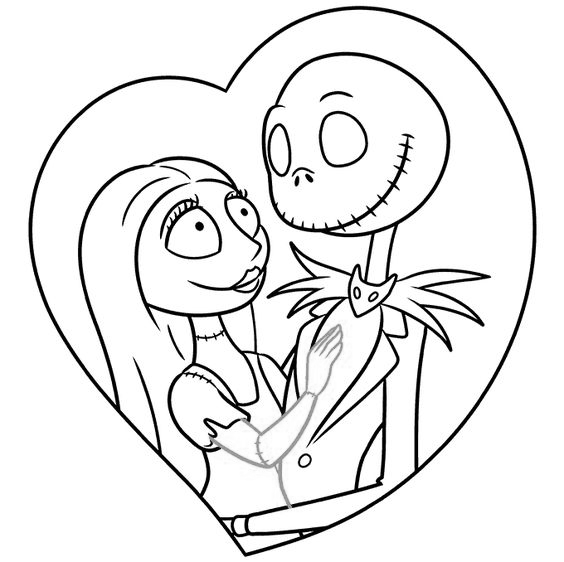 Step 9: Complete your drawing task
You have to complete your drawing task here. It would help draw curved, diagonal cuts with stitches all over Sally's face, neck, chest, and belly. She is said to be reminiscent of Frankenstein's monster. So you have a drawing of Jack and Sally complete with all parts, and to make the picture more vivid and beautiful, you need an extra step of coloring.
Step 10: Color Jack and Sally
Time to finish your Jack and Sally drawing with some color! We keep the colors in our reference images looking exactly like the film, so you can use them to guide you if you want to use their typical colors. You can get any color you like or choose the same color with us. We used red to color Sally's hair and lips and a light bluish-gray to enlarge Sally's skin. Jack's suit is painted black. So, will you use these same colors for your drawing of Jack and Sally, or will you create your unique variation?
We look forward to seeing what you do and hope you learned how to draw Jack and Sally from the Nightmare before Christmas with the help of this step-by-step tutorial.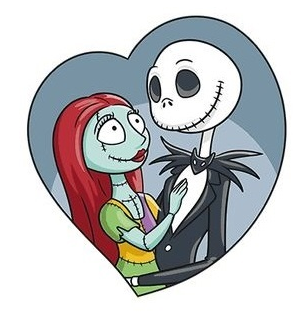 You can switch to Jack and Sally pages for free to enjoy images related to Jack and Sally. We're sure you can incorporate what you've learned into your future drawings. Wish you have an excellent time!
How to draw jack and sally is easy and beautiful
Painting is an artistic activity, an elegant hobby. Adults and children love to draw different topics for entertainment, relaxation, concentration training, meticulousness, and ingenuity. If you are an art enthusiast but do not know how to draw Jack and Sally correctly, do not ignore the suggestions below:
First, you need to clearly define the content of the picture you want to draw. You should know what you want to remove the most, so you will have more motivation for the next steps.
Second, you need to learn about the picture's composition and see how this painting should choose the best piece. It would help look for scenes with beautiful layouts and typical images to draw.
Third, start brainstorming and implementing. You sketch out the layout and details first. Draw from the general to the more minor details, ensuring there are primary and sub-arrays.
Fourth, to complete the picture, you gradually remove the details and color according to your preference.
That will not be effective for children because the baby has different drawing abilities depending on each stage and development level. Parents should know how to teach drawing by the child's ability. If the child's drawing is not beautiful, the parents need to motivate and encourage the child to improve his skills. You should not ask the question: "What are you drawing?" Did you forget to draw your hand?"; you draw like a cat!" your questions should encourage the child's actions rather than care about the child's drawing results. You will need to give positive feedback: "You work hard. I drew many dots on this picture; I worked hard. I drew many dots on this picture. Isn't it fun to draw a twirling pencil?" When you encourage your child to draw, you may wonder if it's just talent. Maybe, but at first, it seems that the child draws for fun, which is an activity in the child's development. Some children will become talented painters. Drawing ability is related to the ability to write letters. Draw as much time as possible. One study involved two groups of children: those who spent more time drawing and writing had better writing skills and more creative drawings.
Jack and Sally coloring pages
You can turn to Jack and Sally coloring pages for free to enjoy images related to Jack and Sally. We're sure you can incorporate what you've learned into your future drawings. Wish you have a nice time!
Coloring online Jack and Sally
You can Download, Favorites, Color online, and Print these Jack And Sally for free. If you want to see all of these related coloring pages, please click here: Coloring online Jack and Sally.