6 Simple Steps To Create A Cute Bulldog Drawing – How To Draw A Bulldog
Complete All Tasks To Create A Bulldog Drawing In Six Simple Steps
You will get a chance to make a cute bulldog drawing in six easy tasks.
As you know, the bulldog is an adorable dog; they are often kept in every family and pampered as a family member.
They have stocky bodies and wrinkled faces, but they are loved by many and are considered cute pets.
Drawing a bulldog is fun, and you have about 30 minutes to complete the task of drawing a bulldog. You can finish it earlier if you are gifted in drawing.
There are six steps equivalent to six missions that you must complete to get a bulldog.
Don't worry if you are a beginner at drawing, as we have arranged a bulldog drawing tutorial from easy to difficult to make it easy for you to accomplish each task at every step.
Prepare all necessary supplies like pen, pencil, paper, eraser, and colors before starting to draw.
You will then proceed to draw the bulldog with pencil and paper. Why draw with a pencil because you can erase your mistakes easily? Then you will paint again until you feel satisfied. Once you get a bulldog, you will choose the right color for your bulldog drawing.
With this bulldog drawing, you can enjoy bulldog coloring pages for free to practice your drawing and coloring skills.
If you love learning to draw and practice drawing regularly, your drawing ability will improve.
Let's go to six steps on how to draw a bulldog with us!
How To Draw A Bulldog – Let's Get Started!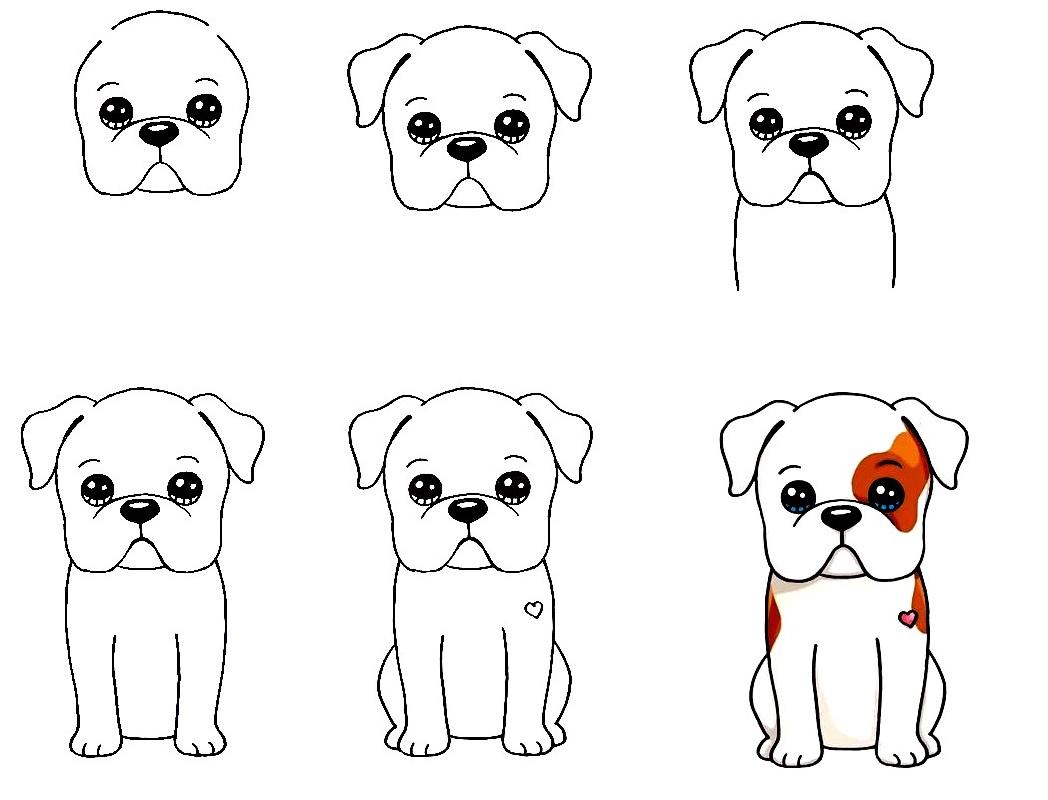 Step 1 – Draw Bulldog Face Details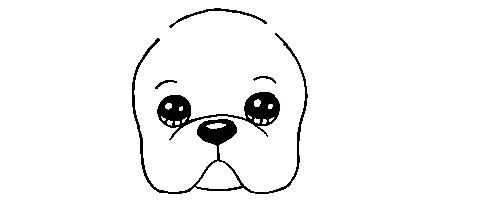 You will draw an oval for the bulldog's face, then two eyes for your dog with two black circles; you continue to draw the dog's eyebrows. Next, you draw the nose and muzzle for your bulldog drawing.
That's all you need to do in this step before moving on to the second step.
Step 2 – Draw Bulldog Ears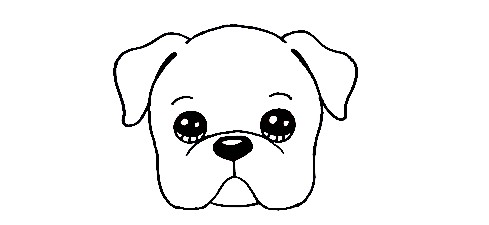 Your task in this step of our guide on how to draw a bulldog is to draw its ears. The bulldog's ears are tucked down, as seen in our illustration, so you'll also draw the ears down for your animal.
It's simple for you; take a few minutes to complete and move on to the next step.
Step 3 – Start Drawing Bulldog's Body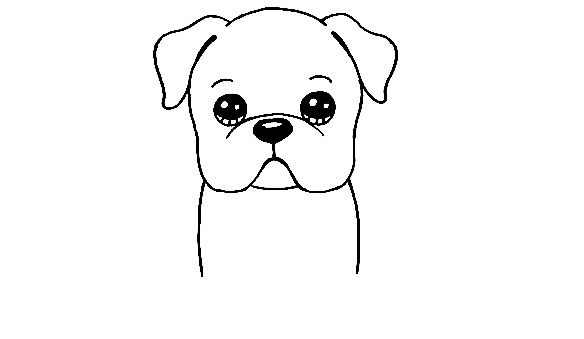 It's time to draw the body for your bulldog drawing; you will use two nearly parallel lines to accomplish this task. You will draw its body from the head, as you see in our reference picture.
You finish your task in this step of your bulldog drawing and are ready to go to the next step.
Step 4 – Draw Two Front Legs For Your Bulldog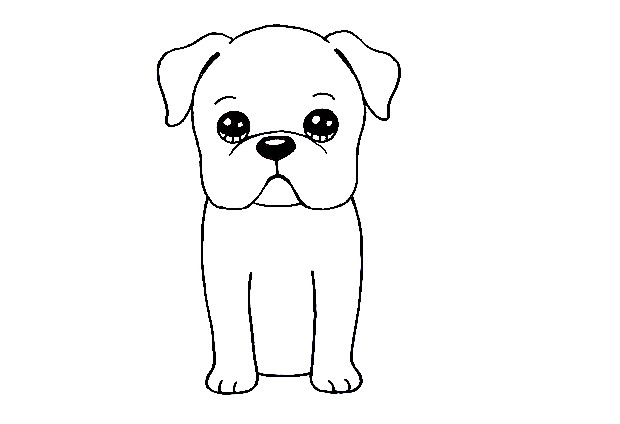 You continue your drawing mission of our guide on how to draw a bulldog is to create two front legs for your bulldog.
Use two curved lines for each leg and three toes for each foot, as seen in our illustration.
So your bulldog has two front legs, and you will draw hind legs in the next step.
Step 5 – Draw Two Back Legs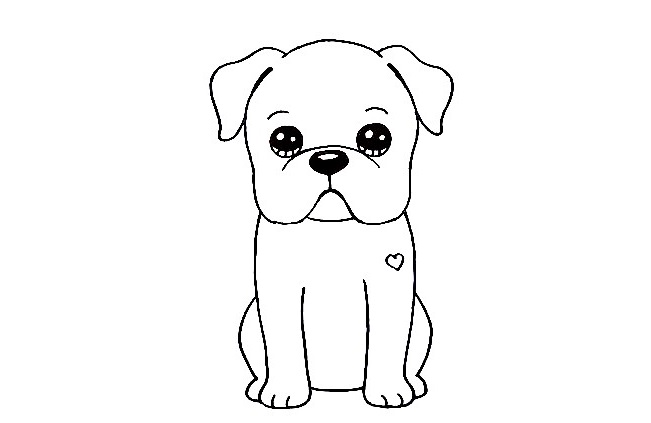 If you drew two front legs in step 4, in this fifth step, you must draw two hind legs for your bulldog drawing.
In this step of our guide on how to draw a bulldog, you can add some decoration details for your animals if you like, for example, a heart in the bulldog's leg as you see in our reference image before going to the last step for coloring.
Step 6 – Color Your Bulldog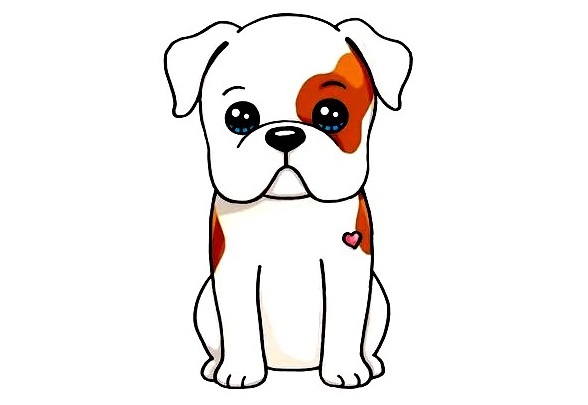 Right now, you must choose the colors for your drawing products.
Your task in this step is exciting; in our drawing, as you can see, we used white and brown colors for our bulldog. This is just one of the ways you can choose to color your bulldog; feel free to use any color you like for your bulldog drawing.
Your Bulldog Drawing Is Complete
You have completed all tasks on how to draw a bulldog with drawing and coloring.
Drawing, in general, and a bulldog, is a way to relax and relieve stress after a hard working day. You can freely choose the topic to learn drawing on our website Coloringcool.com such as Disney, Cartoon, Animal, Flower, Fruits, etc. It's comfortable. I hope you have a great time. We are always here and update much daily education for you, and you can come here to enjoy them for free and have fun.
You also can find more similar bulldog drawing guides as dog pug drawing, dog drawing, or pluto drawing. All are free here, and you can recommend your friends and your relatives to come here to enjoy it.
Besides drawing tutorials, you can also enjoy coloring pages and blogs on our site; they are as exciting and helpful as drawing guides.