9 Simple Steps To Create Luna Drawing – How To Draw Luna From Sailor Moon
Create Luna Drawing Through Nine Simple Steps
Have you ever dreamed of creating Luna drawing from Sailor Moon? Today we made this Luna drawing tutorial for you.
Luna is a fictional character in the media franchise Sailor Moon.
She is a black cat that can talk and acts as the mentor and companion of the main character, the Sailor Guardians.
Luna appeared as the main character for the first film and later in it acted as a supporting character. However, she still played the critical role of advising the Sailor Guardians and Tuxedo Mask.
By learning to draw Luna from Sailor Moon, you have the opportunity to understand more about Luna and Sailor Moon series in the most natural way.
You will go to step by step in the drawing guide and create a perfect character.
There are nine steps equivalent to nine missions that you must overpass to get character.
Prepare all necessary supplies such as a pen, pencil, A4 paper, color, and eraser before starting to draw; you will draw Luna with a pencil and A1 paper and quickly erase the mistakes. Once you get the complete Luna, you will find suitable colors for your Luna from the Sailor Moon.
Along with this drawing guide, you can enjoy Sailor Moon Luna coloring pages to practice your drawing and coloring skills.
If you regularly practice drawing and coloring, your drawing and coloring skills will improve.
Let's go to nine steps on how to draw Luna from Sailor Moon with us!
How To Draw Luna From Sailor Moon – Let's Get Started!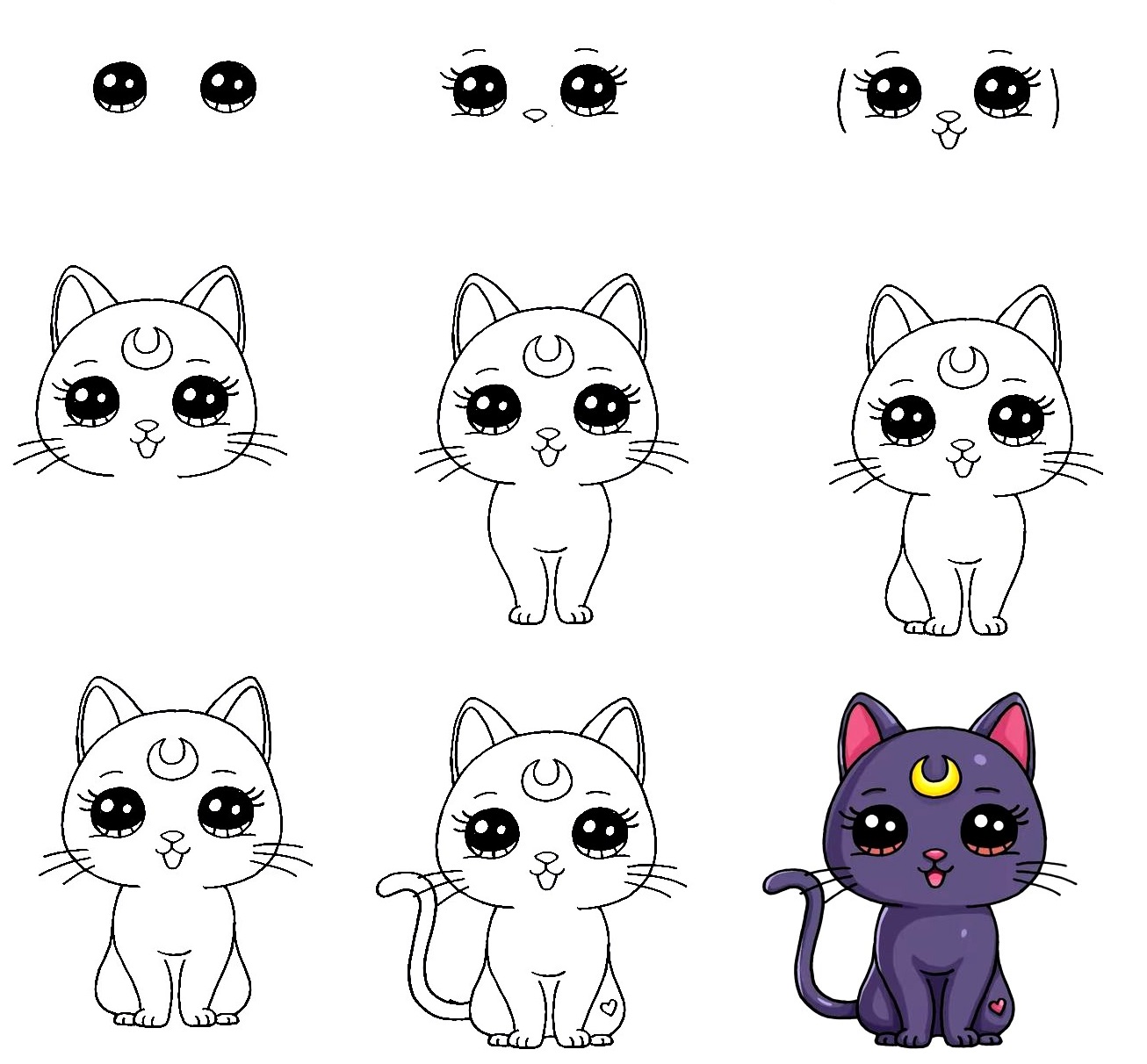 Step 1 – Draw Luna's Eyes

Start drawing Luna by drawing eyes for the character with two big black circles with white dots forming the pupils of Luna's eyes.
You will use the curve in this step to draw eyes for Luna. Once you're happy with your mission, you can take the next step.
Step 2 – Draw Eyelashes, Eyebrows, And Nose For Luna

In this second step, you must draw your character's eyelashes, eyebrows, and nose.
You continue to use curved lines for your task in this step. On the eyes, you use two small curved lines for the eyebrows; draw three little curved lines for each eye. Below Luna's eyes, you will draw a small triangle for your character's nose and are ready for the third step.
Step 3 – Draw Luna's Mouth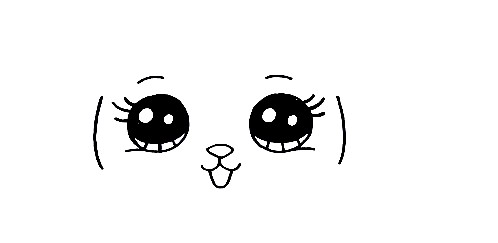 It's time to draw mouth for your Luna. You will use a curved line for this task, as seen in our reference.
So, you complete this simple task on this step of our guide on how to draw Luna from Sailor Moon and go to the next step to continue your drawing.
Step 4 – Draw Face Outline And Ears For Luna

There are quite a few jobs available for you in this step of your Luna drawing. You will have to draw a part of the moon on her forehead. Next, you will draw an extensive curved line around the face details to create a full face for Luna. And finally, you draw two triangles for two ears of Luna, as you see in our illustration.
Draw also three lines for each site to show her whiskers.
You can move to the fifth step for your drawing work.
Step 5 – Draw A Part Of The Body And Front Legs For Luna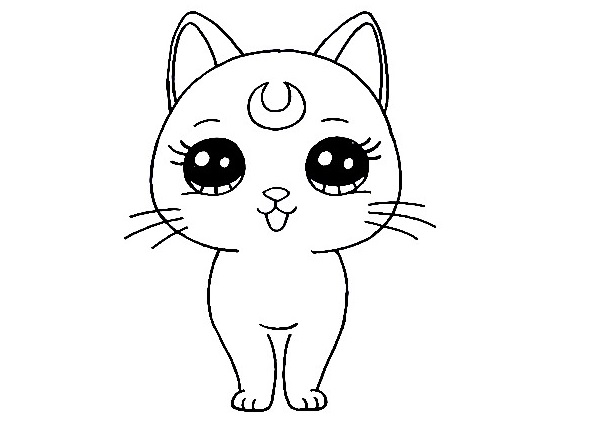 For this fifth step, you continue to use curved lines for drawing the body and two front legs for your character, Luna.
There is a bit of complexity in the body and feet; you can look at our drawing and do all details in this step.
Please don't forget to draw the toes at Luna's feet.
Step 6 – Draw A Back Leg For Luna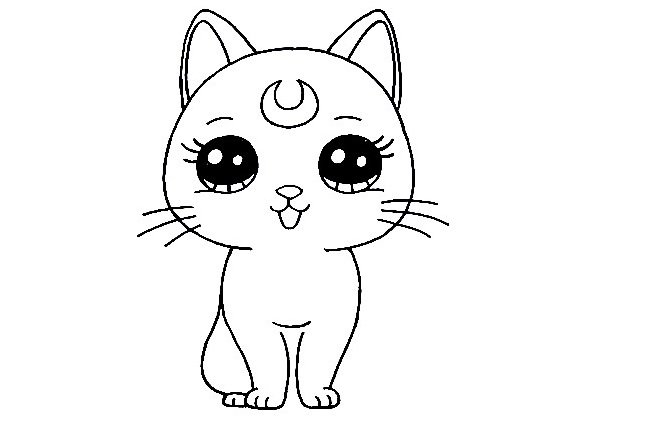 In this step of your Luna drawing, you will add a hind leg for her. Very simple for you, use a curved line for the thigh part of the back leg. You spend some minutes completing this task and continuing your drawing mission in the seventh step.
Step 7 – Keep Drawing The Back Legs For Luna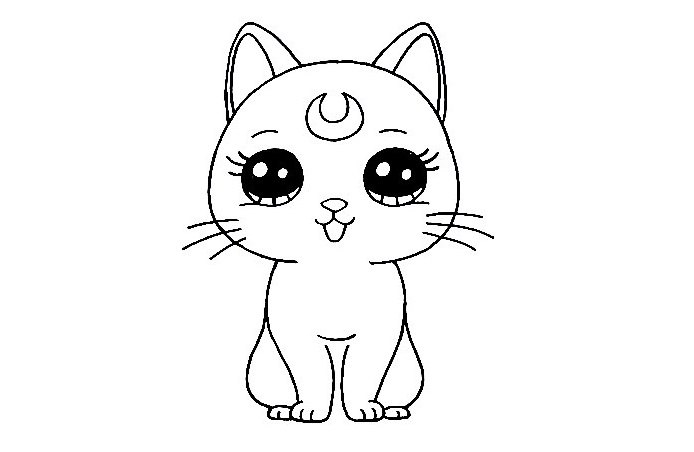 In step 6, you add more of a front leg for your Luna, the cat. You also use curved lines for your task in this step.
We are drawing Luna the cat sitting so we can only see the thighs and feet of the character. Draw the big thighs and toes to represent the hind Lun's legs.
You finish the four legs for your character, Luna, and move to the eighth step to draw her tail.
Step 8 – Draw Luna's Tail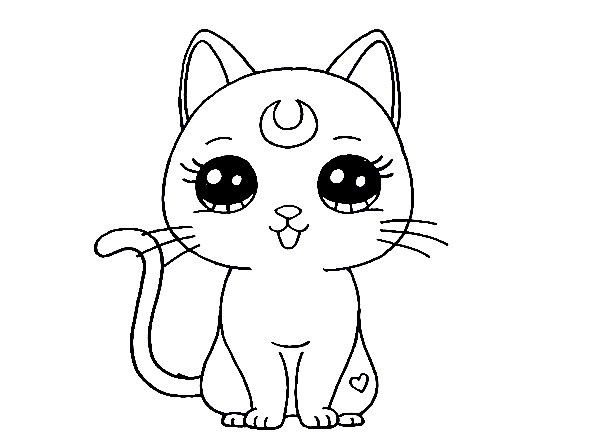 The tail is the last part of Luna. Start drawing the tail with parallel curved lines.
So, you finish off your task drawing mission. Before going to the last step for coloring your Luna, you can add some decoration details for your character if you like to make your Luna drawing more realistic.
Step 9 – Color Your Luna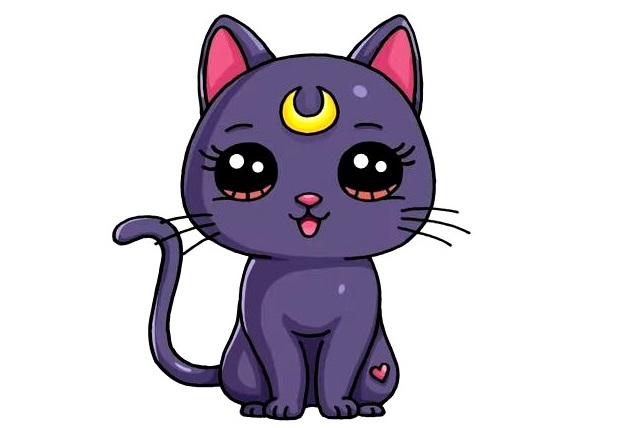 You will choose the suitable color for your character, Luna, the cat. In the Sailor Moon series, Sailor Luna comes in black, and here we choose a light purple for Luna's body, with pink ears and black eyes for our Luna. We are also curious about which color you choose for your character; please share your picture drawing on your Facebook or Pinterest page for us to see.
Your Luna Drawing Is Complete!
You finish off all drawing and coloring tasks on how to draw Luna. In about 30 minutes I hope you have a great time and get fun. At first glance, drawing Luna may seem complicated, but when you finish drawing Luna, you will feel that it is not too tricky; focus on the course of the drawing, and you will succeed.
Life is boring if you only know how to work without resting. Please choose a suitable entertainment channel and enjoy it in your free time. Drawing and coloring can help you to balance your life.
These activities are suitable for everyone, from children to adults. If you are a parent, you can recommend this drawing guide for your kids; they can avoid using technical devices such as television. They are not good for their eyes and evolution.
On our website Coloringcool.com, you can enjoy everything related to drawing guides and coloring pages for free. You also refer to the drawing guides similar to Luna drawing instruction, such as marie drawing, cat drawing or cute cat drawing. Hopefully, you're satisfied with our guide and come back here to enjoy more!