How To Draw A Monsters Inc – The Details Instructions
Following the Wikipedia site, Monsters, Inc. (Monsters, Incorporated) is a 2001 American computer-animated, monster comedy film produced by Pixar Animation Studios for Walt Disney Pictures. Featuring the voices of John Goodman, Billy Crystal, Steve Buscemi, James Coburn, Mary Gibbs, and Jennifer Tilly, the film was directed by Pete Docter in his directorial debut, and executive produced by John Lasseter and Andrew Stanton. The film task to about two monsters James P. "Sulley" Sullivan and his one-eyed partner and best friend Mike Wazowski and they can create the power to make scaring human children. When the film is released, received critical acclaim and was a commercial success, and earn over $577 million worldwide to become the third highest-grossing film of 2001. To know more about Monsters, Inc character and the film, you learn to draw a Monster, Inc with us in this article. We give the six steps for instructions and you will follow us and our illustrating image to finish your task. You also can enjoy Monsters Inc coloring pages on our site. We update the hundreds of images related to Monsters Inc that you can enjoy for free.
How To Draw A Monsters Inc – Let's Get Started!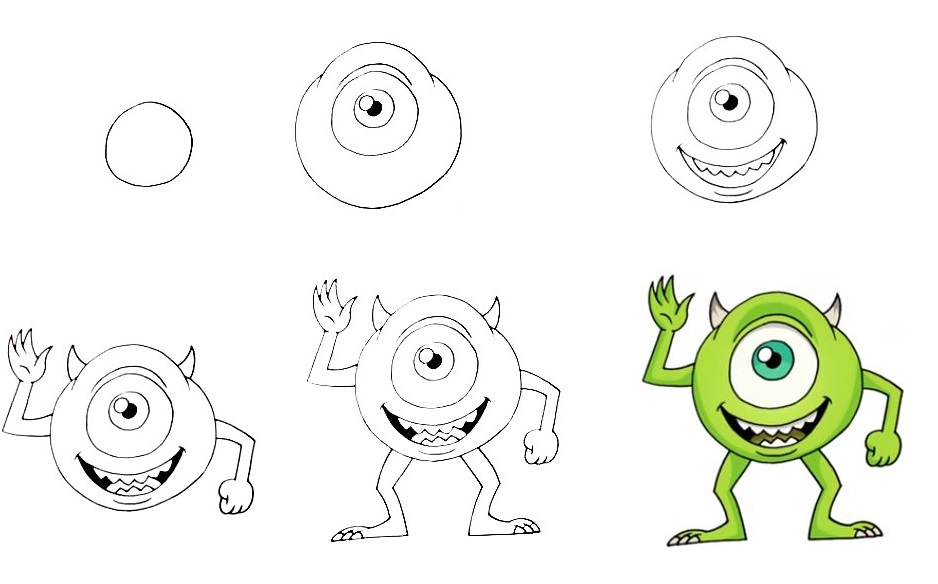 To draw a Monsters Inc, you must concentrate and follow us. We give six steps and provide the illustrating in each step. Here, we explain how to draw a lovely Monsters Inc. With this simple and fun method of learning to draw, you and your children will become real artists! Monster Inc is the fear of every child but its image is a bit cute, children not only are not afraid but also like to draw or color. You can give this activity to your kids and learn with them. After the hard-working hours at school, the children need to get a comfortable time, you must find a suitable entertainment channel for them. Drawing or coloring is a good activity for children. It can help your kids to develop most comprehensively. As a parent, you care about your children and must grasp their psychology so you will have the opportunity to be friends with them and have the best method of educating them. So, you can learn to draw with your kids and do coloring together. Enjoy
Monsters Inc coloring pages
on our website and get a great time here. Now, let's get started to draw a Monsters Inc with us.
Step 1- Draw A Circle.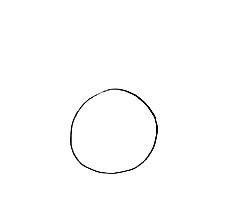 You will begin by drawing a curved line. This begins to outline both Monsters Inc's face and body. Very simple in this step, you can use a compass to realize your task easier. You can finish it and move to step 2.
Step 2 – Add More Some Circles.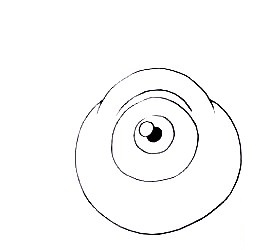 You will add two circles in this step. You will continue the curved line to enclose a squat egg shape. Draw an oval in the top center of the egg shape, outlining the single large eye. Draw the lower lid by drawing a curved line beneath the eye. Once you have these elements looking as they do in the reference image, you're ready for step 3!
Step 3 – Draw Monster Inc's Face Details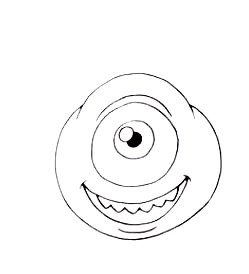 At right now, you will draw a series of curved .lines above the eye to outline the upper eyelid. Within the eye, draw a series of three successively smaller circles. This forms the iris and pupil of the eye. Below the eye, you use two curved lines to enclose the crescent shape of the open mouth. Continue to use a series of overlapping curved lines to outline Monster Inc's upper and lower teeth. Then, use curved lines to indicate the tongue. And, you can finish your task here and go to step 4.
Step 4 – Draw Hand And Horn For Monsters Inc.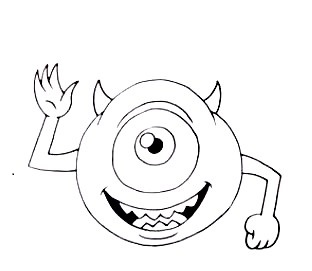 You will enclose two curved triangles at the top of the head, forming Monsters Inc's horns. From the face, you draw two parallel line and make the arms for Monsters Inc. You will finish the lines at the fingers of hand. You will make the rest of the hand that is similar. Butt, here, we draw two different hands, one hand is raised to salute all 5 fingers, the other hand is dropped and clenched. You can observe our image and follow it. That's all there is to it for this step, so when you're happy with the look of it we shall continue adding to this Monster in the fifth step.
Step 5 – Finish Your Drawing Mision.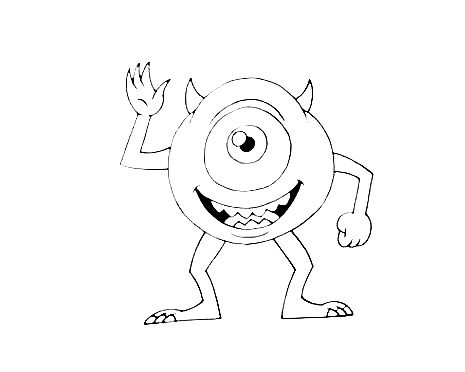 You will finish your drawing mission by creating legs and feet for Monsters Inc. From her face, you draw 2 parallel lines representing 1 leg extending down then flexing to represent Monster's knee. You will continue to draw legs and feet for Monsters Inc, too. Similarly, you will draw the other leg in the same way. So, you will make complete Monsters Inc and you have more a step to color in step 6.
Step 6 – Color Monsters Inc.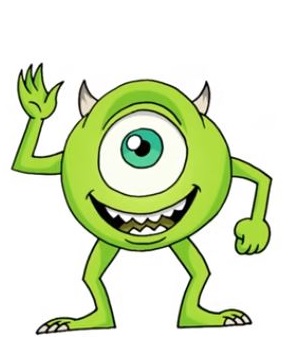 Now, you choose the suitable colors for Monsters Inc. We take green for all Monsters Inc'body and some details with white as a part of the face, teeth, grey for horn and toenail. They are our colors but you can use your favorite colors for your product. there are no rules in selecting colors for drawing. don't worry about that. You draw a product, you choose the color for it. It makes me happy really. We update articles for how to draw daily, be sure to keep checking our site to make sure you never miss out! If you think interesting, you can recommend your friends, your relatives come here or share on Facebook, Twitter, Pinterest,…You can enjoy
Monsters Inc coloring pages
on our site. We update the hundred of image-related Monsters Inc for free. You can come here anywhere and time with your device connecting to the internet. I hope you get a great time here and come back to us.
DON'T MISS