9 Simple Steps Creating A Cute Dog Drawing – How To Draw A Dog
Create a lovely dog in 9 simple steps
If you love dogs and have a dog, drawing dogs will be more enjoyable. Today, you get a chance to create a complete dog drawing with us. Our instruction contains nine easy steps, and you will go to step by step.
We have arranged this dog drawing tutorial from easy to complicated, suitable for everyone, including beginners, so don't worry and follow us you will be satisfied with the result.
This is not a simple task, but it is not too difficult. You have to draw many details for the dog , like the head, belly, body, and legs,,. It is an exciting task and suitable for everyone.
How To Draw A Dog – Let's Get Started!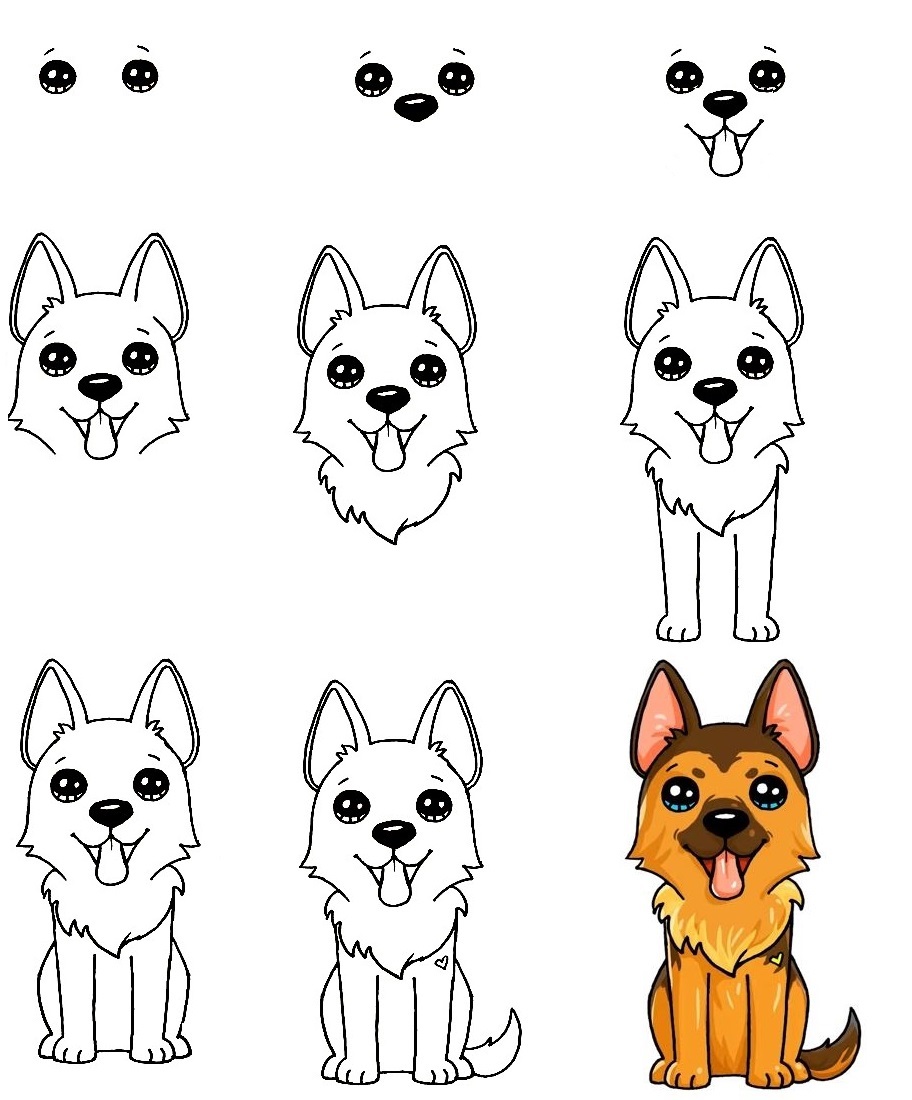 Dogs are familiar animals for each of us. You can see dogs everywhere, such as in the house, in neighbor's houses, and on the street, … this is an animal that has feelings for people, so they are always loved, precious, and considered the primary member of the family. Today you have a chance to draw a dog with our tutorial. This tutorial has nine steps, and it takes you about 25 minutes to complete.
In each step on how to draw a dog, some illustrations will help you practice drawing most effortlessly; hopefully, the article will bring you a good time.
Before starting your task of the dog drawing, It would help if you prepared a pencil, eraser, colored pencils, and drawing paper. You will proceed to draw from the faint line with a pencil, then you will erase the wrong lines and highlight the correct lines, and finally, you have to choose the color for your dog drawing. This is not a simple task but not too difficult; you need to concentrate on the drawing course. You will get a perfect dog drawing if you follow our instructions strictly; you will follow our instructions and reference image in each step to complete the task of learning to draw. Here are the details of each specific drawing step; along with this guide, we also have dog coloring pages, and you will use them to practice your drawing and coloring skill.
Step 1 – Draw Eyes And Eyebrow For Dog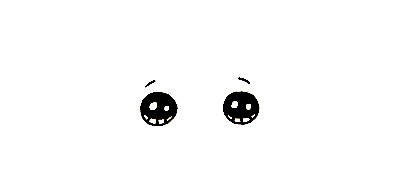 Start work on this guide on how to draw a dog; you will draw two eyes and eyebrows for the dog. Its eyes are then made of two small circles with a dot inside each one. You use black to make coloring for dots and make their pupils. You use two small curved lines to create two eyebrows on the eyes.
Also simple for you with this task, you take about a few minutes to complete it. However, this is the first step; you need to draw carefully, the details will be better later, and your dog drawing will be perfect. You can move to the second step and continue your drawing right now.
Step 2 – Draw The Dog's Nose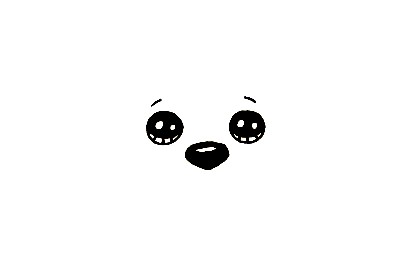 Under the eyes will be the nose, and now we will draw the nose for the dog. It is composed of a small triangle, and we will use black to color the nose. In the middle of the nose, you can use a white line, so the dog's nose will look more real, as you see in our reference image. Once you are happy with your image, you can go to the next step to continue your dog drawing work.
Step 3 – Draw The Dog's Muzzle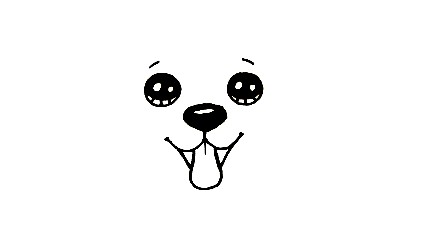 You know that dogs have quite long muzzles. Even pugs, which don't have prominent muzzles, don't have entirely flat faces. The length of the dog's muzzle will vary depending on its breed, so make sure to observe this carefully. You use some curved lines to show the dog's muzzle.
We are drawing the dog with an open mouth; they will usually show their teeth, gums, and tongue, typically quite long and flexible. So, you will have to draw the inside of the dog's muzzle, draw a long tongue, and here the teeth are hidden; we didn't draw the teeth, but if you want, you can draw two teeth on either side. You finish the task in this step, and now you can move to the fourth step and continue your drawing task.
Step 4 – Finish Face And Head For Dog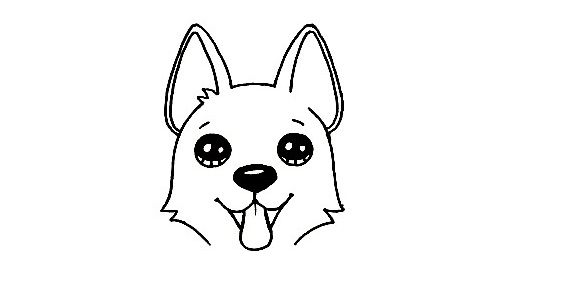 You use a curved line to draw around face details and draw two ears for dogs. You can observe our reference images; they will be very helpful for you in learning to draw; follow our drawing images, then you will find learning to draw much simpler.
Now, it is time to create the ears of the dog. You will draw two long and erect ears; they are composed of curves, as you see in our illustration. You finish the task here and continue on step 5.
Step 5 – Draw Hair On The Neck For Dog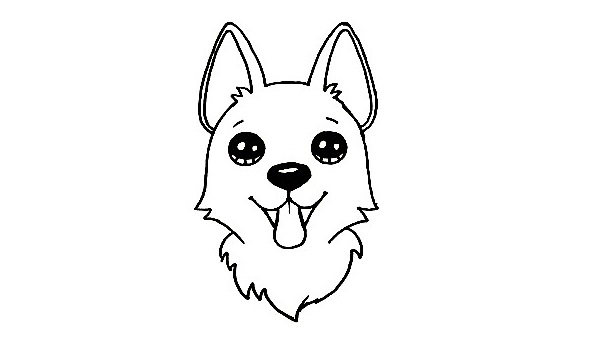 Your task in this step of the dog drawing is to draw the fur on the neck is also drawing the neck of the dog. It is made up of hairs clinging around the neck with successive curved lines.
Step 6 – Draw Two Front Legs For Dog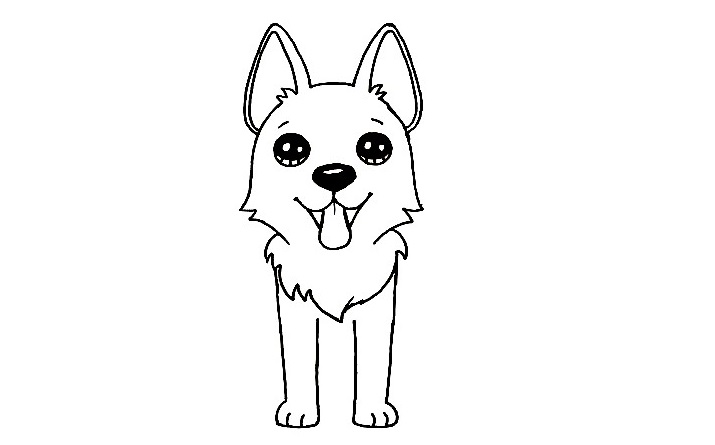 From the fur on the neck, you will use two parallel lines to form a dog's front leg. Under the foot, you will use short curved lines to draw small toes. Next, you will draw the second front leg, which is the same as the first leg. These are superficial details; we hope you won't have any difficulty.
Step 7 – Draw Two Hind Legs For Dog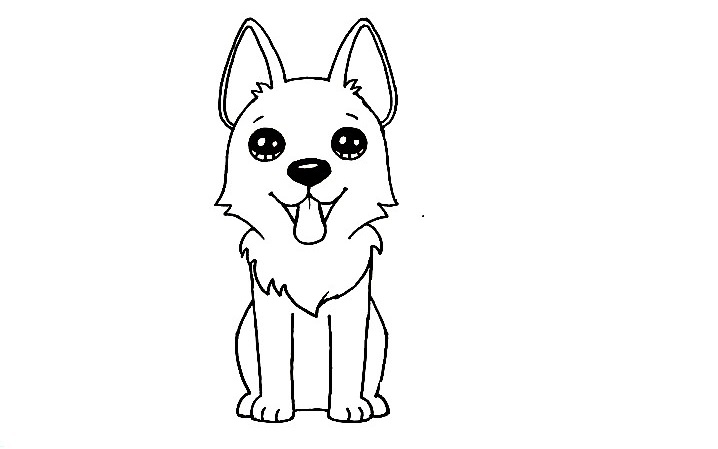 You drew the front legs, and now you will draw the hind legs in your learning to draw a dog. We draw the dog sitting so the hind legs will be covered by part of its body. You will draw the dog's body and the hind legs that we can see. You can stop work here and continue to realize your task of the dog drawing in the eighth step to do the final details.
Step 8 – Finish Off Your Dog Drawing Work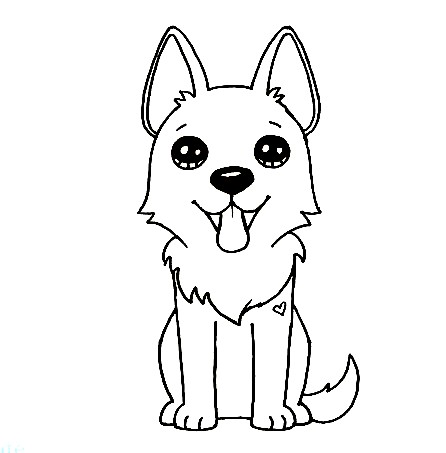 You will finish off your dog drawing task by drawing the tail of the dog. Use the curved lines to show its tail. Finally, add some subtle strokes along the dog's legs to suggest muscles showing underneath the fur.
You also can add a small hear at the front leg to make your dog drawing more adorable. You will finish your task before moving to the last step for coloring.
Step 9 – Color Your Dog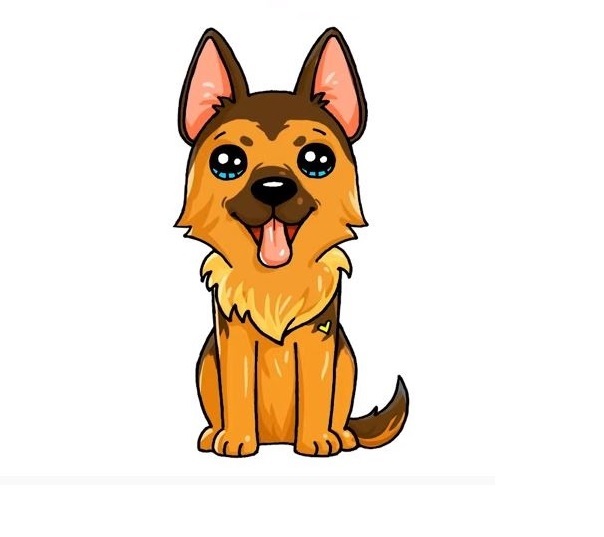 You will choose the suitable colors for your dog drawing right now. Here, you can take any colors for dogs. Usually, dogs will be yellow, white, or black, and here we have used yellow as the main color for our dog. In addition, we also added brown color to some details such as the muzzle, ears, feathers, and feet, …and we take pink for the inside of the ear and tongue.
Your Dog Drawing Is Complete
So, you finish your drawing and coloring mission for your dog drawing through our nine easy steps. It is very interesting, and you can enjoy it after the hard-working hours. If you are a parent, you can join in this activity with your kids. Drawing and coloring activities will help children develop more drawing skills, concentration skills, and teamwork skills…More learning to draw will help your kids avoid using technical devices such as television, smartphones, and tablets,…they are not good for their eyes and evolution. On our website Coloringcool.com, you can enjoy drawing guide, coloring pages, blogs,…we update them daily. Besides dog drawing, you also can refer to puppy drawing, this is a guide to drawing a puppy, and I hope you like to draw some animals and everything on our website. Have fun with the dog drawing!