6 Simple Steps To Create A Lovely Seal Drawing – How To Draw A Seal
Creating A Cute Seal Drawing In Six Easy Steps
With our simple drawing tutorial, you will know how to make a seal drawing.
In the vast ocean world, you can quickly encounter many different creatures, from tiny creatures like seaweed to giant animals like blue whales.
One of the favorite creatures in the ocean world is the seal, this mammal that can live in water and on land. They attract us with their strong personality and distinctive appearance. This makes many people want to redraw their lovely images.
If you also love seals and want to draw them, this seal drawing tutorial is just for you.
You have six missions equivalent to six steps to finish this drawing.
You will go to step by step and complete a seal as soon as possible; however, usually, with this tutorial, it takes about 30 minutes to complete it.
Once you get all the necessary supplies, such as paper, pencil, pen, and eraser, you will start drawing the seal with pencil and paper before. You can erase your mistakes in the course of drawing and fix them until you're happy with your task. Finally, you choose suitable colors for your seal drawing.
Along with this guide, you can enjoy seal coloring pages for free on our website to practice your drawing and coloring.
As a good habit, if you draw a lot, your drawing or coloring skills will improve day by day, you love these activities, and this will be an active entertainment channel for you after many hours of hard work.
We will go through six detailed steps on how to draw a seal!
How To Draw A Seal – Let's Get Started!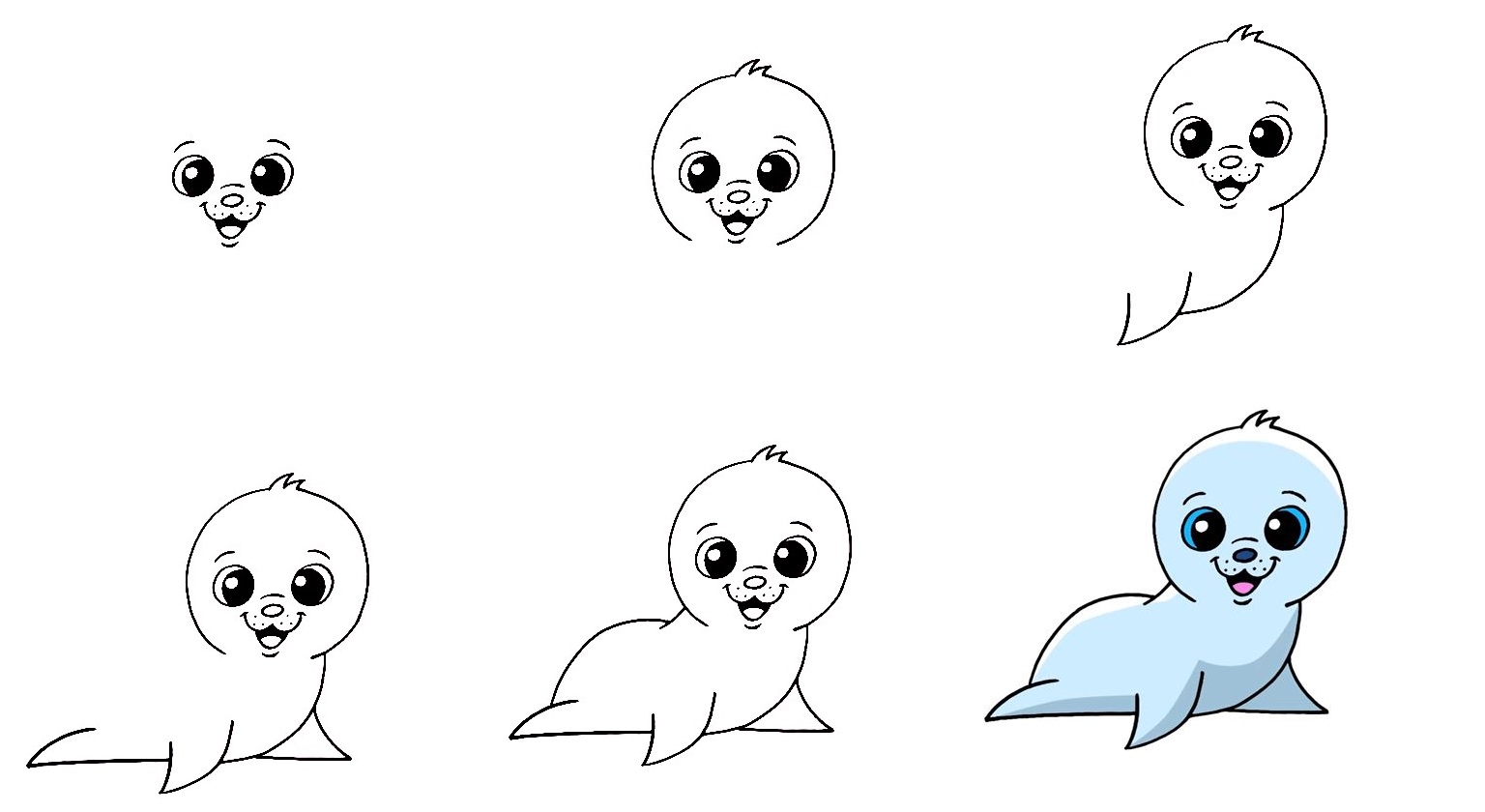 Step 1 – Draw The Seal Face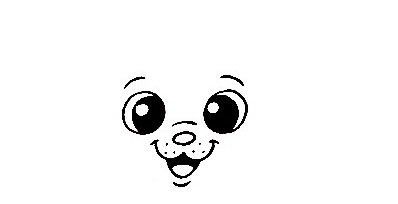 Starting to draw this mammal, you will show its eyes with two circles ten; you draw a smaller circle inside to create the pupils. You take black to make coloring for its pupils and then draw the nose and muzzle for the seal.
Under two eyes, you draw a small oval for the seal's nose and use some curved lines for its muzzle. You can use some little points around the muzzle to make your picture more realistic.
That's all your task in this step, and you're ready to move to the second step.
Step 2 – Draw The Seal Head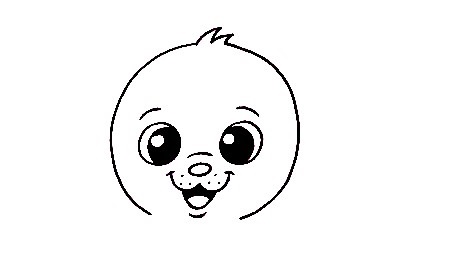 For this step of our guide on how to draw a seal, you must show its head with an imperfect circle.
Draw some small curved lines at the top of the head to show the seal's hairs, as you see in our reference image.
Step 3 – Draw The Chest And Flipper For The Seal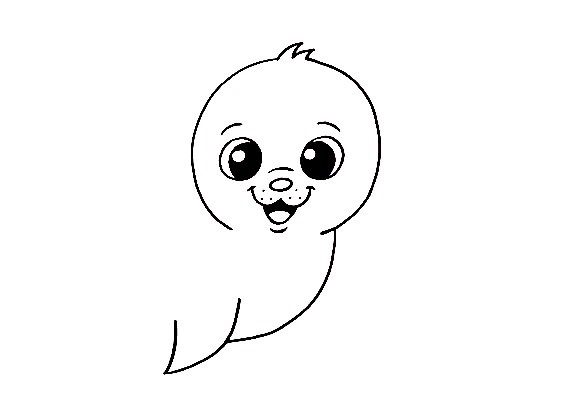 Your task in this step is to draw the chest and the first flipper. From its head, you use lines for the chest, and then you will continue to use the curved lines for the first flipper.
So, you complete your task in this step and continue your work in the fourth step.
Step 4 – Draw The Second Flipper For The Seal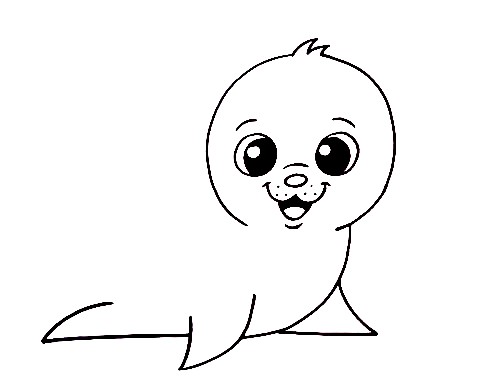 Similar to your task in step 3, you use some lines for the second flipper of your seal drawing to show this seal has two adorable flippers.
In this step of our guide on how to draw a seal, you can draw a part of the tail, and you continue to draw its detail in the next step.
Step 5 – Finish Off Your Drawing Mission
You must finish off all tasks for your seal drawing. You use lines to complete the body and tail of your mammal, as you see in the reference image.
It's simple for you, and you need some minutes to finish your task here before going to the last step for coloring.
Step 6 – Color Your Seal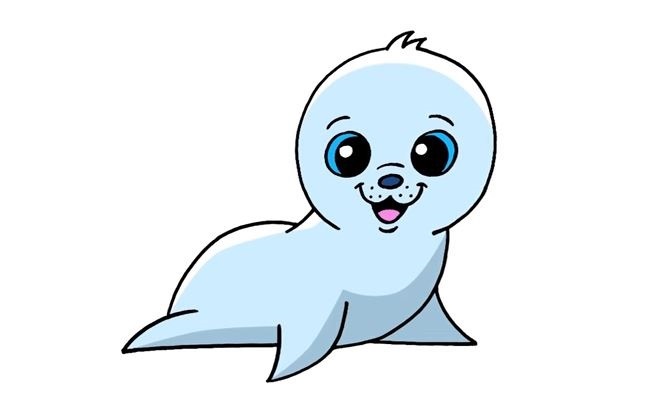 You're at the final step of our guide on how to draw a seal, and your task is to choose the colors for your drawing. As you see in our reference picture, we use light green for our sea dog, red for our tongue, and black for our eyes.
With choosing the colors of your drawing, there is no right or wrong, you can create colors according to your taste, or you can also mix some colors to make your drawing image more excellent.
Your Seal Drawing Is Complete!
You have completed the task of drawing and coloring your seal. This is awesome; I hope you have a good time with this seal drawing tutorial.
This drawing instruction is not only designed for kids but also the adult can join in the activity.
Imagine how boring it would be if you only knew about work and relationships with no time for entertainment. After a long day at the office or working place, you come home and join an entertainment channel for 30 minutes or an hour; you will feel better and have a more enjoyable life.
On our website Coloringcool.com, you can find more similar to this drawing guide, such as velociraptor drawing, orca drawing, or penguin drawing. Hopefully, you will like this drawing guide and come back to enjoy more our educational products. When your seal drawing is done, you can shear it on your Facebook or Pinterest for us to see. We update them daily; please visit our website regularly, never to miss out.