Pineapple Drawing Is Complete In 6 Easy Steps
Creating a Cute Pineapple drawing in just 6 easy steps
This tutorial shows an easy way to make a pineapple drawing in eight steps going from a basic outline to a detailed and colored drawing. You will go to step by step with our instructions and get a complete pineapple. It is free on our site, and this activity is good for everyone, from children to adults. We give six steps equivalent to six missions that you finish. Whether you are a beginner or an expert in drawing, you can finish tasks easily. If you are a parent, you can learn this drawing with your kids, and you will become an artist. Why not? You can relax and get a great time after the hard-working hours. Reasonable entertainment will help you relax your mind and spirit better. Thanks to that you work better. Your life surely is better. With this guide, we also provide pineapple coloring pages, and you can practice your drawing skill. You can come here every day and enjoy our new products.
How To Draw A Pineapple – Let's Get Started!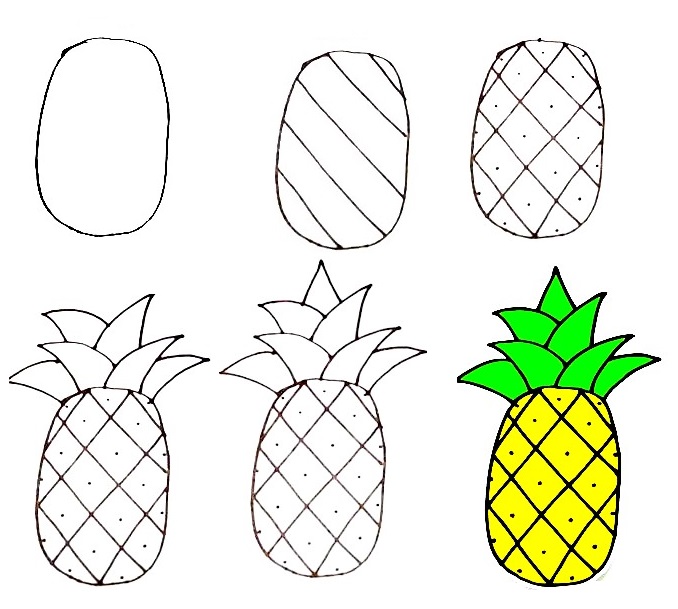 As you know, pineapples are often thought of as being a fruit of the tropics, and with their somewhat spiny appearance, they can be quite an interesting fruit – especially to draw. Whether you need to draw a pineapple for something important or want to be a little more creative, follow the steps below to draw your perfect pineapple. It would help if you prepared a pencil, eraser, colored pencils, and drawing paper before drawing. You use your pencil to draw on paper; you can erase your mistake easily. So, please don't be afraid to draw, you can draw in your comfortable way. Join this activity, and you will have a balance of work and leisure, they are both very important, and you need to balance these two things so that life is not boring and more interesting. Now, let's get started drawing a pineapple with us!
Step 1 – Pineapple Shape Outline

To start drawing a pineapple, you will draw its shape outline. It should be similar to an oval but with a somewhat flattened top and bottom. Very simple to realize this task in steps; you can look at our image and follow it.
Step 2 – Draw The First Part Of The Pattern

The pineapple will have the same dots, and they are quite equal so you have to be careful in this step. You make one set of lines (sort of like stripes) at an angle across its surface. If you tilt them too much one way or the other the little rhombuses that are going to be created in the next step can end up looking very distorted. This is also a simple task because you only need to draw parallel lines to form many quadrilaterals of the pineapple., as you see in our illustration.
Step 3 – Finish The Pattern For Pineapple

Similar to step 2, you will also draw parallel lines but this step will be opposite parallel lines and so you will see an equal rhombus of pineapple appear. Please add some points in the equal rhombus to make the decoration of the pineapple. You can move to step 4 and continue your drawing.
Step 4 – Draw The Bottom Of the Crown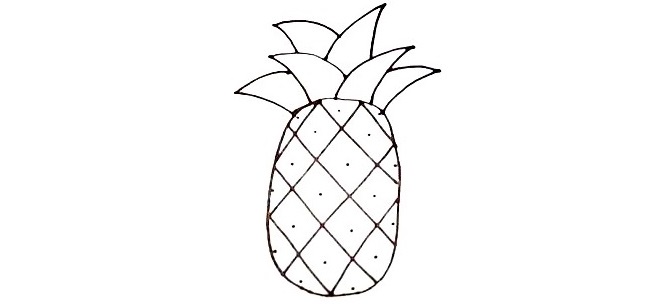 You know that at the bottom of the crown of a pineapple, there are the leaves, and in this step, you must draw them for the pineapple. You use the curved lines to draw the ones at the very bottom, bending downwards and overlapping the line that defines the pineapple. You will finish this task with a nice ponytail next to the fifth step.
Step 5 – Finish Your Drawing Task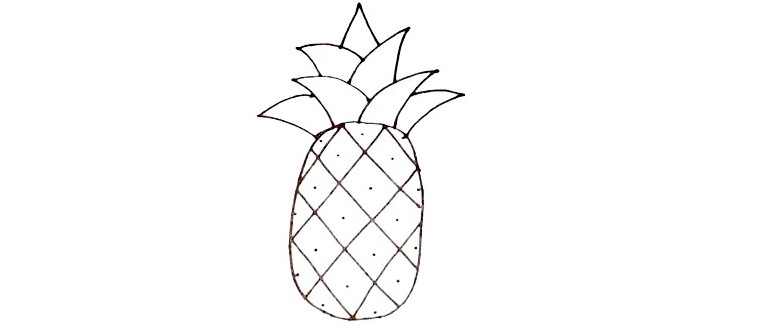 You will complete your drawing mission by drawing the Top of the Crown. Draw the top part of the crown with the longest leaves pointing upwards and curving just a tiny bit to the sides.. Now, you can add some details if you like to decorate your pineapple before going to the last step of coloring the pineapple.
Step 6 – Color Pineapple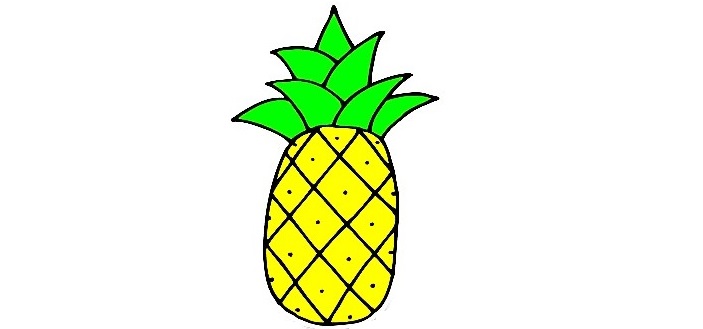 This is the simplest step for you, choose a color for your product. Very easy because you can make any color you like. For the actual colors, make the leaves yellow and green, the pineapple orange (with a bit of brown), and the bracts yellow. We color the pineapple according to its inherent nature, ripe yellow pineapple with green leaves on top. You finish your drawing and coloring mission to create a complete pineapple here. You can move to pineapple coloring pages to refer to some images related to the pineapple.
Pineapple Drawing Is Complete!
So, you know how to draw a pineapple with our simple guide. I hope this guide can help you to relax in your free time and you like it. We have more drawing and coloring pages on our site with many categories that you can enjoy for free.