8 Easy Steps To Get Diego Drawing
Creating a Nimble Diego drawing in just 8 easy steps
Learn how to draw Diego with our super easy-to-follow step-by-step Diego drawing tutorial. In this cool instruction, you will know how to draw Diego step by step. The detailed instruction will show you how simple this tutorial really is. Any kid from any age will have a blast drawing their favorite cartoon character. This is a good activity for kids. You can enjoy it with your kids. You get an opportunity to understand them and get fun together. Why not, your kids will like it, and they can avoid using technical devices such as television, tablet, and computer. They are not good for their eyes and their evolution. You can learn to draw Diego after the hard-working hours. You will follow our instructions and our illustration because, in each step, we illustrate your task. Along with the tutorial, we have also included a couple of free Diego coloring pages that you can print off and give to your kids to color!
How To Draw Diego – Let's Get Started!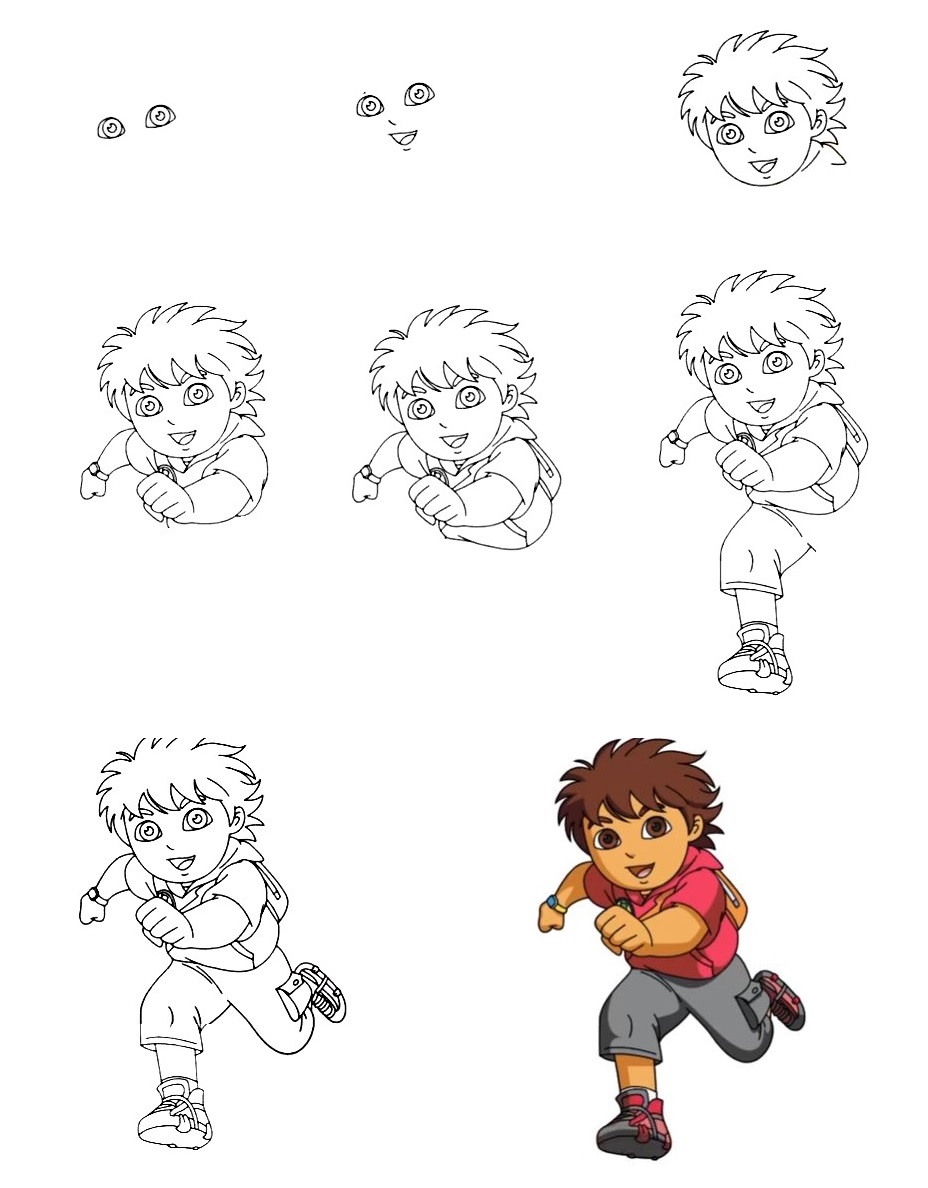 Diego is a cartoon character and is loved by children. The kids can completely personalize their characters, from the shape of their eyes and hairstyle to the clothing and the shoes it is wearing. The extreme popularity of this game has created a huge demand for a free Diego drawing tutorial. We have created a step-by-step tutorial on drawing Diego, summarized in 8 easy and quick steps. It would be best if you prepared sơme things before drawing as paper, pencil, colors,…You will use a pencil to draw on paper, and you can erase your mistakes easily. Please don't be afraid to draw, and you can draw most comfortably. You can show your drawing skill with your products. You create a complete Diego with our instructions. Your product can be amazing, but it can be normal and unimportant. The important thing is that you have had the most relaxing time. Come to our site, and you can enjoy everything for free. Now, let's get started to draw Diego with us!
Step 1 – Draw Diego's Eyes

You will start drawing Diego with his eyes. You draw two dots and use black to color for pupils, and you will let some white space make eyes more real. You can finish your task here and move to step 2.
Step 2 – Draw Mouth And Nose For Diego

You continue your drawing with the mouth and nose of Diego. Under the eyes, you use a curved line to make his nose, and then you draw Diego's mouth with a small oval, then you use a curved line to make his tongue. So, you get complete work in this step and move the third step to continue.
Step 3 – Draw Face, Ears, And Hair For Diego

Your work in this step is a bit complicated. You will draw hair, ears, and a face for Diego. You draw an oval around the eyes, nose, and mouth, Diego. That is for the face. After that, you draw an arched line for the ear. We are drawing Diego slightly slanted, so you only need to draw one ear because the other ear is hidden. You will use long zigzag lines to create extremely masculine hair for Diego, as seen in our illustration. You go to step 4 and continue your drawing.
Step 4 – Draw Diego's Hands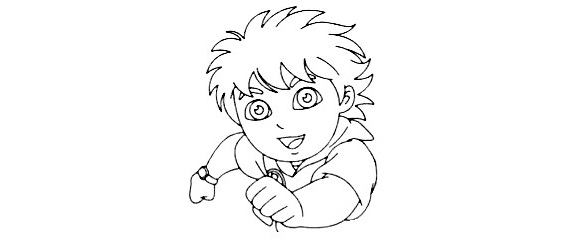 You will draw the left side of the torso right underneath the head. Afterward, draw parallel angled lines to create the left arm, which should be forward because we are drawing Diego running. You can draw the arms of your character similarly or draw it however you like. You can draw the arms perfectly still on each side of the torso. You can stop your work and move to step 5.
Step 5 – Add More Details For Diego's Body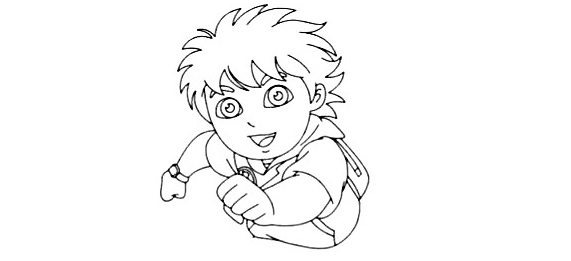 You must add more details about Diego's body. Under his hands, you use some curved lines to make the details of his body. You will see the parallel lines for his part. Repeat the previous step on the right side to complete the upper body. Once you have these elements looking as they do in the reference image, you're ready for step 6!
Step 6 – Draw The Left Leg For Diego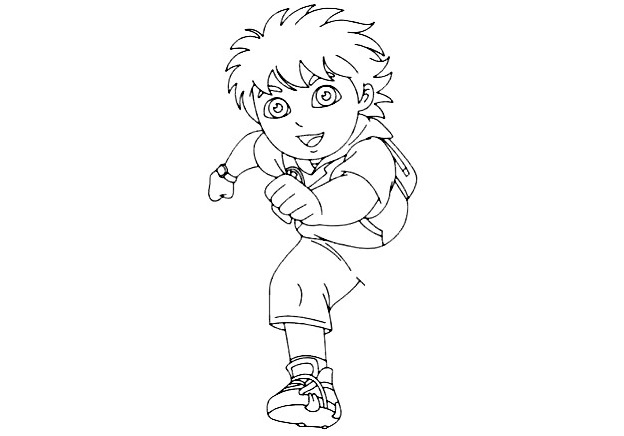 You will draw the left leg for Diego by using the parallel straight line for the trouser; then, you will draw a curved to finish it. You will continue to draw his left leg with straight lines and finish it at the shoe. You must add details for shoes as well. You can come to the seventh step for your product, Diego.
Step 7 – Finish Your Drawing Task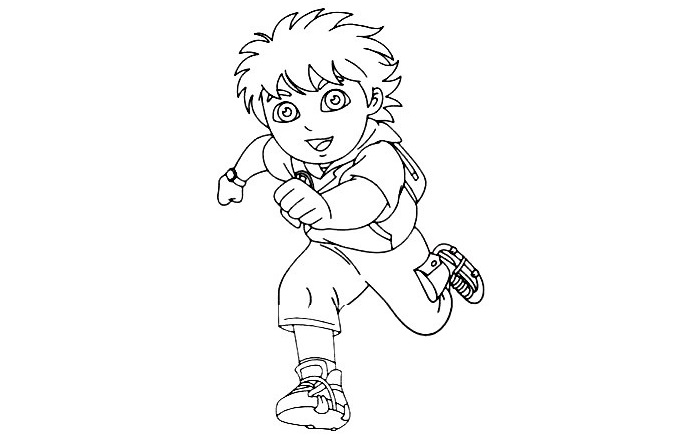 You will finish your drawing task in the right leg for Diego. Similar to the sixth step, you use parallel straight lines to draw the right leg for Diego. It is not too difficult here. It would be best to concentrate your mind, passion, and time here. So, you get a complete Diego with our instructions details. You have more; the last step for coloring your Diego.
Step 8 – Color Diego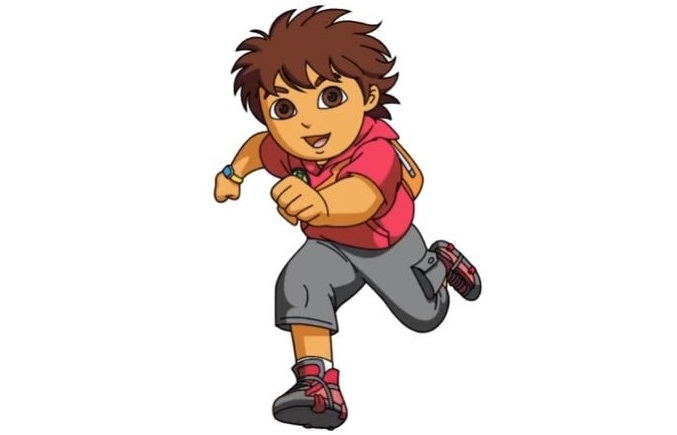 You will choose the suitable color for Diego because there is no rule in choosing colors for your products, so you can make any color you like. You can choose colors that are similar to our colors as well. We take brown for hair, dark pink for the shirt, grey for the pants, and light brown for the skin. So, you get your own Diego with your drawing and coloring skills. You can come to Diego coloring pages to make coloring for images related to Diego. That are free entertainment activities on our site, and you can come here to enjoy them daily. If you like our products, don't forget to give us a thumb up and recommend them to your friends!
You can use the video and step-by-step drawing instructions below to learn how to draw Diego from Carton's world: