8 Simple Steps To Create A Nice Penguin Drawing – How To Draw A Penguin
Making A Cute Penguin Drawing In Seven Easy Steps
Creating a complete penguin drawing with us through seven steps in a great time. You get a chance to get a perfect bird with your skill.
This is an exciting mission that is suitable for everyone, from children to adults. So, you can enjoy it in your free time after hard work to improve your life.
We can't live, but only work or relationships but also take time for ourselves, and learning to draw is a good entertainment channel to help you have a comfortable time.
When your mind is at ease when you return to work, you will be more effective, and you will be a successful person in life if you allocate your time correctly between working and playing.
How To Draw A Penguin – Let's Get Started!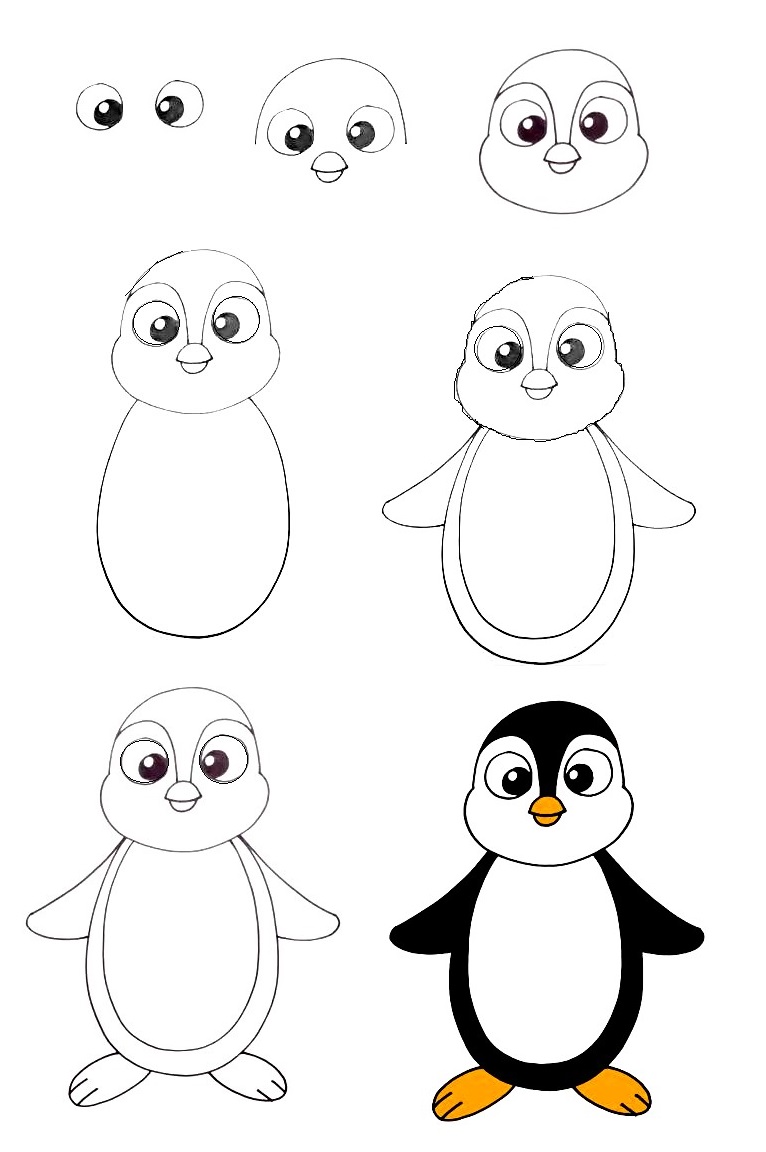 Penguins usually live in places with low temperatures like the arctic.
They are always cute, generally with black wings, a white belly, a yellow beak, and legs.
With their waddling and clumsiness, many people love and get the image of this bird. So you can see a penguin in cartoons, in pictures, or in public places; people also use the appearance of a penguin for decoration.
Today, you also get an opportunity to learn how to draw a penguin with us. You can get information about this cute bird.
You need to have some supplies such as a pen, pencil, colors, and A4 paper before starting to draw a penguin. Then you will show more of your clear drawing in seven steps.
In each step, we provide the illustration to help your work more easily.
You start drawing your penguin with a pencil and paper; then, you will erase the wrong lines and redraw until you feel satisfied.
Once you get a complete image of a penguin, you will choose the color for your drawing.
Along with this penguin drawing guide, you can enjoy penguin coloring pages to practice your drawing and coloring skill.
You now start to draw a penguin with us in seven steps!
Step 1 – Draw The Penguin Eyes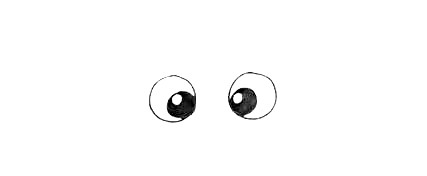 You start your work on how to draw a penguin with two circles and the small circles inside. They create its eyes.
You will use black to color the inner circle to form the pupil.
So you've finished the simple task in this step, and you're ready for step 2.
Step 2 – Create The Penguin's Forehead And Beak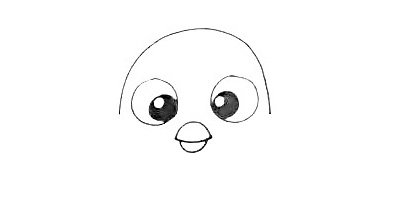 Your task in this second step of our guide on how to draw a penguin to show its forehead and beak.
Use a short curved line for its forehead. Then you use some small lines to create a penguin's beak.
Your work here is also simple, and you spend some minutes finishing your task before moving to the third step.
Step 3 – Complete Penguin's Face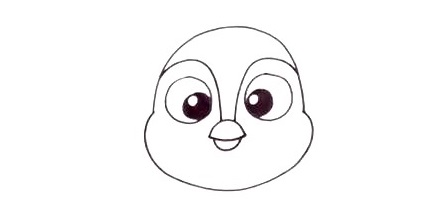 You continue your mission of the penguin drawing with a curved line under the eyes and beak to finish off its face, as you see in our illustration.
Right now, its face is ready, and you can move to step 4 to continue your mission with the penguin.
Step 4 – Draw Penguin's Body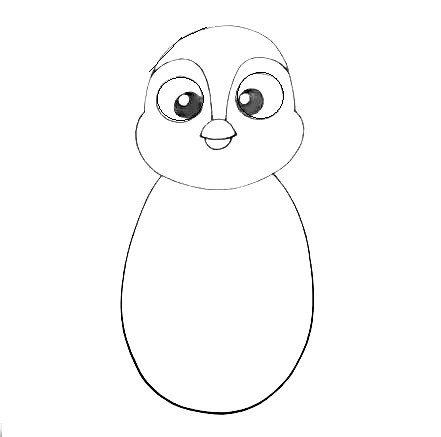 For this step of our instruction on how to draw a penguin, you use an oval for its body.
It's that simple; isn't the job of drawing a body for a penguin just that? Now, if you are satisfied with the drawing, then you can move on to the next step.
Step 5 – Draw Penguin's Wings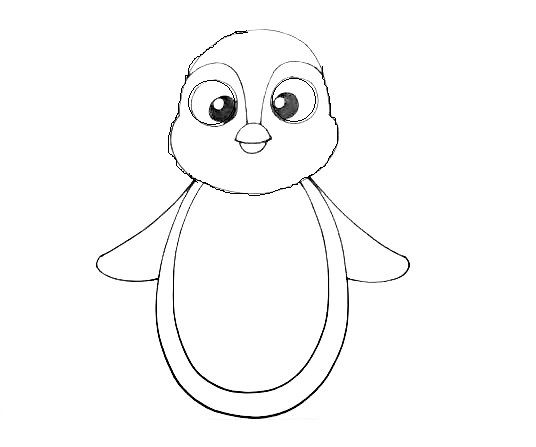 As you know, our penguin gets two short and cute wings. From the body, you draw two wings that are almost like two pointed triangles, and now your penguin drawing is only missing two legs, and we will draw this detail in the next step.
Step 6 – Finish Off The Penguin Drawing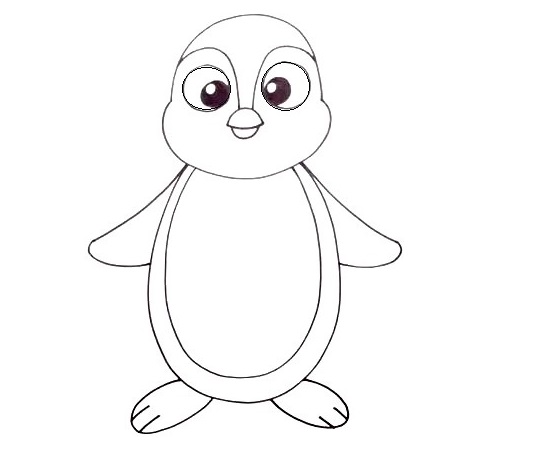 The legs of the quail wing are the last detail you need to work on before moving on to the final step of coloring.
You will draw two feet and three toes for each foot, and you have finished the quest in this step.
You can refer to our reference picture that will show you how to.
Once you have those elements drawn, you can move to the seventh step.
Step 7 – Color Your Penguin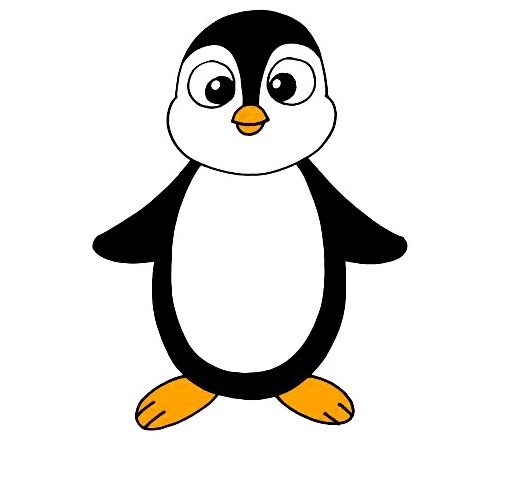 As we mentioned above, the penguin has a black body and wings with a white face and belly. Accompanied by a beautiful beak and yellow legs. So we use three colors back, white and yellow, for this bird.
You can use the same color as us but with your mixing colors to make your bird more excellent and realistic.
Your Penguin Drawing Is Drawing
You did everything to get a complete penguin drawing. Now you can admire your product.
I hope with the tutorial and our reference images; you're happy with your results.
This penguin drawing tutorial is one of many our drawing guides for free on our website Coloringcool.com, that we update; you can check our site to never miss out on any of our instructions.
If you love the bird and you would like to draw more birds, you can enjoy the bird drawing guides such as toucan drawing, parrot drawing, blue jay drawing, hoopoe drawing, or  crane bird drawing.
Besides drawing instructions, you also enjoy other educational products such as blogs or coloring pages that we update daily.
Hopefully, you will enjoy this step-by-step penguin drawing tutorial. If you have any questions about our product, you can let us know on our Facebook pages; we can explain more clearly and help you to realize your task easily.