9 Easy Steps To Create Cuphead Drawing – How To Draw Cuphead
Creating a wonderful Cuphead drawing in just 9 easy steps
Learn how to draw a Cuphead with our super easy-to-follow step-by-step Cuphead drawing tutorial. Cuphead is the title character of a "classic run and gun action game" inspired by the "rubber hose" cartoon animation employed by Disney and other studios of the 1930s. This is a character that everyone loves, especially children. So, if you are a parent, you can learn to draw Cuphead with your children. They will get a great time here and avoid the use of technological devices such as television, smartphone, and tablet,..because they are not good for their eyes and their evolution. Drawing and coloring will help you and your kids to relax. Along with the tutorial, I have also included a couple of free Cuphead coloring pages that you can print off and give to your kids to color!
How To Draw Cuphead – Let's Get Started!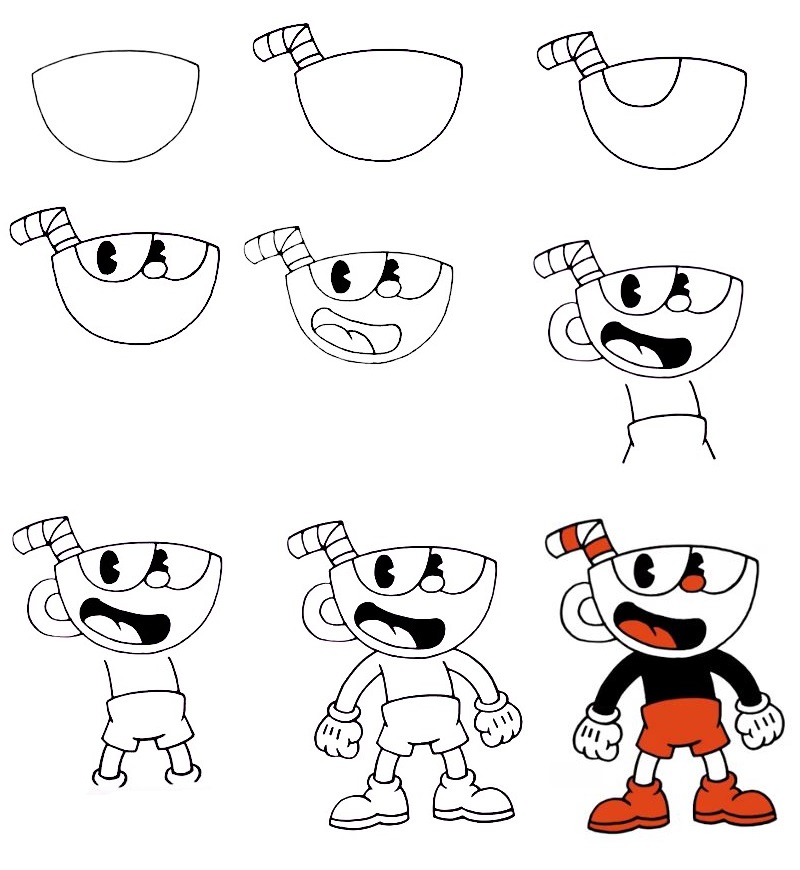 You have to prepare some necessary things such as a pencil, eraser, colored pencils, and drawing paper before drawing. You will go to step by step with the instruction in our article and follow it. In each step, we provide illustrations to help you realize your task easily. This is not a simple mission, but it is not too difficult; you need to concentrate your mind, passion, and time to enjoy this activity. Recreational activities are not only for children but also benefit adults. Imagine that after the hard-working hours, you feel stressed and worried, you will enjoy drawing and coloring, and you can forget them and make life better. Our instruction only takes about 25 to 30 minutes and has the illustration in the lesson you can easily print or download and use it to follow. You use a pencil to draw on the paper, and you can erase easily, so don't be afraid to draw wrong. Now, let's get started to draw Cuphead!
Step 1 – Draw Cuphead's Head

To start drawing a Cuphead, you use two curved lines to create the shape of the cup, like the character's name. It is very simple here; you just spend some seconds to finish it and move to step 2.
Step 2 – Draw Cuphead's Bent Straw

Now, you will draw a bent straw coming up from the inside of his head. You use two parallel straight and then, you turn like our image to create a real bent straw as a candy. You can draw some stripes onto his straw before moving on.
Step 3 – Start Drawing Some Facial Detail

Now, for your Cuphead drawing, you can work on his facial details. You can start by drawing a small curved line shape for his eye. Very simple here, and you can follow our image. Once you have these elements looking as they do in the reference image, you're ready for step 4!
Step 4- Draw Cuphead's Eyes

You draw eyes for Cuphead. From the 3rd step, you continue adding detail for the eyes. You will use some curved lines extending down from the top of his head for the outlines of his eyes. You draw tall ovals for his pupils, and you use black to color for pupils. Of course, in your eyes, you also need to leave such white spaces to make Cuphead's eyes more vivid. That's all there is to it for this step, so when you're happy with the look of it we shall continue adding to this duck in the fifth step.
Step 5 – Start Drawing Cuphead's Mouth

You start drawing Cuphead's mouth now, and you continue realizing your task with the curved lines to create a perfect mouth. Then you use other curves to draw the Cuphead's tongue. You can add some details for his mouth before moving on.
Step 6 – Draw the Handle And a Part Of the Body For the Cuphead

Right now, draw two "C" shaped lines to form the handle. Then you start drawing Cuphead's body. you can draw his narrow chest, and finally draw his trousers that are very round as well. There will be gaps where his legs will go, and we will add those in the next steps.
Step 7 – Draw Cuphead's Legs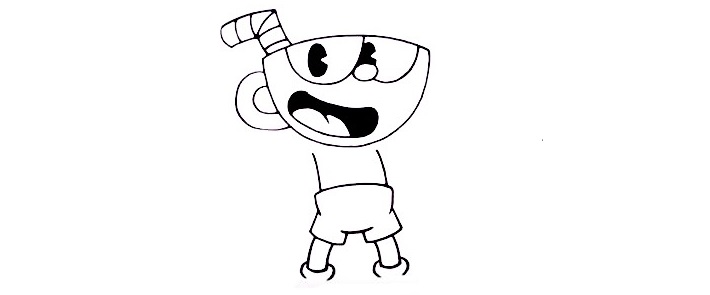 You know that Cuphead does a lot of running and jumping in the video game, so you had better add some legs for your Cuphead drawing! From his trousers, you use some slightly curved lines coming down from the opening of his trousers for his thin leg. You can stop your task in this step and move to step 8.
Step 8 – Finish Off Your Drawing Mission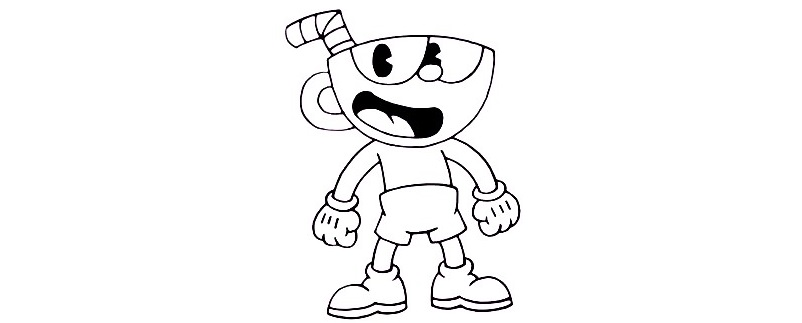 In this step, you must finish off your drawing mission. You will draw his shoes. From leg, you add a pair of shoes for Cuphead. You also use straight lines and curved lines for this mission. Please look at our image and follow it.
Step 9 – Color Cuphead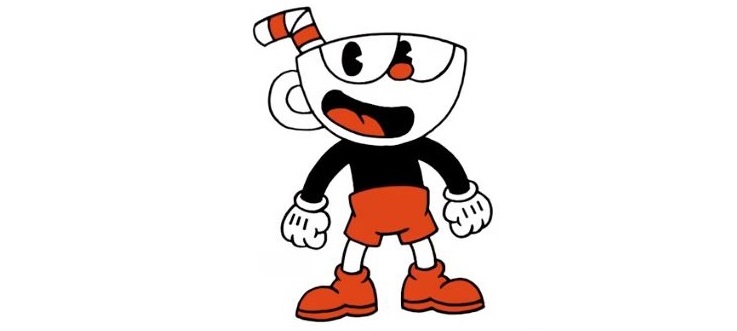 Right now, you will choose suitable colors for your product. You can take any color you like to make coloring for Cuphead. You can choose colors that are similar to ours. Here, we take orange for shoes, trousers, tongue, candy, and a part of the eyes, and you use black for the shirt, pupils, and mouth, use white for the head, and hand. So, you create a complete Cuphead character with our instructions. With nine steps, you follow us and finish your task brilliantly. Very interesting you can come to our site daily to enjoy all.
Cuphead Drawing Is Complete!
You can enjoy Cuphead coloring pages; we update the hundreds of images related to Cuphead This instruction will help you and your kids to get a great time. If you like our tutorials, don't forget to give us a thumb up and recommend them to your friends! I hope you get fun here and come back with us!