8 Easy Steps To Create Spongebob Drawing – How To Draw A Spongebob
Spongebob Drawing Is Complete In 8 Easy Steps
You get an opportunity to know creating Spongebob drawing with us. There are eight steps equivalent to 8 missions that you must finish to complete.
Spongebob is a yellow anthropomorphic sponge, usually wearing brown shorts, a white collared shirt, and a red tie. Still, sponges are ocean-dwelling organisms that are essential inhabitants of coral reef ecosystems. The sponge can filter water, collect bacteria, and treat carbon, nitrogen, and phosphorus. Thus, sponges can protect coral reefs from extreme nutrition, temperature, and light fluctuations. In general, the sponge is a beneficial organism for the survival and development of corals. You will learn to draw Spongebob characters from a sponge, and through this learning, you will have more knowledge about sponge and Spongebob characters, promising to be a lot of fun for you.
Today in our drawing a Spongebob challenge, you will have a chance to show your drawing and coloring skills.
To draw Spongebob, you need to prepare everything like a pencil, pen, colors, paper, and eraser before drawing. You will proceed to draw Spongebob with a pencil and paper; using a pencil will help you quickly erase your mistakes. So feel free to draw and be creative because creativity is limited here.
Draw until you feel satisfied, and then color for your Spongebob drawing.
Drawing Spongebob is an exciting task and suitable for everyone. You can recommend this drawing guide to your loved ones and kids in your free time.
It will help you balance your life and feel much more comfortable; you will also be more productive, and your life will be better.
We are here to help you complete the task as soon as possible. It takes about 30 minutes to draw Spongebob but depending on your ability, you can complete this task earlier or later.
This tutorial includes enjoying Spongebob coloring pages for free on our site to practice your drawing and coloring skills.
Right now, you will go to 8 steps of our guide on how to draw a sponge with us!
How To Draw A Spongebob ​– Let's Get Started!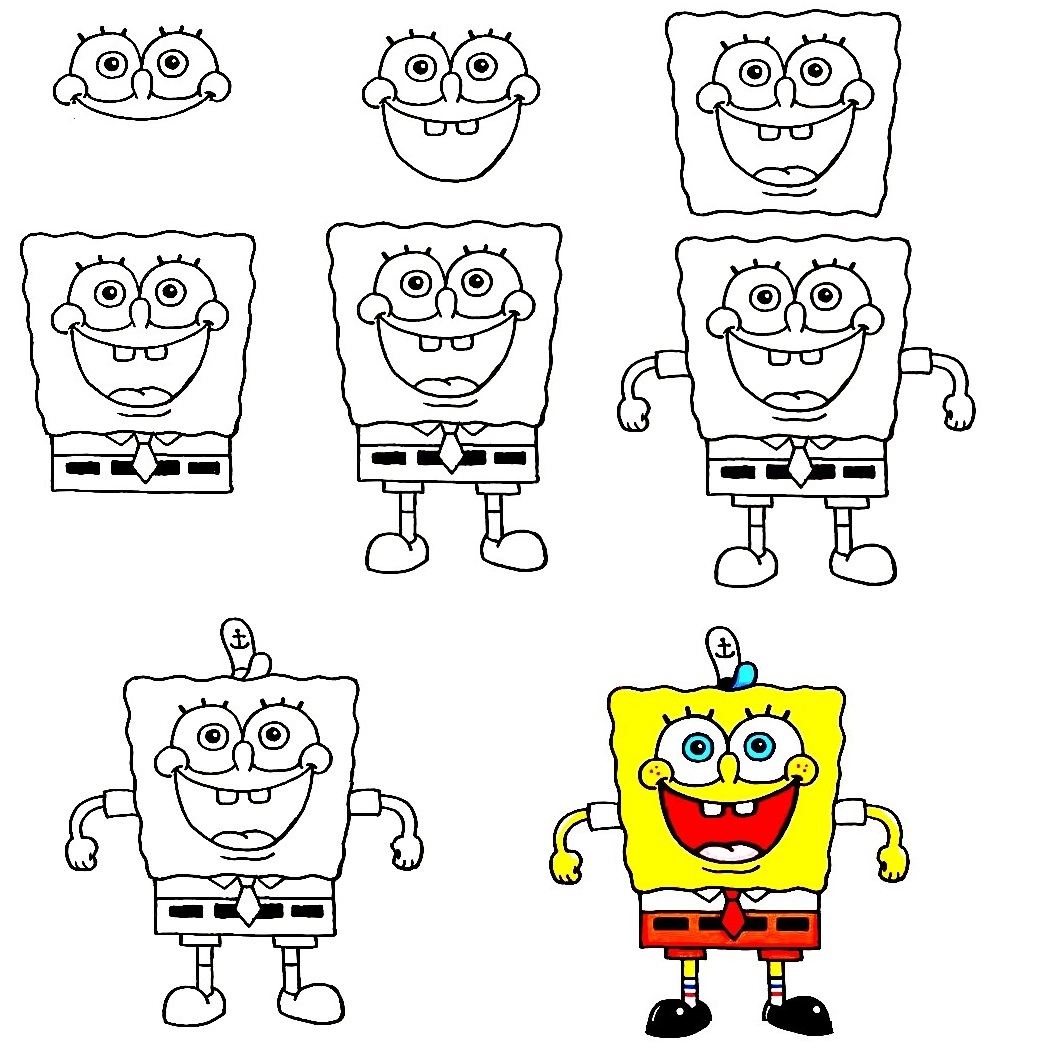 Step 1 – Draw Eyes And Nose For Spongebob
You will start drawing a Spongebob with his cute eyes and nose. You will draw two big circles to represent the glasses of the eyes, then draw two smaller shapes for the eyes and pupils as you see in our reference image.
Use a curved line to draw his nose, and a bigger curve for his mouth will be done in the next step. Don't forget to use some lines for each eye for his eyebrows.
Step 2 – Draw The Spongebob's Mouth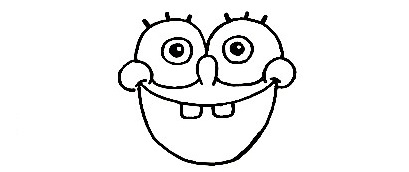 You will use an extensive curved line to complete the mouth for your sponge in this step of our guide on how to draw a Spongebob. Then you will draw two teeth for it; you can see our drawing to do this task.
Once satisfied with your drawing, you can move to the second step and continue your drawing.
Step 3 – Draw The Spongebob's Head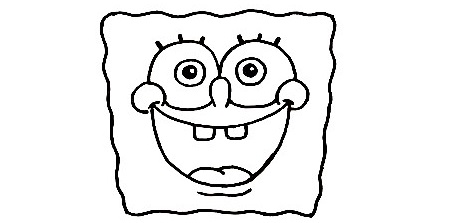 For this step of the Spongebob drawing, you use some lines to draw his head outline. As seen in our reference picture, you will use wavy lines for his head.
So, you can finish your mission in this step and are ready to move to the fourth step.
Step 4 – Draw The Spongebob's Body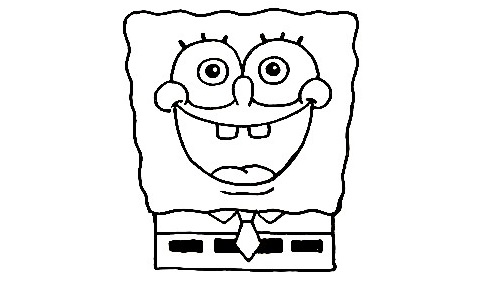 Your task in this step of our guide on how to draw Spongebob is to draw his body. As you see in our illustration, we use straight lines for his body. Don't forget to add a tie to make him cute; you will feel more interested in this detail.
This step is a bit complicated; look at our drawing and ensure you're on the right track.
Step 5 – Draw The Spongebob's Legs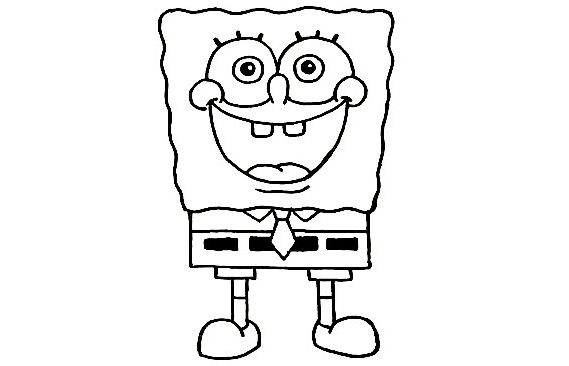 It's time to draw the legs for your character, Spongebob. You use two straight lines to draw each leg. To draw the character's feet draw a pair of shoes for him. Your task in this part is simple; after completing the leg, you can move to the next step.
Step 6 – Draw The Spongebob's Arms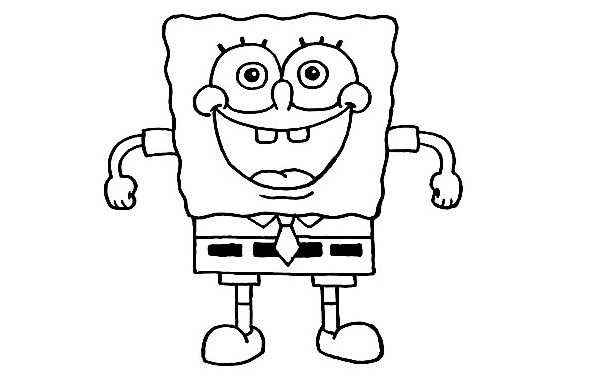 If step 5, you draw legs for your Spongebob drawing; in this sixth step, you will draw his arms.
As you can see in the reference, his hands go up and down; use some lines for this task.
Once these aspects are drawn, you can go to the next step.
Step 7 – Draw The Final Details For Your Spongebob Drawing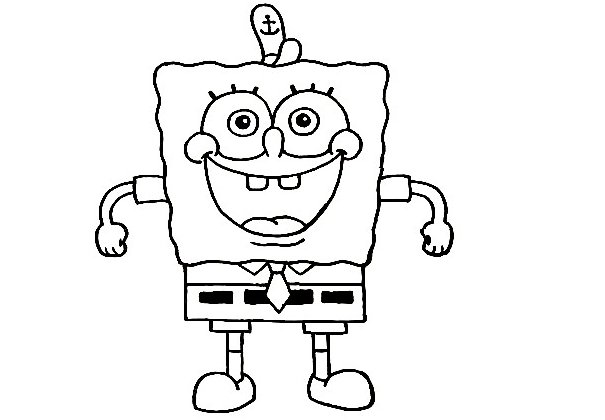 Before moving to the last step for coloring your character, Spongbob, you must draw the rest of the details for him.
Let's add a few decorative details to make your character more cute and realistic.
We have drawn decorative details for his head, you can look at the drawing for us and follow along, or you can create more information that we don't have.
Step 8 – Color Your Spongebob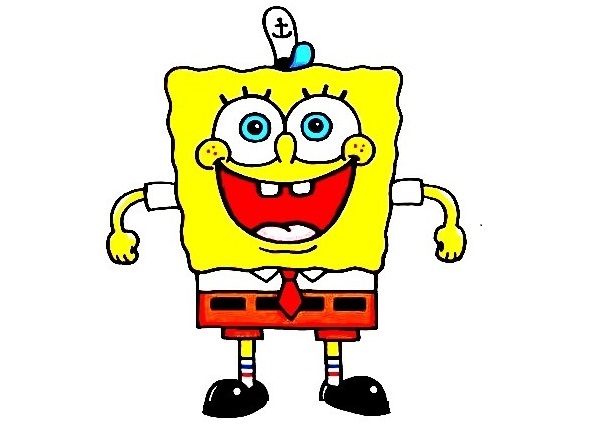 It's finally time for the part we've all been waiting for: choosing the color and coloring the character, Spongbob drawing.
As you see in our reference image, we choose yellow, red, and green for our Spongbob drawing.
This is his natural color. And when choosing colors for your drawing, you can choose these classic colors, but if you want, you can select the color according to your preference because there is no rule for determining the color.
Your Spongebob Drawing Is Complete!
So, you finish all tasks of our guide on how to draw Spongebob. Awesome, I'm sure you're satisfied with your results. We always have new challenges for you, but you can refer to this drawing guide to make how to draw a sponge.
On our website Coloringcool.com, you can find more drawing tutorials such as Yoshi drawing, Charizard drawing, or Raccoon drawing. We update new information for drawing guides and coloring pages; you can visit our website often to enjoy them for free. Each educational product has its interest, and I also believe you will find time with them. And If you like them, don't forget to give us a thumb up and recommend them to your friends!