8 Simple Steps To Create Charizard Drawing – How To Draw Charizard
Make Charizard Drawing Through 8 Easy Steps
In the Pokemon world, there are countless characters, and today you get a chance to create Charizard drawing with us in eight easy steps, one of the typical Pokemon.
It is a famous Pokemon and one of the last created Pokemon in the Nintendo and Game Freak's Pokémon franchise.
Charizard is a powerful Pokemon because it has the unique ability to spew flames hot enough to melt rocks.
With Charizard's popularity and many people love this Pokemon character, today we have created Charizard drawing guide free for you. There are eight steps equivalent to eight missions that you must overpass to finish it.
The work of learning to draw Charizard is not too difficult but also not simple, requiring you to concentrate during the learning process.
As with our drawing tutorials, you need to have all the supplies, such as a pen, pencil, colors, paper, and eraser, before starting to draw. You will then proceed to learn to draw Charizard with pencil and paper. With the use of pencil and paper, you can remove your mistakes and redraw them until you are satisfied with your drawing.
Once you get the complete Charizard character, you can choose the suitable colors for your product. Choosing the paint is entirely up to your taste; select the color you feel most appropriate.
With this Charizard drawing tutorial, you can enjoy Charizard coloring pages for free on our website to practice your drawing and coloring skills. Regular drawing and coloring will help you to have a good spirit and a clear mind. You can enjoy this activity in your free time after the hard-working hours.
Right now, let's go to 8 steps of our guide on how to draw Charizard with us!
How To Draw Charizard – Let's get started!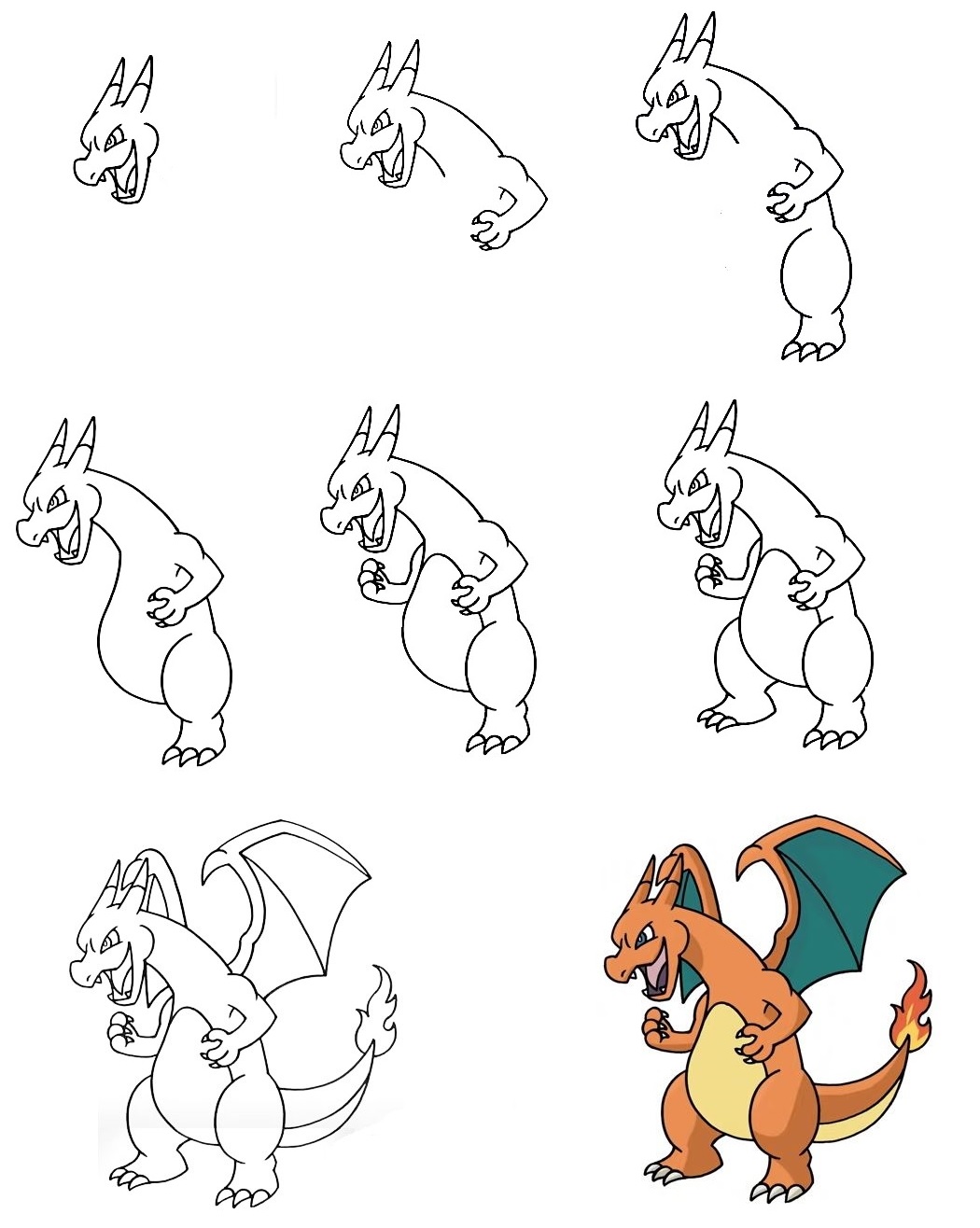 Step 1 – Draw Face And Head Of Charizard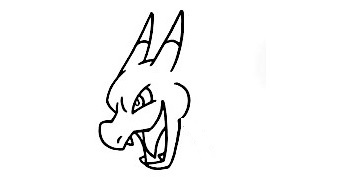 Begin to start drawing your Charizard; you must show its head and face with curved lines and straight lines.
This first step has quite a few details because you have to draw every detail of Charizard's face.
It has a wide wolf-like mouth, then you draw the character's eyes, and don't forget to add two ears on its head.
Once your image is done, you can move to the second step and continue your drawing task.
Step 2 – Draw Neck And An Arm For Your Charizard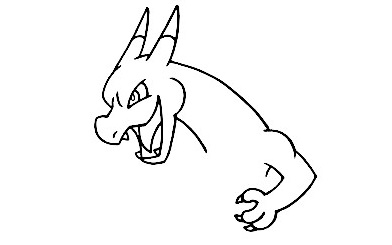 For this second step of our guide on how to draw Charizard, you must draw its neck with two parallel curved lines; then, you continue to draw its left arm with some fingers in its hand.
It's also simple for you in this step, and you can look at our drawing to ensure you're on the right track. And you can go to the next step.
Step 3 – Draw The Left Leg For Your Charizard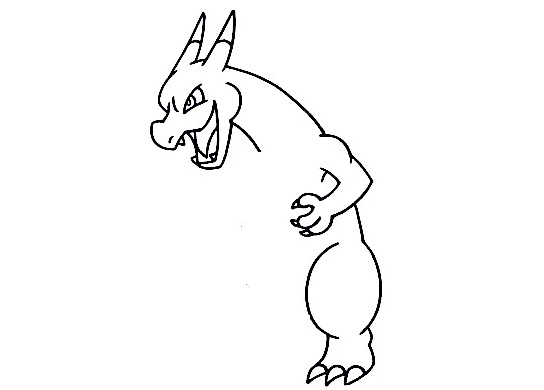 It's time to start drawing its legs in this third step of our guide on how to draw Charizard characters.
We're drawing a sitting Charizard, so we'll see its thighs, as you see in our reference.
You will draw the fat thighs for Charizard; then you will continue to draw its legs with toes; please remember to add claws for the paws. And like the hand-drawn part, we also put three toes for each foot. So, you finish off your mission of this step for your Charizard drawing.
Step 4 – Draw The Charizard's Belly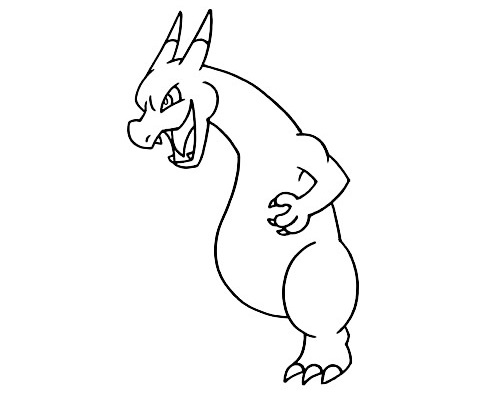 Your task in this step is straightforward, you use only a curved line for its belly, as our illustration.
Your work here is only that, if you are satisfied with it you can move on to the fifth step to continue your work.
Step 5 – Draw The Right Arm For Charizard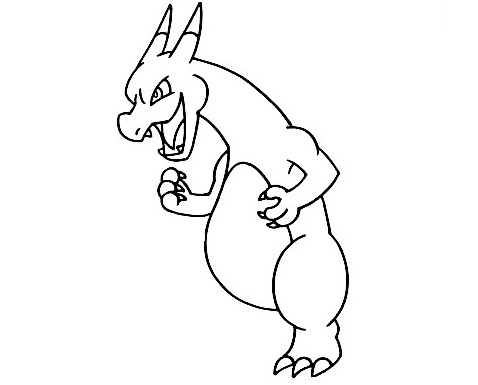 If in step 2, you drew the left arm, in this fifth step, you must show its right arm.
You continue to use curved lines and straight lines for this task.
It's not too difficult and similar to the task in the second step; you also draw three fingers for the right hand and add long claws on the fingers. And you are ready for step 6.
Step 6 – Keep Drawing In Your Charizard's Legs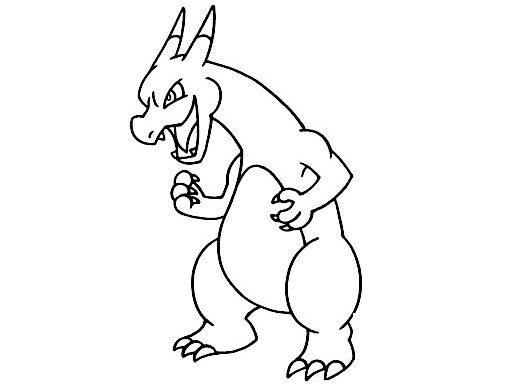 In this step, you must add a leg for your character, Charizard.
You also draw Charizard's right foot on top and bottom and end with three toes with long claws on the foot, as you see in our reference picture.
So, you are almost drawn the body parts for Charizard; you will continue drawing its wings and tail in the seventh step.
Step 7 – Draw Tail And Wings For Charizard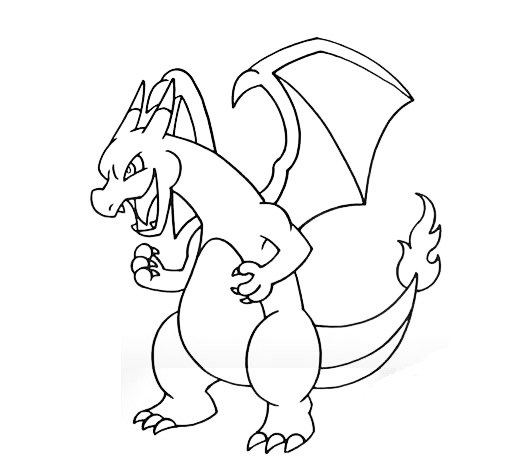 In this step of our guide on how to draw Charizard, you must draw its tail and its wings.
From its body, you use three curved lines and meet a point. Don't forget to add a flame at the end of the character's tail; this is the point of fire-type Pokemon.
You continue your drawing mission by showing its large wings, as you see in our example.
Before moving to the last step for coloring, you can draw some decoration details for your Charizard drawing.
Step 8 – Color Your Charizard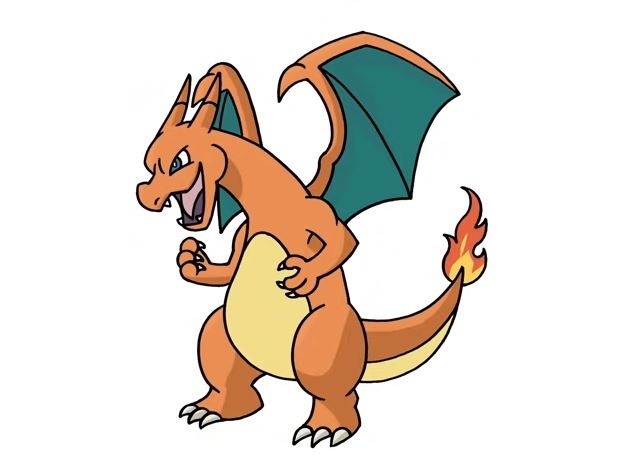 You must choose a nice color for your character drawing, Charizard.
Here you are completely free to choose the color of your character.
You will take a nice color for your character drawing, Charizard. If you feel interested, then you can choose the color your way, or you can also choose orange and cream as your Charizard's original color, as you see in your reference image.
Your Charizard Drawing Is Complete!
You completed all Charizard drawing tasks quickly; I hope you are satisfied with the final result and have a great relaxing time. Drawing and coloring are suitable activities for everyone. They can help you to balance your life.
On our website Coloringcool.com, you will have a chance to enjoy our products with a drawing guide, coloring pages, or blogs. So, visit our site regularly; we upload them daily to serve you.
You also can enjoy the drawing guides such as Charmander drawing, wooper drawing, Eevee drawing, or chrismas Pikachu drawing. We upload them daily, and you can come here each day to be sure you don't miss out on any of our educational products. Have fun!