Eeyore Drawing Is Created In 8 Easy Steps
Creating cute Eeyore drawing in just 8 easy steps
This tutorial on how to draw Eeyore will help you to create an Eeyore drawing, a character from Winnie the Pooh. You will follow our instructions details and complete your character with your skill and our help. This is an interesting activity and suitable for everyone, from children to adults. You can enjoy it in your free after the hard-working hours. You get a fun time and a comfortable mood in joining this activity. This guide takes about 30 minutes, and you can learn to draw Eeyore with your kids because this is the favorite character for children. Your kids can practice some skills such as pen skills, painting skills, and concentration skills…and help children develop more comprehensively. More drawing will help your kids to avoid using technical equipment like television, smartphones, and tablets,…they are not good for their eyes and evolution. With our guide, we also provide the Eeyore coloring pages for free, and you can download, print, or color them online. You will see clearly how to draw Eeyore in our post.
How To Draw Eeyore – Let's Get Started!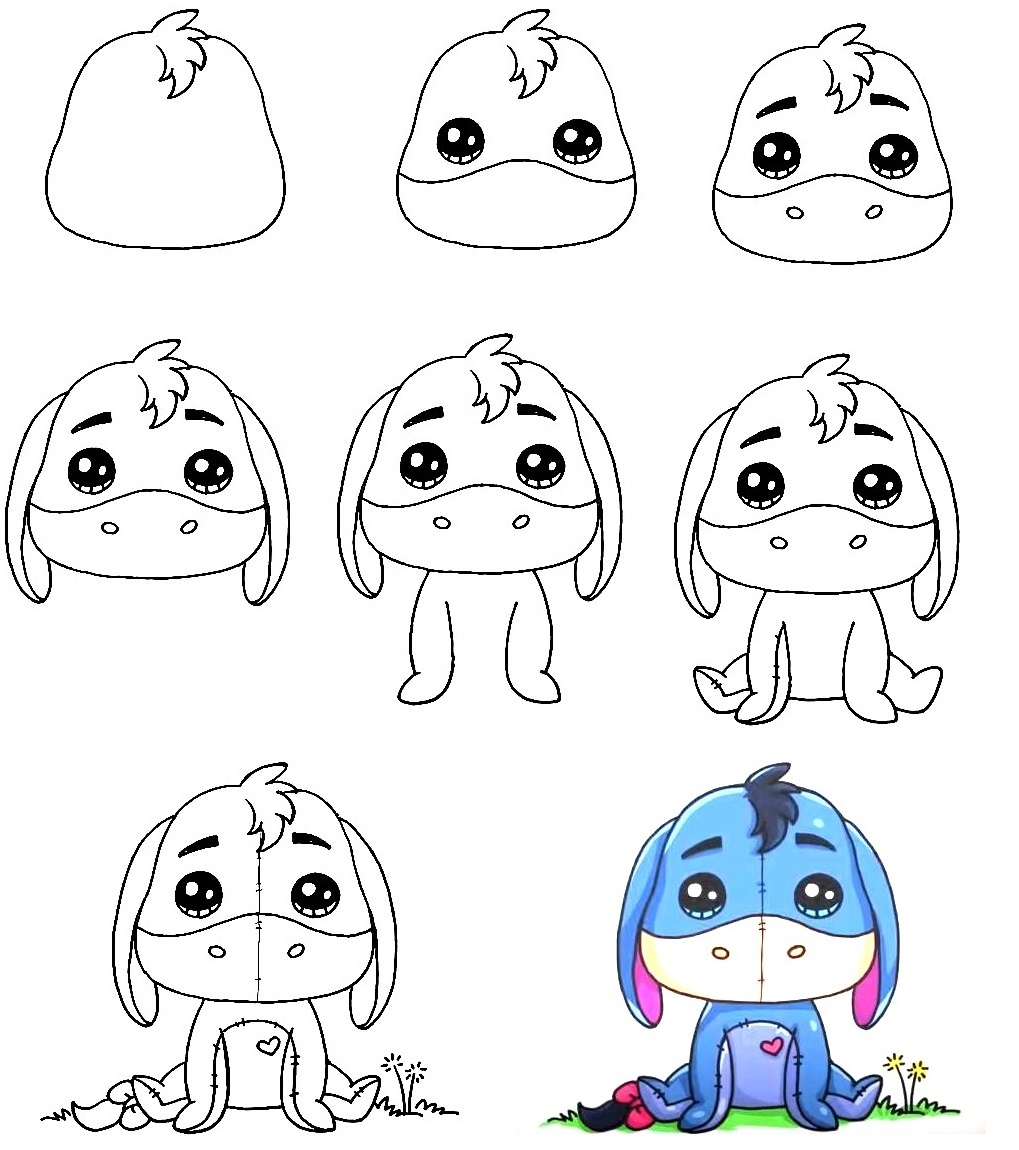 You know that Eeyore is one of the lead characters of the series Winnie the Pooh, and he is a pessimistic and gloomy donkey and a close friend of Winnie, The Pooh. Everyone likes this character. And you would like to draw him today. Unfortunately, you get an opportunity to learn to draw Eeyore with us. You will go to each step and finish them one by one. You have eight steps equivalent sight mission that you complete. We give the guide from easy to adult, so whether you are a novice or an expert in drawing, we're sure you can surely follow these steps effortlessly. You must take some things such as paper, pencil, and colors before drawing, and you start to draw with a pencil, so you can erase your mistakes easily. So, please don't draw; you can draw in your comfortable mood. Keep calm and o your task slowly, and while drawing, follow our reference image; your work will be easier. Now let's get started drawing Eeyore with us!
Step 1 – Draw Eeyore's Face Outline
You begin on how to draw Eeyore by sketching Eeyore's face outline with curved lines. You draw an oval with some zig-zag lines to show the hairs of Eeyore. Those details are not difficult, and you spend some minutes finishing the task here and coming to the second step.
Step 2 – Draw Eeyore's Eyes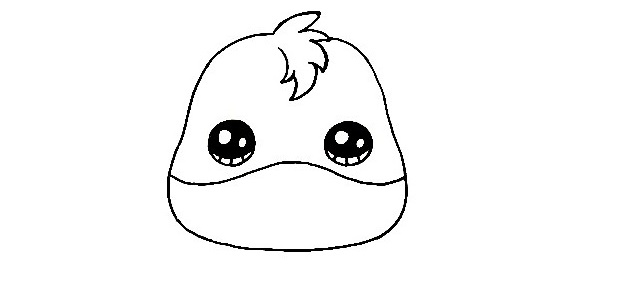 In this second step, you draw eyes for your character, Eeyore. They are made of two circles and dots inside. You can use black and white to color them. So the Eeyore character's eyes will look more realistic. Once you finish your task with eyes, add a curved line under the eyes to make Eeyore's face looks more natural and leaves you to draw the character's muzzle in the next step.
Step 3 –  Draw Eeyore's Muzzle

Add two small ovals and create Eeyore's muzzle in this step. Too simple for you, right? You only need to spend a few minutes to complete this light task. Add two curved lines for each eyebrow and make the coloring black for them. Once you complete your mission, you go to the fourth step and continue your drawing.
Step 4 – Draw Eeyore's Ears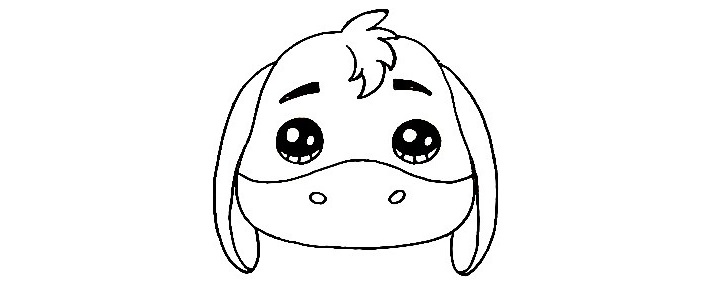 On two sides of Eeyore's head, draw the long curved lines as a guide for the ears. We are drawing the character sitting across from us so part of the character's ears will be covered by the head. Eeyore's ears are drawn symmetrically, and you have completed your task in this step.
Step 5 – Draw The Front Leg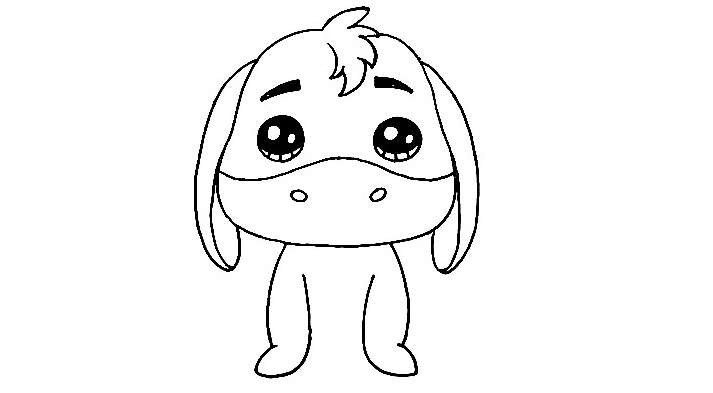 Your task in this game is to be focusing on his front legs and his shoulders. From his face, you use two curved lines to make the shoulders. After that, you continue to use the curved lines for his front legs. That's all there is to it for this step, so when you're happy with the look of it, we shall continue adding to this character in the sixth step.
Step 6 – Draw The Hind Legs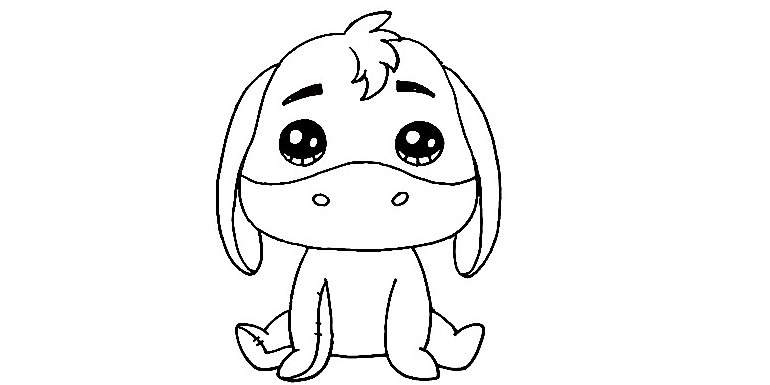 Add other curved lines under the front lines to guide the hind legs and body. They should be around the same size as the ones in front. So, you finish off all details for Eeyore with face, legs, shoulders, belly,…You will come to the seventh step for the final details of your drawing.
Step 7 – Finish Your Drawing Mission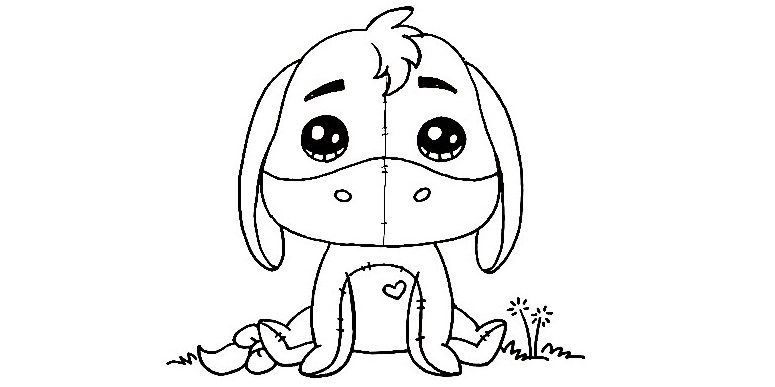 This step lets you make decorating your image. To make your drawing nicer, you take some details for decoration as a heart on Eeyore's belly, some grass, and flowers around this character. Then you can move on to some colors in the next step.
Step 8 – Color Eeyore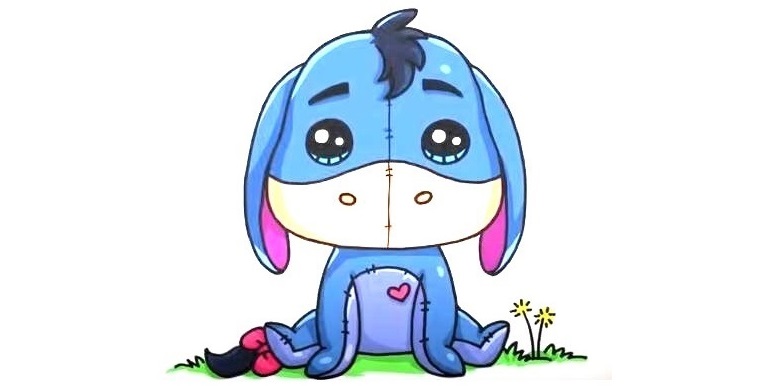 This step is to choose colors for Eeyore, and In our reference image, we showed off the colors that Eeyore typically has. We use black for hair, blue for Eeyore, pink for a part of the ears and heart on the belly, and green for grass,…and right now, your drawing looks perfect.
Your Eeyore Drawing Is Complete!
I hope you are pleased with our tutorial, if you like the Winnie The Pooh series, you can learn and draw other characters such as Winnie the Pooh, Tigger, Eeyore, Piglet, Rabbit, Kanga & Roo, Owl, Christopher Robin…We update their coloring pages and their drawing for free on our site. So, you finish your task on how to draw Eeyore with our instructions and our reference images. You can refer to Eeyore coloring pages on our site to practice your drawing and coloring. This time for drawing is great, and you can find the entertainment channel here. If you think our guide is interesting, you can recommend your friends or share it on Facebook, Pinterest, Twitter, etc. Thank you for that.
Printable Eeyore Drawing coloring sheets