How To Draw A Bird – The Details Instructions
Birds are wild animals in nature. You can find countless species of birds today. Each bird has a different size, color, organization,…To know more about birds, you can come to Birds Coloring Pages and enjoy coloring to know more about birds. More, you will learn how to draw a bird with us in this article. We will give the instruction and illustration image, you will follow us. You can follow these steps effortlessly whenever you are a beginner or expert. Drawing a bird is a way to show your love for birds. There are many bird types for you, and right now, you will draw a simple bird with us. With this activity, you can join in with your relatives or only you after the hard-working hours. Before starting, you must prepare some necessary things such as paper, pencil, colors,..
How To Draw A Bird ​– Let's Get Started!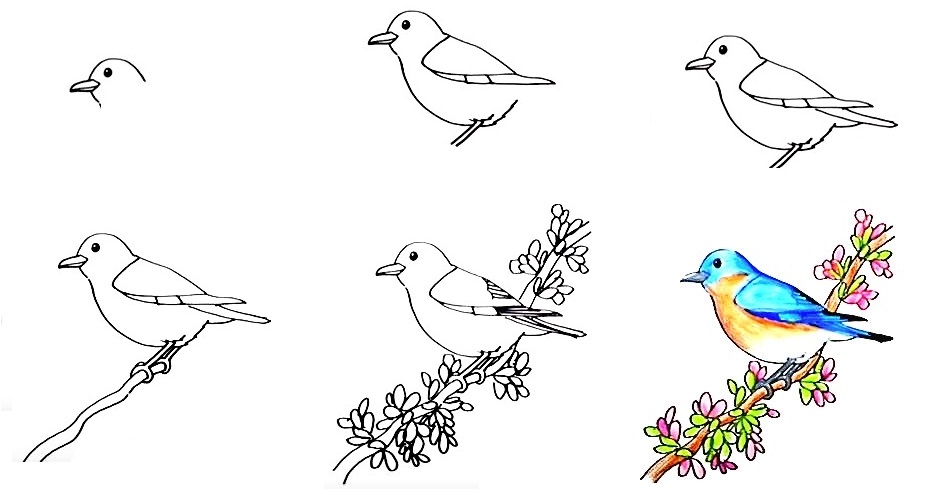 With six-step for instruction, you will get complete after some minutes, If you are a bird fan, please keep patient and follow us to finish off your mission as soon as possible. You will have your own bird with your favorite colors. With our six instruction steps and your patience, you will create a nice bird. not too difficult, you must concentrate here and go to step by step in this article. Birds are animals that people love most especially children, so if you have children, take them to learn how to draw birds with you. You will teach your kids to love birds in particular and love nature in general. through which they will have a love for nature and make them more honest in heart. Why learn to draw a bird because it is simple to draw and you can choose any colors after finishing off your drawing mission. Drawing after the hard-working hours will help you to reduce stress and worries from life. In modern life as now, we are very busy and don't have time for entertainment. So, you can profit from the drawing and coloring activity to enjoy in your free time. They can help you to create a life balance. Once, you complete your draw mission of a bird, you can refer to colors on the
Birds Coloring Pages
, there are many birds images for you to enjoy here.
Step 1 – Draw Bird's Head.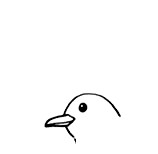 You will start by drawing a small gourd. This will outline the bird's head. Once you have your guide circle, use a darker pen or pencil to draw a small, triangular beak on the left-hand side. Then you will add a dot to make an eye for the bird, please don't forget to use black and color for the eye.
Step 2 – Draw Bird Body Outline.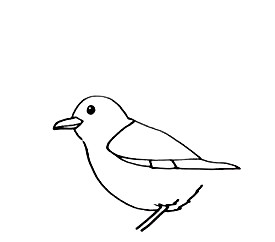 In this step, we will draw the body of the bird. For the bird's chest, you can use three slightly curved lines extending down from the bottom of the beak to form the chest. From the body, you will draw two legs for the bird, and a wing as well. You can see what this would look like for your own bird painting by referencing this helpful reference image.. Please remember to add some decoration details for a cute wing.
Step 3 – Draw In The Bird's Tail.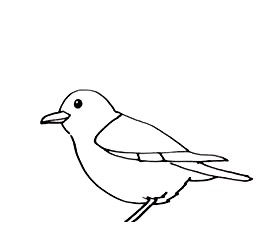 In this step, we will draw straight and curved lines connect. to make a bird's tail. It is a little complex in this step, so you will see our image and know-how to realize this mission.
Step 4 – Draw Branches For Birds To Stand.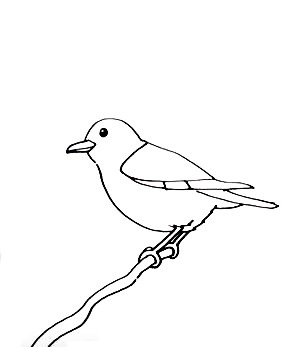 Your task here is to draw branches for birds to stand. You will draw two parallel lines to form a tree branch for the bird to stand on, then you draw two feet of the bird too. At this step, you've basically finished drawing a bird. Now you will move to step 5 to continue learning.
Step 5 – Finish Off Your Drawing Mission.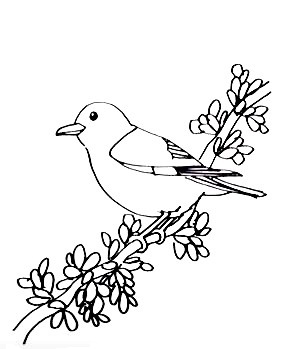 You are about to complete the task of learning how to draw a bird in this step. You will add drawing flowers in the branches for birds to stand. You can choose flowers that symbolize spring such as peach blossom, apricot blossom, a season of vitality, a season of birds or you can choose flowers like ours.
Step 6 – Color Your Bird.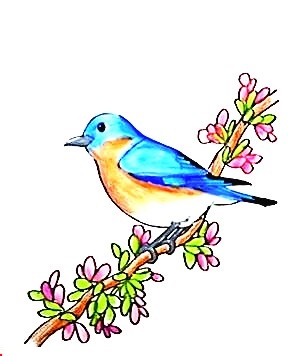 In this step, your task is simple, you just choose the suitable colors and make coloring for this bird. Here, we take blue for birds and some pink, red for flowers but you can choose any colors you like. Once, you get a complete bird, you can refer to our
Birds Coloring Pages
and draw more birds if you like. We update coloring pages daily. You can enjoy them anywhere and any time with your devices connecting internet. Drawing and coloring are good activities for us because we are stressed and worried about life. When we enjoy these activities, we can forget the things that annoy us and make our life better. If your children love birds, why not give this instruction to them. They will learn better if there are useful entertainment channels such as drawing and coloring. I hope you get a great time here.