Crane Bird Drawing Is Complete In 9 Easy Steps
Creating a complete Crane drawing in just 9 easy steps
Simply follow this easy how-to draw a Crane bird step by step tutorial, and you will have your Crane bird drawing finished in no time. You will follow the instruction to create a complete Crane in the nine-step. You must finish nine missions in this drawing. By drawing Crane, you will get a lot of information about the Crane bird, you love animals more. Drawing activity will give the comfortable for you. You can forget the stress and worries of life and your life is better. Drawing a Crane is not a simple task but it is not too difficult. You must concentrate your mind, passion, and time to realize your task. You will go to step by step to give your creation in the drawing. Below are the individual steps – you can click on each one for a sketch image to refer. Along with the tutorial, we have also included a couple of free Crane bird coloring pages that you can print off and give to your kids to color!
How To Draw A Crane– Let's Get Started!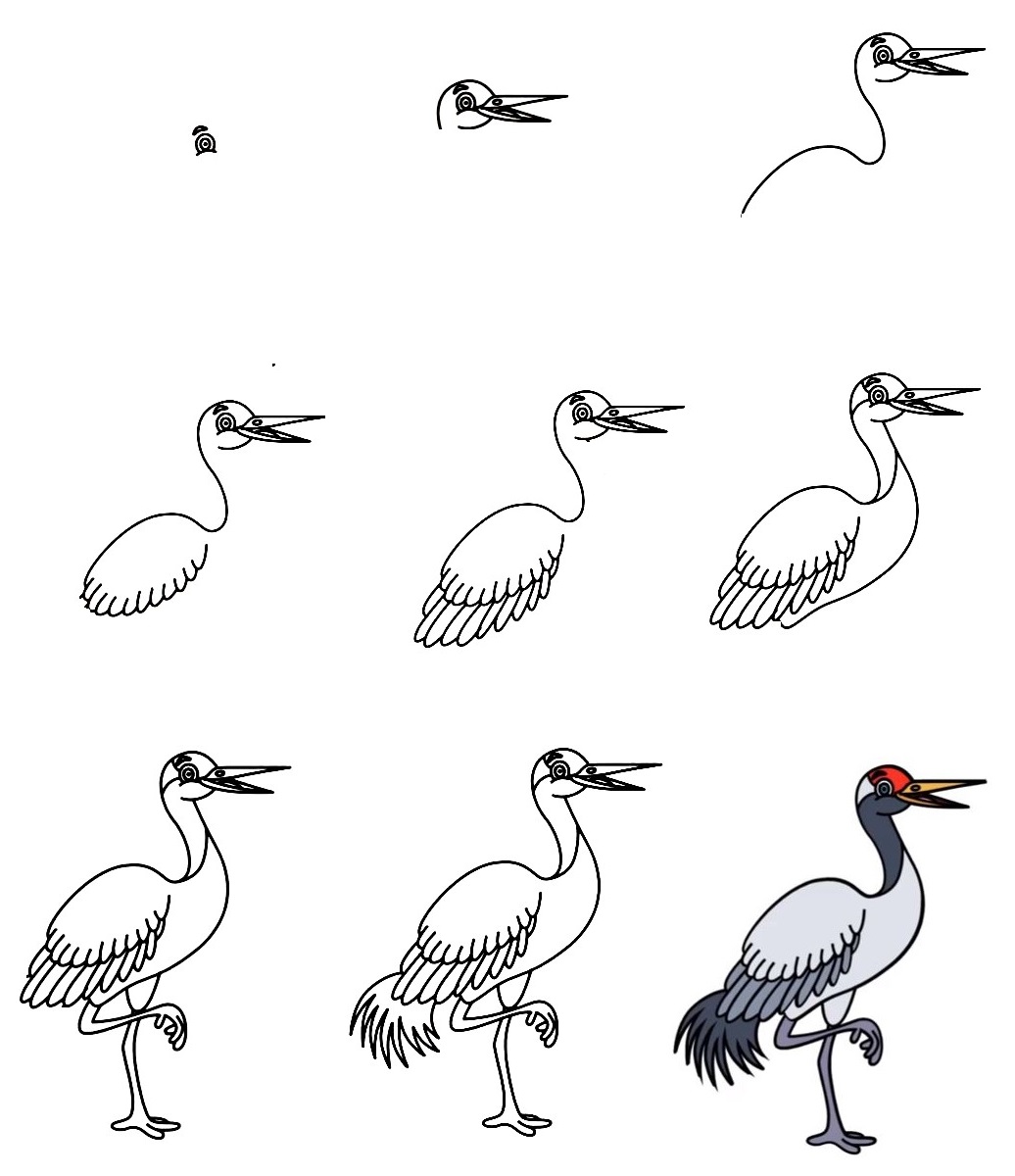 According to some site documents, the cranes are very beautiful birds, and they can reach a weight of several kilograms. This is one of the heaviest flying birds. Crane mostly stands knee-deep in the water waiting for fish or frogs that serve him food, either with a clumsy grace walks along the river or hunting in the swamp. In General, the body shape and lifestyle of the crane are reminiscent of other wading birds – storks and herons. Their characteristic appearance is due to their habitat. The crane has a powerful torso and at the same time elegant, long curved neck and long thin legs. Today, you know how to draw a standing crane leg. You will use a pencil to draw on paper; you can erase easily, so don't be afraid to draw; draw in the most comfortable way. You get a great time here, and if you are a parent, join this activity with your kids, they will surely like it. Appropriate leisure time will help children get in a comfortable mood to study better. Now, let's get started drawing a crane with us!
Step 1 – Draw A Crane's Eyes

In this guide on how to draw a Crane, we will be depicting a Crane standing on a leg. To get this started, we will begin with a nice eye for Crane. The crane has two eyes, but in this Crane bird drawing, the crane is tilted so we only see one eye, and your task is to draw an eye. You draw a circle, and you draw some circles and dots inside. You finish your task in this step and come to step 2, and continue your drawing.
Step 2 – Draw The Beak And Head Of The Crane

The Crane has a long beak which is perfect for digging through mud to find yummy roots and insects. You must show that and then draw the head using a C-shaped line. Next, draw a line for the opening of the beak; you will draw a line from the top of the eye to the back of the head.
Step 3 – Draw The Neck And Back Outline Of The Crane

You will draw a curved line that slopes down and to the left from the head. This curve will illustrate the first line of the crane's neck and back. Your task is simple in this step; you can stop work and move to the fourth step.
Step 4 – Draw Crane's Wings Outline

Cranes have very big, wide wings that help them to swim and fly very fast. You will draw a curved line for the wings outline, and then you will use many short straight lines to make it more real for the wings.
Step 5 – Finish Crane's Wings

In this step, you will complete the unfinished work of step 4. You will add more details for Crane's Wings. There is a bit of complexity here and it requires you to focus and follow our instructions. You can refer to our sketch image.
Step 6 – Draw Crane's Belly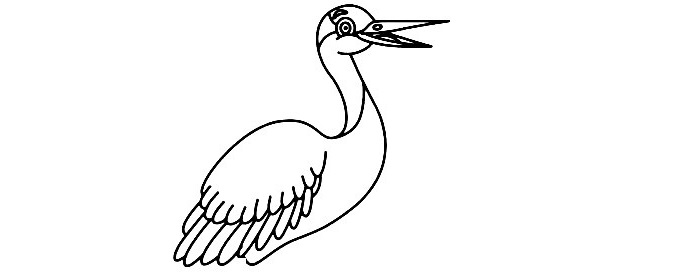 Like Crane's back, you make a long curved line just to the right of the wing. You use curves to show your big neck and fat belly here. In this step you can add some curves to show your big neck and fat belly. And now, you continue your drawing in the seven-step for your drawing.
Step 7 – Draw Crane's Legs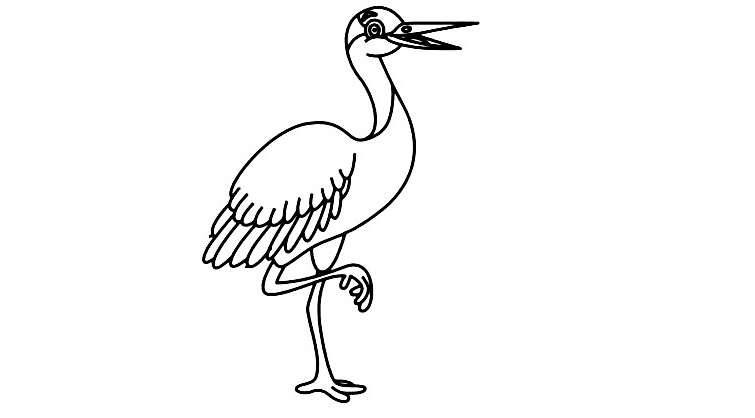 Right now, draw the legs of this very tall bird, with each leg consisting of two lines that connect into three separate toes. You use curved lines and straight lines for legs and finish this task with the feet and the toes.
Step 8 – Finish Your Drawing Mission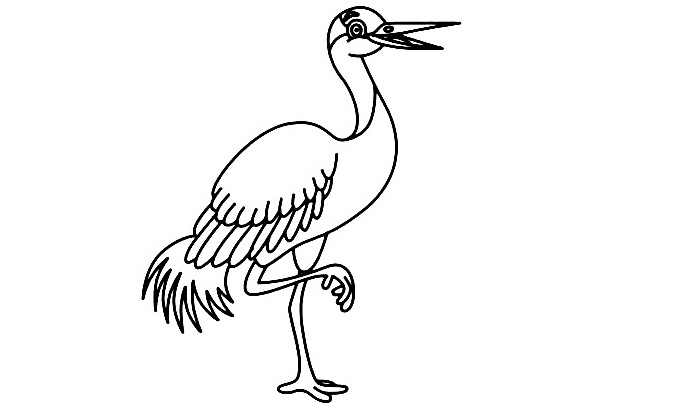 You will finish your drawing mission by drawing the tail for Crane. You will use curved lines coming down from the wings to show the tail of the Crane. It is not complex here, and you can move to the last step for coloring.
Step 9 – Color Your Crane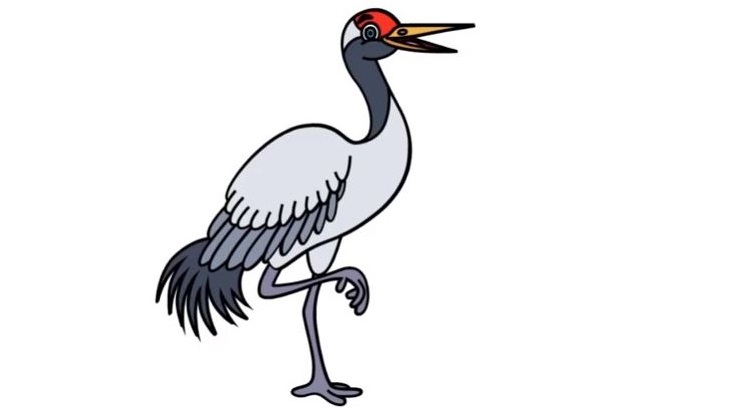 Now that you have successfully drawn a Crane comes to the most interesting step for coloring Crane. You can take any color you like for your product. There is no rule in selecting colors for drawing, and you can use your favorite colors. We choose light grey and dark grey for most of the crane's body, red for a part of the head, and yellow for the Crane break. Once you get a complete Crane, you can refer to Crane bird coloring pages and choose colors for images related to Crane. On our site, you can enjoy all activities as drawing, coloring pages, and blogs, for free. We update them daily, and if you like our games, don't forget to give us a thumb up and recommend them to your friends! I hope you get a great time here.
Use the video and step-by-step drawing instructions below to learn how to draw a Crane bird. Thanks for visiting! Subscribe to the How To Draw YouTube Channel for our new tutorial.