Ford Mustang Drawing Is Made In 8 Easy Steps
Create a nice Ford Mustang in 8 Easy steps
I have prepared a tutorial on how to draw a Ford Mustang. You will really like this easy step-by-step guide to create a complete Ford Mustang drawing. You have 8 steps equivalent to 8 missions that you need to pass. As you know Ford Mustang has been produced for a long time and has not lost its popularity, luxurious and elegant we can describe this car. Ford Mustang Ford Mustang can be considered the most beautiful car model to date.
Overall, the Ford Mustang has a sporty look with a long bonnet, a small cab, and a small trunk. It can run at high speed, the car has an attractive appearance design, and a stylish interior that is very suitable for young people.
No doubt you will enjoy drawing Ford Mustang with our guide. Our Instructions are very clear and detailed to help everyone draw the easiest task. The tutorial is designed in the easiest way, whether you are a beginner or an expert, you can easily do it. To draw the perfect Ford Mustang, pay attention to the smallest points of the car such as shadows, and highlights,..Along with this tutorial, you can also enjoy Ford Mustang coloring pages for free on our site to practice your drawing and coloring skill
How To Draw A Ford Mustang – Let's Get Started!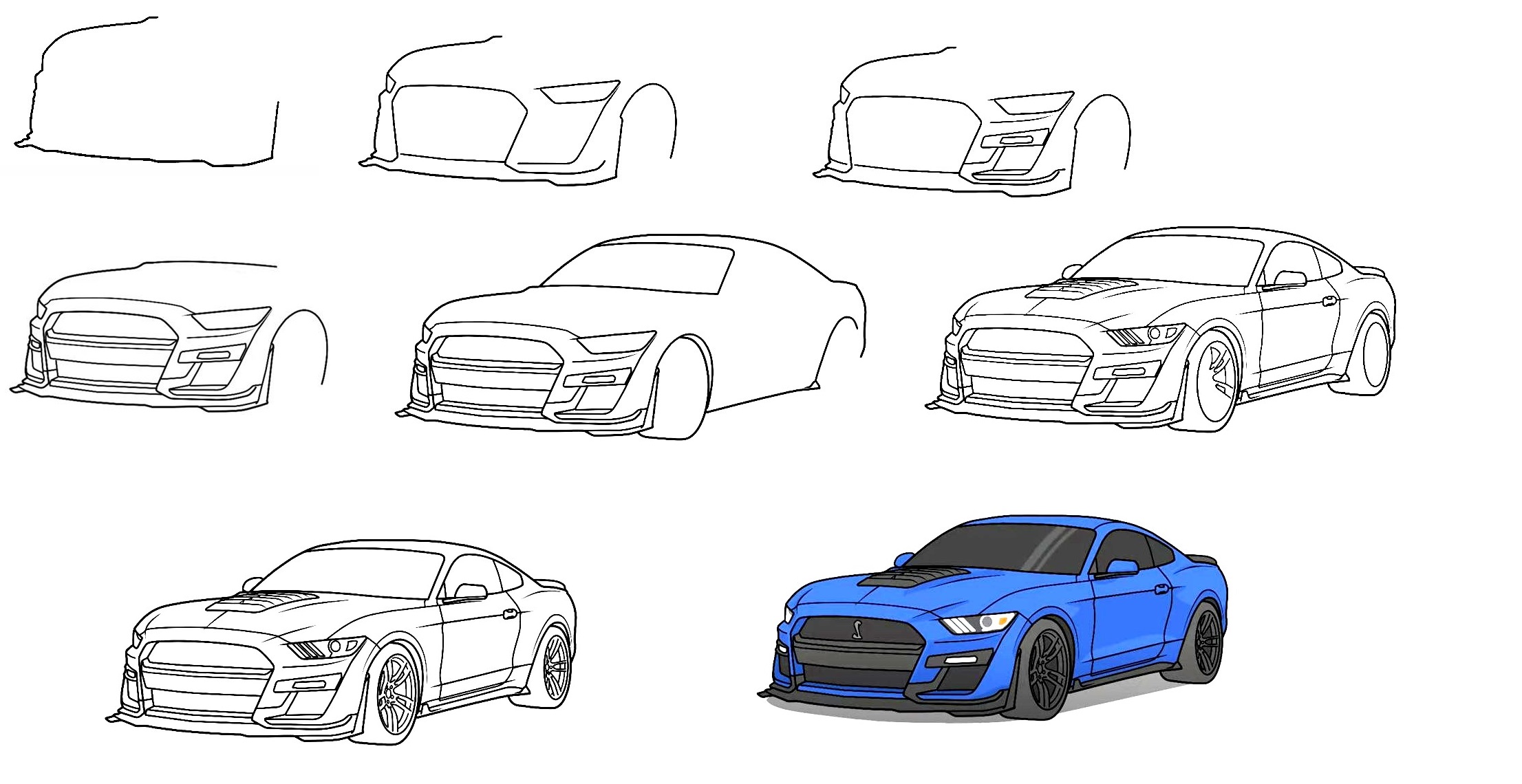 You will follow our instructions and illustration to create a complete Ford Mustang with your skill. This is not a simple mission, but it is not too difficult. You need to concentrate your mind, passion, and time here until you finish your task. Drawing will help you to feel comfortable and work more efficiently. It would help if you prepared a pencil, eraser, colored pencils, and drawing paper before drawing. You will first perform the task for the Ford Mustang with the faint pencil strokes, then you will erase the mistakes and bold the correct ones, and finally, you choose the color for your product Ford Mustang. You will color your drawing. Because you draw with a pencil, mistakes can be easily erased; you don't have to worry about making mistakes, so you can draw in your comfortable mood. And now, we will know every detail of how to draw a Ford Mustang.
Step 1 – Draw The Top Of the Ford Mustang

You will mark the top of the case with some smooth lines. In this step, if you can't draw by hand, you can use a ruler to draw the head of the For Mustang
The task in the first step is not too difficult; you can finish your task in this step in a few minutes and now move to the second step 2.
Step 2 – Add Details For Ford Mustang Top

If step 1, you draw the Ford Mustang top outline, then in step 2 for this Ford Mustang drawing, you will draw details for the Ford Mustang top.
You will use some curved lines to draw the details of the lights and some other details for the top of the Ford Mustang, as you see in our reference image. Once you are happy with your picture, you can move to the third step.
Step 3 – Continue To Draw For Ford Mustang Top Details

Similar to step 2, in this step 3 on drawing a Ford Mustang, you will add details for Ford Mustang Top.
You can observe our samples and follow along; if you are a beginner, draw slowly and naturally, and gradually you will create more beautiful images. Once you have these elements looking as they do in the reference image, you're ready for step 4!
Step 4 – Finish Off Ford Mustang Top Details

Your task in this guide for your Ford Mustang drawing is to finish off the Ford Mustang top details.
You have to complete all the details on top of the Ford Mustang in this step. You draw the details for highlights., undercarriage, and all the small details of the Ford Mustang.
You can stop creating a Ford Mustang drawing task here and continue drawing Ford Mustang in the next step
Step 5 – Draw Ford Mustang Outline

You continue to realize your task on how to draw a Ford Mustang with long curves surrounding like a real car to illustrate for Ford Mustang
You will draw the wheel arches and windows outline for Ford Mustang.
There is a bit of complexity in this step, so please take it slow until you feel satisfied with your drawing. You can go to the sixth step for your Ford Mustang drawing and continue your task.
Step 6 – Finish Off Elongated Window And Mirror

Since we are drawing the car on one side, you only need to draw one side of the car.
You will depict an oval-shaped mirror and two windows. The second window is smaller than the first one. That's all there is to this step, so you draw the final step in the seventh step.
Step 7 – Finish Off Your Drawing Mission

You will complete all details for Ford Mustang drawing in this seventh step. Add details to all the kits on the Ford Mustang.
It's great that you have finished drawing for Ford Mustang and you have the last step for coloring your drawing
Step 8 – Color Your Ford Mustang

Here, you must choose the color for your product, Ford Mustang. You can take any color you like and then make coloring for it.
It can be said that this is a simple step, but you need to use the right colors to make the Ford Mustang more beautiful. We use blue and black for our Ford Mustang drawing, and what color would you like for this product?
Your Ford Mustang Drawing Is Complete
You create a complete Ford Mustang drawing in our six steps and get a fun time. This is an interesting mission and suitable for everyone. If you are a parent, you can join in this activity with your kids; they will surely like it. Your kids have the opportunity to better understand his preferences as well as psychology. In addition, children participating in drawing and coloring activities will practice more skills such as pen-holding skills, painting skills, and concentration skills. They also avoid using technical devices such as television, tablets, and smartphones,…they are not good for their eyes and evolution. If you want your kids to develop comprehensively, in addition to learning time, you need to give them appropriate entertainment channels; drawing and coloring is not bad entertainment channel; after hours of intense study, children will be free to create with images. You can find the education products on our site Coloringcool.com; we update them daily; you can come here each day and make sure you never miss out! Besides Ford Mustang drawing, you also can enjoy more similar vehicles instruments such as How To Draw A School Bus on our site. I hope you get a fun time here and are happy with the Ford Mustang drawing!