School Bus Drawing Is Complete In 6 Easy Steps
Creating Cute school bus drawing in just 6 easy steps
Follow this easy how-to draw a school bus step-by-step tutorial, and you will have your school bus drawing finished in no time. You will follow our guide to create a full school bus with your drawing and coloring skill. We give detailed instructions from easy to difficult, and you will finish all tasks. This is a familiar means of transport to help students move quickly. You can profit from your free time and get a great time with our drawing on our site. Why not? It is free, and you can come here anytime and anywhere with your device connected to the internet. If you are a parent, this is an excellent opportunity to know and understand your kids, through which you have a better method of educating children. This activity will help you and your kids get time together, get closer and understand each other better. Along with the tutorial, we have also included a couple of free school bus coloring pages that you can print off and give to your kids to color!
How To Draw A School Bus – Let's Get Started!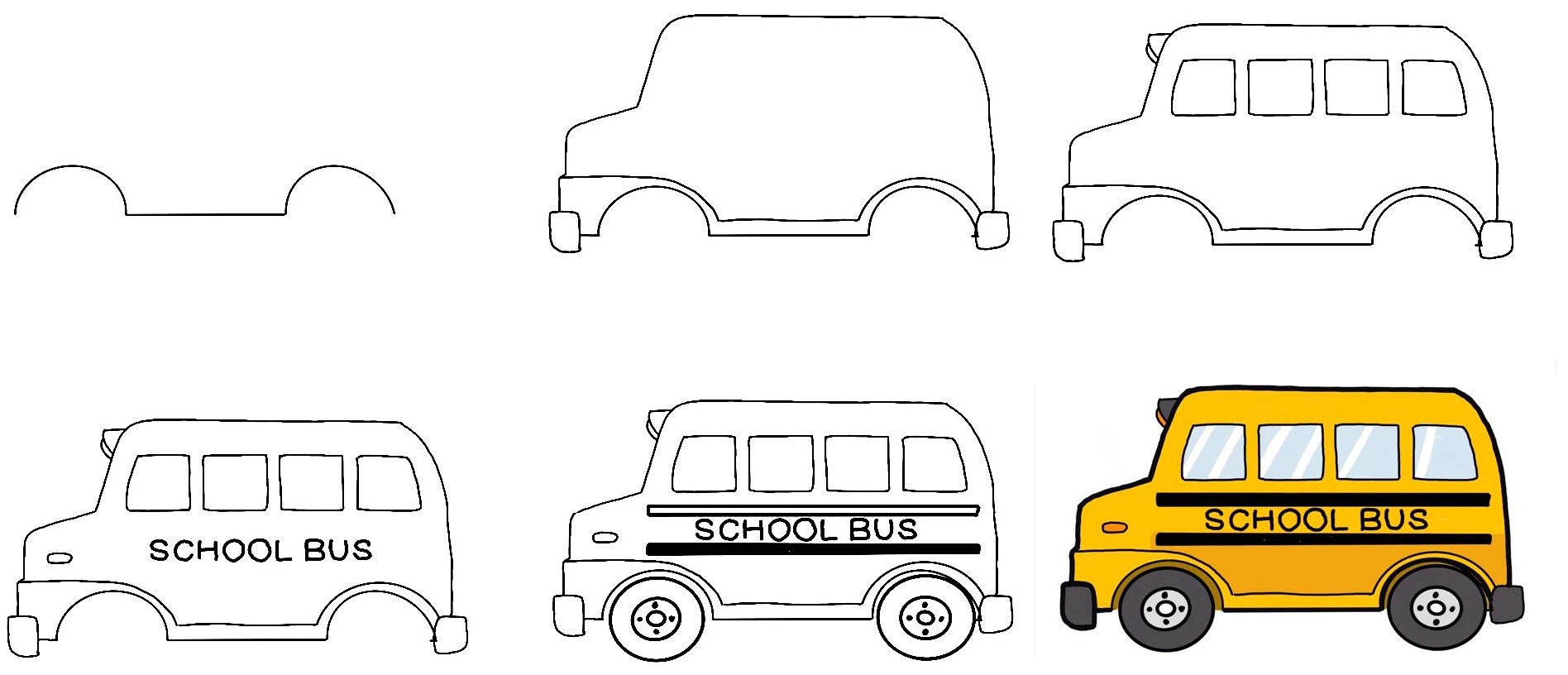 You will follow step-by-step instructions in our guide to creating a complete school bus. You prepare some things such as paper, color, crayon, pencil,..before drawing. You use a pencil to draw on paper, and you can erase mistakes easily, so don't be afraid to draw. You can draw in the most comfortable mood. You can come here with your kids, and you can teach kids to draw with their ability. Learning to draw will help children develop many skills, such as pen skills, language development skills, concentration skills, and painting skills,…They are suitable for their evolution. Today buses have many different designs and colors depending on your preferences, and you can choose a particular style to draw and practice. Today we will show you how to draw a simple bus style. You can enjoy it in your free time, which is good entertainment. Now, let's get started drawing a school bus with us!
Step 1 – Draw School Bus Wheel Outline

You will draw two half-circles for two wheels because we are marking the car on one side, so we only see one front wheel and one rear wheel, so we will also only draw two visible wheels. As we see in our illustration, you draw a straight line to connect two wheels. You can move to step 2 and continue your drawing.
Step 2 – Draw The Shape Of A Bus
You use curved lines and straight lines to create a shape of a bus. You can observe our illustration and follow it. Take a look at our drawing, and you will see that it only takes a few simple strokes to sketch the shape of the school bus.
Step 3 – Draw School Bus Window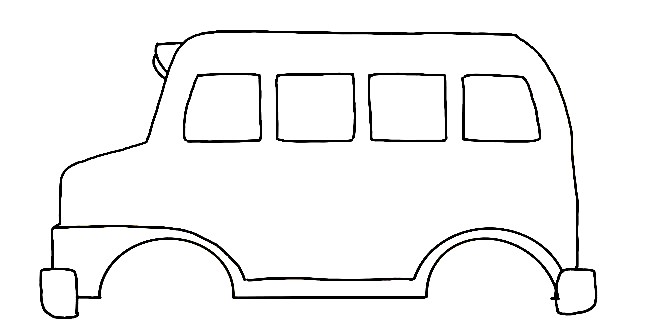 In this third step of our guide on how to draw a school bus, we will be adding some windows to your school bus. In the shape of a bus, you draw two simple squares and two rectangles for four bus windows. It's not too difficult for you, and you can follow our illustration in this step. Once you finish the mission for the image of this step, you move to step 4 and continue drawing your school bus.
Step 4 – Add Some Decoration Details For Bus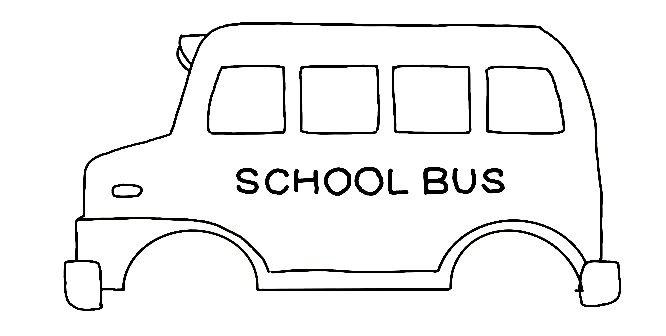 We have another simple step for you in this part of your school bus drawing! All you need to do for this step is add some letters for School Bus on your product. Then, you can add some lines parallel to the lines you drew earlier to make the bus look more natural and alive. That's all there is to this step, and you're ready for some final details.
Step 5 – Finish Your Drawing Task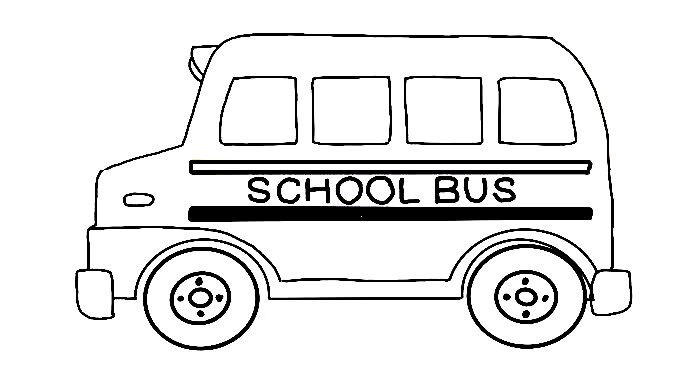 Before making the color for your bus, we have a few final details to add to this guide on drawing a bus. You will finish drawing the bus wheel that you didn't draw before. You will make decorating for the wheels as well. So, your school bus is almost complete with all the parts needed to make a complete bus. Now, you can add some decoration for the door, windows,..foe bus to finish the task of this step.
Step 6 – Color School Bus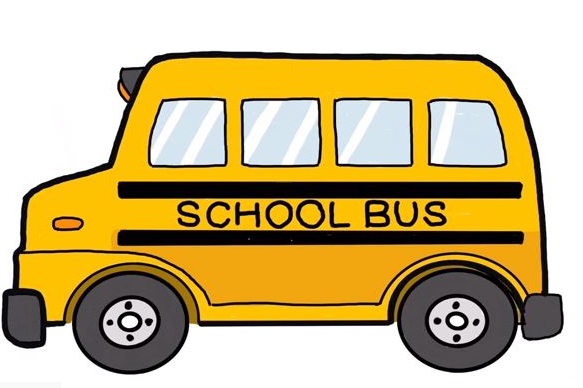 You finish work to create a complete Your bus is an almost complete school bus with some colors. School Bus can be green, blue, yellow, red and red. So, you can take your favorite. With our illustration, we use yellow for your reference. Of course, we also add some colors, like black for the wheels and the word "school bus" in gray for the windows.
Your School Bus Drawing Is Complete!
You complete your drawing and coloring work for the school bus. We update drawing daily, and you can come here every day to enjoy our products. You can play online, download, or print school bus coloring pages on our site. So, you know how to draw a school bus. With us. You can spend time and enjoy our products here to get funny. I hope you like our guide and recommend your friends to come here and get their counterparts.