How To Draw LOL Doll – The Details Instructions
Every Christmas brings with it a toy craze, as parents rush to the stores in the hope of grabbing this year's must-have present before the shelves run dry. Every girl loves LOL Surprise Doll, so parents can buy Lol Doll to make a present for girls on a surprise occasion. You know that a doll is a model type of a human or humanoid character, often used as a toy for children, especially little girls. Dolls have also been used in traditional religious rituals throughout the world. Traditional dolls made of materials such as clay and wood are found in the Americas, Asia, Africa and Europe. The earliest documented dolls go back to the ancient civilizations of Egypt, Greece, and Rome. Today, you get an opportunity to learn to draw LOL Doll with us in this article. Once, you finish your task here, you can choose colors and make Coloring for Doll on LOL Dolls coloring pages at our site. You get many coloring pages here and choose the suitable colors and make Coloring for them.
How To Draw LOL Dolls – Let's Get Started!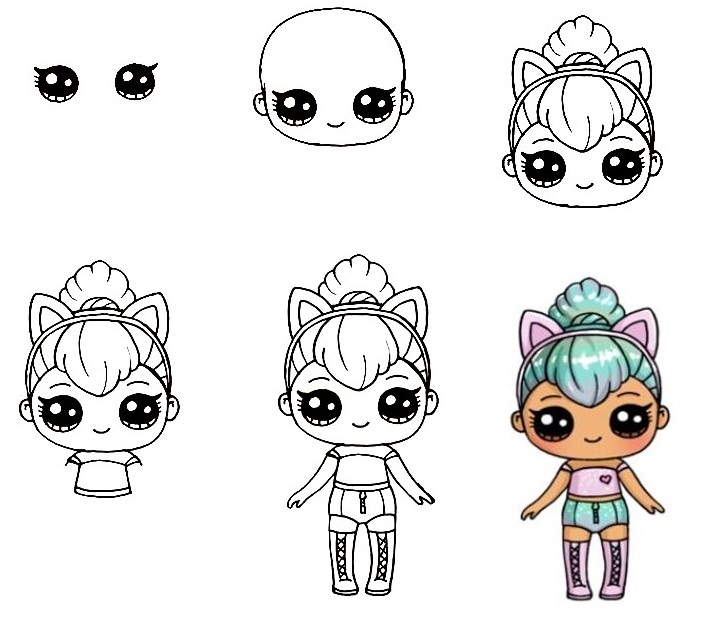 They have been made as crude, rudimentary playthings as well as elaborate art. LOL Dolls is of German origin. from the 15th century. With today's modern technology, dolls are made of many different materials as with industrialization and new materials such as porcelain and plastic, dolls were increasingly mass-produced. Now, LOL Dolls became increasingly popular as collectibles. They are omnipresent of little girls such as a room. Most of the girls' rooms have their pretty dolls. LOL Dolls are the best friends of the girls. They get a chance to know more about LOL Dolls with this learning how to draw Lol dolls. To realize this article not simple, so you must be concentrate in these six steps here. you will follow us in each step. We provide illustration images in each step. You will start drawing LOL Dolls and making Coloring for those Lol dolls in
LOL Dolls coloring pages
with many Doll images here.
Step 1 – Draw LOL Dolls's Eyes.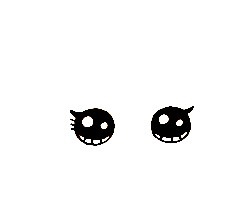 You will start to draw LOL Dolls by two dots. You will draw two big dots and use black to color the two pupils, you will also leave spaces for the Doll's eyes. There are many eyes type that you can draw but you can draw two big round eyes, normally. You can add eyelashes to her eyes to give her eyes a deep and beautiful look.
Step 2 – Draw LOL Dolls's Face Outline.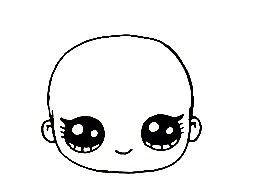 The Doll that we will be drawing in this guide will be a bit stylized, as it will have a large head with a small and thin body. To begin drawing this head, first, you can draw a curved, rounded horizontal line. This is an oval for her face. You can add a small curve for her mouth as well now. You will add 2 ears for her you will draw a small closed curve for her ears draw 2 ears on either side of her head. Once you have these elements looking as they do in the reference image, you're ready for step 3!
Step 3 – Draw Hair And Crown For LOL Doll.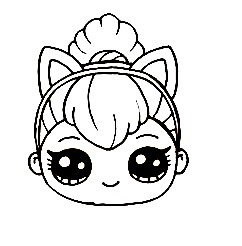 Dolls will often have a pretty hairstyle that you can change and brush. So, you must show the beauty of her hairstyle. You can use our image and follow it. Here, you can choose some details for her hair as well. You will finish this task in some minutes and move to step 4.
Step 4 – Draw The Top Half Of The LOL Doll's Body.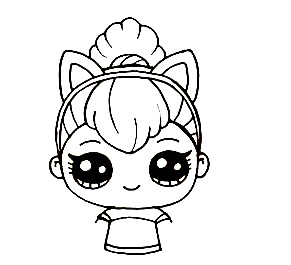 In this step, you must draw the top half of the Doll's body. It is very simple here. In the same way that dolls usually have a pretty hairstyle, they also usually have a cute outfit as well. We shall be adding the start of that outfit to your doll drawing in this next part. Here, you draw top of her dress. That's all there is to it for this step, so when you're happy with its look, we shall continue adding to the Doll in the fìth step.
Step 5 – Finis Your Drawing Mission.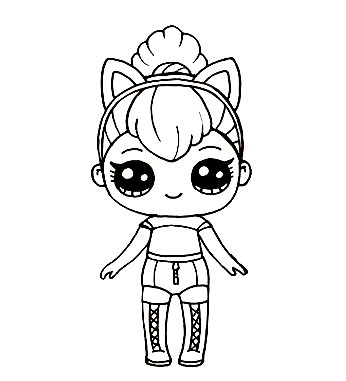 You will finish all your drawing mission here. Now, you will add some detail to your drawing. You add arms, skirt, legs…for your Doll. From her body, you draw the 2 parallel lines for her arm and finish with her hand. You draw the same arm this way. Then you will add her leg, details for the skirt,..for her as well. Please don't forget two draw her shoes, socks for her too. From the body, you would draw parallel lines representing her legs and ending at the shoes and socks. The way she drew her other leg is also the same
Step 6 – Color LOL Doll.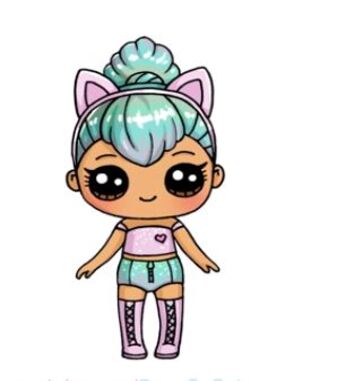 Here is time for Coloring. You will choose the suitable colors for your LOL Doll. We take light pink for her skin and some other colors as light purple, green for her dress, hair,..You can take your favorite colors for your products. So, you finish your drawing and your Coloring here. Now, you can choose colors for LOL Dolls coloring pages on our website. Here we collect hundreds of Dolls images here. If your girls are big fans of Dolls, please hesitate to give images for them. They will sure like them. Drawing and Coloring are good activities for everyone, especially for babies because they can avoid technology equipment as smartphones, tablets, computer,…I hope you get a great time here with us!
DON'T MISS