6 Simple Steps Making A Lol Doll Drawing
Creating A Lol Doll Drawing In Just 6 Easy Steps!
You get a chance to create a Lol Doll drawing with our guide.
We have given six steps equivalent to 6 tasks you must realize to complete a Lol Doll. You will have to go step by step and follow all our instructions to get the most satisfactory results.
Lol Doll is a toy for girls; parents, teachers, or grandparents can give girls gifts according to their preferences on special occasions such as birthdays, Christmas, or New Year. And most girls love Lol Doll. This is a traditional toy that has existed for a long time worldwide, such as in Europe, Asia or America, etc.
Currently, on the market, there are many Lol Dolls in many different shapes and sizes; depending on your financial conditions and preferences, you can choose a few suitable Dolls for your little girl.
You need to have the supplies such as a pencil, pen, paper, colors, and eraser to sever your drawing. Then you will draw Lol Doll with pencil and paper; using pencil and paper will help you erase your mistakes very quickly. You will be able to remove them and redo them until you are satisfied. So, you can draw in a comfortable way, don't worry about your mistakes.
Besides drawing guides, you can find Lol Doll coloring pages for free on our website to practice your drawing and coloring skill. A lot of practice will help you improve your drawing and coloring skills.
Right now, you will go to the six details step of our guide on how to draw A Lol Doll with us!
How To Draw A LOL Doll – Let's Get Started!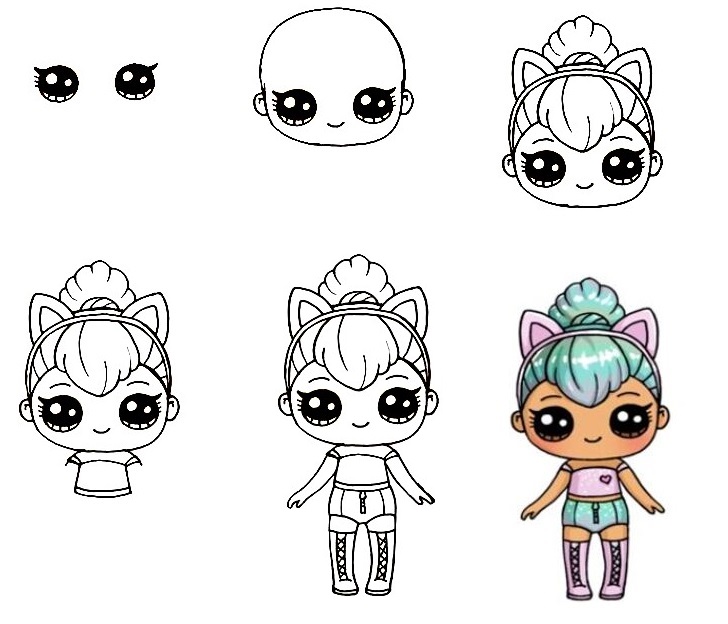 Step 1 – Draw LOL Doll's Eyes

You will start to draw a LOL Doll of our guide on how to draw a Lol Doll with two dots. You will draw two big dots and use black to color the two pupils; you will also leave spaces for the Doll's eyes. There are many eyes type that you can draw, but you can draw two big round eyes, normally. You can add eyelashes to her eyes to give her eyes a deep and beautiful look.
Step 2 – Draw LOL Dolls's Face Outline

The Doll we will be drawing in this guide will be a bit stylized, as it will have a large head with a small and thin body. You can draw a curved, rounded horizontal line to begin drawing this head. This is an oval for her face. You can add a small curve for her mouth as well now. You will add two ears for her; you will draw a small closed curve for her ears and draw two ears on either side of her head. Once you have these elements looking as they do in the reference image, you're ready for step 3!
Step 3 – Draw Hair And Crown For LOL Doll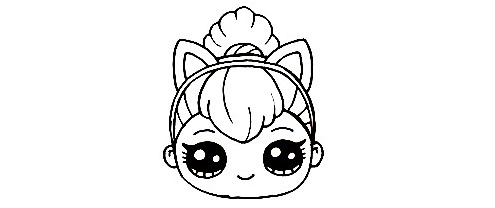 Dolls will often have a pretty hairstyle that you can change and brush. So, you must show the beauty of her hairstyle. You can use our image and follow it. Here, you can choose some details for her hair as well. You will finish this task in some minutes and move to step 4.
Step 4 – Draw The Top Half Of The LOL Doll's Body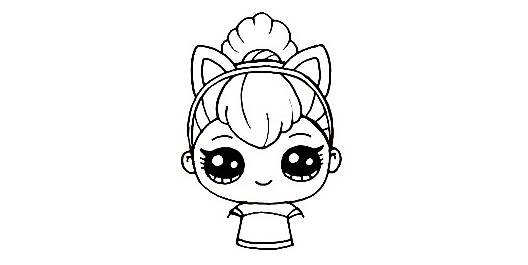 In this fourth step of our guide for the LOl doll drawing, you must draw outfits for your character. You will start with the bottom. Very simple for you because you can use our reference image and follow it. Once you think good, you're ready to move to step 5 to continue designing outfits for your character.
Step 5 – Finish Your Drawing Mission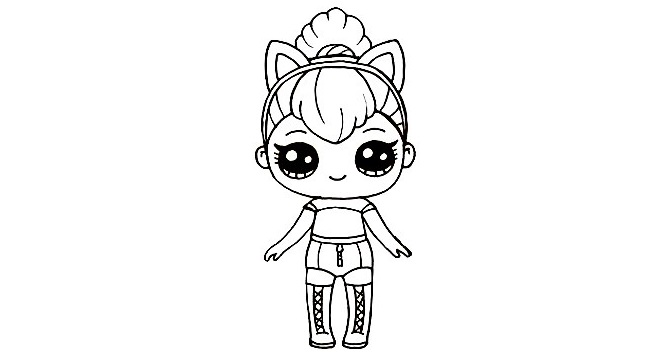 You will finish all your drawing mission. Now, you will add some detail to your drawing. You add arms, a skirt, and legs for your Doll. From her body, you draw two parallel lines for her arm and finish with her hand. You draw the same arm this way. Then you will add her leg, details for the skirt,etc for her as well. Please don't forget two draw her shoes and socks for her too. From the body, you would draw parallel lines representing her legs and ending at the shoes and socks. The way she drew her other leg is also the same.
Step 6 – Color Your LOL Doll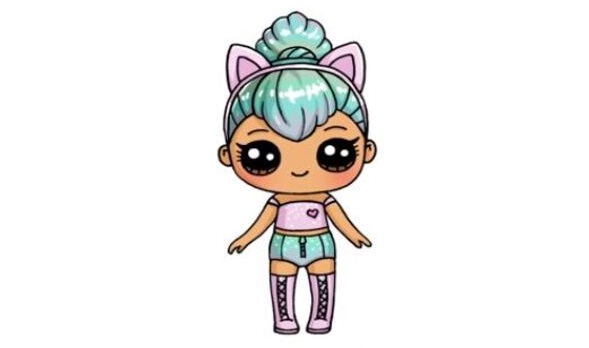 It's time to color for your Lol Doll. You will choose suitable colors for your product. We take light pink for her skin and some other colors, such as light purple and green for her dress and hair. You can choose your favorite colors for your products. So, you finish your drawing and your Coloring here. Now, you can select colors for LOL Dolls coloring pages on our website. We collect hundreds of Dolls images here. If your girls are big fans of Dolls, please hesitate to give images for them. They will sure like them. Drawing and Coloring are suitable activities for everyone, especially babies because they can avoid technology equipment such as smartphones, tablets, computers, etc. I hope you get a great time here with us!
Your LOL Doll Drawing Is Complete!
You have completed the task of drawing and Coloring to create a complete LOL Doll drawing with us. I hope you have fully understood our instructions and completed all the tasks easily. On our website Coloringcool.com, there are some drawing guides such as Princess Peach drawing, or Princess Sofia drawing. These are the little girls' favorite princesses; you can guide them to draw princesses or Dolls. ColoringCool also hopes you will have the most comfortable time. Once you get a complete Lol Doll, you can shear it on your Facebook and Pinterest for us to see.