How To Draw Skye From Paw Patrol – The Details Instructions
Creating Cute Skye drawing in just 8 easy steps.
We have created a step-by-step tutorial on how to draw Skye from paw Patrol, summed up in 8 quick and easy steps. You will create Skye drawing with our guide. This is not a simple task but it is not difficult, you need to concentrate your mind, passion and time and finish your task. This is also an interesting task a good entertainment channel and suitable for everyone. Why not? You can come here anytime, anywhere when you are free. Learning drawing will help you to get a comfortable time. If you are a parent, please give this tutorial to your kids, you and your kids get an opportunity to understand together. Your kids will like surely this character and that's why this tutorial in front of you is here, as you will learn everything there is to know about drawing an awesome Skye from Paw Patrol. More we have Paw Patrol coloring pages, you can find images related to Skye and you can practice your drawing skill and choose colors for your images.
How To Draw Skye – Let's Get Started!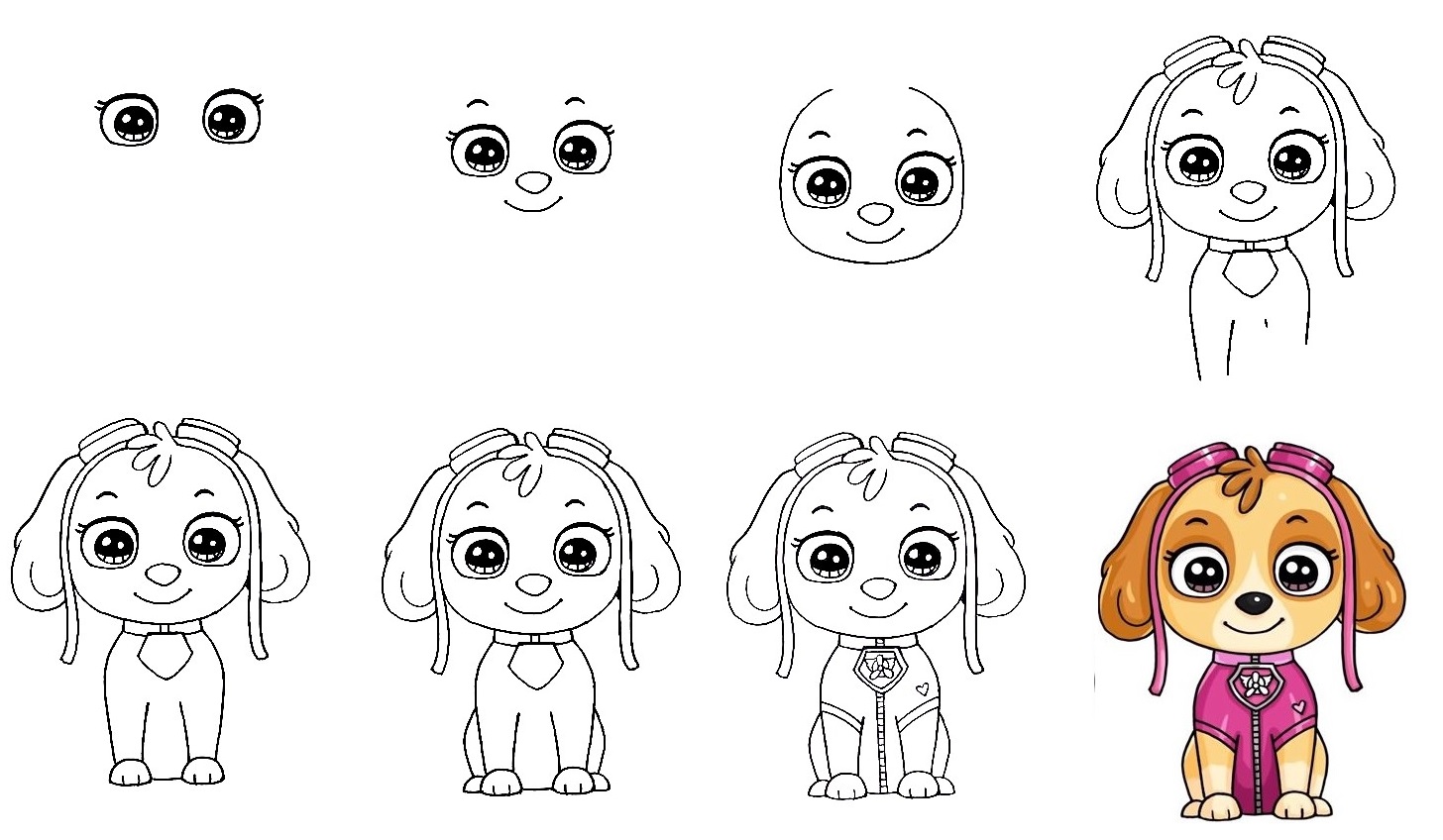 As you see, Skye is a fearless and smart Cockapoo who loves to fly in her helicopter or with the wings in her pup pack. She tries everything with a backflip, grace, and a smile. This tutorial explains how to draw Skye from Paw Patrol with detailed examples for each step. You will prepare some things such as paper, color, pencil, and pen before drawing. You can take advantage of things you already have in your home so you don't have to pay for them. Use a pencil to draw on paper, you can erase your mistake easily, so, please don't be afraid to draw, draw in your own way and feel as comfortable as you can, then this is truly a leisure activity that will help you relax completely. You will join in this activity with your kids and you get a chance to know more about your kid's hobby. Now, let's get started to draw Skye with us!
Step 1 – Draw Skye's Eyes.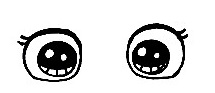 For the first step of this guide on how to draw Skye, we will be focussing on the eyes of Skye. You will draw two circles with a dot inside each one, then you use black to make coloring for them. So you finish drawing with Skye's Eyes and pupils. You can move to the second step now.
Step 2 – Draw Eyebrows, Mouth, And Nose For Skye.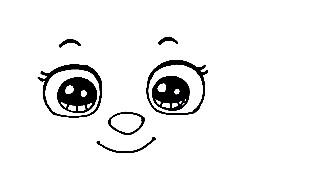 Now, You draw to short curved lines for eyebrows, then, you will be drawing a relative nose with a triangle. To finish off this step, draw a long, smiling mouth extending to the left from beneath the nose. You continue your drawing in the third step.
Step 3 – Draw Skye's Head Outline.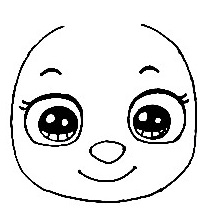 You can start to draw the head by drawing a large rounded shape for the ear on the left. Then, use some curved lines connecting to one another for the top of the head. This is a simple oval and you next to step 4.
Step 4 – Finish Head drawing And A Part Of Body.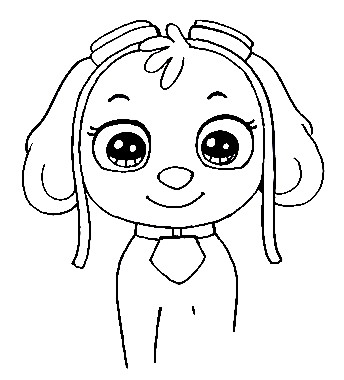 This fourth step of your Skye drawing will see you adding some details for the head. You will add some hair and decorations for the head. You use mostly curved lines to realize the task in this step. After that from face, you draw two parallel straight lines for the neck and shoulders. Draw the straight and curved lines coming down to create a part of the body for Skye.
Step 5 – Draw Two Front Legs Of Your Skye.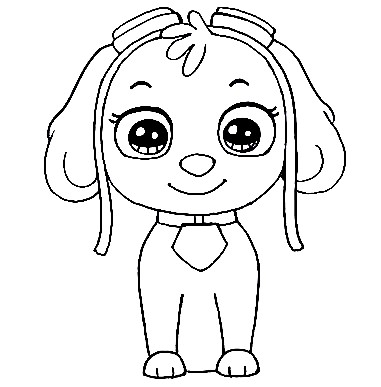 For this part of our guide on how to draw Skye, you can add two front legs for your character. The leg will be quite short and thick with the toes and a large paw at the end. There will then be a short little leg coming down from that with some small curved toes at the base. Then, draw a smaller curved line for the chest near this leg.
Step 6 – Draw Two Back Legs Of Your Skye.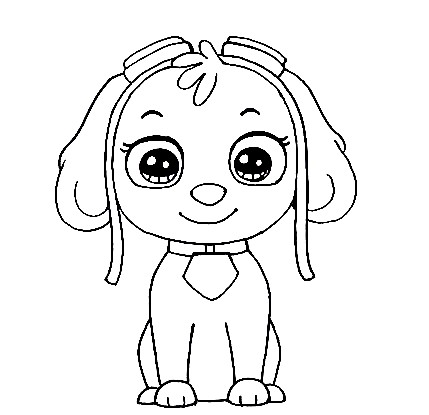 Same as step 5 now we draw 2 hind legs for the character, Skye. Since the hind legs, we can only see part of it, so we don't need to draw the whole leg, we just need to draw the visible part. The hind legs also end with the toes and claws at the bottom.
Step 7 – Finish Your Drawing Task.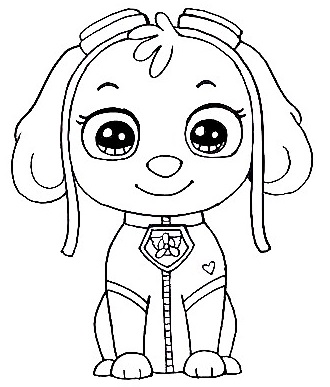 Before you move on to the final coloring stage of this guide on how to draw Skye from Paw Patrol, you have some final details and elements to add. At the neck of this character, you can add some decoration details such as a necklace to make decorations. You move on you can add some final details to the image. As you can see in our reference image, we have added some lines at the belly for Skye.
Step 8 – Color Skye.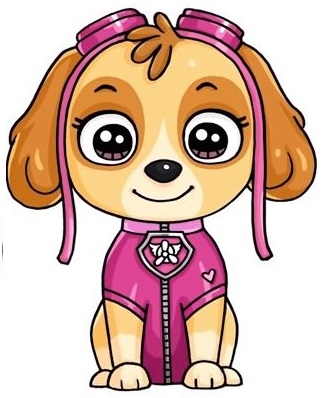 This character has a lovely color scheme of alternating pink and light yellow and this is the approach we went within our example for this Skye drawing. However, you are free to choose your favorite color to color your character. You can use different coloring tools to have a great experience here. You can move to
Paw Patrol coloring pages
to enjoy coloring pages related to Skye and other characters in the Paw Patrol series, we update the hundred of hearts and you can color or practice drawing. You know
how to draw a Skye
on our website for free and you can recommend your friends here and get a fun time.
DON'T MISS