8 Easy Steps To Create A Vampire Drawing – How To Draw A Vampire
Vampire drawing Is Made Through 8 Steps
In today's challenge, you will get to know creating a vampire drawing with us in eight steps.
A vampire is a fearsome monster with two fangs and specializes in sucking the blood of others.
Today you will have a chance to draw a vampire girl with us to understand more about this monster.
Halloween is coming, and if you want to get a picture of a vampire, this is your chance to create a complete monster.
Drawing vampire is a rather complicated task that you must focus on during the learning process.
Please follow our instructions, there are eight steps equivalent to eight missions that you finish.
In each step, we also provide an illustration to help you realize your mission quickly.
We have also arranged the tutorial from easy to difficult. You can easily do it whether you are a beginner or a drawing expert.
You must prepare all pens, pencils, colors, paper, and eraser, and then you will draw this vampire with pencil and paper. Using a pencil to draw makes it easy to erase mistakes and redraw them until you are satisfied.
Once you get a complete vampire, you will choose the suitable colors for your character. You can ultimately determine the color according to your preference if you are satisfied with your vampire drawing.
Along with this drawing guide, you also enjoy vampire coloring pages free to practice your drawing and coloring skills. If you practice regularly, your drawing and coloring skills will improve.
Right now, you will go to eight steps on how to draw a vampire with us!
How to Draw A Vampire – Let's Get Started!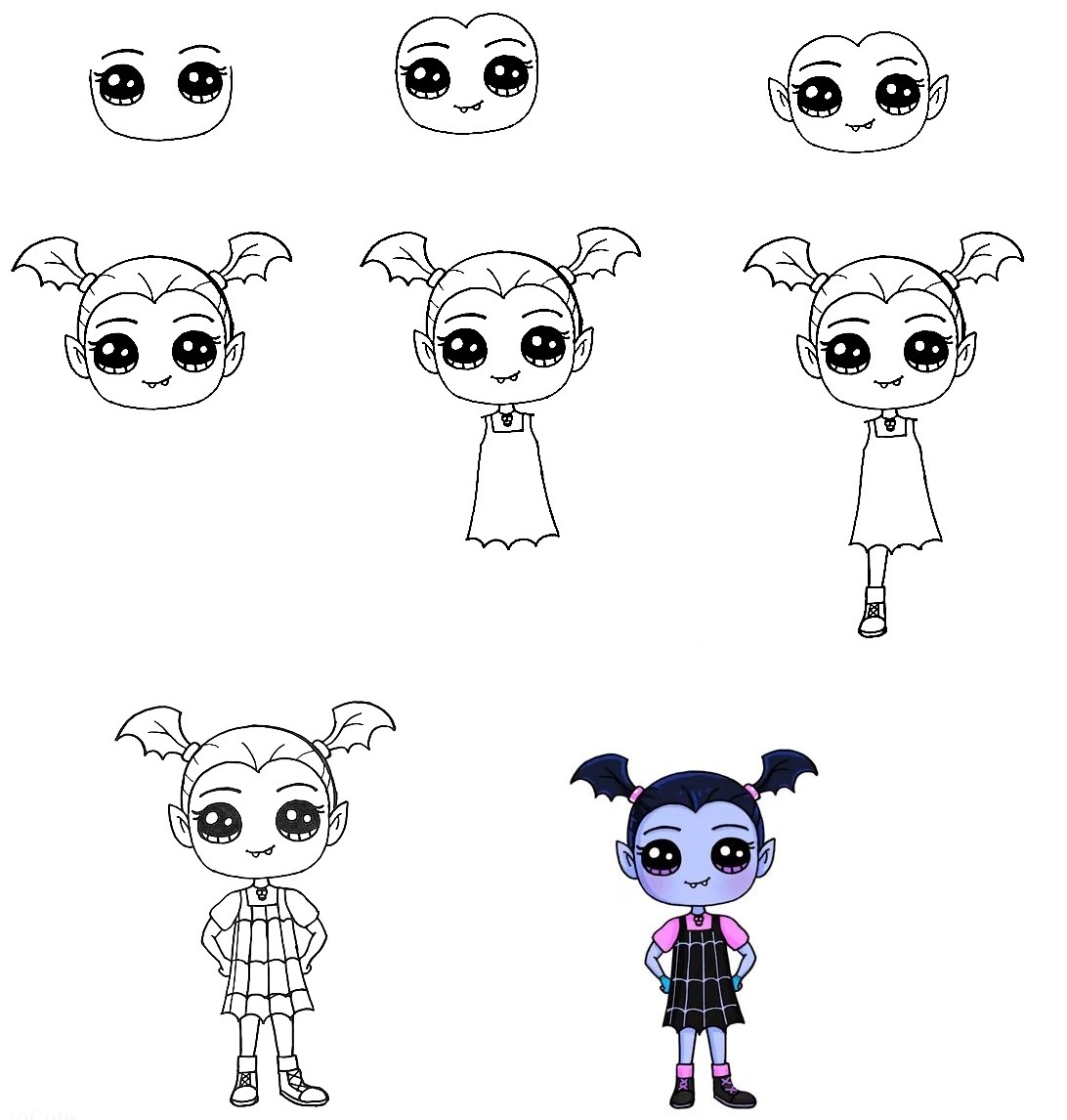 Step 1 – Draw Vampire's Face

Start drawing a vampire girl with her face. For this task, in this step of our guide on how to draw a vampire.
Use a curved line to draw a vampire's face outline, draw two eyes with two circles, and then use two little curved lines for two eyebrows.
Step 2 – Draw Head And Mouth For Vampire

Your task in this second step of our guide on how to be a vampire is to draw her head and mouth.
You continue to use curved lines for this task. Please don't forget to draw two fangs for her; this is the hallmark of a vampire.
Step 3 – Draw The Vampire's Ears

It's time to draw ears for your monster. Draw a curved line similar to a backward letter C on each side of the head as a guide for the vampire's ear.
Once you're happy with your drawing, you can move to the fourth step of our guide on how to draw a vampire to continue your mission.
Step 4 – Draw The Vampire's Hairs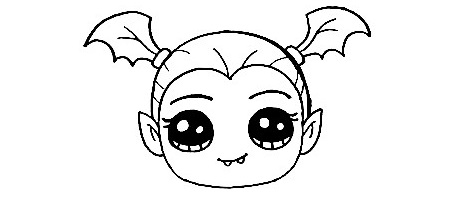 For your task in this step of our guide on how to draw a vampire, you must draw hair for your character, vampire draw.
To draw your vampire drawing's hair, you will draw two tufts of hair on her head, as you see in our reference image.
You can move to the fifth step when everything in this step is done.
Step 5 – Start Drawing The Vampire's Body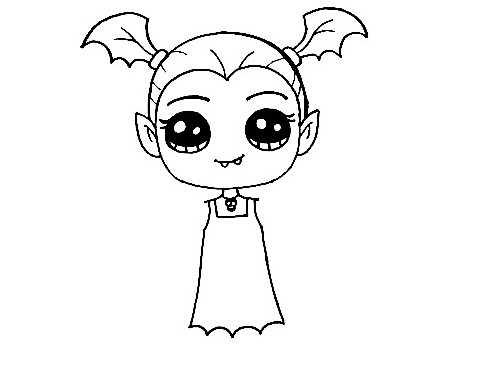 You start drawing a vampire's body with the shirt she is wearing. From her head, you draw her neck and use curved to show her shirt.
You can look at our reference image to draw along, making your task easier.
Step 6 – Draw The First Leg For Your Vampire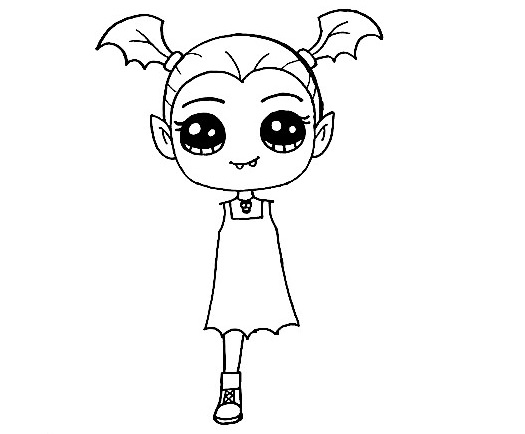 In this step, your mission of the vampire drawing is to use two parallel lines to draw the legs for your monster, and finish drawing the legs with a shoe.
That's all you need to do in this step, and quickly move on to the next step for your vampire drawing.
Step 7 – Draw The Final Details For Your Vampire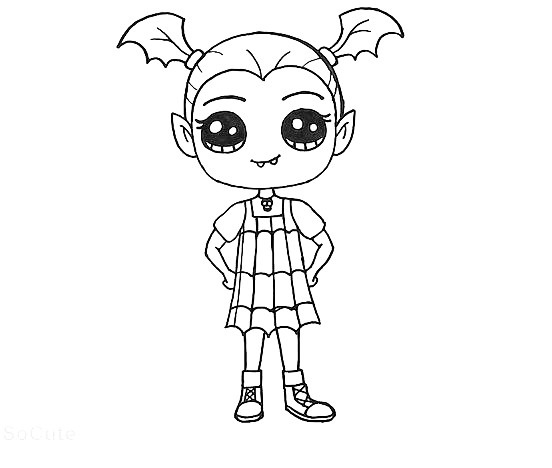 In this step, you must draw all the remaining details to create a complete vampire.
There are a lot of details to work with here. First, you have to draw the other leg for the character. Similar to the task in step 6, you will use two lines to draw her legs and her shoes.
Next, you have to draw two hands for your vampire. Her hands are on her hips, as you see in our illustration.
The last task in this step is to choose some details to decorate your vampire before moving to the final step of coloring your vampire.
Step 8 – Color Your Vampire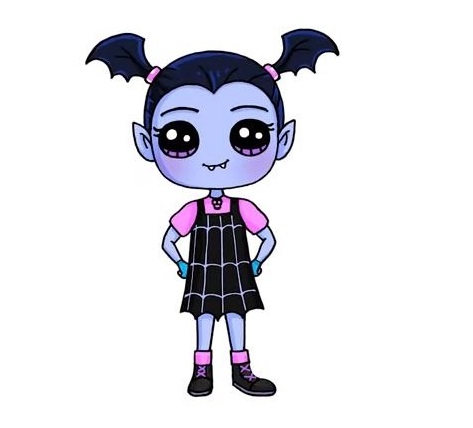 This step is where you must choose a color for your character, a vampire drawing. You can choose the colors according to your preference as there is no rule for vampire colors, and there is no limit to your creativity as long as you feel the color you choose suits your drawing.
As you see in our reference image, we chose black for the hair and shoes, pink for the shirt, and peach for the vampire's skin.
Once you get a vampire drawing, you can shear it on your Facebook and Pinterest pages for us to see.
Your Vampire Drawing Is Complete!
So you have completed our tutorial's task of drawing and coloring on how to draw a vampire. Do you find it too complicated? I hope you can fully understand all our instructions and be satisfied with the final result.
On our website Coloringcool.com, You can find more drawing similar to vampire drawing such as Darkrai drawing or Charizard drawing you can enjoy many educational products such as coloring pages or drawing guides. Hopefully, you like this drawing guide and will come back here to enjoy more of our products with your friends and relatives.