How To Draw Badtz Maru – 7 Simple Steps For Creating Cute Badtz Maru Drawing
Create Cute Badtz Maru Drawing In seven Easy Steps
Now you have a chance to know how to make Badtz Maru drawing in seven easy steps with us. Badtz Maru drawing inspiration is sorted from easy to difficult by us, so anyone can participate, from children to adults, from beginners to experts in the field of drawing. In each step we have illustrations so you will easily perform your task, you follow the sequence of steps and complete the task at each step. Participating in drawing lessons will make you feel at ease, love life, and work more efficiently, through which you will also have a better life.
How To Draw Badtz Maru – Let's Get Started!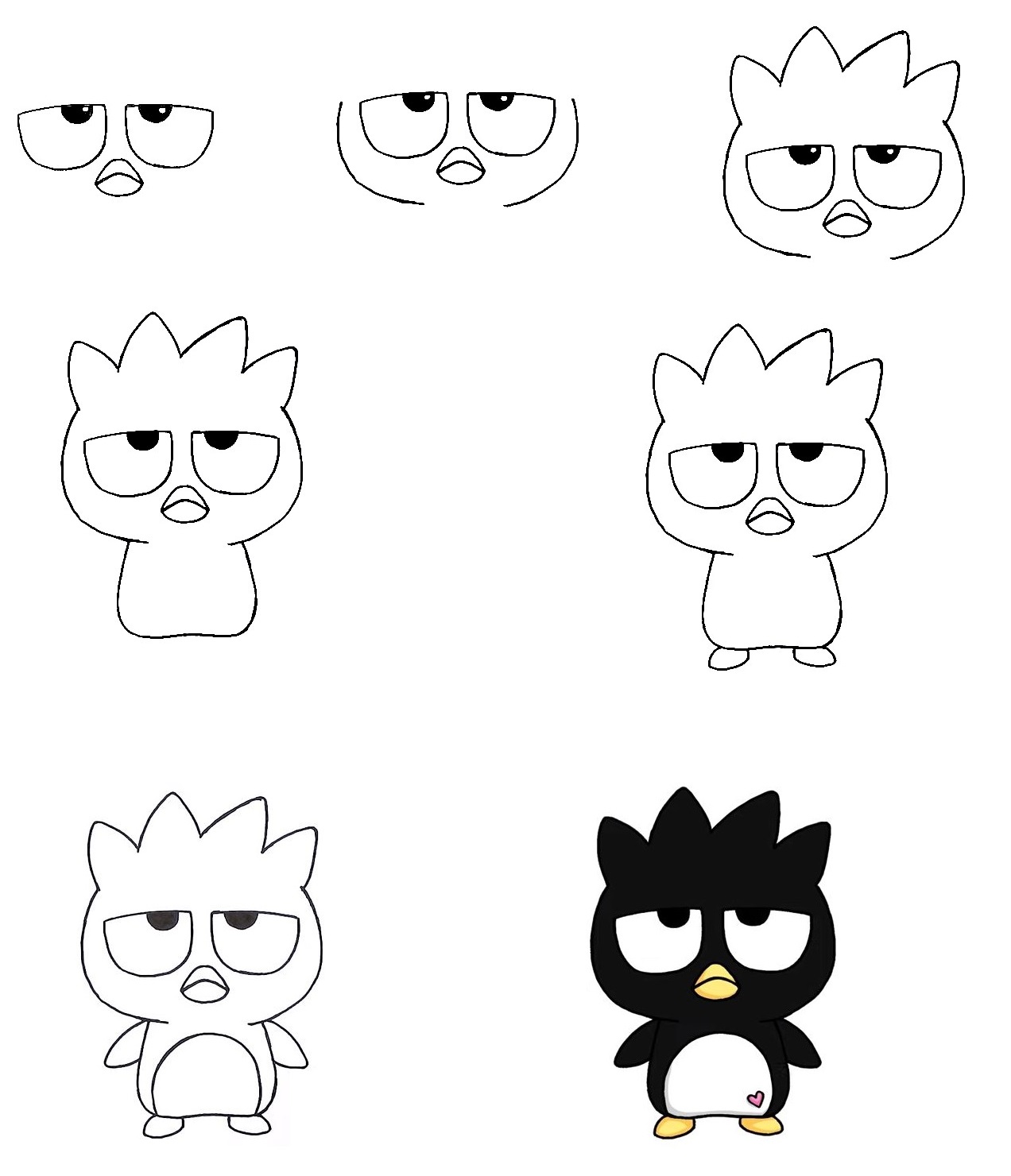 You know you know that Badtz-maru is one mischievous little penguin. He lives with his mother and pinball-playing father in Gorgeoustown. By drawing Badtz Maru, you will get more information about this lovely animal, so it can be said that this is both an entertaining and educational activity; you have fun while learning this is an education product for free on our website. It would help if you prepared a pencil, eraser, colored pencils, and drawing paper before drawing; you will do your drawing using a pencil drawing on paper; then if your strokes are correct, you can highlight them and if you draw wrong erase and redraw until you draw right get drawings. Finally, you will color your drawing. This is a task that is not too easy but not too difficult, requiring you to focus on the process of learning to draw. You will get a complete Badtz Maru drawing at a certain time. There are seven steps equivalent to seven missions that you must come over. You will follow our instructions and our illustration in each step and finish your task. Along with Badtz Maru, you can enjoy Badtz Maru Coloring pages to practice your drawing and coloring skill. Why not? It is free on our site, and you can come here each day. Now let's go into seven steps and make Badtz Maru.
Step 1 – Draw Eyes And Beak For Badtz Maru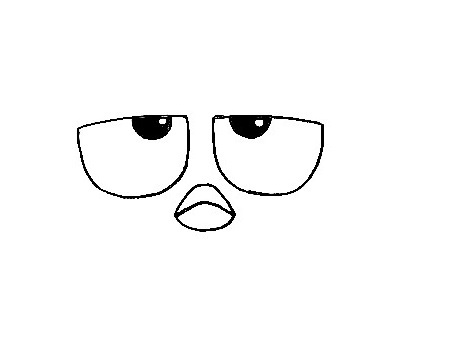 Badtz Maru is going to be very easy to draw, which is why this tutorial falls in the novice category. Begin to draw Badtz Maru; you must draw eyes and beak for your character. You will draw square glasses and then draw two ovals and then fill in black. Those are the eyes of the character, Badtz Maru. Below the eyes, you will use short curved lines to draw the beak of Badtz Maru, as you see in our reference image.
Step 2 – Draw Badtz Maru's Face Outline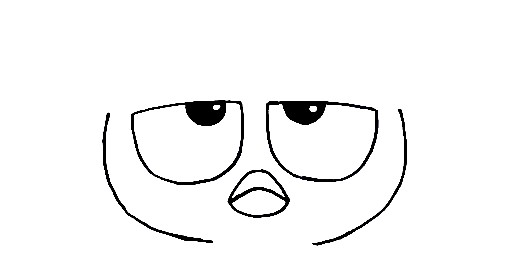 Your task in this step on how to draw Badtz Maru is to use two curved lines for the face outline. You can observe our illustration and follow it. This is a simple task, it takes some minutes, and you move to the third step for your Badtz Maru drawing.
Step 3 – Finish Off Badtz Maru Face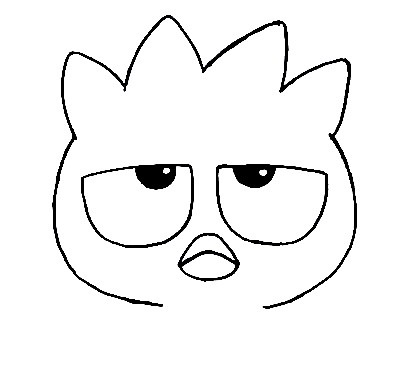 You continue your work on the Badtz Maru drawing is to finish the task with the face. Above the character's head, you will add more zigzag lines to create a crown. Your character will look more adorable. So, you finish your task here and go to the next step right now.
Step 4 – Badtz Maru's Body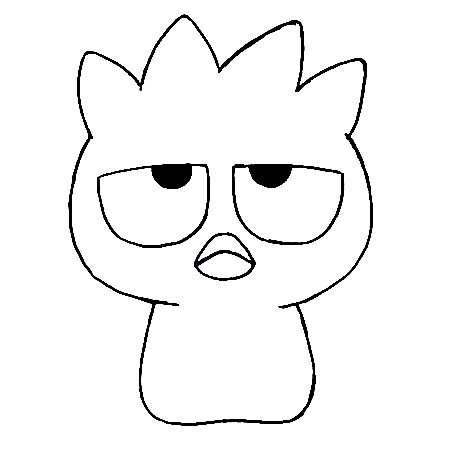 Now it's time to draw the body of the character. From the face, you will draw two parallel lines and end with a line connecting these two parallel lines. So you have completed the task in this step and move to the fifth step now.
Step 5 – Draw The Badtz Maru's Legs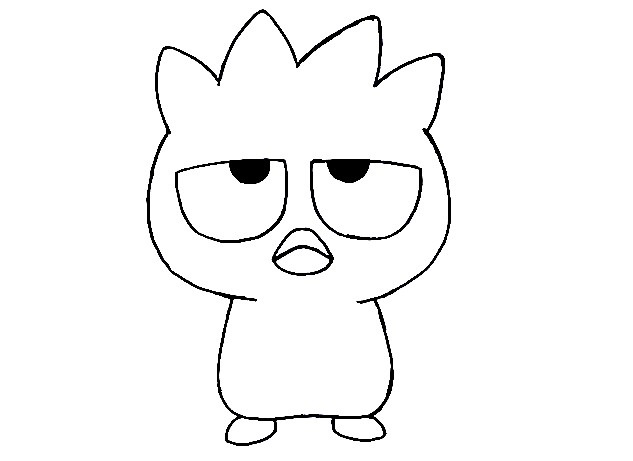 Now you will draw the legs of your character; very simply, they are composed of two curved lines from the body, as you see in our illustration. You will also quickly finish this task to continue drawing work of your Badtz Maru in the next step.
Step 6 – Draw The Badtz Maru's Arms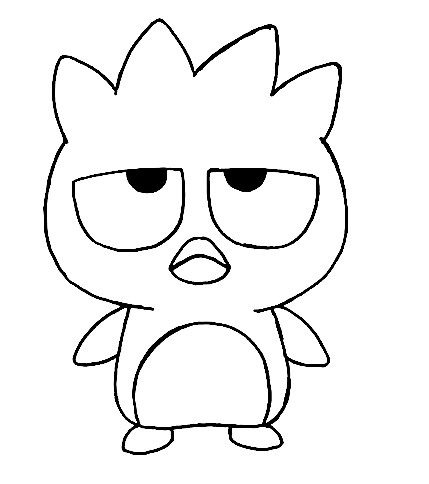 In this step on how to draw Badtz Maru, you must draw the arms for your character. Like the cut bird, Badtz Maru has his main arms, which are two short wings of his character, so you can just sketch them out with two simple curves like our reference image. You can add some lines to decorate for your Badtz Maru drawing. You can now review your drawing and add as many details as needed before moving on to the final step for coloring Badtz Maru.
Step 7 – Color Badtz Maru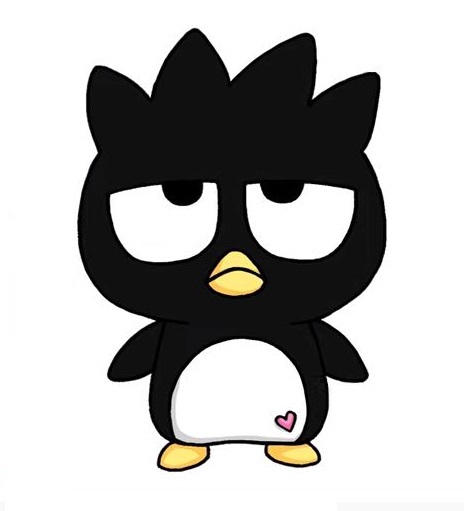 It is time to choose a suitable color. You can use any colors you like but normally, Badtz Maru' is black, the beak is yellow…You can use the same colors with our example image. So, you finish your drawing and coloring task.
Your Badtz Maru Drawing Is Complete
Your task here is finished on how to draw Badtz Maru. How do you feel, comfortable and understandable with our guide? If you liked this Badtz Maru drawing tutorial, please recommend it to your loved ones, you will have more friends with the same hobby as you.. On our website Coloringcool.com, you can find many drawing guides about characters such as Keroppi drawing, Eeyore drawing, Gacha life drawing,…We update daily and all are for free. Have a great time with Badtz Maru drawing!