How To Draw Christmas Stocking – The Details Instructions
Every year, kids around the world hang up festive stockings which will be filled with smaller little gifts to open on Christmas morning. Christmas is the time children look forward to because they will receive many gifts from their parents and relatives, the gifts will be contained in a sock hanging in the place for the children and according to their imagination, it is a gift. Santa's gift but they can't tell if it's a gift from a relative or a parent because Santa doesn't exist.
What Is A Christmas Stocking
You know that a Christmas stocking is an empty sock or sock-shaped bag that is hung on Saint Nicholas Day or Christmas Eve so that Saint Nicholas (or the related figures of Santa Claus and Father Christmas) can fill it with small toys, candy, fruit, coins or other small gifts when he arrives. These small items are often referred to as stocking stuffers or stocking fillers. Christmas stockings are received by children in happiness according to western culture, the children who receive gifts are good children and vice versa if they are not good they will receive charcoal, So this is also an opportunity to celebrate Christmas. Every child tries to be better.
How To Draw A Christmas Stocking – Let's Get Started!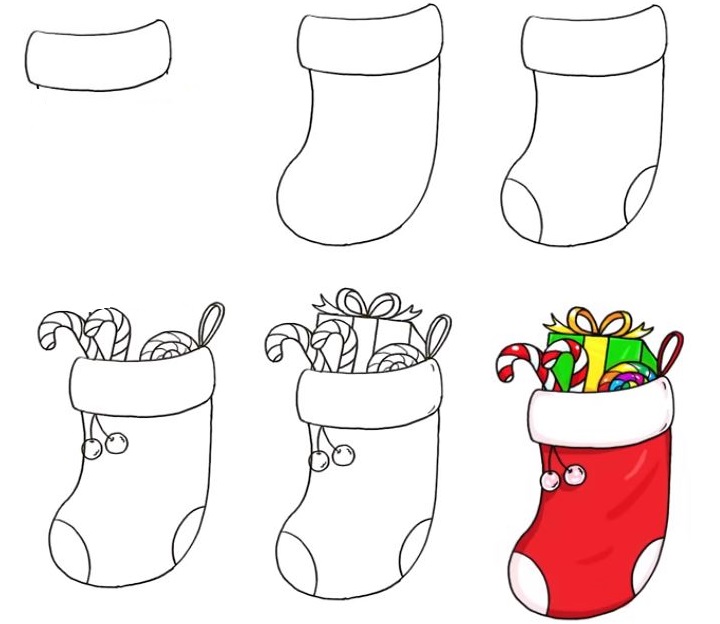 In this article, our step-by-step guide on how to draw a stocking in just 6 easy steps will show you how to recreate this classic festive garment. At each step, we have images to help you learn drawing easier. All you will need is a pencil, an eraser, colors and a sheet of paper. You will also wish to color your finished drawing.
Step 1 – Draw Christmas Stocking Rim.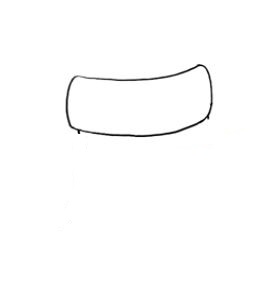 As our image, you will draw a Christmas stocking rim. Let's use a pencil sketch according to our image and then erase the excess, leave the mainline and get the top of the sock.
Step 2 – Draw A Christmas Stocking Shape.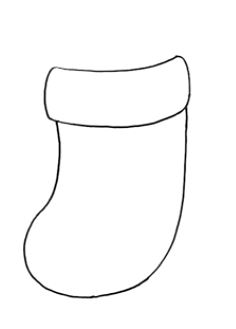 In this step, you will draw the shape for the sock. Following step 1 you will stretch down to form the shape of the sock. It means that draw a long curved line down from one side of the cuff. Double it back upon itself, and connect it to the opposite side of the cuff. This forms the stocking itself. You can remove the small details that are not necessary.
Step 3 – Draw Two Halves Of Circles To Decorate A Christmas Stocking.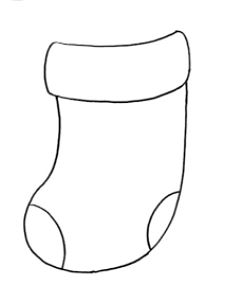 In this step, you will draw two halves of the bottom circle to make the sock cuter. It's not too difficult at this step, just a few basic pen strokes and you can complete the task
Step 4 – Draw Somes Candies.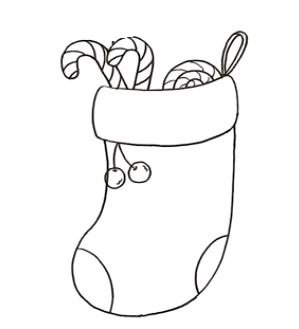 You will draw cute candies for this candy, they are like gifts for children carefully placed in the sock. Please look at our images and follow them, you can finish your mission at this step easier.
Step 5 – Draw Christmas Gifts.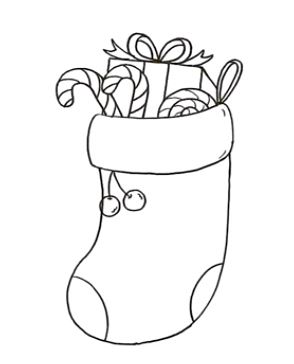 You will finish drawing Christmas Stocking by drawing 1 more gift box on top of Christmas Stocking's mouth. Not difficult for this step, please observe and follow our image, you can finish this step in some minutes.
Step 6 – Color For Christmas Stocking.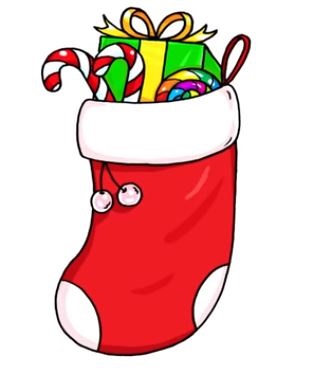 Your task is finished when you make coloring for Christmas Stocking. It is very simple because you will choose to make the main color. Normally, we use the red color to make the main colors but you can choose other colors as your hobby.
Withdrawing and coloring activities, you can play with your children as well. This is a learning and playing activity that is very beneficial for the development of children. Through this activity, children will have the opportunity to develop and practice many skills such as writing skills, observation skills, drawing skills, ..With this article, I hope that you can find a great time for your entertainment channel
Please visit
How To Draw
to learn drawing more coloring pages.