8 Simple Steps To Create A Cute Armadillo Drawing – How To Draw An Armadillo
Create a Real Armadillo Drawing In Eight Easy Steps
In this detailed guide, you'll learn how to make an Armadillo drawing in six easy steps – great for you and kids, especially those new to drawing; you will have the opportunity to be guided from the simplest details to help you perform the Armadillo drawing most easily. You will follow our instructions and illustration to create a complete Armadillo. There are eight steps equivalent to eight missions that you must pass. This is not an easy task but not too difficult. You can go step by step and get a fun time. Take your time and focus on this drawing lesson, and you will be successful with the task of drawing Armadillo. Learning to draw is an activity not only for children but adults can also participate in; you can take advantage of it in your free time. Outside of work, you need to have time to relax and rest. Choosing for yourself activity for leisure is very important. It helps you feel comfortable so you can work more efficiently and work better.
How To Draw An Armadillo – Let's Get Started!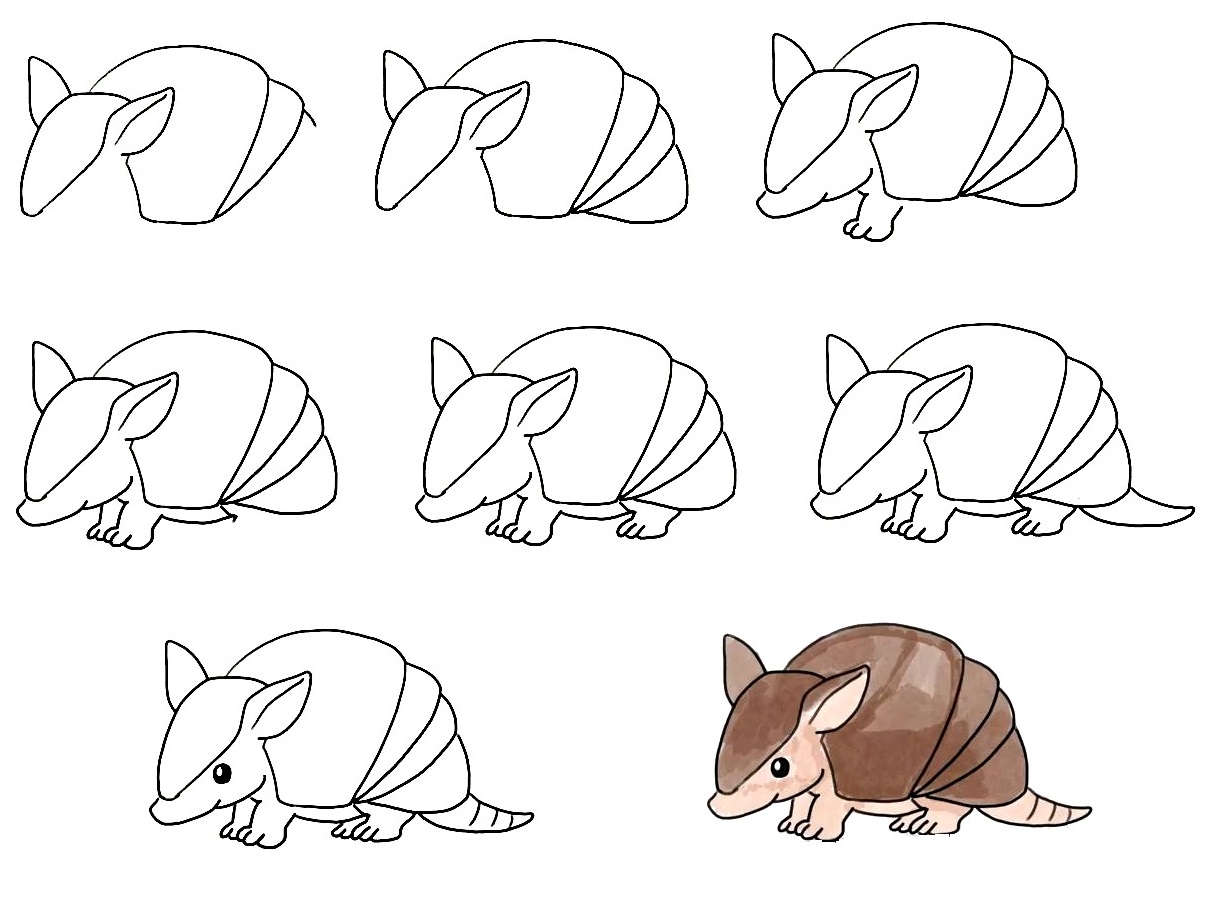 Maybe you don't know because Armadillos are rare animals; they have pointy snouts and long, sticky tongues, similar to anteaters, which are close cousins. Today, you have a chance to draw an armadillo with your skill. First of all, you need to prepare some things like a pen, pencil, marker, or crayon and a sheet of paper before starting to draw. Then you will begin to draw an Armadillo with a pencil and paper, and you use a pencil to draw on paper so that you can erase it easily. So you can freely draw freely without making mistakes. You will then highlight the correct strokes, and at the end, choose the color of your Armadillo drawing. By learning how to draw Armadillo, you will also gain more knowledge about this rare animal. Along with this drawing, you also provide Armadillo coloring pages; you can use them to practice your drawing and coloring skill.
Step 1 – Draw Head Outline And A Part Of The Body For Armadillo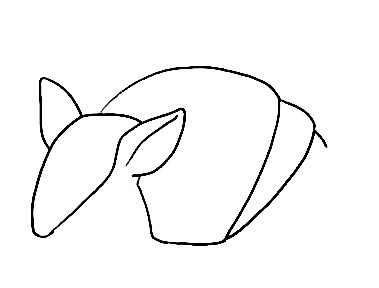 You start your work on how to draw an Armadillo with its head outline and a part of the body. This is the first step but quite a task for you. You need to draw the head outline, then draw two ears for it, and then you need to draw a body part for this animal. That's all you need to do at this step, and move to the second step right now.
Step 2 – Draw Details To Armadillo's Body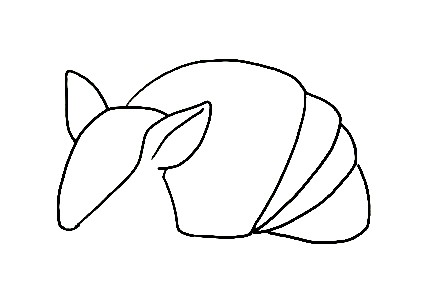 Your task in this second step is simple; you just add some curved lines to complete your work, as you see in our reference image. It is very easy for you, it takes some minutes, and you will go to the next step.
Step 3 – Draw A Front Leg For Armadillo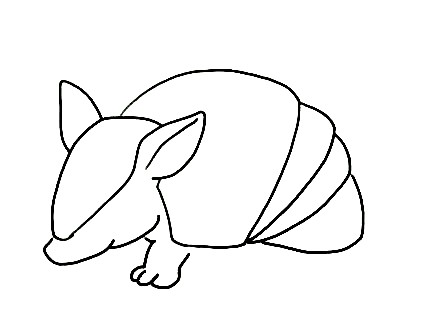 Your start to draw the legs for Armadillo of your drawing. Armadillo's legs are short and chubby. You can draw several toes for its paws. Great, use two parallel lines to draw the legs, then use small curved lines to draw the toes, and you have to finish off its head. So, complete the task for this step of Armadillo drawing.
Step 4 – Add More A Front Leg For Armadillo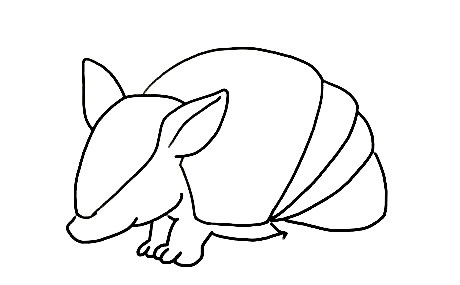 Similar to step 3, in this fourth, you will draw more of a front leg for this animal. This leg is partially covered, so you can't draw it all, as you see in our illustration.
Step 5 – Draw A Hint Leg For Armadillo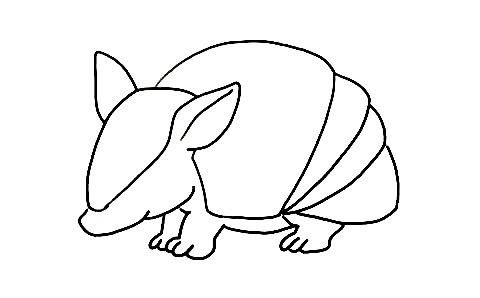 Like other mammals, Armadillo has four legs, and you drew two front legs. Now you have to continue drawing two hind legs. Like the two front legs, you also use two short, nearly parallel curves to draw its legs. You will draw two toes for your feet, later on, so your task for this part is done.
Step 6 – Draw The Armadillo's Tail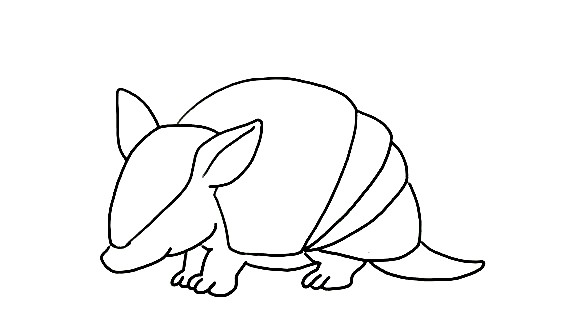 You can continue the work of your Armadillo drawing. You will draw the tail with it with two parallel curves and meet at a point to form a chubby ponytail. You quickly finish your work here and move on to the next step to continue your drawing task.
Step 7 – Draw A Hint Leg And Eyes For Armadillo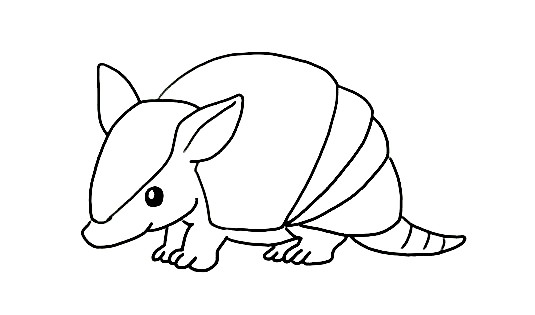 It's time to draw the second hint leg and eyes for Armadillo. Like the front leg that you drew in step 4, the back leg in this step is also partially hidden, so you will draw the part of the leg that is visible. Come back to the Armadillo's face; you must draw an eye with a circle, then you use black to make coloring for it. So, you can move to the last step for coloring Armadillo.
Step 8 – Color Your Armadillo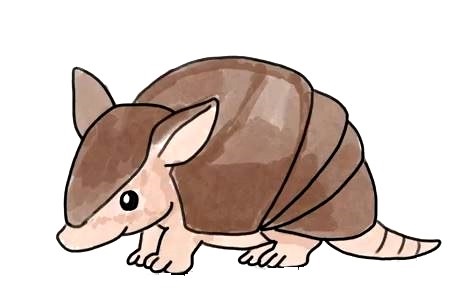 Right now, you must choose suitable colors for your Armadillo. This work is simple because you can use any color you like. Here, we use brown to color it, and what color do you choose for your Armadillo drawing?
Your Armadillo Drawing Is Complete!
With all of the steps complete and your colors added, you have completed this guide on how to draw Armadillo! We made this tutorial with two purposes you can draw Armadillo easily, and you find a comfortable time with us. Now you can take this drawing even further with some of your own creative ideas by adding some decoration to your Armadillo drawing.
You could draw a background to make your drawing nicer. We'd love to see your work, so don't be afraid to draw it and show it on Facebook if you can. On our website Coloringcool.com, you can refer to many drawing tutorials. You can enjoy rat drawing, like Armadillo's drawing, the rat is a mammal and closely resembles Armadillo, and we use brown as a color for the rat as you see in our reference. All education products are free, and you can come here daily. Have a fun time with this Armadillo drawing instruction!