Daisy Duck Drawing Is Complete In 6 Easy Steps
Creating nice Daisy duck drawing in just 6 easy steps
Follow this easy how to draw Daisy duck step-by-step tutorial, and you will have your Daisy duck drawing finished in no time. You will follow our step-by-step instructions to create a complete daisy duck. You probably know that she is the well-known girlfriend of Donald Duck. Do you hear that Daisy Duck is much more clever than Donald Duck? So, today you get an opportunity to learn more about daisy duck. This is the children's favorite character. If you are a parent, you can give this instruction to your kids because they will indeed like this activity. If you are a fan of Donald Duck then you probably want to learn how to draw Daisy Duck too. Along with the tutorial, we have also included a couple of free Daisy coloring pages that you can print off and give to your kids to color!
How To Draw Daisy Duck – Let's Get Started!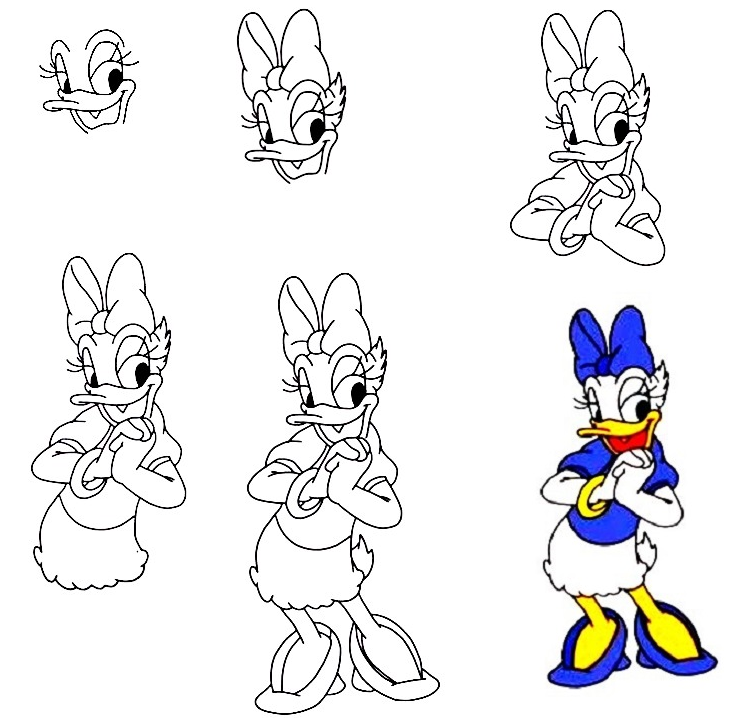 Just like drawing other characters, you use the necessary tools such as paper, pencil, and color before drawing. This is not difficult, but you must concentrate your mind, passion, and time here. You have six steps equivalent to 6 tasks that you have to overcome. Keep calm to draw every detail, and we give drawing instructions from easy to difficult to help you do the job easily. Whether you are a beginner or an expert in drawing, we're sure you can follow these steps effortlessly. Drawing and coloring are suitable activities for everyone, especially for your children. They will avoid using technical devices such as television, smartphone, and tablets. They are not suitable for their eyes and their evolution. Why not? They are free on our website, and you can come here anytime and anywhere with any device connecting to the internet. Now, let's get started drawing Daisy duck with us!
Step 1 – Draw Daisy duck's Face Details

Starting to create Daisy Duck drawing, you will use a pencil to draw on paper. When you draw Daisy Duck, you may find a bit tricky the parts of face features. Please keep calm and use your pencil. Use the pencil gently and slowly, and you can erase your mistakes, don't be afraid to erase them. You will draw eyes, nose, and mouth as our image. You can finish your task here and next to the second step and continue drawing.
Step 2 – Draw Daisy duck's Bow

Your task in this step of the Daisy Duck drawing is simple, just draw a bow on Daisy duck's Daisy head. You can spend some minutes finishing your job here. If you make a mistake, no problem; erase the ugly line and sketch in again. It is simple as that. Once you have these elements looking as they do in the reference image, you're ready for step 3.
Step 3 – Draw Daisy duck's Arms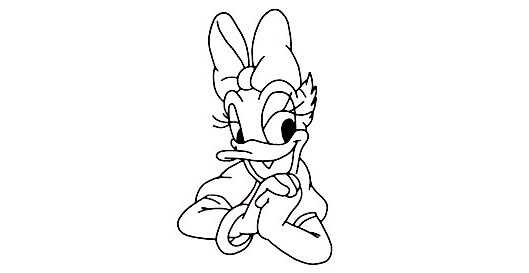 From Daisy duck's face, you use straight lines and curved lines to draw the arms of Daisy Duck. This step is a bit complicated and requires your ingenuity, and you can add a lovely bracelet for her and finish your task here with the fingers of Daisy duck.
Step 4 – Draw Daisy duck's Body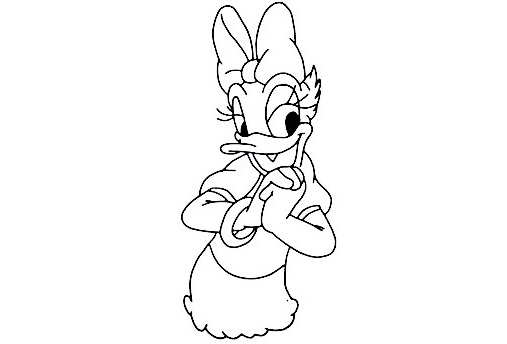 From her arms, you draw the curved lines downwards to make her body, and you'll use horizontal curves to show she's wearing a very pretty and graceful top and skirt. So, you finish the drawing body for Daisy duck with her outfits. Now, you move to the fifth step and continue to draw your Daisy duck.
Step 5 – Finish Your Drawing Task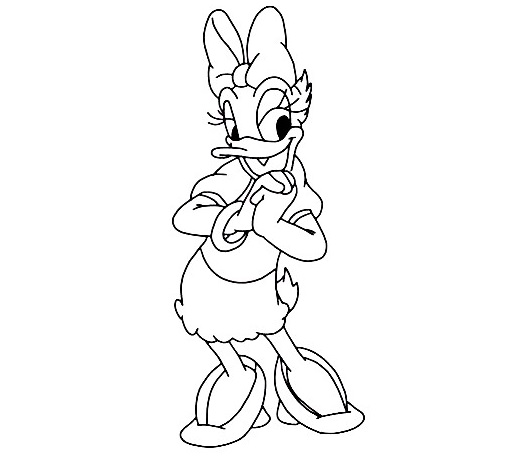 You must finish your drawing mission here. You will add a pair of shoes for your character, Daisy duck. You use two straight parallel lines downwards to make her legs, then you draw and use some curved lines to shoes her shoes. Because Daisy's duck's legs will also be large and webbed, you must draw big shoes equal to her feet. So, you get a complete Daisy duck with full parts and have more steps for coloring.
Step 6 – Color Daisy duck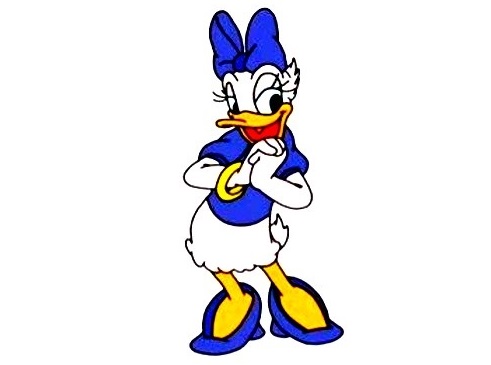 You have the last mission for your product, Daisy duck. You will choose the suitable colors for the Daisy duck. You can take any color you like or choose the same color with us. We prefer blue to make the main color for the bow, shoes, and shirt, white for the face, skirt, and arms, and yellow for the beak, bracelet, and feet. So, will you use these same colors for your Daisy Duck drawing, or will you create your own unique variation?
Daisy Duck Drawing Is Complete!
We look forward to seeing what you do! We hope you learned how to draw Daisy duck with the help of this step-by-step tutorial.
You can move to Daisy coloring pages for free to enjoy the images related to Daisy. We're sure you can incorporate what you have learned in your future drawings. Have a great time!